Last updated on

March 18, 2020

by Darren
Cybersecurity is very important nowadays, especially considering how many big companies have fallen victim to hackers in recent years. Much like how iPhone uses iCloud accounts for added protection, Android devices use something called Google verification (FRP Lock). For some people, FRP can lock them out of their iPhone and today we'll be showing you how to bypass Google verification (Factory Reset Protection Lock) without using computer or OTG.
Part 1. What is FRP Lock and How Does it Work?
FRP lock – sometimes referred to as Google FRP or Factory Reset Protection (FRP) lock – is an Android security feature. It is designed to prevent unauthorized users from factory resetting an Android device in order to gain full access without the owner's permission.
When your phone is locked by FRP, you will see one of the following messages:
This device was reset. To continue, sign in with a Google Account that was previously synced on this device.
The device is locked because of an abnormal factory reset. Sign in to the Samsung account that you have already signed in to on this device to confirm that it belongs to you.
This is an incredibly useful feature for one reason – if you lose your Android smartphone, or it is stolen, there's still hope. Malicious individuals won't be able to wipe the device with ease and you will have more time to locate it before your personal data is gone.
However, setting aside these benefits, there are a few downsides:
Downsides
First, if you have forgotten the email address and password that you used to set up your Android device, you won't be able to regain access.
Secondly, in this scenario, getting back into your device is next to impossible. There are only a few effective solutions to bypass FRP lock.
Don't worry though. If you encounter this problem and need to bypass this security measure, then keep reading. We've broken down the best ways to bypass it to make this as stress-free as possible.
Part 2. How to Bypass Google Verification (FRP) without Computer or OTG?
Now, if you've been researching some of the ways to get around FRP, you likely came across some solutions to bypass FRP without computer. Generally speaking, processes like this require computer access to remove such important security features. However, here are two methods that don't require a computer.
2.1 Bypass FRP without Computer or OTG Using FRP Removal Service
The first solution is to use an FRP removal service – UnlockBoot. When compared with the other solution (using FRP bypass App), a professional FRP removal service could be more convenient and effective for you.
Pros
Allow you to bypass Factory Reset Protection lock without computer or OTG.
The full unlocking process only takes as fast as 5 minutes to complete.
You won't be overwhelmed by the technicalities of using an FRP bypass tool and you can have a professional take care of it for you remotely.
This service is legal, permanent, and safe. No rooting involved. Most other websites require rooting which can damage the phone.
Work for All Samsung, LG, Huawei, ZTE, HTC, Motorola and MTKdevices.
This service offers 100% Money-back Guarantee and received a lot of good reviews.
Update (18 Mar 2020)
To offer a better and trustworthy service to customers, UnlockBoot changed their working mode: to unlock FRP with the remote client program. You can learn more from here.
So, if you don't have a computer, it's a good idea to borrow one or go to the Internet cafe since the whole process will take you no longer than 10 minutes!
The steps to remove FRP lock are as following:
Step 1. Go to UnlockBoot website.
Step 2. Tap on the drop-down menu and select your device's model. Then enter the IMEI number of your device.
Step 3. Click on "Unlock Now" and make the necessary payment and afterward, you'll get the instructions to start a live chat with their team.
Step 4. After that, the technician will start to bypass frp for you and the whole process usually take 5 minutes.
Here we highly recommend you choose Marcus to unlock your device. This man is so responsible and professional, he helped us unlock our Samsung Note 9 in just 5 minutes!
2.2 Bypass FRP without Computer Using FRP Bypass APK
Alternatively, if using the FRP bypass service is unaffordable for you, you can also use an App. This method is more complex than the first one.
What You'll Need
Before bypassing Factory Reset Protection Lock with an App, make sure you have a SIM card in your device and retrieve another Android device that is already set up, and that already has a SIM card inserted.
Pros
Bypass Google Verification Protection Lock without computer or OTG.
It's totally free for you to unlock your phone.
Video Tutorial: Bypass FRP without Computer or OTG
Here is a video tutorial to help you bypass Google Verification Protection Lock:
If you don't like the video or need more instructions, then following the steps below to get started.
Step 1. On the second device, install the app HushSMS then open it. You download it from here.
Step 2. Once the app is open, select "WAP PUSH SL" > "Use https:// URL prefix" > enter the URL "www.youtube.com".
Step 3. Enter the phone number of the device which you want to bypass FRP. Then tap on "SEND WAP PUSH SL" and wait for the locked device to receive a notification.
Step 4. After receiving the message, tap on "OK" and YouTube will now open.
Step 5. Tap on the account icon at the top-right of the screen followed by "Terms & Privacy policy" and "Internet".
Step 6. The browser app will now open. Tap the address bar and enter the URL "FRPTools.com".
Step 7. Scroll down this website and select the "All FRP Bypass Download" option. On the next page download the file "Apex_Launcher".
Step 8. Open your device's download folder and tap on the APK that was downloaded. Install it accordingly.
Step 9. Next, go to "Settings > Security" and tap on "Device Administrators". Disable the "Find My Device" setting that will be enabled.
Step 10. Go to "Settings > Apps" and tap on "Google Account Manager" and on this menu, tap "Disable". Repeat this with Google Play Store Services.
Step 11. Again, open a browser app and go to FRPTools.com then "All FRP Bypass Download", and now download the "All J Series" APK file. Install it on your device and if prompted, enable the "Unknown Sources" security setting.
Step 12. Next, go to "Settings > Cloud and Accounts > Account", and add a Google account.
Step 13. Head back to "Settings > Apps" and now enable "Google Account Manager" and "Google Play Store Services".
Step 14. Restart the Android device and once it turns on, follow the Android setup. Your account will be automatically detected and you have successfully bypassed FRP!
Cons
This method is only verified on Samsung FRP bypass (J7, Note 5, S6), it's unclear if it can work for other phones.
It's too complex as there are so many steps need to perform.
Part 3. How to Bypass Google Verification (FRP) with Computer
3.1 Bypass FRP Lock Using Tenorshare 4uKey for Android
If using your computer to bypass Google's FRP verification interests you then Tenorshare 4uKey or Android is the desirable solution. Following are the main features while using this tool:
Pros
Removes Google FRP Lock from most Android devices
Doesn't require a Google account password to successfully remove FRP
Permanently removes FRP lock and all restrictions it imposes
Capable of removing Android lock screens too
So, now you know about Tenorshare 4uKey for Android and what you can expect from using it, let's take a look at how you can use it to bypass FRP.
Step 1. Download and launch either the trial or full version of Tenorshare 4uKey for Android. Use a USB cable to connect your Android device to your computer.
Step 2. 2 unlocking solutions will be displayed on 4uKey. Select "Remove Google Lock (FRP)" for this method and then click "Start" to begin.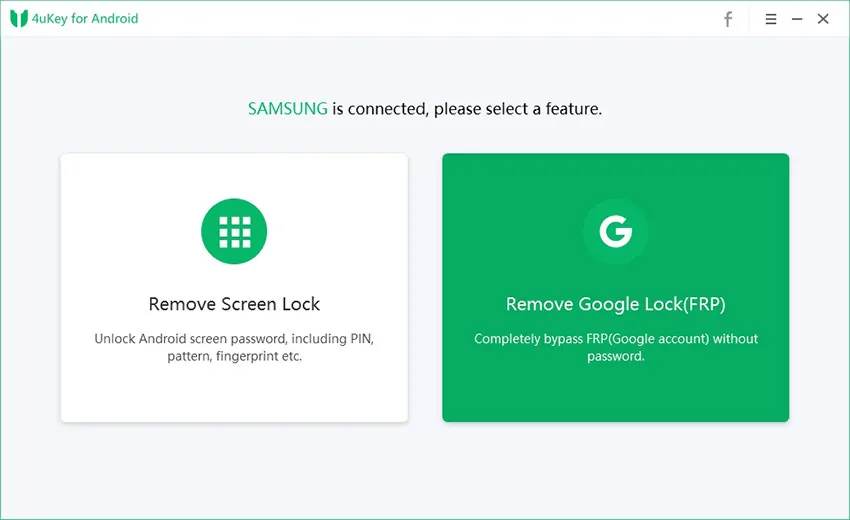 Step 3. Next, use the drop-down menus to select your device's brand and device name, then click "Next".
Step 4. You must now put the device into Recovery Mode. If you click on either "Phone with Home button" or "Phone without Home button", steps for you to follow will be displayed.
Step 5. Click "Next" after you are in Recovery Mode, and more device information will be requested. Enter the correct information and proceed by clicking "Next".
Step 6. Following this, you'll be instructed on how to put your device into Download Mode. Again, steps for devices with or without a Home button will be shown.
Step 7. 4uKey will download the firmware and at some point it'll prompt you to enter Recovery Mode one more time.
Once your device is in Recovery Mode, Tenorshare 4uKey for Android will wipe and reinstall the Android firmware. Set it up like a new device and the FPR lock won't be bothering you anymore!
Cons
Not all Android devices are supported (check if your device is supported)
You have to buy the full version for access to every feature
3.2 Bypass Google Verification Using ADB Bypass
An alternate bypass method is with ADB. This is a PC tool that establishes a connection between Android and PC and as such, it's a favourable tool for bypassing FRP. Here are the features you need to know:
Pros
Supports the majority of Android smartphones
Entirely free!
You might be thinking "This sounds great, but what's the catch?". Believe it or not there isn't a catch, and here's all that you have to do.
Step 1. On your computer, download the ADB & Fastboot and install them accordingly.
Step 2. Run the program to complete the setup and install the required drivers for FRP bypass.
Step 3. Now on your Android device, make sure that you have USB debugging mode turned on and connect the device to your computer.
Step 4. Type each of these commands into the ADB command prompt:
For Samsung Phones:
adb shell am start -n com.google.android.gsf.login/
adb shell am start -n com.google.android.gsf.login.LoginActivity
adb shell content insert --uri content://settings/secure --bind name:s:user_setup_complete --bind value:s:1
Others:
adb shell content insert --uri content://settings/secure --bind name:s:user_setup_complete --bind value:s:1
Step 6. Restart your device once each of these commands have been processed and upon loading up, the smartphone shouldn't have an FRP lock anymore.
Admittedly it's going to take a little longer for this process since it's more complex. However, it's widely compatible with Android devices and has proven effective.
Cons
Very difficult to use for most people
It's not certain if ADB bypasses FRP on all Android versions and devices
Even entering a single character in the commands wrongly will prevent it from working
Bonus: How to Enable or Disable FRP (Factory Reset Protection)?
Most users choose to enable FRP when they first set up their Android device but if you decided to skip this step, here's how you can enable it now.
Step 1. Unlock your device and launch the "Settings" application.
Step 2. Locate the "System" tab and select "Security" from the menu.
Step 3. Next, tap on "Add account" and sign in to your Samsung account (or Google account) if you aren't already signed in.
Step 4. Enable the "Remove Controllers" slider at the top of your screen.
Step 5. Finally, go back to the "Security" menu and below "Find My Mobile" simply enable "Reactivation Lock".
On the other hand, disable the Factory Reset Protection Lock is just as simple as the above method.
To Conclude
There you have it, 4 solutions for bypassing FRP. We recommend that you use the removal service or the Tenorshare 4uKey for Android especially considering how overcomplicated the others are. However, All of them are viable ways to learn how to bypass Google verification, regaining control of your Android device, and enjoying full functionality.