Last updated on

March 17, 2020

by Darren
Protecting their customer's devices and data is paramount for Google. The FRP lock is amongst the security features they use to achieve an optimal level of protection; however, some situations call for an FRP bypass tool to be used. Read on to learn the details.
Top 4 FRP Bypass Tools for Samsung, LG, Huawei, Motorola, Alcatel, ZTE and More
The toughest part of removing an FRP lock is finding a reliable tool. For that reason, we've listed the 4 best FRP bypass tools for you to use.
1. Best FRP Bypass Software for Samsung
First, we have Tenorshare 4uKey for Android, the perfect tool for bypassing FRP locks on Samsung smartphones and tablets. Before using it, you need to learn how it can help you:
Removes FRP lock without Google account password
Works with nearly all Samsung devices
Permanently gets rid of the FRP lock
Full step-by-step instructions along the way
If using Tenorshare 4uKey for Android sounds like the ideal software for you then with these steps, you can remove a Samsung FRP lock.
Steps to Use 4uKey FRP Bypass Tool
Step 1. Install the free trial version of 4uKey on your computer.
Step 2. On the program's main menu click the "Remove Google Lock (FRP)" option and after reading the important information, click "Start".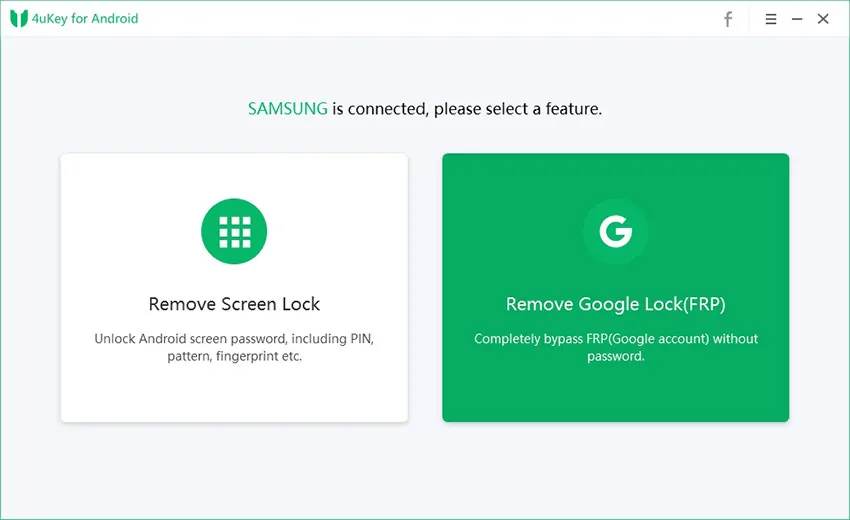 Step 3. Choose your smartphone's brand and device model, then click "Next".
Step 4. Now put your Samsung device into Recovery Mode and then click "Next". Both methods for entering Recovery Mode can be viewed on 4uKey.
Step 5. Further device information will be requested. Select your Country and Carrier, and you can find the PDA on the Recovery Mode menu.
Step 6. Click "Next" then "Confirm", and lastly put your device in "Download Mode". Again, the two methods for this can be seen on your screen.
Step 7. During the firmware installation you'll be prompted to put your device into Recovery Mode once again.
After the device is in Recovery Mode, the necessary firmware will be installed and the device will be completely wiped and FRP will be effectively bypassed.
Using this software can easily bypass Samsung FRP lock, it's worth trying when you're stuck in this.
2. Best FRP Bypass Service for Samsung/LG/Huawei/ZTE/Motorola
Next is UnlockBoot FRP Bypass Service. This website offers various unlocking services for a lot of different situations: carrier unlocks, Samsung account removal, and most importantly FRP lock removal.
Here are the main features of this FRP Bypass tool:
Unlock FRP unlock remotely from your device
All unlocks are completed in an average time of 5 Minutes
Safe to use, won't do any harm to your Android devices
100% Money-back Guarantee: refund immediately if failed to unlock
Paypal supported, 100% safe for your money
Has received lots of good reviews at Trustpilot
Most of this FRP bypass tool for PC process is taken care of from the UnlockBoot website and it's straightforward too. Here's how to use it to unlock your Android device:
Step 1. Load a web browser and go to the UnlockBoot FRP Bypass Service.
Step 2. Click the "Select brand" drop-down menu and choose your device model. Then enter the IMEI number of your device.
Step 3. Click on "Unlock Now" and follow the site's instructions to complete your payment.
Step 4. After you pay, you'll get an access to a live chat with their technician. Then you need to unlock your FRP locked device to computer, the technician will do the rest for you.
We would highly recommend you choose Marcus (the best technician) to unlock your device! The full unlocking process takes only 5 minutes to complete!
Best of all is that you don't have to do any of this yourself. It's a straightforward system where you give them some device details, submit a payment, and let the experts do it for you.
3. Best Free FRP Bypass APK
Looking for an APK that can assist you as an FRP bypass tool? The HushSMS FRP Bypass solution is the best option to consider. Compared with other FRP bypass tools, this APK has many features:
Downloading the APKs is free
Works for any Android device
Effectively removes Google's FRP
One drawback of using an APK method is that you will be putting more effort and time into removing FRP. That said, depending on your Android version, it's extremely effective. These steps can be used if the device uses Android 5.0 and 5.1.1.
Step 1. On your Android device, download the HushSMS APK.
Step 2. Launch the APK and choose "WAP Push SL" from the main menu.
Step 3. Type the device's phone number and enter "Youtube.com" as the message.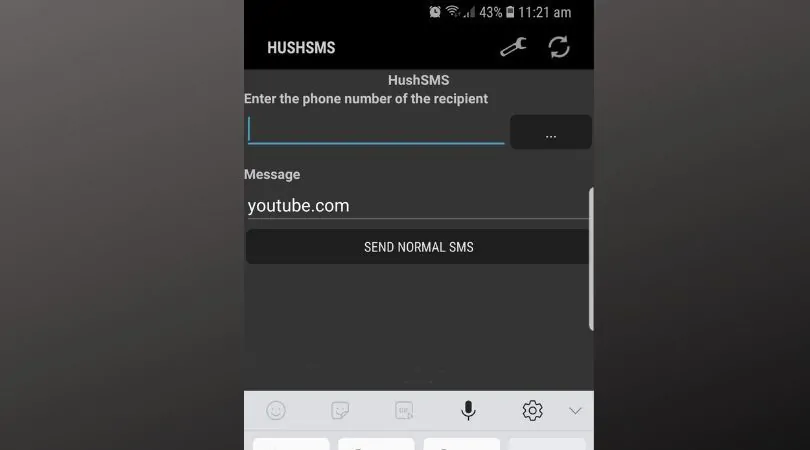 Step 4. Tap "Send Normal SMS". Back on the FRP lock screen, when you receive the text tap "OK" and the YouTube app will be launched.
Step 5. On YouTube, tap your profile icon and then on "Terms & Privacy Policy".
Step 6. This will force your default browser app to open. On the browser's address bar go to the FRP Bypass APK site and download Google account manage 6 and FRP bypass app.
Step 7. Once the APK installed, tap on "Browser sign in" and you'll be able to sign in with a different Google account.
Step 8. Now that the Google account is added, restart your Android device and the FRP lock shouldn't be an issue anymore.
4. Best FRP Bypass APK for OTG
For our last FRP bypass tool, you need an OTG cable. This nifty little gadget connects to your device and enables USB connections. As with the previous method, we'll be using the FRP Bypass APK but instead, it'll be running it from a USB flash drive/memory stick.
Step 1. Download the FRP Bypass APK on your computer and copy the file onto a memory stick.
Step 2. Connect the OTG cable to your Android device and then connect your memory stick to the OTG cable.
Step 3. Now on your device you should see the Android file manager appear and the memory stick's files will be shown. Locate the FRP Bypass APK file.
Step 4. Tap the APK to install it and it'll now let you view the Settings app. Go to the app and follow "Backup & Reset > Factory Data Reset > Erase Everything".
This will completely wipe the device's data and reset the Android firmware. Afterwards, you'll be taken directly to the Android setup where you won't be halted by FRP. Unfortunately, while you don't need to use an FRP bypass tool for PC, there are a couple of downsides:
Cons
An OTG cable and USB storage device are required
Only Android 5.0 and 5.1 are compatible with FRP Bypass APK
Need to download the APK on your PC first
Conclusion
Removing an FRP lock is undoubtedly made easier by using an FRP bypass tool and when you pick one of the tools above, you're guaranteed an effective removal. We've listed a handful of solutions above so if your first choice doesn't give the results you hoped for, try another!