Last updated on

August 25, 2022

by Darren
Five months after Apple released Activation Lock in 2014, a report by the office of the New York State Attorney General [1] revealed that theft cases involving Apple devices had reduced by 17 percent.
As competitors, I guess Google (Android) had to respond, which led to the introduction of Factory Reset Protection (FRP) lock in the same year.
Back then, Android devices were pretty easy to factory reset. If you forgot your password, you could just press the vol up/down and the power button and perform a factory reset.
However, that also meant thieves could steal your phone, wipe it clean without any struggle and resell it within hours.
FRP lock was meant to reduce theft cases of android devices, but it can also lock you out of your device.
If you can't access your device because of the FRP lock, you're lucky because this article will help you understand what it is and how you can bypass it.
Part 1. What is FRP Lock?
Factory Reset Protection (FRP) is a security feature developed to prevent anyone from using your device even if it has been reset to factory settings. FRP is a built-in feature and is only available for phones running on Android 5.1 lollipop or later.
FRP is automatically enabled when you sign in to your Google account. When someone forcefully performs a factory reset on your device, FRP lock is triggered, and the device is locked until they sign in again using the previous Google account.
In a nutshell,
FRP is only available for Android 5.1 or later
FRP keeps your phone's data from unauthorized access.
If enabled, signing in to the Google account that was previously synced on the device is a must, even after the device has been erased (factory reset)
Signing in to a Google account on your phone automatically enables the Google FRP.
Part 2. Top 6 LG FRP Bypass Tools
We have compiled six methods you can use to bypass the FRP lock on your LG phone if you ever get locked out. Try these frp bypass tools out and see if they will solve your problem.
Method 1. Bypass LG FRP Using UnlockBoot Service
There are numerous solutions on the internet for bypassing FRP lock on Android phones. Some work, some don't, but the one I recommend today is UnlockBoot FRP Unlock Service.
This FRP bypass service:
Supports all android phone brands & models.
Compatible with any Android OS version – 7/8/9/10/11/12
Removes FRP lock permanently
What You Will Need To Use UnlockBoot
A stable internet connection
A Windows PC – Win 11/10/8/7. Macs are not supported at the moment
A USB Cable for your Android phone.
How to Unlock Your Phone Using UnlockBoot FRP Unlock Service.
Step 1: Visit the UnlockBoot FRP Unlock Service website.
Step 2: Select your phone brand, then enter the IMEI number. Click Unlock Now when done.
Step 3: Confirm your phone's IMEI, then click Proceed to Checkout.

Step 4: Fill in the billing details, then click Place Order to proceed with payment.
Step 5: Check your email for setup and connection instructions on how to set up your PC and phone
Step 6: Connect to the technicians and allow them to remove the FRP lock from your phone.
The whole process is safe because you can watch it the entire time. The remote connection is established using TeamViewer, so you can terminate the connection in case of any suspicious activity.
Method 2. Bypass FRP Lock on LG Phones Using Tungkick Bypass Tool
This is another excellent alternative to bypass the Google Account lock on LG phones. If you want a tool dedicated to LG phones only, then this is the tool to use.
Pros of Tungkick Bypass Tool
It does not require a username or password to bypass the Google account verification screen.
Compatible with a wide range of LG tablets and phones.
Free to use
Cons of Tungkick Bypass Tool
The tool is only compatible with LG phones.
It's not well documented. No clear instructions are provided
How to Use Tungkick Bypass Tool
Step 1: Download the Tungkick Bypass tool and extract it to your computer. Choose a direct location like the desktop.
Step 2: Put your phone on download mode.
Switch off the phone
Press the "Power" and "Volume +" buttons simultaneously.
While holding the buttons, connect your phone to the computer. Release the buttons when the Download Mode screen appears.
Step 3: Navigate to the folder where Tungkick was extracted and run the Tool.exe.
Step 4: Choose your phone from the list provided, then wait as the tool bypasses the FRP lock.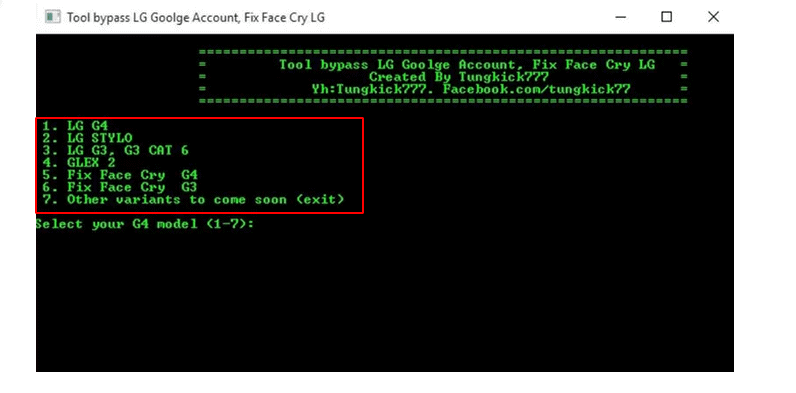 Method 3. Bypass LG FRP Directly From The Phone's System.
This is another standard method that people use to bypass LG FRP lock. It is straightforward and does not require any file to be downloaded.
Follow the steps listed below to use this method;
Step 1: Connect your phone to a stable Wi-Fi network.
Step 2: Go back to the first screen and tap Accessibility.
Step 3: On the next screen, tap Vision, then toggle TalkBack.
Step 4: Scroll down and tap text-to-speech output.
Step 5: On the next screen, tap the gear icon next to Google Text-to-speech engine, then tap Setting for Google Text-to-speech Engine.
Step 6: Tap Feedback, then find Terms of Service and tap on it on the submenu displayed.
Step 7: On the open web browser window, tap the Google logo to take to the Google homepage. Search for "test."
Step 8: On the results page, long press any word until you see the options "share," "copy," and three dots. Tap the three dots
Step 9: From the options displayed, tap Assist
Step 10: Next, a search bar will be displayed. Close the request to sign in if requested. In the search, type settings.
Step 11: On the settings screen, tap the three dots to go to Apps > Show system > Setup wizard.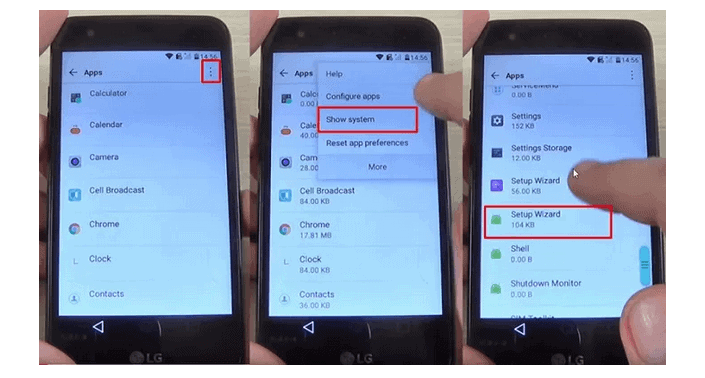 Step 12: Tap Setup Wizard, then tap Force Stop.
Step 13: On the same menu, tap Storage and Clear Cache.
Step 14: Find Google Play Services on the same menu, then tap Clear Cache.
Step 15: Restart the phone. The FRP screen should be gone.
Method 4. Bypass LG Google Lock With FRP Bypass APK
Bypassing Google Account lock using APK files is one of the most used methods. One benefit of this method is that almost all phone brands have a dedicated APK file you can use to bypass FRP.
To bypass LG FRP lock using this method:
Step 1: After turning on the phone, tap Accessibility.
Step 2: On the next screen, turn on Switch Access
Step 3: Next, assign a key to Overview by pressing Volume -. Tap OK when done.
Step 4: Go back to Accessibility menu > Vision > Talkback > Settings > Privacy Policy
Step 5: Launch the browser, then search for "tinyurl.com/bypassfrpapk" and wait for the download to finish.
Step 6: Press Vol – to open Overview > Dual Window File > Manager.
Step 7: Go to All files > Internal Storage > Downloads. Locate the APK file and install it.
Step 8: Next, launch the application, then Settings > General > Users > Set up user. Add a new Google Account, and follow the instructions to complete the process.
Step 9: Go back to Settings > General > Select Users > Owner. Tap YES to switch the new user to the owner.
Step 10: Finally, head back to Settings > Factory Data Reset > Reset phone > Delete all.
Cons of FRP Bypass APK
The steps are a little complicated for beginners
Finding a working APK can be a problem sometimes.
Method 5. Bypass LG Google Lock With SIM card
This is also a tried and tested solution you can try if other methods have failed. It does not require much tech knowledge, making it another excellent option for people who are not tech-savvy.
Step 1: Insert a SIM card into the phone, then connect to a Wi-Fi network
Step 2: Next, tap dial option > Emergency Information > Add New Contact
Step 3: Add a contact, then tap it again to display more options. Tap Change Data on the next screen
Step 4: On the next screen, tap the three dots followed by Share > Share Via MMS > App Info > SMS App
Step 5: Tap Opening Links > YouTube > App Notifications
Step 6: On the App Notifications page, tap Additional Settings > About > YouTube Terms of Service. Chrome browser will be opened.
Step 7: Search for "http://albastuz3d.net", then download Google Account Manager.apk and Quickshort maker.apk.
Step 8: Go to Chrome downloads, then tap Google Accounts Manager. Allow the installation when prompted. Do the same for Quickshort maker.
Step 9: Launch the app and search for Google Accounts Manager.
Step 10: Tap Google Accounts Manager > Try > Three dots > Browser Sign in > OK.
Step 11: In the new sign-in window that opens, enter your Google Account and follow instructions to complete the process.
Method 6. Bypass FRP Lock on LG Using Tenorshare 4uKey for Android
Tenorshare 4uKey for Android is a fantastic FRP bypass tool that allows you to bypass the FRP lock.
Features making UnlockGo one of the best include:
Bypasses FRP (Google lock) on Samsung devices (Android 12).
Removes screen lock from Android: PIN, pattern, password, fingerprints, face recognition.
Unlocks Samsung phones or tablets without data loss.
Supports other major Android brands such as Motorola, Huawei, Xiaomi, Google, etc.
To bypass FRP lock on your LG device using UnlockGo:
Step 1: Download and install UnlockGo on your pc.
Step 2: Connect your phone to the computer
Step 3: Launch UnlockGo and click on Remove Google Lock (FRP)
Step 4: Click Start on the next screen.
Step 5: Now select the first option, then click Next.
Step 6: Follow the on-screen instructions to enable USB debugging on your phone, then click Next
Step 7: Finally, click Authorized on the popup screen, then wait for the FRP removal process to finish.
Conclusion
Whether you have purchased a locked phone or have forgotten the email you used in your LG phone, these methods will help you solve the FRP lock problem and get your phone up and running again.
Please let us know what you think of these methods in the comments section, and if you have more solutions, share them with us, so we can try them out. Last but not least, always sign out of your Google account when selling your Android phone.