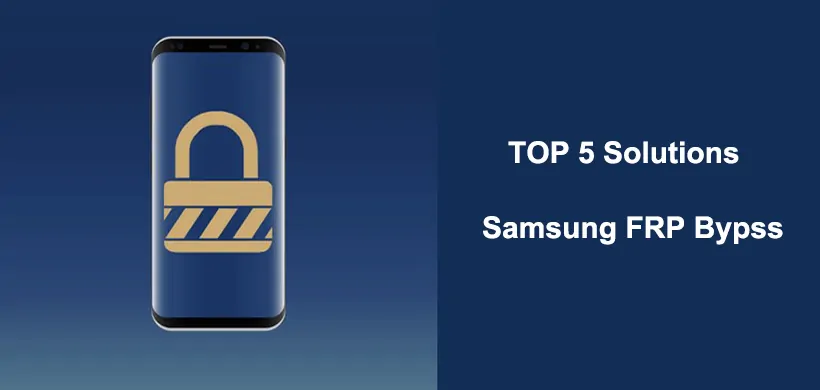 Last updated on

May 30, 2021

by Darren
Something that many of our readers have been contacting us about is the FRP lock. After they buy a second-hand Samsung smartphone, they quickly realize they need a Samsung FRP bypass solution.
It happens, it's a hassle to deal with, but it's not impossible to resolve. It may seem like an overly technical problem which only the most tech-savvy individuals can fix, but that's not the case.
With the solutions we're about to show you, you can easily bypass the FRP lock in no time at all.
Part 1. What is Samsung FRP Lock?
You might be wondering, what actually is the FRP lock? If you previously had an iPhone then you might be familiar with the iCloud Activation Lock – the FRP lock is essentially the Android equivalent of that and stands for Factory Reset Protection.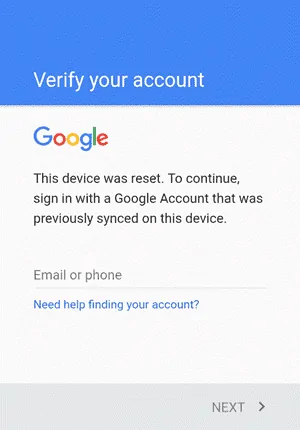 In laymen's terms, FRP is a part of the Android security system. Upon setting up an Android device you will be prompted to sign in with a Google account. If you later factory reset that device, you will have to sign in using the same Google account or your access will be limited.
Why does this happen? Ultimately, it's there to prevent thieves from stealing phones, factory resetting them, and selling them as brand-new phones without running into any barriers.
Part 2. Top 5 Ways for Samsung FRP Bypass
Moving onto the next part, now we're going to show you how to bypass FRP on Samsung. There are plenty of solutions to choose from so you can be certain there'll be one that works for you.
#1. Best Samsung FRP Bypass Service – UnlockBoot
Kicking off our list of solutions is UnlockBoot FRP Unlock, a Samsung FRP bypass service that we've found to be very effective. This is a remote service that works for any Samsung smartphone and the process involved couldn't be any easier.
Trained experts handle the entire process without the Google account password
Uses a safe, secure, and unique remote unlocking process
Supports all Samsung models (smartphones and tablets)
Permanently unlocks the Samsung device and enables full functionality
The average time for FRP bypass is just 5 minutes!
Better yet, you don't have to worry about going out of pocket by using UnlockBoot. Pricing starts at just $29 so everyone can enjoy this service without worrying about it being too expensive.
Example: Samsung Galaxy Grand Prime FRP Bypass
If you're interested in using UnlockBoot, follow these steps:
Step 1 – Start by installing TeamViewer on your computer and connecting your Samsung phone to the computer via USB cable.
Step 2 – Go to the UnlockBoot FRP Unlock page and select the relevant Samsung service from the drop-down menu, then enter your device's IMEI number. You can find the IMEI of an FRP locked device from:
The back of your device
The packaging
Step 3. Click Unlock Now to proceed. After you pay and place your order, you'll receive instructions on how to proceed. Follow these instructions carefully to ensure you connect with the technician without issue.
Step 4 – Once you are connected to the technician through TeamViewer, they will take care of the unlock process for you.
Our Review: What may stand out to some users is that this Samsung FRP bypass process uses TeamViewer, but don't let that concern you! UnlockBoot's team are professionals and the service they provide can be truly trusted.
#2. Best FRP Bypass Tool for Samsung – Tenorshare 4uKey
Don't worry if our first solution wasn't for you because next up, we have Tenorshare 4uKey. This is a software solution rather than a service, but it can work just as well. It includes various features including:
Bypasses the FRP lock without the Google account's password
Allows users to use all features without limits after bypassing
Supports most Samsung smartphone/tablet models
Supports Android 2.0 and above (the latest Android 11 included)
Available as a free trial (the full version is required to complete the unlock though)

Example: Bypass FRP Lock on Samsung J3 (Android 7.0)
When it comes to software solutions that let users bypass FRP on Samsung, Tenorshare 4uKey is among the best. It's incredibly simple to use too, just follow these steps:
Step 1 – Make sure that Tenorshare 4uKey Samsung FRP bypass tool is installed on your computer, then connect your Samsung phone using a USB cable.
Step 2 – On the main menu, click Remove Google Lock (FRP).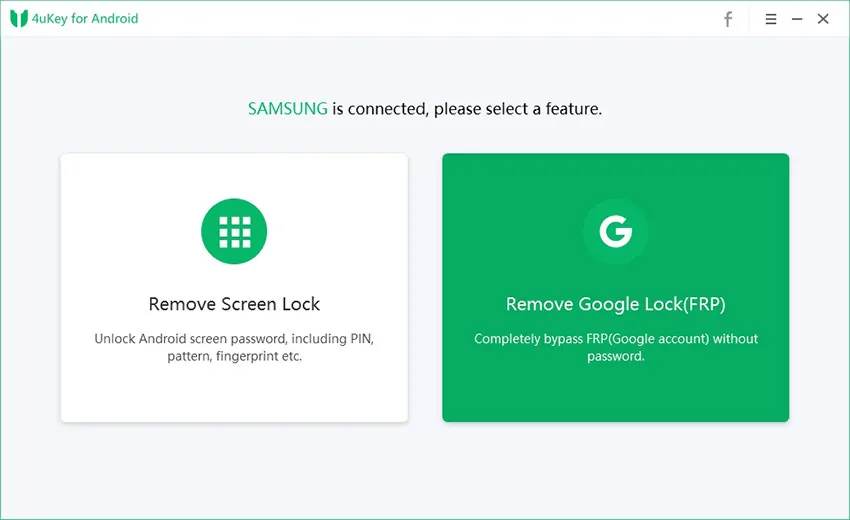 Step 3 – Read the important information on the next page before clicking Start Remove.
Step 4 – After a quick scan, you'll see a notification on your phone. Select View and then in the browser app, go to the URL https://www.tenorshare.com/frpfile and download that file.
Step 5 – Click Next on 4uKey and follow the instructions that are shown to set up the device's security settings accordingly. Click Next again to view the remainder of those steps.
Step 6 – Finally, once your settings have been changed as instructed, you simply restart your device and enter the unlock pattern that you chose and the FRP lock will be gone.
Our Review: The main difference between this solution and UnlockBoot is that you'll be doing this on your own without professional help. That being said, Tenorshare 4uKey offers instructions every step of the way and this Samsung FRP bypass tool makes the entire process very clear.

#3. Using Realterm to Bypass Samsung FRP Lock
Still haven't had any luck bypassing FRP? No worries, perhaps a different type of Samsung FRP bypass tool will do the trick. Realterm is a more advanced software solution but is no less effective when compared to Tenorshare 4uKey.
Example: Samsung S7 FRP Lock Bypass
Step 1 – Install Realterm on your computer and launch it to begin.
Step 2 – Connect your Samsung phone then go to the Device Manager and locate your device under the Modems header.
Step 3 – Right-click on your device and click Properties. Go to the Modem tab and take a note of which port your phone is on.
Step 4 – Back on Realterm, go to the Port tab and change the port to whichever port you found your phone is on.
Step 5 – Next, go to the Send tab and enter the command at+creg?\r\n then click Send Numbers.
Step 6 – In the same box, enter the command atd1234;\r\n but this time click Send ASCII. Repeat this step until a dial appears on your phone.
If you prefer to see a visual representation of this method, then there is a more in-depth YouTube video explaining the steps.
Our Review: This way will bypass FRP without computer or OTG. Note that it may take a while to complete, but some users have found this solution to be successful.
#4. Resetting the Device to Bypass FRP Lock
Sometimes, the best Samsung FRP bypass method is to do a factory reset. When you do this, adjusting the network settings can usually help to remove whatever Google account is currently signed in. Here's how this method works:
Example: Samsung Galaxy S8 FRP Bypass without Computer
Step 1 – Factory reset your Samsung phone and begin setting it up until you see the Google Account Verification page.
Step 2 – Tap the arrow at the top-left of the page and you'll be taken back to the Wi-Fi settings.
Step 3 – Tap Add network at the bottom of the list and for the network name, type a random word.
Step 4 – Tap and hold the network name you typed, tap Share, and tap Gmail.
Step 5 – Next, tap the Notification option followed by App Settings, then tap the menu icon at the top-right of the screen and tap on Account.
Step 6 – You'll now be taken to the Settings app and from here, go to Backup & Reset and select Factory Data Reset.
Step 7 – Your Samsung device will factory reset again but this time, the Google account will be removed alongside the FRP lock.
Our Review: It's worth noting a few things about this solution. First, this doesn't work every time (some Android versions have patched this bug). Secondly, removing the Google account will sign you out of apps like Gmail and the Play Store, so be aware of this.
#5. How to Disable FRP to Bypass Google Account Verification
At the end of the day, removing the Google account through the Settings app to bypass FRP on Samsung is usually the easiest thing you can do.
Example: Samsung Tab E FRP Bypass
Step 1 – Launch the Settings app and go to Accounts.
Step 2 – Locate the Google account on the list and tap on it.
Step 3 – Tap on the Remove Account button and confirm this action.
Step 4 – Optionally, you can now sign in with another Google account. Our Review: The problem that users typically face is that they have already done a factory reset, meaning they're facing the Google Account Verification page and can't use this simple method. However, if you haven't done a factory reset yet, do this beforehand.
#5. Bypass Samsung FRP Lock with a Custom Software
The last solution is to use a software tool – IMEIUnlockSIM FRP Bypass Tool. It's simple to use: you offer the IMEI number of your Samsung phone to them, they will custom a software tool according to your IMEI number, and send the software tool to you.
After receiving the software, you can unlock your Samsung device from FRP lock in 2 steps.
Our Review: We tested IMEIUnlockSIM on our Samsung phones, all of them are unlocked with the software. It's an excellent Samsung FRP bypass tool for those who want to unlock their device within 2 steps.
Part 3. Scammers to Stay Away From
Now that you know the different ways to bypass FRP on Samsung, there are two more important things to remember.
1. Don't Use Unauthorized Samsung FRP Bypass APK
Most importantly, don't use any apps that are unauthorized or from shady third-party sources. A lot of the time, these apps contain malware that is designed to harm your device or steal personal data. If you do decide to download Samsung FRP bypass apk, be sure to do vigorous research into them before installing them – be certain that they're safe.
2. Don't Use Any Scam Tricks
You should also avoid any scam tricks that you see online. A quick Google search will uncover plenty of "tips and tricks" that involve you paying, handing over your account information, or filling out endless surveys. Again, it's important to avoid these tricks or you'll be at risk of being scammed.
Conclusion
That sums up everything you'll need to know when attempting to Samsung FRP bypass. We've given you all the top solutions to consider, as well as some advice for researching your own solutions, so now you can disable the FRP lock without any more barriers in your way.
For a really fast unlock experience, take a look at UnlockBoot. You can get your Samsung device unlocked in literally minutes and a professional handles the process for you – there's nothing not to love about it!