Last updated on

October 25, 2022

by Darren
Find everything you need to know about the universal unlock PIN.
Unlike network, app, and online attacks that require skills and knowledge to pull off, physical threats can be executed by anyone. Using strong lock screen passwords is one way of protecting our mobile phones against physical threats.
However, we sometimes use complex passwords that we easily forget after a few days. If you've forgotten your password, you've come to the right place. We have various unlock methods that you can use if you can't remember your password or PIN.
Part 1. Is There Any Universal Unlock PIN?
"Is there a universal unlock pin or pattern for Android phones?" is a common question you've probably met. So, is there one? Unfortunately, No. A universal pin that unlocks all Android phones does not exist.
One pin or pattern that can be used to unlock all phones might sound like a great idea. No one would have to go through the password reset process. However, the existence of one would pose a serious security risk. Anyone could steal your phone and use the "universal pin or pattern" to access your data.
You may have read in some articles that *#*#7780#*#* is the universal code/pin for unlocking all Android phones. However, it is not a universal unlock code. Instead of unlocking the screen, it will factory reset your mobile phone, wiping it clean in the process.
Check out our Latest Master Code to Unlock Any Phone to learn more about master codes, how to use them, and alternative solutions you can use if the codes don't work.
Part 2. How to Unlock Android Phones Without Universal Unlock PIN
Even though no one code or pattern exists to unlock every Android phone, there are other ways to unlock your Android phone if you can't remember your password. These methods range from professional tools to built-in functions on the phone itself.
You still can't remember your lock screen pin/password? Try the methods below.
Method 1. Using Droidkit
3rd party apps like DroidKit can be lifesavers when all other options don't seem to work. This is because most of them are developed to solve a particular problem.
DroidKit is an extensive Android toolkit that fixes major Android issues such as screen lock, FRP (Google Lock) bypass, data recovery, and system repair. If you're looking for a tool to unlock your Android phone, then consider using this fantastic tool.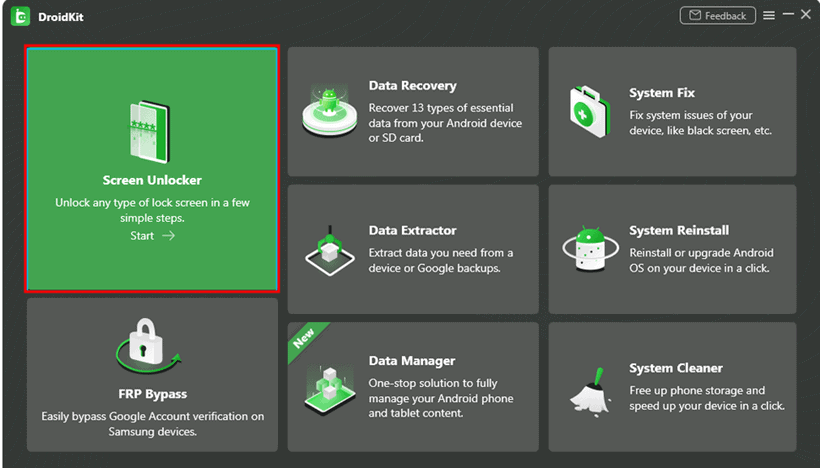 Why You Should Try DroidKit
Removes patterns, pins, digital numbers, fingerprints, and facial recognition.
Supports all most common phone brands, e.g., Huawei, Samsung, LG, Google, Oppo, Xiaomi, Sony, etc.
Supports all the Android OS versions
Compatible with Win11/10/8.1/8/7/Vista, and Mac (macOS Ventura, Monterey, Big Sur, Catalina, Mojave, High Sierra, Sierra, OS X 10.11)
User-friendly. No tech skills are required.
How to Unlock Android Phones Using DroidKit
Step 1: On your PC, download and set up DroidKit.

Step 2: Connect your Android phone to the computer using a compatible USB cable.
Step 3: Launch DroidKit and click the Screen Unlocker option from the home screen.
Step 4: On the next screen, click Start, then select your phone.
Wait as the app prepares your phone's configuration file.
Step 5: Once the configuration files are ready, click Remove Now.
Step 6: Follow the instructions on the screen to put your Android phone into recovery mode.
Step 7: DroidKit will start to remove the screen lock from your phone automatically after you perform the last step on the screen.
That is it. You should now be able to use your phone.
Warning: DroidKit will factory reset your phone and remove the screen lock. Ensure you back up your data before you begin the process.
Method 2. Use Backup PIN
Professional tools like DroidKit are great, but they are not everyone loves them. After all, there are numerous fake unlock tools on the internet. If you're one of them, using a backup pin should help you unlock your phone.
When setting up your screen lock password, fingerprint, or face recognition, most phones will allow you to add a backup pin you can use to unlock your phone if the primary choice fails.
If you set up a backup pin, you can try to unlock your phone (At least five times) until you are prompted to try again later. After this, the option to unlock your phone using the backup pin should be available.
Enter the backup pin to unlock the phone, then set a new password that you can remember.
Method 3. Unlock in Safe Mode
This method is for people who decided to go for more security by downloading 3rd party screen lock apps from Play Store. You can uninstall the application if you've forgotten the pin/password, but that can only happen if the phone is unlocked.
In such cases, the Android operating system has a special mode, Safe mode, that you can boot into to solve such issues. In safe mode, your phone will only load the files it needs to run. Third-party applications like your screen lock app won't be available in safe mode.
While in safe mode, you can reset the app's data to remove the password or remove it entirely. Either way, the forgotten password won't be an issue after you exit safe mode.
How to Unlock an Android Phone From Safe Mode.
Step 1: Long press the power button until power options are displayed on the screen.
Step 2: Long press the power option until the safe mode option is displayed on the screen. Tap Ok to reboot into safe mode.
Step 3: While in safe mode, reset the app's data or remove the application entirely.
Step 5: Restart the phone once done to exit safe mode.
Your phone should be unlocked after it restarts. You can set up a new password or re-install the application.
Editor's Comment
There you have it. That's how you can unlock your Android if you have forgotten your pin/password. Even though there's no universal pin to unlock all Android phones, the methods we've discussed will help you unlock any phone.
Always remember to back up your data before using 3rd party applications.