Last updated on

August 17, 2022

by Darren
Company phones have become the norm nowadays and if you work for a reasonably sized company, you've probably got one.
It would be unreasonable to expect these companies to let their employees use their work phones for anything outside of work-related tasks – there is no reason employees should use them for personal reasons.
For that reason, they need to monitor company phones and this is where MDM can be handy.
On the other hand, this can inevitably lead you to need an MDM bypass tool and we're going to dive right into those.
Part 1. What is MDM Lock?
MDM (Mobile Device Management) allows companies to monitor how the iPhones they issue employees with are being used.
Not only does this allow monitoring, but it also provides a way of remotely factory resetting the iPhone, installing certain applications, and locking the device if any employees are using theirs improperly.
In theory, this is great – after all, the iPhone belongs to the company.
However, if your employer tells you to keep an old work phone, you might not be able to MDM bypass. Until you learn how to get rid of the MDM, you'll be restricted.
Part 2. 4 Best Free iPhone & iPad MDM Bypass Tools
To begin with we're going to look at a set of tools which are free to use, meaning anyone can use them without requiring a license.
1. 3uTools
Starting with 3uTools, this solution works with almost any iOS version, all the way up to iOS 13.
You'll need access to a computer for this one as it's basically an iTunes alternative, and it's fairly easy to jump right into without having experience using these types of tools.
Step 1. Go to http://3u.com/ and download the software to your computer.
Step 2. Once you have 3uTools installed, connect your iOS device to the computer and launch the program.
Step 3. Wait for the program to detect your device then go to the Toolbox tab and click Skip MDM Lock.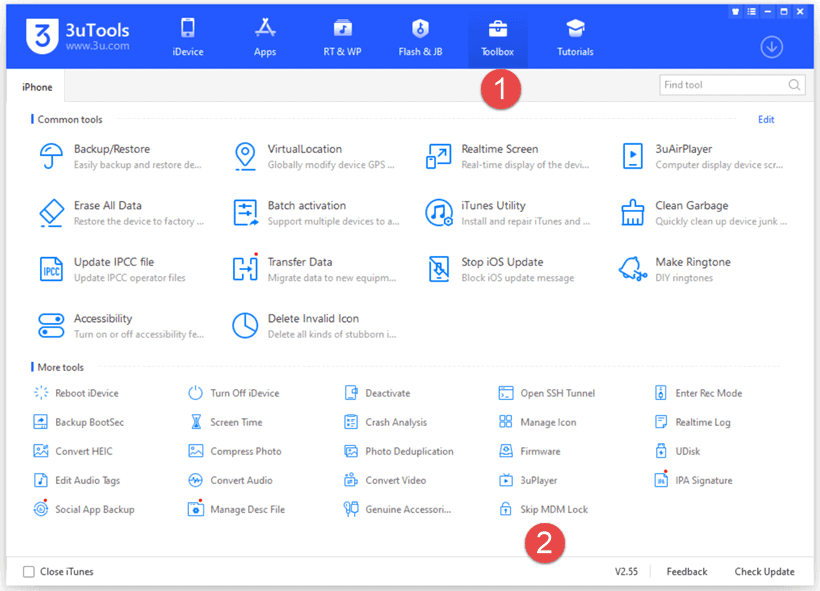 Step 4. Confirm this by clicking Skip Setup Assistant. Your iOS device will then restart, and you'll have successfully used this MDM bypass free solution.
That's right, 3uTools is free so there's no pressure on you to buy software that you're not sure about.
Limits
Doesn't support the most recent iOS 14 versions
Find My iPhone must not be enabled otherwise this won't work
This is not a permanent solution and your iPhone will be locked again if you restore a backup or update the iOS version
2. Fiddler
Another iOS MDM bypass tool you can use for free is Fiddler.
It doesn't offer as wide a range of tools as 3uTools does as this isn't an iTunes alternative, but it's particularly useful for bypassing any MDM protection that is set up on your iPhone.
Step 1. First, you need to restore your iPhone on iTunes (click Restore iPhone). Please make sure your iPhone is not connected to any Wi-Fi network.
After the restore process, close iTunes. And take the SIM card out of your iPhone.
Step 2. Download Fiddler from http://www.telerik.com/. Install it on your PC and connect your iPhone to the computer.
Step 3. Next, launch Fiddler and select the Tools tab before clicking Telerik Fiddler Options.
Step 4. Using the HTTPS tab that is shown, check the box next to Capture HTTPS CONNECTs and press OK.
Step 5. Then Lauch iTunes and go back to the Fiddler interface. Click on the Rules > Automatic Breakpoints > After Responses.
Step 6. Now, insert a SIM card into your iPhone. And select your iPhone icon on iTunes.
Step 7. On Fiddler, you should be able to view a list of active connections and you must locate the albert.apple.com entry.
Step 8. Select this entry then on the window to the right, click Response body is encoded, click to decode.
Step 9. Finally, using the Text View window, locate Flag = 1 and change it to 0. Click Run to Completion to finish this.
Obviously, there is a lot more to using Fiddler than there is to using 3uTools when it comes to bypass MDM on iPhone, but it gets the job done and that's what's the most important thing.
Limits
Only supports iOS 11 versions
Isn't the easiest solution to use
3. Using a Bug
For this next solution, you won't require any additional tools.
Instead, we'll be using a bug with the iOS firmware for Apple MDM bypass which works with certain versions.
Step 1. Make sure that your iPhone has been activated and is on a 4G network.
Step 2. Remove the SIM card and disconnect from 4G.
Step 3. Do not sign in to your Apple ID or create a passcode for your iPhone while setting it up.
Step 4. Set up your iPhone until you receive the MDM menu. At this point, insert the SIM card and press the back button 4 times.
Step 5. Proceed with the setup the same as before, without signing into iCloud or using a passcode. At the MDM menu, again press the back button 4 times.
Step 6. You can now set up your iPhone normally and the MDM lock will not be there.
Because it is limited to only a few iOS versions, this is not a reliable solution to try. Nonetheless, if you haven't had any luck with the solutions so far, this might be worth your time.
On a side note, you should back up your iPhone after bypassing MDM so that if you run into the lock again in the future, you can restore the backup and effectively bypass it.
Limits
Will only work for iOS versions 11, 12, and 13
Doesn't permanently bypass MDM, it will return if you update iOS or restore the device
4. Sliver
The final free tool for MDM bypass that we'll be talking about is Sliver. This tool has the benefit of being designed specifically for bypassing MDM locks, so there aren't a ton of extra features to get in your way.
Step 1. Start by going to the AppleTech752.com website and download the Windows or Mac version of Sliver. We'll be using the Mac version as an example.
Step 2. Open a terminal window and type the command chmod – R 755, but don't press the enter key yet.
Step 3. Open the Sliver program folder and drag the resources folder into the terminal. When the folder path is copied alongside the command, press the enter key.
Step 4. Launch Sliver and click More Options followed by MDM Bypass.
Step 5. Before continuing you must use checkra1n to jailbreak your iPhone. If you don't know how to do this, check YouTube for a quick tutorial.
Step 6. After jailbreaking, connect your iPhone to the computer and on Sliver, click Bypass MDM.
Step 7. Your iPhone will then restart several times and the MDM lock will be gone.
This tool does only work with some iOS versions but setting that aside, it's a very effective solution. It is worth noting that there are a few limits to using Sliver though.
Limits
Requires you to jailbreak your iPhone with checkra1n to work
Only compatible with iOS 12.2 to 13.6
Only the Mac version of Sliver can bypass MDM lock
If the above ways can't work for you, then try one of the following paid ways to remove Remote Management from your iPhone/iPad.
Part 3. Top 2 Paid Apple MDM Bypass Tools
Moving on from the MDM bypass free tools, there are a couple of paid options available.
Here're two great tools we think are worth checking out.
1. Tenorshare 4uKey
Tenorshare 4uKey is fantastic for a few reasons. What makes this software stand out is that it can bypass multiple types of locks on iOS devices including passcodes, iCloud Activation Locks, and in this case, MDM locks.
Here's how you can MDM bypass with this tool:
Step 1 – Download, install, and launch Tenorshare 4uKey on your computer and connect your iPhone with a lightning cable to begin.
Step 2 – From the main menu, click on Bypass MDM as this is the tool we'll be using.
Step 3 – Read the brief notes that are shown and then click Start to Bypass to continue.
Step 4 – Wait a few minutes and the MDM lock will automatically be removed.
That's all there is to it. You'll quickly be relieved of the MDM lock and you can use your iPhone without this blocking your access.
Note that if you do use Tenorshare 4uKey to remove an MDM lock then it'll return if you do a factory reset in the future.
Price
Unfortunately, you can't take advantage of this MDM bypass tool without a license, and there are 3 Tenorshare 4uKey licenses to choose from:
1-month license. Can be used on 5 devices, installed on 1 PC, and is $35.95/month.
1-year license. Can be used on 5 devices, installed on 1 PC, and is $39.95/year.
Lifetime license. Can be used on 5 devices, installed on 1 PC, and is $49.95.
2. iActivate MDM Bypass
Another paid solution you have is to use iActivate.
This can seem like a complicated solution to bypass MDM lock but for the most part, the instructions provided are straightforward and easy to understand.
Step 1 – Start by placing an order for the MDM bypass service.
Step 2 – Once your order is placed, read the instructions that are emailed to you and install the iActivate program on your computer.
Step 3 – Connect your iPhone to the computer and when iTunes detects it, tap the Trust This Computer notification.
Step 4 – Launch the iActivate program and if your device's IMEI and serial number are shown, this confirms that the device has successfully connected.
Step 5 – Click Start MDM Bypass and the program will take care of the entire lock removal. After the MDM lock is removed, your iPhone will reboot and can be used normally.
The only downside to this tool is that you'll have to wait for your payment to be received before you can use the tool. However, if you're not in a rush, that won't be a problem.
Price
There is only one price for the iActivate service, and it is a one-time fee of $45.00.
As soon as the payment has been processed, you'll gain access to the software and can remove the MDM lock.
Final Words
Now that you've seen a range of free MDM bypass tools and some of the paid options that are on the market, you can make an educated decision on the right tool for you.
The free solutions like 3uTools will work great although as we mentioned, there are a couple of negatives to using that solution.
On the contrary, a premium product like Tenorshare 4uKey excels and has barely any downsides worth mentioning. Regardless, any of the solutions we've mentioned will get the job done.