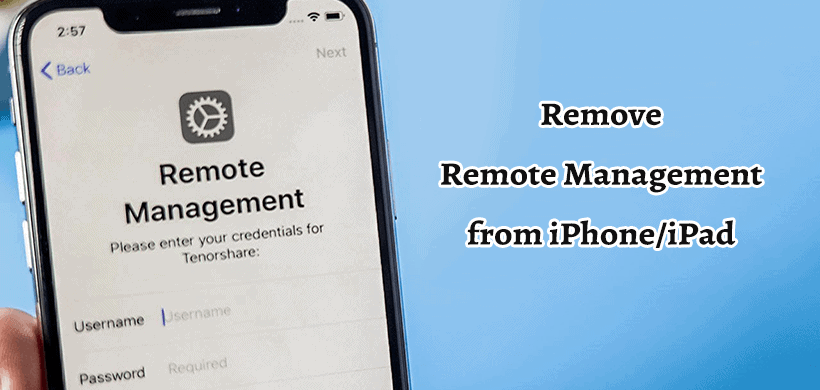 Last updated on

August 18, 2022

by Darren
Most of us carried company-issued computers, tablets, or phones to start working from home when the Covid-19 pandemic hit.
But have you ever wondered why you could only perform work-related tasks using the devices?
Organizations have been using remote management for a long time to protect their assets and resources by adding software programs and policies onto mobile devices to control how the employees use them.
In this article, we will learn what remote management is, how to check if your iPhone or iPad is being managed remotely, and how to remove it from your iPhone or iPad.
Part 1. What is Remote Management?
Remote Management, also known as Mobile Device Management (MDM), is a feature that allows other people, say administrators, to manage and control the device remotely.
The administrator can install an MDM configuration profile (XML files that define the device's settings and functions) and use it to perform tasks such as enforcing device restrictions, installing company updates, monitoring device usage, etc.
Mobile device management is mostly used by companies as a security tool to protect company data, since it allows them to control how the device is used in and out of the workplace.
Part 2. How Do You Know if Your Device Is Locked by Remote Management?
Knowing if your device is locked by remote management is relatively easy.
2.1 Via Settings
The first way is by going to the device's settings and checking if an MDM profile is present. To do this;
Step 1. Go to Settings, then the General menu.
Step 2. Tap VPN & Device Management.
Step 3. You should see an MDM profile if your device has one.
2.2 Remote Management Screen
The second way only applies to new owners.
If you are setting up the device for use and meet the "Remote Management" screen asking for a username and password, then you can assume that your device is locked by remote management.
If not removed, the organization can still monitor your device and restrict some apps or device functionalities.
Part 3. How Do You Remove Remote Management?
Most companies uninstall their MDM profiles before selling their old devices, but if you ever bump into one that is still being monitored, do not worry because removing remote management is not very difficult.
Whether you have been using the device or just bought it, the two methods listed below should help you out.
3.1 Removing Remote Management Using Tenorshare 4uKey
When you purchase a device being monitored, you will see the "Remote Management" screen when setting up the phone. You can't go past this screen unless you know the administrator credentials.
That's where Tenorshare 4uKey – Bypass MDM Lock comes in. Even without the credentials, you can still remove the MDM profile and finish setting up your device.
To remove remote management using Tenorshare 4uKey:
Step 1. Download and install Tenorshare 4uKey – Bypass MDM Lock.
Step 2. Launch the application, then click the Start to Bypass.
Step 3. Connect your device to your computer, then click Start to begin the bypass process.
Step 4. Wait for the bypass process to finish, then click Done.
Note: Do not reset the device after this process. Otherwise, Remote Management will return, and you will have to repeat the above process.
3.2 Remove Remote Management From Settings
If currently using the device, you can easily do this directly from the settings. However, you need the MDM profile password to be able to use this method.
Assuming you have the password:
Step 1. Go to Settings, then the General menu.
Step 2. Tap Device Management.
Step 3. Tap Remove Management.
Step 4. Enter the profile's password when prompted.
This method clears all the data in the device, so make sure you perform a backup before you begin this process.
If the MDM profile returns after this process, your device is likely enrolled in the Apple Device Enrollment Program. In such a case, consider using a MDM bypass tool (permanent solution) like using Tenorshare 4uKey.
Part 3. FAQs About Remote Management
What Is Remote Management Username and Password?
Just like any other username and password, Remote Management username and password are credentials needed to access the MDM profile installed on the device.
Without the correct username and password, you may be unable to remove the Remote Management profile from the phone.
This means that besides the device being monitored, you may be unable to perform specific tasks restricted by the MDM profile,
Does Factory Reset Remove Device Management?
No, it doesn't. The device management profile will still be present even after resetting the device to factory defaults.
You need a professional tool or the password to the profile to be able to remove device management.
Conclusion
Data is becoming the most valuable commodity, hence, most companies or organizations need to prevent any data leak.
Remote management(MDM) is just one of the many tools they employ to ensure that crucial data doesn't leave the organization.
However, that does not mean the need to remove remote management won't arise. We require privacy and mobile device management violates that, especially when using the device for personal stuff.
Now that you know how to remove remote management, I hope you can use your device freely without any restrictions or the fear of being watched.