Last updated on

May 17, 2021

by Darren
Have you had the unfortunate luck of running into the Samsung Reactivation Lock?
This is a problem many users have and it leads to them seeking Samsung Reactivation Lock removal, something that only has a few credible solutions.
You don't have to worry about searching for a working solution because we've done the research for you and will be going over these solutions in this article.
Part 1. Difference Between Samsung Reactivation Lock and Google FRP Lock
1. What is the Samsung Reactivation Lock?
First thing's first: what is the Samsung Reactivation Lock (account lock)?
Basically, when you attempt to factory reset your Samsung device, you'll be met with the lock. It is in place as a security precaution so that if someone steals your device and attempts to reset it, they won't be able to do a reset without your account information.
In addition, with this feature enabled you'll also have access to the Find My Mobile service offered by Samsung.
2. What is the FRP Lock?
The FRP Lock is very similar to the Samsung Reactivation Lock but there are a couple of differences.
After signing into a Google account on your device, your Android will automatically enable the FRP lock until you go through the removal process.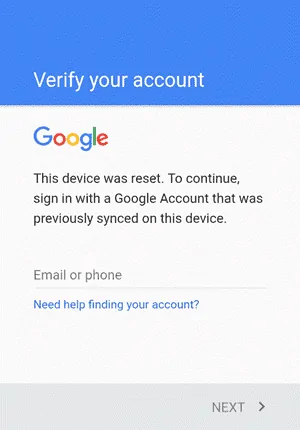 What it does is limits your device in the event that it is factory reset until you enter the correct account information.
Unlike the other type of lock, you can still perform a factory reset but you will have limited access to the device until the account has been signed in to again.
3. Differences
Here, we make a table to help you understand the differences between Samsung Reactivation Lock and Google FRP lock better.
| | |
| --- | --- |
| Reactivation Lock | FRP Lock |
| Developed by Samsung | Developed by Google |
| Protection to device stolen or lost | Protection to software changing or device flashing |
| Only available for Samsung devices | Available on all Android devices |
| Available from Android 4.4 (KitKat) | Available from Android 5.1 (Lollipop) |
| Samsung account required to activate the device when there is an unauthority activity unauthority factory rest | Google account required to activate the device after a factory reset |
| Track location in case of stolen or lost | Not available for location track |
Part 2. How to Remove Samsung Reactivation Lock (Account Lock)
When users want to use a Samsung Reactivation Lock removal tool there are 2 different solutions that we'd recommend trying out.
1. Remove from Settings
The first thing you should do to remove reactivation lock is with the basic Settings method. All you're going to do is navigate the Settings app and sign out of the Samsung account. Here are the steps you will need to take:
Step 1 – Launch the Settings app and navigate to Lock Screen and Security.
Step 2 – Go to Find My Mobile and in this section locate Reactivation Lock.
Step 3 – Tap the slider next to this setting so that it turns grey, meaning it's disabled.
Depending on your device model and the Android version you have installed, you may also be asked to confirm the action by entering your account password. But for most people, it's as simple as tapping the slider.
2. Remotely Remove Reactivation Lock
Alternatively, you can approach Samsung Reactivation Lock removal with the remote method. If you have a Samsung account linked to your device then go ahead and try this method next.
Step 1. Using a computer and internet browser, go to Samsung's Find My Mobile dashboard and sign in with the same account you have signed in on your device.
Step 2. Next, click the Erase Data option and then select Erase Device to confirm.
Step 3. After you have remotely wiped the Samsung device, you can now click on the three-dot menu > Remove to disable the Reactivation Lock.
The downside is that if you don't back up your data then you'll lose all of it from doing this. You'll also need to have a Samsung account set up beforehand.
Aside from these things, this is a very effective method to disable Samsung reactivation lock.
Part 3. How to Bypass Samsung Reactivation Lock (Account Lock)
Figuring out how to remove reactivation lock can be tricky at times. For that reason, you might instead want to try bypassing it if neither of the above methods works for you.
1. Using Privacy Policy
The first method for bypassing the lock is to use the Privacy Policy. To do this, you'll need to start with your device just factory reset and not set up yet, and the device will need to have access to a network.
Step 1 – Begin setting up your Samsung device and choose a suitable language. Proceed with the setup until you are taken to Samsung Account.
Step 2 – Type any random text into the password field then locate and tap the settings cog on the on-screen keyboard.
Step 3 – Tap Privacy Policy then make your way back onto the Samsung Account page, and this time tap on Forgotten Your ID or Password?
Step 4 – Next, connect the device to your Wi-Fi network if you haven't already done so.
Step 5 – Once you are connected, go to the Privacy Policy the same way we described before and once the page opens in your browser, bookmark it.
Step 6 – On the new page that appears, sign up for a fresh Samsung account then use that to sign-in on the Samsung Account page.
This doesn't work for every model but if you mess around with the setup you will likely find a similar method that helps you for Samsung Reactivation Lock bypass.
Video Guide:
2. Using Emergency Call
Another way you can try your Samsung phone and bypass the reactivation lock is with the emergency call feature. Like before, start with a recently factory reset device and then follow these steps:
Step 1 – Tap on Emergency Call and enter the emergency services number for your country (e.g., if you are in the US, you would type 911).
Step 2 – Once the call begins, tap on the dots icon and select Contacts.
Step 3 – Hang up the phone call then press the home button and tap OK.
Step 4 – Use the on-screen keyboard to tap the micro icon and go to Google App.
Step 5 – Connect your device to Wi-Fi if it isn't already, then follow the instructions.
Step 6 – Search Settings to open the app, then navigate to the Backup and Reset.
Step 7 – Tap on Factory Data Reset (or Erase All Content and Settings) and select Erase Device.
Step 8 – After the device resets, sign in with a Samsung account then go to the Settings app again, and in Find My Mobile you can disable the Reactivation Lock slider.
This should help no matter what device you are using. One concern that users have reported is that this has been patched for newer Android firmware versions and newer Samsung models, although this is currently unclear.
Part 4. Best Samsung Reactivation Lock Removal Tool
The last solution we're going to look at is the best Samsung Reactivation Lock removal tool out there, and it's a free app that anyone can download.
Step 1 – Download and install the Reactivation Unlock APK for Android file on your Samsung device.
Step 2 – Download Odin and Flash, as well as Minimal ADB and Fastboot.
Step 3 – Next, turn on ADB Mode and in this menu, enable USB Debugging.
Step 4 – Copy the files that you previously downloaded to the folders for Minimal ADB and Fastboot.
Step 5 – With a series of ADB instructions, download and install com.sec.android.app.samsungapps then also install the SamsungService.apk.
Step 6 – Connect to your Wi-Fi network and sign in to a Samsung account.
Step 7 – Flash your device with the standard ROM option.
Step 7 – Sign in to your Samsung account again then go to the Settings > Find My Mobile menu and you can disable Reactivation Lock by tapping the slider.
There's no doubt that this is a fairly complicated method so you can appreciate that it's the last on our list. If no other solution has helped you remove reactivation lock, then take the time to follow this method very carefully.
Conclusion
We've gone over 5 possible solutions that you can use for Samsung Reactivation Lock removal and we're confident that one of these will help you out. If none of them do, which is extremely unlikely, then leave a comment below and we'll see what else we can do to help.
Even though reactivation locks are an effective security feature, sometimes they're unwelcome and with these solutions that doesn't have to be the case.
You May Like: How to Bypass Google Account Lock on Samsung?