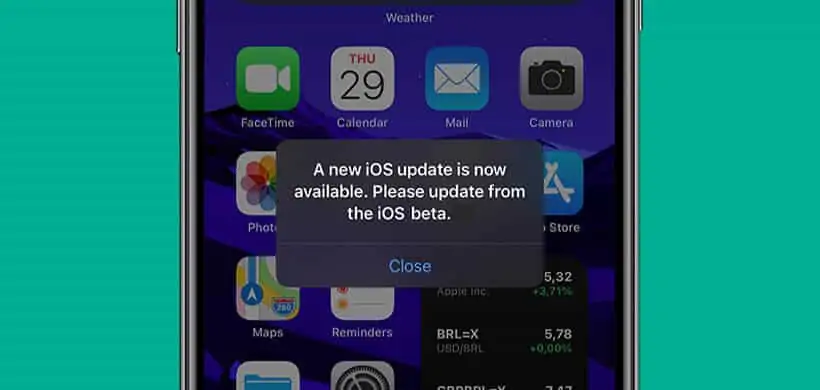 Last updated on

August 21, 2022

by Darren
Many iOS users are seeing a pop-up message "A new iOS update is now available. Please update from the iOS 16 beta." However, there isn't any update available for the software.
This is a bug that can be seen in iOS devices running on the iOS 16 beta version. This problem is quite annoying because the pop-up message keeps getting displayed.
Indeed, you can close the pop-up message, but the issue is the display message repeats itself over and over again, which is pretty irritating.
If you see this error message and you have checked that there is no new iOS update available, you are not alone in this. Many are experiencing the same issue, and this is why we have prepared this article where we will help you with the right solutions to tackle this problem.
Learn about what should be done, and get the problem fixed.
Why Does My iPhone Say "A new iOS update is now available"?
Before sharing the solutions, it is vital to know why you are seeing "A new iOS update is now available error message."
Your iOS 16 Beta device comes with a pre-set date. This tells you about by when you should update your software. But that date hasn't been extended yet, which is triggering that pop-up message.
The thing is, "a new iOS update is now available message" is not a new one. It was first experienced by iOS 12 Beta users. The issue back then was extremely serious because users started complaining about it throughout the world. This made Apple push an emergency software update.
Now you know the real reason behind this error message. Anyway, let's check out some of the ways you can stop this message from appearing.
How to Fix "A new iOS update is now available"?
#1. Disable Automatic Updates
The first thing that you can do is disable the automatic updates. This way, you will no longer see the update notification popping up on your screen repeatedly.
Disable automatic updates is one of the common ways to get rid of seeing a new iOS update is now available message. However, if this doesn't work for your iOS 16 Beta, try out the following solutions.
Here is the step-by-step instruction that you need to follow:
Step 1: Open your iOS device and then click on the Settings option.
Step 2: After that, you need to go to the General option.
Step 3: In the General option, you will see an option for Software Update. Please click on that.
Step 4: Allow your device to check whether there is any update for your device.
Step 5: Once done, locate the Automatic Updates tab, and click on it.
Step 6: Now, click on the turn off Download iOS updates.
And that's about it. The only problem with this solution is that even if there is an update for your software, you will no longer know about it because your phone's setting has been disabled.
So, you will have to manually take a look every time there is a software update and update your IOS accordingly.
#2. Uninstall Beta Software
Despite updating your device to the new Beta version, if you keep seeing the annoying message, here is another solution that you can try.
By uninstalling the current Beta software on your device and going back to the non-beta version, you should be able to stop the error message from popping up.
To do this, you will have to follow the following steps:
Step 1: First, open your iOS device like you normally do. Now, go to the Settings option.
Step 2: Once there, you need to click on the General option.
Step 3: After that, please select Profiles & Device Management.
Step 4: You will see your current iOS Beta Software Profile. What you need to do is hit the Remove Profile option.
Step 5: Once done, please restart your iOS device.
These steps are easy to follow, and after doing this, you shouldn't see the error message. Try this solution if solution one doesn't work. And if both solutions 1 and 2 don't work, move on with solution 3.
#3. Downgrade iOS Version
If you were satisfied using the earlier version of your iOS, you might want to downgrade the current version to that in order to steer away from this error message.
A one-step downgrade will help you fix the problem. For example, if you are using iOS 16 Beta, you need to downgrade to iOS 14 version.
One drawback of this is that you won't be able to create a backup for iOS 16 Beta if you downgrade to iOS 14, which means you'll lose all of your data.
If you are okay with it, follow the step-by-step instructions:
Delete the current Beta Profile
This is how you will delete the current Beta version:
Settings > General > Profiles > iOS Beta Profile > Remove Profile.
Erase your iPhone and restore it
Along with deleting your iOS profile, there is one more thing that you will have to do, and that is to erase and restore the iPhone. To do this, you will need a laptop or computer with the latest version of iTunes. Now, follow these steps:
Step 1: Start the computer, and with the help of a USB cable, please connect your iPhone to the computer.
Step 2: Put your iPhone into recovery mode. Different models will have different ways to bring their handset to the recovery mode. Please find the official guide here.
Step 3: Once you see the restore option, please click on that.
After clicking on it, your iPad/iPhone will be erased entirely.
Step 4: Now go on and install the downgrade iOS version. In case there is an older backup, you can restore it and get back your data.
If you follow all the steps correctly, you should be able to downgrade your iOS and be free from "A new iOS update is now available" issue. For a more advanced solution, try solution no. 4. Here it is.
#4. Block iOS Update Domains
Even after trying all the solutions, if you still see "A new iOS update is now available. Please update from the iOS 16 beta" error message, then there is one more solution that you can go for.
One thing that can happen is when your device runs on a Wi-Fi connection, it may update itself by downloading the latest Beta version. Once this is done, you are bound to see the error message.
And it is not possible for anyone to stop using Wi-Fi just because of that annoying message, right. So, in this case, what you can do is block all the domains on your router that are connected with IOS updates.
Now, this solution is only for similar routers, such as your home's Wi-Fi. If you are using Wi-Fi outside your home, such as a cafe, a mall, at your office, and so on, you won't be able to try this solution.
Nevertheless, to block the domains, these are the steps that you need to follow:
Step 1: The first thing to do is go to the router's settings. You can speak to your service provider to help you out with the address, which will take you to the settings page.
Step 2: On that page, you will see the list of specific domain names. What you will see there will vary from one service provider to another.
Step 3: To the blocking list, you need to add two domains- appldnld.apple.com and mesu.apple.com.
Once you do that, your iOS device will no longer be able to download any software update when you use that particular Wi-Fi. But please keep in mind that this is a solution for your home router only.
Conclusion
These are the four robust solutions that you can try to stop seeing "A new iOS update is now available" message despite having the latest version.
All four methods are doable. Out of them, the trickiest one is indeed blocking iOS update domains. This is because many people don't know how to go to the settings page for their router. However, if you are not sure which address to type in, do get in touch with your service provider.
Also, after seeing this message, if you find out that the official iOS 16 version is ready to install, go for the update. After updating the device to the latest version, customers have reported that they stopped seeing the error message.
Now you know all the solutions to fix "A new iOS update is now available error message. Please update from the iOS 16 beta." We hope the solutions will come in handy and will help you use your device normally.