Last updated on

March 12, 2021

by Darren
Hi Darren
I want to send an iPhone as a gift to my child but don't have enough money. Should I buy a used device?
And what to look for when buying a used iPhone? Thanks in advance for your help!
Jane
Getting a new iPhone can be exciting but at the same time it can be very expensive, even if you decide to get a contract.
On the contrary, buying a used iPhone is much more affordable and a lot of the time they are in good condition – just because they are used that doesn't mean they're damaged.
The issue is that if you buy a used phone, you don't have the guarantee that it's in perfect condition and ready to be used.
So, when you're going to purchase a used iPhone, use the checklists in this guide to make sure you get the best deal possible and don't get ripped off.
Part 1. Checklist for Buying Used iPhone/iPad Online
The following checklists are compatible with iPhone, iPad, iPod touch & Apple watch.
1. Find My iPhone
This is arguably the most important thing that must be checked when buying a used iPhone.
While there are ways to disable Find My iPhone later, it's tedious and will sometimes require you to pay for a service for iCloud lock removal.
You can contact the seller to discover if Find My iPhone is enabled, and they can do this by simply opening the Settings > [Your Name] > Find My.
If it turns out that it has been enabled, make sure that you ask the seller to remove it along with their iCloud account before you buy the iPhone from them.
2. Blacklist Status
Another crucial thing to check is whether the iPhone has been blacklisted.
If it is, this means that the iPhone has been reported for numerous reasons (e.g. because it was stolen) and you won't be able to connect the device to any carriers.
To check the blacklist status, all you have to do is get the iPhone's IMEI number and run it through an IMEI checker. You'll see a brief report about the device which should include the blacklist status along with the reason, if any.
3. Check if it's Unlocked
By default, most carriers will add a carrier lock to the smartphones they sell.
These locks limit the phone so that it can't be connected to any other carrier – if the iPhone is locked to Verizon then you can't connect it to the likes of T-Mobile without removing the carrier lock.
If it's locked, you'll see a message such as "SIM Not Supported" when you insert a sim card.
When you're buying a used iPhone, you should inquire about whether the device is unlocked or not. If it isn't, you may be able to get the phone cheaper and there are also ways to get the lock removed.
4. Warranty
Although it varies from country to country, you'll find that most smartphones come with a warranty.
You'll want to check if the used iPhone still has an active warranty, how long it will last, and the warranty conditions (e.g. if it only covers certain damages).
Again you can usually find out about a device's warranty by running the IMEI through a checker, but the seller should also be able to tell you.
5. Replacement Status
The last thing you'll want to check when you buy a used iPhone online is the replacement status and by doing this, you can ensure that you aren't getting cheated.
If the iPhone is actually a replacement, you should be able to get the price of the used iPhone lowered.
---
Best IMEI Checker for Online Transactions
Want to find an all-in-one checker for the above checklist? We'd recommend that you use the All-in-one IMEI Checker for this because it has a lot to offer:
Can perform all of the checks we listed above, including the blacklist status and replacement status
Supports checking all iOS device models
All IMEI checks are done manually by an expert (other checkers are usually generated reports that use an outdated database)
100% accuracy is guaranteed when you use the WipeLock IMEI Checker
You'll also get a free unlocking guide if it's a locked device!
Part 2. Checklist When Buying a Used iPhone/iPad Face-to-Face
Just as the above one, the following checklist below is also available for all iOS devices.
1. Verify the IMEI from Both Body/SIM Tray and Software
The first thing you need to check when you're buying a used iPhone in person is the IMEI number.
If the iPhone has been tampered with then the IMEI number displayed in the iOS settings will differ from the IMEI that is printed on the iPhone.
Here's how to check the two IMEIs:
Body (Older Models). On the back and at the bottom of the iPhone, the IMEI will be printed.
SIM Tray (Newer Models). Remove the SIM card tray and the IMEI will be printed along the edge of the tray.
Settings/Software. Open the Settings app and navigate to General > About. If you swipe down you will find the IMEI number.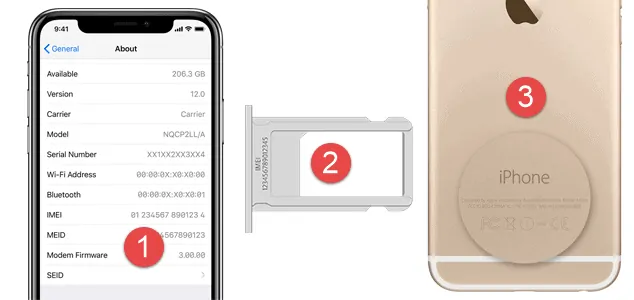 Compare the IMEI numbers that you find on the body/SIM tray and in the Settings.
If they are different then the device's hardware may have been replaced or it could have been stolen and had changes made to it.
It's a good idea to avoid buying any used iPhones with unmatched IMEI numbers however this will bring the price of it down.
2. Check the Activation Lock
When you set up an iPhone you are prompted to sign in with an iCloud account which enables several security features and various iCloud features, such as access to cloud backups.
One of the security features that are enabled is the iCloud Activation Lock. Whilst this is active, your iCloud account is locked to the iPhone even after factory resetting.
This means that if you buy a second-hand iPhone and find the previous owner's iCloud account is still signed in, you won't be able to sign in with your own.
So, check if the Activation Lock is active and if it is, it's important to request that the seller remove their iCloud account before you buy the iPhone.
3. Verify the Storage Capacity
This is a very subtle detail to look into but considering how iPhones come with varying storage capacities, you'll want to double-check the capacity of the used iPhone you're about to buy.
Go to Settings > General > [Device] Storage and confirm that the value of the capacity is the same as what is being advertised.
Remember that storage capacity is reflected in the price of an iPhone – the more storage, the more expensive the iPhone is.
4. Check the Battery
Even though iPhone batteries can last a long time, after as little as a few months the battery health begins to deteriorate. This means that the iPhone will take longer to charge and the battery won't last as long, so it needs to be charged more frequently.
To check an iPhone's battery health, open Settings and go to Battery > Battery Health. Here you will see a percentage – you want this to be as close to 100% as possible.
If you find out that the battery health is significantly lower than a new iPhone's battery (e.g. if it's at 60%), then you'll have to pay Apple if you want the battery replaced.
Keep in mind that this is also a reason for the seller to decrease their selling price since you will be paying for a battery replacement.
5. Water Damage
Something you should definitely avoid when buying a used iPhone is water damage.
At first water damage can appear insignificant, but over time it will cause a lot of damage to the iPhone's hardware and it will eventually be unusable. Water damage also voids an iPhone warranty, so this is really important to check.
iPhones have a nifty device called an LCI (Liquid Contact Indicator), which appears red if there is any water damage and remains silver if there isn't. You can find this on the inside of the SIM card tray slot (the exact position varies between iPhone models).
6. Speaker and Microphone
Checking the speaker and microphone is something that people usually forget to do, and it only takes a few minutes. Here are the two things you should do:
Play music or a video to check if the speakers work fine.
Make a call from the used iPhone to your current smartphone to determine if the microphone is clear.
That's all it takes – less than a minute of your time and you can find out if the speaker or microphone has any faults.
7. Cameras
Camera damage can be inflicted from users dropping their iPhone too much and cracking the lens, or even from cracking their screen which causes damage to the front camera.
Open the Camera app and take a few photos with the front and back cameras to make sure they both work properly, record a short video, and check that the flash works too.
8. Headphone Jack and Charging Ports
This is something else that's easy to forget about – the headphone jack and the charging port.
Headphone jacks are commonly damaged so it's not unusual for this to happen, but if it is faulty then you can get a better deal on the sale. Just plug in your headphones and check if you can listen to music without any issues.
The charging port is a completely different story. If the iPhone has a broken charging port then this sometimes can't be fixed and even if repairable, it's expensive. In that case, look for another used iPhone to buy.
9. Retail Box and Accessories
When you're buying a used iPhone, you don't just want the iPhone – you want everything that came with it originally. This includes all of the accessories such as:
Pair of earphones
Power adapter
USB lightning cable
3.5mm to lightning cable adapter (only newer iPhones)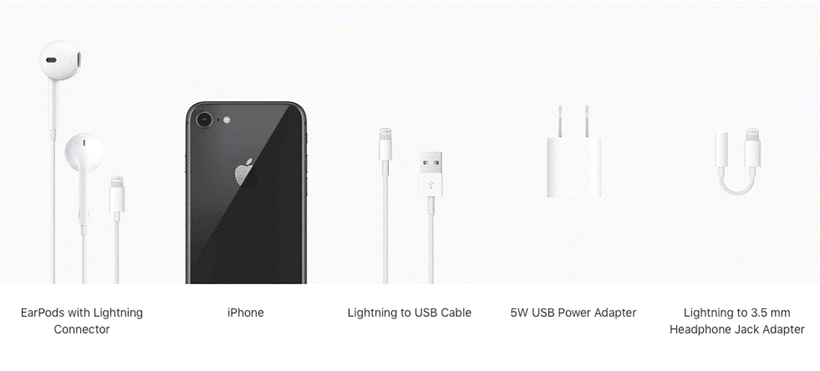 And of course, you also want the box that the iPhone and all of the accessories came in.
10. Screen
There are two things to consider when it comes to an iPhone's screen: the condition of the screen itself and how good the lighting is.
For the condition, look for any damage such as scratches and cracks.
For the lighting, open the Notes app so that you get a bright white background and see how bright it is. If you increase the screen's brightness and the white background isn't that bright, this indicates that the screen's hardware has begun deteriorating.
11. Buttons
As a result of users pressing the buttons too hard and given that an iPhone's buttons are fragile, they are easily damaged and this is another thing you need to check.
Try all of the iPhone's buttons – the home button, volume buttons, and lock/side button – and make sure they all function properly.
You should also check if the buttons are loose, have been pushed in too far, and for newer models if the Touch ID works.
12. Connectivity
The last thing to check is how well the connectivity of the iPhone is. There are two main parts to this: Wi-Fi connectivity and carrier connectivity.
To check the Wi-Fi, just connect to a network and make sure that you can freely browse the internet.
For the carrier, insert your own SIM card and see if you can send and receive texts without any issue. This will also help you find out if there is a carrier lock that could prevent you from using your SIM card in the used iPhone.
Part 3. How to Buy a Used iPhone without Being Scammed?
As well as all of the points in the checklists above, there are also some things that you need to look out for and avoid when buying a used iPhone.
If the selling price is very low, this can indicate that the iPhone is stolen or there is something wrong with it.
If the seller is on vacation and wants you to pay them electronically so that they can send it to you, this is a known scam.
If the seller isn't able to answer any questions you have about the iPhone, this can also indicate that they are a scammer.
If the seller isn't willing to let you choose where to meet them, this is a reason to be suspicious.
If the iPhone is listed as Brand New, in Original Packaging, this is usually a sign that the iPhone has been stolen and repackaged.
On top of all of these things to avoid, use common sense. If anything about the seller makes you uncomfortable or there's clearly a problem with the iPhone, don't hesitate to walk away from the sale.
Part 4. Best Places to Buy a Used iPhone/iPad
You now know what you need to keep in mind when buying a used iPhone, the next step is to find one to buy. Not sure about where you can buy used iPhones?
Amazon. The Amazon Renewed section of their online store is home to many reputable sellers, so you can be sure that you're getting a good deal. Used iPhones sold from here are checked and kept to high standards to ensure customers aren't ripped off.
Apple. Apple also sells refurbished iPhones that customers have handed in, and they manually refurbish them so that they're as close to new as possible. The downside is that because they are professionally renewed, used iPhones are a little more expensive from here than other places.
eBay. You can buy almost anything on eBay including used iPhones. eBay doesn't hold sellers to the same standards as Amazon Renewed does, so there's always the risk that you're buying a low-quality or damaged iPhone.
If none of these sites have the iPhone you want to buy then check out your local online sales boards – Craigslist and Gumtree are a couple that come to mind.
Part 5. FAQs When Buying a Second-hand iPhone/iPad/iPod touch/Apple watch
1. What's the Difference Between Used and Refurbished Devices?
These two terms are used interchangeably but they mean very different things.
A refurbished iPhone is a second-hand iPhone that has gone through a process to renew it and make it as close to new as possible (this sometimes involves replacing cracked screens and old batteries).
A used iPhone hasn't gone through any process and is sold in its current state. Because of this, refurbished iPhones tend to be a little more expensive than used iPhones.
2. Is Buying a Used iPhone a Good Idea?
It all depends. We list the top pros and cons of buying a used iPhone to help you make your decision.
Pros
Used iPhones are a lot cheaper than brand new iPhones
You can hand-pick the used iPhone you want, you can't do this with a new iPhone
Contracts are cheaper if you get them for used phones
You get to test a used iPhone to make sure it works before you buy it
Cons
Used iPhones have usually exceeded their warranty or have some damage
Because they have been used for a long time, used iPhones sometimes need a battery replacement
Older iPhone models have less storage capacity
Used iPhones often have scratches, scuffs, or screen cracks
Conclusion
By using either of the checklists we've provided you with above, you can take steps to guarantee that you don't get a faulty used iPhone or get surprised by discovering damage after you hand over the money.
Obviously, there are pros and cons to buying a used iPhone but the biggest advantage is that you pay only a fraction of the price compared to if you bought a brand new model.
Sure, certain guarantees come with a brand new iPhone – including a warranty and knowing that there is no damage – but sometimes this isn't feasible. Whether you buy one online or face-to-face, follow our checklists!