Last updated on

December 12, 2019

by Darren
Hi Darren,

Can you help me on my AirPods Pro?

Last Friday, I received my AirPods Pro purchased from Amazon. The ANC was amazing when I first connected it to my iPhone and enjoyed "Memories" (one of my favorite songs).

However, everything ends after updating to the latest firmware – version 2B588.

The first time when I used my AirPods Pro after updating astonished me. Was there someone swapped my little sweetie?

The Noise-Cancelling becomes significantly weaker! And I found I was not the only one who affected by this when I visited the Apple communities and reddit.

Do you have any ideas on this?

It would be much appreciated if you could help!

Tom
This is one of our readers' experience while using AirPods Pro. We succeed in helping him solve this. If you're in the same situation, just read on to find the solutions.
Note: The following solutions are universal for all kinds of AirPods Pro Issues.
Let's get started.
Top 4 Solutions for AirPods Pro Issue – Firmware 2B588 Reduce ANC
#1. Reset the AirPods Pro (Worked for Tom)
The first method will be reset, it will remove all the settings from your AirPods Pro. This way solves most of the issues not only for AirPods Pro but also for other iOS devices. The steps are quite straightforward.
Step 1. Ensure both AirPods Pro are put into their charging case. Then close the lid.
Step 2. After 30 seconds, open the lid.
Step 3. Open your iOS devices that ever connected with AirPods Pro, then go to Settings > Bluetooth.
Step 4. Tap the "i" icon next to your AirPods Pro, then tap "Forget This Device"
Step 5. With the case lid open, press and hold the Setup button on the back of the case for 15 seconds until the status light flashing amber.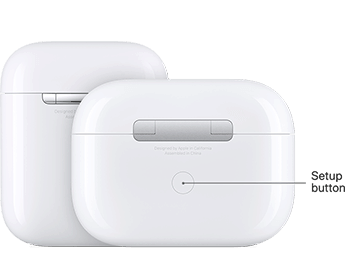 After this, try to reconnect the AirPods Pro to your iOS devices to see if it can work normally.
#2. Update the Firmware of Your Device
The AirPods Pro ANC becomes weak problem maybe caused by the compatible issues. Updating the OS (iOS/iPadOS/MacOS/WatchOS) version (for the device you used to connect with your AirPods Pro) to the latest will solve this issue.
For iPhone/iPad
Step 1. Go to Settings > General > Software Update.
Step 2. If there is an update, tap "Download and Install". It will start to download the firmware package.
After downloading, follow the instructions it shows to update the firmware.
For Mac
Step 1. In the top-right corner, click on Apple Menu > System Preference > Software Update.
Step 2. If an update is available, click on "Update Now".
For Apple Watch
The steps for updating Apple Watch is more complicated. For details, you can refer to the official guide: https://support.apple.com/en-us/HT204641
#3. Wait for Apple to Fix It
If nothing changed after the above methods, and you still want to keep your AirPods Pro. Then waiting for Apple to release a new firmware to fix this is the only choice for you.
You know, there are so many users affected by this issue, Apple won't turn a blind eye to it.
To speed up the process, you can contact their support from here: https://www.apple.com/contact/
#4. Ask for a Refund
If this is not a bug which means Apple weakens ANC intentionally, and you cannot accept this, then asking for refund will be the last choice.
Apple offers 14 days money-back guarantee for any undamaged product. You just simply return it with the accessories and packaging along with the original receipt (or gift receipt).
Here are the details on this: https://www.apple.com/shop/browse/open/salespolicies
In Conclusion
That's all about AirPods Pro firmware 2B588 update issue, if any questions or suggestions, just feel free to leave a comment.