Last updated on

March 18, 2021

by Darren
Hard resetting your Apple Watch is an effective solution when it stops responding for whatever reason.
It is the first choice for most people when they want to fix some of the common issues with their electronic devices.
If you're one of them, just keep reading to find the correct way to hard reset your Apple Watch.
Part 1. All About Apple Watch Hard Reset/Force Restart
We collect a list of things for you to learn Apple Watch hard reset better.
1.1 What Does Apple Watch Hard Reset Mean?
Apple Watch hard reset (also known as hardware reset, force restart) is a hardware operation that re-initializes the core hardware components of the watchOS, and ending all current software operations.
When your hard reset your watch, the device is simply turned off and then back on.
This is useful for you to repair some of the most common issues that are preventing your Apple watch from functioning properly.
1.2 When Should Your Hard Reset?
Issues that can be solved by performing a hard reset include but not limited to:
Apple Watch froze
Network related issues
Battery draining too fast
WatchOS update issues
Black screen of death
Cannot receive or make calls
Stuck on logo
1.3 How to Hard Reset Apple Watch?
The process of Apple Watch hard reset is the same for all serials. Here's how:
Press and hold both the Digital Crown and Side button for at least 10 seconds.
Release both buttons when the Apple logo appears.
Note: don't hard reset your Apple watch when updating watchOS.
1.4 Will a Hard Reset Erase Everything?
No! As discussed above, when you hard reset your Apple watch, it's simply turned off and then back on. It doesn't erase anything and causes no loss of information from your Apple watch.
1.5 What to Do When Apple Watch Won't Hard Reset?
There are 3 main reasons why your Apple Watch won't hard reset:
The battery life is run out of
There are some issues with the hardware
Your watch is in Power Reserve mode
For the first reason, you need to make sure you have the battery fully charged. If the battery isn't charged, you should repair it by going to Apple Store.
If there is an issue with the hardware, the only solution is to take your Apple watch to a repair store.
If your Apple Watch is in Power Reserve mode, then it won't be hard reset. To exit the Power Reserve mode, press and hold the side button until the Apple logo appears.
1.6 Does Hard Reset Remove Forgotten Passcode?
A hard reset won't remove the passcode. If you're locked out of your Apple Watch, you'll need to factory reset it. This will erase all content and settings from your device.
Here are two ways to factory reset an Apple Watch:
Reset on Paired iPhone
Open Watch app on your iPhone
Tap General > Reset, then select Erase Apple Watch Content and Settings.
Reset on Apple Watch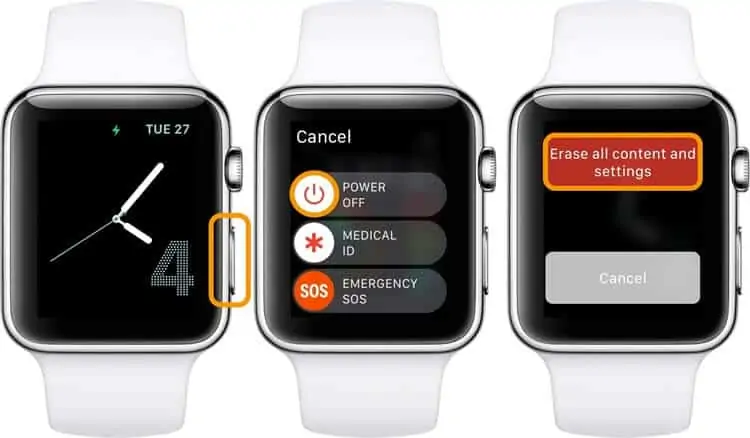 Connect your Apple Watch to its charger and keep it until you finish the following steps
Press and hold the side button until you see the Power Off option
Press and hold the Digital Crown until you see Erase all content and settings.
Tap it and wait for the process to finish.
After factory resetting your Apple watch, you can set it up and pair it with your iPhone, then use it as normal.
Note that a factory reset won't remove Activation Lock from your Apple watch. You need to ask the previous owner for help or try these Apple Watch Activation Lock Bypass methods.
Part 2. What if a Hard Reset Can't Help You Out?
The issue of your Apple watch is still there after a hard reset? Don't worry, you can fix it by updating both the iOS and WatchOS. This will fix most of the common issues.
2.1 Update iOS
Step 1. Going to Settings app on your iPhone.
Step 2. Then navigate to General > Software Update.
Step 3. Tap Download & Install to download the firmware.
Step 4. After the downloading, tap Install and wait for the updating process to finish.
2.2 Update WatchOS
Step 1. Make sure your iPhone is updating to the latest version.
Step 2. Keep your Apple Watch on its charger until the updating process completes.
Step 3. Open the Watch app on your iPhone.
Step 4. Tap General > Software Update, then download the update.
Step 5. It will start updating automatically after the download process completes. You'll see a progress wheel on your Apple watch screen. The update process usually takes from several minutes to an hour.
After updating the iOS and WatchOS, the issue should be resolved.
If this solution still can't work, just following the methods we mentioned in "Top 10 Solutions for Apple Watch Unable to Check for Update" (the solutions are universal for common Apple Watch issues) or leave a comment below.