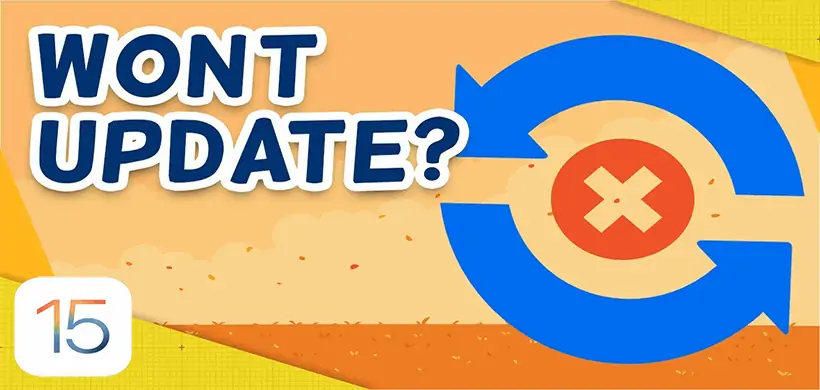 Last updated on

August 21, 2022

by Darren
Apple just announced the new iOS 16 software update, and you are probably eager to try all of its features. When it's finally released to the public, updating your iPhone, assuming that it supports the new software, is pretty straightforward.
However, several things might go wrong, and your iPhone won't update. But don't worry. There are several quick fixes that can help you successfully update to iOS 16.
iOS 16 is the latest version of the operating system for iPhones. It will probably be released in September 2021 to coincide with the other new iPhone models.
If you have plans to upgrade to iOS 16, it's important to read up on the new software update, including the potential problems and what to do when you encounter them.
Part 1. Top Reasons Why iPhone Won't Update to iOS 16
If you are asking, "Why won't my iPhone update to iOS 16," there are probably several factors that can explain your difficulty. It could be your iPhone:
Is not compatible with the update
Is not connected to Wi-Fi
Doesn't have enough battery life
Doesn't have enough free storage
Part 2. What to Do If My iPhone Won't Update to iOS 16?
Most of the time, updating your IOS will be pretty straightforward. Your iPhone usually updates automatically, or you can force upgrade it.
If your iPhone doesn't update to iOS 16 using these methods, some troubleshooting tips can help.
#1. Check if Your iPhone is Compatible with iOS 16
If you ask why won't my iPhone update, it's probably caused by compatibility issues. According to Apple, iOS 16 is compatible with all devices that can run Ios 14.
This means you can download the latest iOS version on the following devices:
All iPhone 12 models
iPhone SE (2020)
All iPhone 11 models
All iPhone X models
iPhone 8 and iPhone 8 Plus
iPhone 7 and iPhone 7 Plus
iPhone 6s and iPhone 6s Plus
iPhone SE (First Generation)
As you can see, the latest version only runs on the iPhone 6s and later. So, if you are using an iPhone 5s or earlier model, you are out of luck.
#2. Make Sure Automatic Updates Are Turned on
Usually, if your iPhone doesn't install updates automatically, it's because the automatic updates feature is disabled.
If you ask why won't my iPhone update to iOS 16, below is the procedure that might solve your problem.
Go to the Settings app.
Click 'General' and then click 'Software Update.'
Find and click 'Automatic Updates.' Then, swipe to the right to activate the feature.
Once the feature has been activated, you can now download updates when available. So simply install the updates overnight while you are sleeping or when your iPhone is not in use.
#3. You Get an Error Message
When your try to install the update, sometimes you might get an error message. Some of the most common errors encountered are 'Unable to Verify Update' or 'Unable to Check for Update.'
These errors are usually linked to a connection problem.
There are two probable reasons for these error messages– it could be you get disconnected from your Wi-Fi during updating, or it could be an Apple server problem.
When you encounter any of these errors, do the following:
Check if you are connected to the internet. While you are installing updates, make sure that your Wi-Fi connection is stable. Check for the signal icon at the top of your iPhone's screen to see the status.
Click 'Try Again' and wait to see if the installation continues.
If it doesn't work, try restarting your iPhone and repeat the process from the start.
If the above still doesn't work, try installing the update again using a different internet service provider. Maybe, you can go to work or your friend's home with a strong, stable internet connection?
Generally, it's highly discouraged to install updates on your iPhone using a public Wi-Fi network (e.g., coffee shops, malls). Public networks are generally not fast enough and usually not reliable.
#4. Make Sure That You Have Enough Storage
Dislike downgrade iOS, if you decide to upgrade to iOS 16, you need at least 5 GB of free space on your iPhone to successfully download and install the update.
Not having enough space is most likely the reason why an update fails. This is especially true when your iPhone has relatively low storage space. For example, owners of iPhones with 32 GB of memory typically encounter this issue.
You can make space on your iPhone by optimizing your photos, removing duplicates, uninstalling apps, or deleting unused data.
However, if you can't create enough space on your iPhone, there is another option you can do. You can install the software update using iTunes/Finder.
To install the update using iTunes/Finder, follow these steps:
Make sure you have access to a computer with iTunes installed.
Open your computer and start iTunes.
Using a connection cable, connect your iPhone to the computer unit.
When your iPhone is already detected, click the iPhone icon found on the upper left of the iTunes display screen.
Find the 'Summary' button on the left pane, and then select 'Check for Update' on the right.
Finally, select 'Download and Update' and wait for it to be completely installed on your iPhone.
#5. Make Sure You Have a Reliable Wi-Fi Connection and Enough Battery Life
You might not realize that oftentimes, it's the little things that block an iOS update. First, make sure your Wi-Fi connection is stable and reliable.
Second, your iPhone must have sufficient battery life – at least 50% of battery life remaining.
Not enough battery life is also the reason why your iPhone won't turn on after an update. You may connect your iPhone to a charger while installing updates for the best results.
#6. Updates May Take a Very Long Time
The update to iOS 16 normally take time due to the considerable size of the files. You need to be patient to wait for the process.
#7. Restart Your iPhone
Restarting your iPhone never hurts. In fact, it can actually solve several minor problems, including glitches, bugs, and corrupted files that interfere with your iOS update.
If you have followed all the steps above but still never complete the installation, try restarting your iPhone. Unless there is a serious problem with your iPhone, this should usually work.
#8 If All Else Fails, Use an iOS Repair Software
If the above two ways can't work for you. A 3rd-party iOS repair software such as Tenorshare ReiBoot. It can repair over 150 iOS system issues, including the update issue.
It offers a free trial to allow you to check if it work for you. Try this software if the above ways can't fix the update issue.
Part 3. Why iPhone Won't Turn on after Update?
Ever gotten into a situation where you are wondering why your iPhone won't turn on after update. A couple of reasons might be responsible for this scenario. The biggest suspects happen to be;
An iOS crash.
A damaged firmware.
A hardware glitch
Maybe the device ran out of power.
If your iPhone won't turn on after update, these are some fixes you can adopt to resolve the problem.
#1 Perform Hard Reset
A hard reset can help you put the iPhone won't turn on after update to bed once and for all.
For iPhone 6 and below, hold the Wake/Sleep button simultaneously with the Home button for a period of 10s till you see a screen with an Apple logo on it.
This will ensure a forced restart on your iPhone or iPad, ultimately fixing the problem in most cases.
#2 Connecte Your iPhone to Power
When your iPod, iPad, or iPhone refuses to power on, it is likely the device has run out of power. Try connecting it to power, the charging screen will appear after some minutes.
If that doesn't happen, or you see a message indicating that you should connect to power, that means the device was not charging in the first place. Therefore, check all the cables, USB, lighting point to ensure everything is in order.
It it still can't be turned on, you may need to use another USB cable or a different power adapter altogether.
If, after doing all these and nothing works, you may be left with no option but to take the device to the closest Apple-certified repairer that is nearby.
The measures mentioned above should help resolve the inability of your iPhone to update. But, if for any reason the problem persists, get in touch with Apple through their customer care and let them know what you are going through.