Last updated on

August 2, 2021

by Darren
Are you getting a "not registered on network" error message on your smartphone?
If so, you're not alone. It's a pretty common problem among Samsung Galaxy users, but it can occur on Android and iOS smartphones.
This article will break down what it means, why it happens, and steps you can take to fix the issue.
What Does "Not registered on network" Mean?
When your phone says not registered on network, your SIM card cannot connect to your network provider. As a result, you cannot make or get calls nor send or receive texts.
This error message pops up when you least expect it and is nothing short of frustrating. It's usually a SIM card issue on Android phones (especially happens on Samsung phones).
Why Does My Phone Say "Not registered on network"?
So, why would a phone you were texting with a few seconds ago suddenly give you this error message?
Well, there's no short answer because it happens for an array of reasons, the most common culprits being:
Carrier network outages
Damaged or disconnected SIM card
Your phone is tied to one carrier
Outdated smartphone firmware or software
You recently rooted your smartphone
Bad or malicious third-party apps
How to Fix the Phone "Not registered on network" Error
If your phone (especially a Samsung phone) keeps giving this error message, here are steps you can take to troubleshoot it.
Note that the following solutions can be used to fix the "Not registered on network" issue on all carrier networks, including Airtel, Jio, Vodafone, Straight Talk, T-Mobile, EE, BSNL, O2, Tracfone, Vodacom, Lycamobile, Rogers, Verizon, Telstra, Mint Mobile, MetroPCS (Metro by T-Mobile), Giffgaff, and more.
#1. Try Clearing Your Phone Dial App Cache
When your phone dial cache is nearly full, your phone may sometimes fail to recognize your SIM card, resulting in annoying network connectivity issues.
In that light, the first step you should take when dealing with the not registered to network issue is to check and clear your dialer cache memory. To do this, go to Settings > Device Category > Application tab > App Manager > All Apps > Dialer > App info and then clear the cache.
If this doesn't help, try restarting your phone, as discussed in the step below.
#2. Restart Your Phone
Rebooting is like the magic bullet for all smartphone errors (and for other devices too). It clears out temporary system bugs or glitches that might be slowing your phone down and causing network errors such as this one.
Press and hold down the power button until the power down menu option appears. Choose restart and wait for your smartphone to reboot. That should help fix the problem, but if it doesn't, read on to see how a hard restart might help.
#3. Reboot to Safe Mode
Although rarely used, safe mode is present on almost all Android smartphones in the market. Like restarting your phone, it can also save the day in pretty many situations, including this one. Unlike normal and recovery modes, safe mode only loads necessary apps on phone startup.
That makes faulty apps that might be causing your problem easy to identify and uninstall since they remain inactive until you boot your smartphone to normal mode.
Here's how to activate safe mode on Android:
Press and hold the power and volume down buttons at the same time until the startup screen pops up
Tap and hold power off until safe mode appears
Select and confirm
Note, for some Android phones, after the startup screen appears, you're supposed to release the power button and continue holding the volume down key until the screen loads. Restart your smartphone to disable safe mode.
Enabling and Disabling Safe Mode on an iPhone:
Turn your iPhone off the standard way
Wait for about 10 seconds and turn it on
Once it lights up, press the volume down button until the logo appears
To turn off safe mode on an iPhone, you can either restart it or hold down the power and home buttons simultaneously until it shuts down.
How to know if this tactic worked: If the not registered network doesn't show in safe mode, then the problem was a third-party app you can now quickly identify and uninstall.
#4. Try a Hard Restart
Also known as a forced reboot, a hard restart is often the perfect solution when your smartphone's screen freezes, but it can also help clear out temporary bugs and errors such as not being registered on the network. It's different from a factory reset in that it won't delete anything from your phone.
How you hard reboot a phone varies depending on the model.
For most Androids, pressing and holding down the power button for about 10 to 20 seconds does the trick.
For most Samsung smartphones, the force restart process is even more straightforward. Press and hold down the volume down and power buttons for seven seconds simultaneously.
For iPhone 8 and other newer versions, press and release the volume up key, do the same with the volume down key, and press and hold the side key until the Apple Logo appears.
For iPhone 7, simultaneously press and hold the volume down and sleep/wake button until the iconic Apple logo shows.
For 1st generation iPhones, simultaneously pressing and holding down the home and sleep/wake buttons until the logo appears will get it done.
#5. Update Your Phone's Firmware
Smartphone manufacturers often roll out firmware and software updates that contain advanced features to fix bugs and other performance issues. Failure to install these updates makes your phone vulnerable to malware, bugs, and other vulnerabilities that might cause errors such as not being registered to the network.
If it's a while since you installed updates, visit Settings > Phone > Software Update to check and install the latest updates. While at it, turn on automatic updates, too, so you can receive updated features and avoid similar issues.
Updating your phone's firmware should help fix the error, but try the other options below if it doesn't.
#6. Root and Install Patch
Rooting your Android offers you more control over your smartphone by allowing you to tweak its software to work how you want. It helps speed up your phone, create a full backup for it, improve battery life, block ads, and most importantly, remove bloatware that drains your phone and causes network errors.
Root your device, then download the necessary app from Google Play to install the IMEI patch. This should help clear the not registered network error.
#7. Manually Change the Carrier
As noted, this error message often means your SIM card cannot communicate with the carrier. So, if you've tried all the above without success, your SIM card carrier settings could be the issue.
Most smartphones will automatically choose the correct carrier when you insert your SIM, but that doesn't happen. That means the "not registered on network" error message will probably show and could be due to not having selected a carrier.
Go to Settings > Connections > Mobile Networks > Network Operators and then search to choose the right provider manually.
Note, manually switching carriers only works if your phone is unlocked. Suppose it's locked to a specific carrier. For instance, if you bought your phone through a particular carrier such as Verizon, your phone will probably be locked to them. That means you cannot use a sim Card from another carrier, and if you try, the "not registered on network" error message will probably show.
In this case, you'll have to unlock your phone with its IMEI number.
#8. Checkout and Update Your APN Settings
An access point name, commonly referred to as APN, defines the path for cellular data, allowing your smartphone to connect to your provider's gateway for seamless user communication. An APN is usually carrier-assigned, and you're not supposed to edit or change it unless directed by your carrier or smartphone administrator.
Without a correct APN, your smartphone loses connectivity to the carrier's cellular network. So, if you've recently changed to a new carrier, your old APN settings might be the reason your phone is saying not registered on the network.
To switch to your new carrier's APN settings, follow the steps below: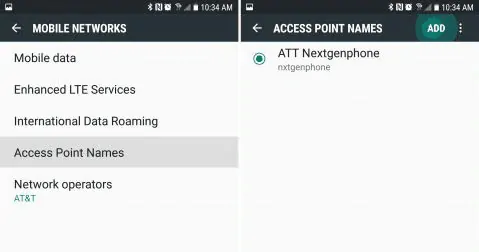 Go to settings, and select more under wireless & network
Open Mobile Networks > Access Point Names and click the three dots on the top right corner of the screen.
Choose New APN on the drop-down menu that appears and enter your new APN settings (you can find these online) in the corresponding order.
You could follow the steps above if you had recently edited your APN settings too. On an iPhone, go to your Cellular Settings > Cellular Data Network > Reset Settings to re-enter new or correct settings.
#9. Check the SIM Card Condition
Sometimes all it takes to fix a phone saying not registered to the network is removing and reinserting the SIM card. This is because your SIM card might be loose or might have disconnected from the tray.
If reinserting alone doesn't work, add a piece of paper into the slot to make it fit securely.
If this still doesn't work, try putting another SIM card into your phone, and if you suddenly have cellular signals, your SIM card is the issue. Pop it out, clean the metal surface using a cotton swab dipped in rubbing alcohol or disinfectant wipes, and try reinserting it again to see if it'll work. If not, it might be damaged, and you may need to replace it.
#10. Check and Reset Network Settings
If you first experienced this error in a low reception area, the problem might be that the network isn't strong enough to switch to 4G and 5G modes. Try switching to a lower network mode such as 3G to see if this will sort the problem out.
If it doesn't, you could try resetting the network settings. This action will erase all your wireless connectivity settings, such as Wi-Fi passwords, so you might want to try it last.
#11. Verify IMEI
If your IMEI shows unknown when you go to your about device settings or Unknown, your phone is probably the issue, and you may have to replace it.
Try switching your SIM card to a new phone to see if it works. In other instances, your IMEI might be blacklisted. Contact your provider to have it whitelisted.
#12. Reach Out to a Carrier or Phone Retailer
If you are entirely unable to work your way around the not registered to network error, consider reaching out to your mobile carrier. Sometimes the problem might be on their end. For instance, there might be a network outage or a technical issue in their gateway.
Alternatively, if you recently bought your smartphone, reach out to your retailer. This is because there have been reports of new Samsung Galaxy smartphones experiencing this error, and your phone might be in this category.
#13. Do a Factory Reset
If all else fails and you don't want to contact your carrier, or smartphone retailer, consider a factory reset. It'll wipe all data from your phone, resetting it to default manufacturer settings. This will restore it to the same condition it was in when it was new and you'll remove all malware and system issues that might be causing this error.
Before a factory reset, backup all your files first and fully charge your phone, as this process can take quite a while. Follow the steps below for a reset on Android phones:
Go to system Settings > Backup and Reset > Factory Data Reset >Reset the Device
You may have to enter a password at this point
Finally, click on delete all to erase everything
#14. Find an Alternative
The not registered on network error on your phone means you cannot call or text using your phone (at least until you fix the issue). So, while trying out the tricks above, consider finding an alternative phone to communicate with your peers.
Conclusion
As shown earlier, your phone saying not registered on network means you can neither call nor text. It's an incredibly annoying problem, especially because it happens when you least expect it.
You could be using your phone carefree one minute and the other you're entirely unable to use it because of this error. Browse through all possible fixes above to find one that works for you.
If your attempts prove futile, consider contacting your network carrier. Also, if you recently bought your phone, contact your mobile retailer as it could be a common problem among specific models.
You May Like