Last updated on

October 30, 2020

by Darren
After updating your iPhone to the most recent iOS version you get hit with "iPhone unable to activate", what can you do?
This type of error is extremely infuriating. Waiting for your iPhone to update iOS is frustrating enough since these updates usually take so long. When an error occurs afterwards, it gets even more frustrating.
That being said, there are a list of solutions that can help get rid of this kind of error. In this article, we'll be explaining what the best solutions are and how to overcome this issue quickly.
The errors can be resolved in this article include but not limited to:
Unable to Activate – An update is required to activate your iPhone.
Could Not Activate iPhone – Your iPhone could not be activated because the activation server is temporarily unavailable.
Could Not Activate iPhone – Your iPhone could not be activated because the activation server cannot be reached.
Activation Error – Activation request could not be completed.
SIM Not Supported – The SIM card that you currently have installed in this iPhone is from a carrier that is not supported under the activation server.
Activation Lock – This iPhone is linked to an Apple ID.
The iPhone could not be activated because the activation information could not be obtained.
We're sorry, we are unable to continue with your activation at this time.
Part 1. Reasons for iPhone Unable to Activate
Let's start by easing your curiosity and first address what the main causes of unable to activate iPhone are. From our research, we found these to be the most common reasons:
The Wi-Fi connection/mobile data connection is not stable or has technical problems
Your carrier may be preventing you from activating the device
The previous phone owner still has their iCloud account signed into your iPhone
Apple's servers are currently down or experiencing connectivity problems
For some reason, Apple is not allowing your phone to activate due to suspicious activity
There is a hardware fault that is preventing a successful connection
It goes without saying that there is a long list of other reasons that could be causing your iPhone to not activate. However, from what we found, these 6 were the most prevalent.
Part 2. Common Ways to Fix Unable to Activate iPhone/iPad
Now that you're aware of what could be behind your iPhone unable to activate, the next step is to attempt to fix it.
Since there are so many things you can try, we'd suggest working your way through this list and trying every solution.
1. Check Apple System Status
The first thing to check is the Apple system status page. On this page, you can see all of Apple's services and whether or not there are currently any system problems. If there are, this is likely why you are unable to have your iPhone activated.
The main services to check on here are iCloud Account & Sign In, Sign in with Apple, and Apple ID. If any of these are down then wait a few hours and try activating your iPhone again.
2. Reinsert SIM Card
In some cases, unable to activate iPhone is a result of carrier connectivity issues.
All you have to do for this solution is to remove the SIM card tray (using the metal clip that came in the iPhone box), wait a few seconds, and reinsert the SIM card.
This will effectively refresh the carrier connection and possibly resolve the issue.
3. Force Restart
Force restarting is always a good idea whenever you have iPhone problems. Whenever software errors or malfunctions are the cause of your issue, force restarting makes the iOS firmware completely reload.
How you do this depends on the iPhone model you have.
iPhone 8 and Newer. Press the Volume Up button, press the Volume Down button, then press and hold the Side button. Release the Side button when the Apple logo is shown.
iPhone 7/7 Plus. Press and hold the Volume Down button and Power button together. Release both buttons when you see the Apple logo.
iPhone 6 and Older. Press and hold the Home button and the Power button together. Release both buttons when the Apple logo is shown.
After following the appropriate steps, your iPhone will reboot. Although it appears to be exactly the same as a regular restart, it is more thorough.
4. If It's an iPhone 7
In response to reports of users unable to activate iPhone, Apple has stated that some specific models are more likely to encounter this problem due to a hardware issue.
In particular, the iPhone 7 models with model numbers A1660, A1779, and A1780 are most vulnerable.
If your iPhone is one of these, contact Apple or go to an Apple store where the experts can assist you.
5. Dual SIM Settings Issue
Dual SIM is a relatively new technology. With iPhones model X and later, you can have a dual SIM card that consists of both a nano SIM and eSIM. Although your carrier must offer this, most carriers do without issue.
The problem causing iPhone unable to activate could be that you have a dual SIM card but your carrier doesn't support it. Try using a regular SIM card or contacting your carrier to inquire about it.
6. Check Network Connection
Having a stable network connection is the most important thing. If your Wi-Fi network is unstable, can't connect to your provider's servers, or your mobile data can't hold a signal, your iPhone won't connect to the Apple servers. As such, you won't be able to activate the iPhone.
The only solution here is to connect to a healthy network connection. When you're at home, try to use Wi-Fi since that is usually the strongest connection. Otherwise, if your Wi-Fi has too weak a signal, disable your iPhone's Wi-Fi and check if your data allows you to activate the iPhone.
7. Use iTunes to Re-Activate
Instead of activating your iPhone from the device, you might have a better time if you use iTunes to activate it. All you need is computer access and then follow the steps below.
Step 1 – Turn off your iPhone, turn it back on, and connect it to your computer with a lightning cable.
Step 2 – Click on the device icon and click Activate Your iPhone. Sign in using your Apple ID.
iTunes will then check if your Apple ID and password are correct and if they are, your iPhone will quickly be activated.
8. Update with iTunes
You can also use iTunes to force update your iPhone's iOS version. Of course, you'll require computer access, then simply follow these steps.
Step 1 – Take a backup of your iPhone's data to ensure no data is lost. Be sure to disconnect your iPhone from the computer after doing this.
Step 2 – Use Apple's guidance to put your iPhone into Recovery Mode. The method will vary depending on your iPhone model.
Step 3 – Once your iPhone is in Recovery Mode, connect it to iTunes with a USB cable.
Step 4 – iTunes will prompt you to either restore or update. For this method, click on Update.
Step 5 – After iTunes has updated your iPhone, restore the backup you took.
Sometimes iOS devices are unable to fully update, seemingly without any reason. However, if you use iTunes, this will forcibly update your iOS to the most recent version.
Part 3. Advanced Fixes for Could Not Activate iPhone
If you try all of the fixes we've shown you so far and you still find that iPhone unable to activate, try these advanced fixes.
1. Unlock a Carrier Lock
Although this is a rare reason, your iPhone could be restricted as a result of having a carrier lock. Not many carriers will stop you from activating your iPhone but it isn't unheard of either.
You can request an unlock from the carrier (they usually have very strict requirements that you must meet though), but you can also use a carrier unlocking service.
Carrier unlock services tend to be much quicker than carriers, making them ideal. However, either method will help you unlock a network locked phone.
2. If It's iCloud Locked
Last up, your only other option to fix unable to activate iPhone could be to have the previous owner unlock it. Generally, it is the responsibility of the last owner to remove their iCloud account before selling the iPhone, but they sometimes forget. Here's how they can remove the account.
Step 1 – They first must go to iCloud.com and sign in with their Apple ID. This must be the same Apple ID that is signed in on your iPhone.
Step 2 – Next, they must navigate to the Find My section.
Step 3 – At the top of the screen, have them click All Devices and select your iPhone from the list.
Step 4 – On the box that appears, click Remove iPhone and confirm the removal.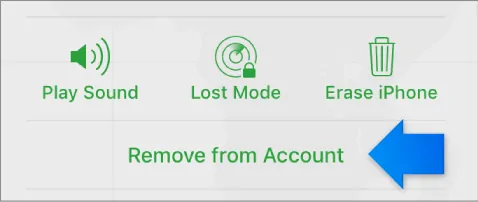 Doing this will remove the previous owner's Apple ID from your iPhone. Afterwards, you'll be allowed to sign in with your own iCloud account and should no longer get the error message that prevents you from activating your iPhone.
Don't have access to the previous owner? Don't worry, you can still remove iCloud Activation Lock without previous onwer!
Conclusion
Understandably whenever someone finds that their iPhone unable to activate, it's a frustrating sight.
What makes it worse is when you only just updated your iOS version and the error pops up, as updating iOS is typically one of the best solutions for these problems.
Thankfully, after making your way through the long list of methods we've given you above, nothing should stand in your way and activating the iPhone should be very easy to do.