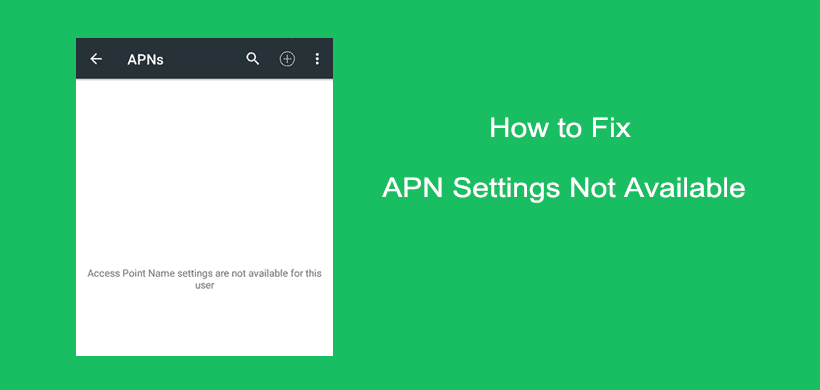 Last updated on

September 22, 2022

by Darren
Setting up email and social media accounts are among the first tasks we perform after getting a new phone. Even without a Wi-Fi connection, this is usually possible because our phones are able to connect to mobile data automatically.
However, what happens when your phone can't connect to the mobile data? If everything is working okay, SIM card included, then the first suspect would be the phone's APN settings.
Most people don't know about APN settings because it is pre-configured when the phone is purchased. Still, it would be good if we understood what APN is, why it matters, and how to configure it when our phones can't connect to the internet.
What is Access Point Name (APN)?
The Access Point Name is the gateway between your network carrier and the public internet. For any mobile device to connect to the internet, APN must be configured so that the network carrier can know what type of connection to establish(IP address to assign, security protocols to use, etc.).
In simple terms, Access Point Name gives your mobile phone all the information it needs to successfully access the internet.
Structure of an APN
Access Point Name consists of 2 parts:
Network Identifier – describes the external network the gateway connects to. And,
Operator Identifier – describes the Mobile Network Operator (MNO) the gateway is related to.
Some APN Examples
internet.mnc012.mcc345.gprs
Rcomnet.mnc015.mcc405.gprs
mobitel (Mobitel)
VZWINTERNET (Verizon Wireless)
Note: Even though APNs end in either .gprs or .3gppnetwork.org, they can also have custom names, which makes them easy to remember.
Why You'd Want to Change Your Phone's APN Settings
Even though APN settings are usually pre-configured, there are instances where you would want to manually edit the settings or add a new one. Some of these instances include:
To troubleshoot your mobile phone when it is not connecting to mobile data.
When switching network carriers.
To avoid data roaming charges (not encouraged).
Escape charges when using prepaid plans (not encouraged)
Why You've Never Had to Manually Add/Edit APN Settings
You have probably never had to add or edit your mobile phone's APN settings, and that's likely for two reasons:
i) Access Point Name (APN) Settings Comes Pre-configured.
Most mobile phones have their APN settings programmed either during manufacturing or during customization by a network provider. When you purchase the phone, it will automatically connect to cellular data.
ii) Network Providers Send APN Configuration Files
After Android 8 was introduced, network carriers decided to save their customers the trouble of manually configuring APN settings by sending out APN configuration files.
When a customer inserts a new SIM card into their phone, the network carrier will detect the new SIM card and then send an APN configuration file after a few minutes.
All the customer has to do is tap the message from the notification bar, and the correct settings will be automatically installed.
Why You Can't Access the APN Settings
If you are unable to access your phone's APN settings, chances are high your network provider has something to do with it.
Looking at the last two reasons why someone would want to edit their Phone's APN settings, you would understand why your network provider prevents any changes to APN settings. They would incur massive losses if everyone was allowed to play with the settings.
For this reason, you may notice that your network provider has ensured that:
You are not able to edit existing APNs.
You are not able to add new APNs (+ or add options are missing).
How to Fix "Access Point Name settings are not available for this user."
If you are unable to add or edit APN settings on your mobile phone, then worry not. Like every other tech problem, there is always at least one solution you can use to fix it.
Try out the methods explained below to fix the "Access Point Name settings are not available for this user" issue.
Method 1
Step 1: Go to your mobile phone's Settings, then tap Wireless and Networks.
Step 2: On the Wireless and Networks screen, tap Mobile Network.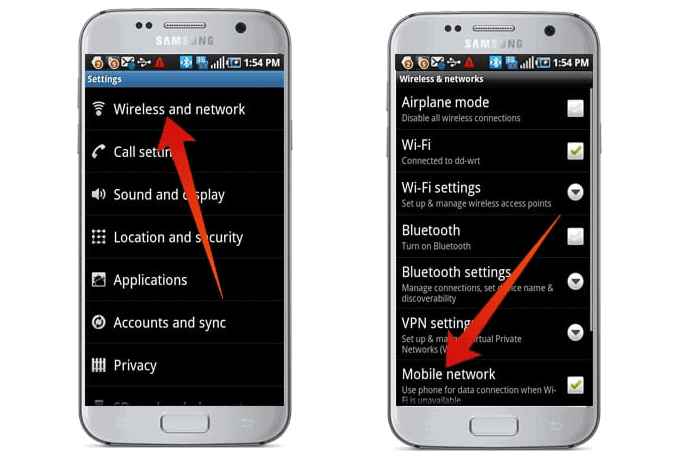 Step 3: Next, tap New APN, then enter the correct APN settings for your network provider. The settings can be found online on the network provider's websites.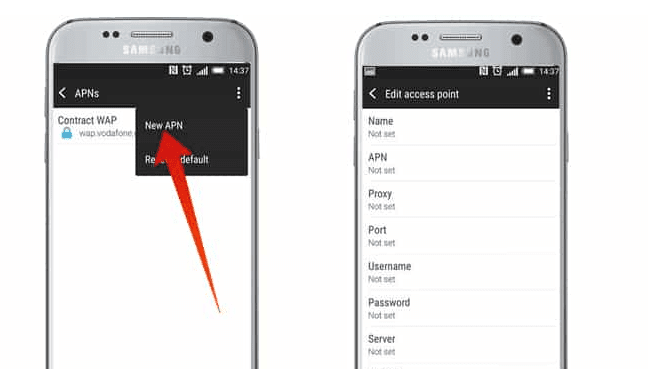 Below is an example of T-Mobile APN settings.
Step 4: Save the new or edited APN, then select it as the desired APN.
Step 5: Restart your phone and confirm if the issue is resolved.
If you saw the "APN settings not available for the current user profile" warning during the process,
Step 1: Find a Wi-Fi network and connect your phone
Step 2: Restart your phone while still connected to the Wi-Fi network
Step 3: Follow the steps 1-5 mentioned earlier. You should be able to now add/edit and save the APN.
Method 2
If method one did not work for you, then try fixing the "APN settings not available for the current user profile" using these alternative steps.
Step 1: Connect your mobile phone to a Wi-Fi network.
Step 2: On your mobile phone, go to Settings > Mobile Networks
Step 3: Tap Network Operators
Step 4: Wait as your phone searches for available mobile networks. A list of mobile network operators will be displayed when the search is complete.
Step 5: Tap your SIM card's network provider.
Step 6: Tap Access Point Names, then add a new APN.
Step 7: Save the newly added APN.
Conclusion
As you have seen, you need correct APN configurations for your phone to connect to mobile data, especially when you are switching network providers.
By reading up to the end, I hope you have learned what an Access Point Name is, seen a few examples of APNs, why it is essential, and how to edit or add one when you have to.
Let us know in the comments section if the article helped you solve your problem. Cheers!
You May Like