Last updated on

November 15, 2023

by Darren
Planning to buy an iPhone but uncertain of its lock status? You are not alone. Most people don't know whether an iPhone is locked or unlocked at the time of purchase, and since they can't tell from physical appearance, they end up making the wrong decision.
Today we will answer the common question, "Are all iPhones unlocked?" and show you how to verify if an iPhone is locked or unlocked and how to unlock if it is network-locked.
Not All iPhones Are Unlocked
Unfortunately, not all iPhones are unlocked. However, you can possibly tell an iPhone's lock status from where it is sold.
iPhones sold directly at Apple stores are usually unlocked, meaning they can operate on any mobile network. These iPhones accept all SIM cards, giving you the freedom to switch carriers without any snag.
iPhones sold at mobile provider stores are usually locked, meaning they are tied to that carrier and can't operate on any other. These iPhones might come with the carrier's SIM card, or you can get one separately. While mobile service providers claim that network locks are supposed to prevent phone theft, they are actually meant to keep you on the network for as long as possible.
The online marketplace is a little tricky because you never know what you are getting. While some online sellers are honest about their iPhone's lock status, most tend to lie about it to facilitate faster sales at higher prices. Unlocked iPhones/ all unlocked devices generally sell faster and command higher resale values than locked ones.
Fortunately, there is a foolproof way to verify the lock status of iPhones. The following section explains how you can confirm an iPhone's lock status, whether purchasing it from an Apple store, your local network carrier's outlet, or online platforms such as eBay.
3 Methods to Check if an iPhone is Unlocked
As we said earlier, you can't tell whether an iPhone is locked or unlocked from its physical appearance. But you can use these three methods to verify the network-lock status of any iPhone. They also work for other phones.
Using a Different Carrier's SIM Card
The most straightforward and fail-safe way to verify if an iPhone is unlocked is to use a different carrier's SIM card. Since unlocked iPhones should accept and automatically activate all SIM cards, your iPhone should do the same. So:
Step 1: Power off the iPhone
Step 2: Eject the SIM tray using an ejector pin
Step 3: Replace your carrier's SIM card with the one you wish to use. Borrow from a friend if you don't have one yet
Step 4: Reinsert the tray, then power on the phone
If you encounter messages such as "Invalid SIM", "SIM Not Supported", etc., you are unlucky because the iPhone is still locked.
Conversely, if you see no such messages and are able to make/receive calls and send text messages, the iPhone is unlocked and can operate on all compatible mobile networks.
From the Settings App
Another quick and simple way of verifying an iPhone's lock status is the settings app. iPhones running on iOS 14 and above have a network feature that instantly lets you know whether they are locked or unlocked.
Step 1: Access your apps, then launch the Settings app.
Step 2: Go to General > About.
Step 3: On the About menu, scroll down to locate the Network Provider Lock menu.
You should see "No SIM restrictions" if the iPhone is unlocked. Anything else means it is still locked to a network carrier.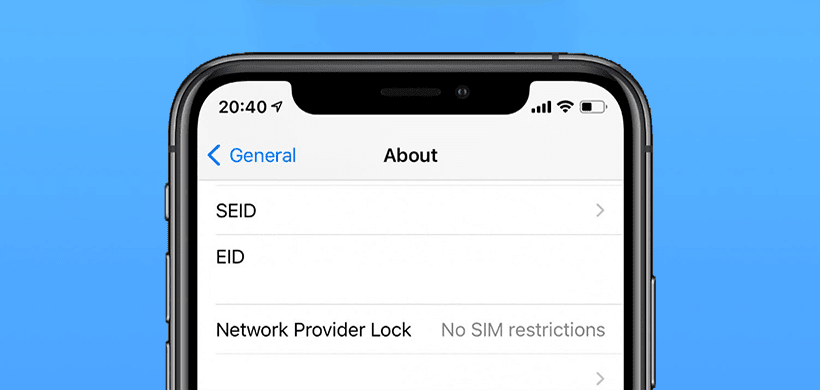 Using an Online IMEI Checker Service
You want another method to be certain? You can always use an IMEI checking service to confirm your iPhone's details, such as the network-lock status. While a few IMEI checking services have tainted this method by generating fake results, reputable ones still exist.
If you ever need to run an IMEI check, use WipeLock IMEI checker. This service excels through its manual checking process, ensuring a remarkable 100% accuracy rate. This service is not only about identifying the lock status but also about offering knowledgeable support and advice on the next steps. For those facing carrier lock issues, WipeLock's expertise proves invaluable, offering clarity and a pathway to unlocking the device efficiently and securely. .
To verify your iPhone's lock status using this service:
Step 1: Obtain your iPhone's IMEI number by dialing *#06#.
Step 2: Go to WipeLock IMEI checker and submit your IMEI.
Step 3: Receive the IMEI report.
Easiest Way to Unlock Carrier-Locked iPhones
Unlocking a carrier locked iPhone can be both an annoying and effortless process. You can go with the challenging carrier and software unlocking or the simple way with DirectUnlocks – the fastest and most convenient phone unlocking service.
With DirectUnlocks, you can remotely and permanently unlock any iPhone model in under 24 hours. Unlike other methods, all it takes is an IMEI number and three steps to free your phone from a network carrier.
Features
Even though unlocking an iPhone through the carrier is the recommended way, below are some reasons why you should use DirectUnlocks instead:
Unlock your iPhone within 24 hours instead of the usual 48+ hours from network carriers
Permanently unlock your iPhone. Not even factory resets can reverse the process
No unlocking policies/eligibility requirements to meet before unlocking a device
Unlock any iPhone model, irrespective of its iOS version
Keep your iPhone's warranty
Support for all carriers – free your iPhone from any network carrier in the world.
You don't have to be tech-savvy – Using DirectUnlocks does not require prior technical knowledge.
Steps to Use DirectUnlocks
We said DirectUnlocks is straightforward, right? Well, fill out the unlocking form below, then sit back. DirectUnlocks will handle the rest.
Step 1: Visit DirectUnlocks iPhone Unlock Page.
Step 2: Select your country and network carrier, enter the IMEI number from Step 1, then click the "Unlock For Any SIM Card" button
Step 3: Pay the unlocking fee to complete your order. DirectUnlocks will begin working on it immediately
Step 4: Receive a success email. DirectUnlocks will email you once your phone is successfully unlocked.
Conclusion
Are all iPhones unlocked? No, only the ones sold at Apple stores are unlocked. If you are in the market for unlocked iPhones, avoid network carrier outlets because all their phones are locked. If you prefer online platforms, first verify the status using at least two of the methods discussed above before making the payment.
If you have already bought a locked iPhone, don't worry. DirectUnlocks can permanently unlock it and free it from the shackles of your network carrier in under 24 hours.