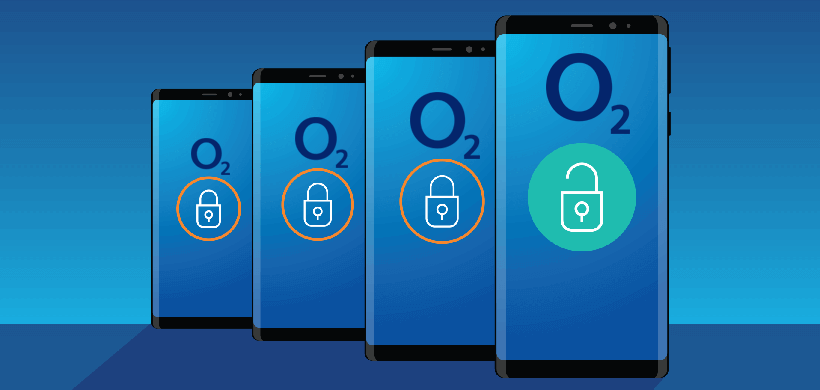 Last updated on

August 30, 2023

by Darren
Can't afford your favorite phone? Getting one from a network carrier and paying it in bits sounds like a good idea. However, it also means you will be tied to the network until you fulfill the requirements or unlock it using a third-party service.
If you are planning on getting a phone from O2, you have come to the right place. While most O2 devices are now sold unlocked, thanks to the UK ban on selling locked devices, you might still bump into a few exceptions or even older phones sold before the ban. Here's everything you need to know about O2 phones, whether locked or unlocked.
Part 1. Understanding Locked and Unlocked O2 Phones
"Locked" vs "unlocked" are terms you will likely meet when looking for your next phone. Understanding the difference between the two is vital before making a decision.
Locked O2 Phones
Locked O2 phones are tied to one mobile network – O2. These phones have software codes that ensure they only operate on the O2 network. As long as the network restriction is in place, a locked O2 phone can't activate another carrier's SIM card. Instead, you will be met with the "SIM Network Unlock PIN", "SIM Not Supported", or something along those lines.
While locked O2 phones are known to be restrictive, they come with benefits that unlocked ones don't offer. These include:
They are cheap (the network carrier subsidizes retail prices)
Guaranteed customer support from the carrier
Insurance plans from the carrier
Exclusive carrier deals and promotions (discounted data deals, free upgrades, etc.)
Limitations of locked phones include:
Lack of flexibility – you are tied to O2 until you fulfill the contract. When traveling abroad, you must get a second phone with local network carriers or incur crazy roaming charges.
Software updates and customization – you have to wait for the network carrier to send software updates. Some carriers also turn off installations from sources other than PlayStore or AppStore, making customization impossible.
Unnecessary apps – some carriers install more unnecessary apps that consume storage space.
Unlocked O2 Phones
Unlocked phones are the complete opposite of locked phones. They don't have any software code restricting them to a single network carrier, meaning you can use them with any network carrier your heart desires. They obviously accept and activate all SIM cards, which makes them the perfect choice for those traveling abroad.
Advantages of unlocked phones include:
Flexibility – they cooperate on all mobile networks.
Dual-SIM  – unlocked dual-SIM phones let you use two different SIM cards on the same phone, unlike locked ones which allow two SIM cards from the same carrier.
Zero roaming charges – since you can swap your home SIM card for a local carrier, you won't incur expensive roaming charges.
Unrestricted software updates and customizations – you don't have to wait for the network carrier to send you updates. You can also download mods from your trusted sources.
Sell faster – unlocked phones sell way quicker and at higher prices than locked ones.
Unlocked O2 phones have limitations as well. They include:
Higher upfront cost
Carrier deals and promotions may not be available.
Most of them don't come with payment plans
Compatibility with certain networks
Less malware protection compared to locked ones, where carriers scan updates for malware.
Part 2. Are O2 Phones Unlocked?
According to O2, most devices are not locked to the network, except for Alcatel and Doro devices, which will still be sold locked to the network. From O2's website:
All Apple devices bought after 1st August 2018 are no longer locked.
All new devices purchased after January 2019 are no longer locked.
Since April 2019, all Huawei dongles have been sold unlocked.
This is a result of the UK ban on selling locked devices to customers, which, according to the Office of Communications (Ofcom), was driven by the fact that most people preferred remaining with their carrier rather than going through the tedious process of unlocking a phone.
Part 3. How to Unlock O2 Phone for Free
If you own a locked O2 phone, O2 is waiting to unlock it at any time for free (of course, you have to request them to unlock it). To find out if your phone is locked to O2, pop in another carrier's SIM card and try using SIM services, e.g. making calls or sending messages.
If both work, your phone is unlocked. If you get messages such as 'incompatible sim', 'enter subsidy PIN' or 'enter network unlock code', it is locked, and you should request O2 to unlock it.
3.1 Pay Monthly & Pay as You Go Customers
If you are planning to unlock your O2 phone, ensure you meet the following requirements:
You must be in the UK
You bought the phone from O2
You have fulfilled the minimum contract period (for Pay Monthly customers)
Your O2 phone must not be blacklisted
If you meet all requirements, you can unlock your O2 device by:
Step 0. Check the blacklist status of your phone. If the blacklist status is 'Clean', move to the next step.
Step 1: Log in to My O2 account.
Step 2: Select 'More'  at the top of the page.
Step 3: Select 'Unlock my device'.
If you can't access your O2 account, you can submit an unlock request through the live chat, 202 from a Pay Monthly phone or 4445 from a Pay As You Go phone. You will be required to provide your phone's IMEI number so have it written down. You can obtain your phone's IMEI number by dialing *#06#.
3.2 What Next After Submitting the Unlock Request?
If the request is approved, O2 will send a text message (Apple users) or email (Android users) informing you that your device unlock code is ready.
For iPhone users, just pop in a non-O2 SIM card, and the device will activate it. On Android devices, pop in a non-O2 SIM card, enter the unlock code and follow the instructions.
3.3 O2 Business customers
As a business customer, O2 will only unlock your device if you bought the device from O2 and are in the UK when requesting the unlocking. If you meet these two requirements, you can submit an unlock request by filling out the online unlock request form.
If approved, O2 will email you within seven (7) working days with details on how to unlock your phone.
3.4 You Might Wait for a Little Longer for the Unlock Code
If you are unlocking an old phone, O2 must request the manufacturer for the unlock code. This might take up to ten (10) business days. Don't worry; O2 will keep you updated via text or email in case of delays.
Part 4. Fastest Way to Unlock O2 Phones
Though O2's phone unlocking is free, ten days is too much for a simple process that will take DirectUnlocks less than 24 hours. Yes, you read that right. No matter how old the phone is, DirectUnlocks can unlock it in 24 hours or less.
DirectUnlocks is an online phone unlocking service that lets you unlock any phone without worrying about contract periods or unlocking policies. In addition, you don't have to be in a specific country to unlock your phone; you can unlock your device from anywhere in the world.
Features of DirectUnlocks
There are no device unlock requirements – you don't have to see any minimum contract terms. You can unlock your device as soon as you leave the store.
It's fast – No need to wait ten (10) days to receive an unlock code. DirectUnlocks will give an unlock code within 24 hours.
It's remote – you don't have to be in the UK to unlock your O2 phone. DirectUnlocks lets you unlock your device from any part of the world.
Permanent solution – You only need to unlock your device once using DirectUnlocks. Factory resets, software updates, etc., will not reverse it,
Compatibility with all phones – DirectUnlocks unlocks all phone brands and models. Whether Android or iOS, budget or flagship, new or old, DirectUnlocks can unlock it.
Supports all network carriers – It does not matter the network carrier to which your phone is locked.
Does not void warranties –  When it comes to third-party services, very few of them can unlock a phone without voiding its warranty. With DirectUnlocks, you can be sure your warranty won't be canceled.
Tech knowledge is optional – as stated earlier, all you need is an internet connection, a browser and your phone's IMEI number—no complex downloads and installations.
How to Unlock an O2 Phone Using DirectUnlocks
Unlocking an O2 phone using DirectUnlocks is very easy. Simply fill out the below and wait for an unlock code for your O2 phone.
Step 0: Visit the DirectUnlocks O2 unlocking service page.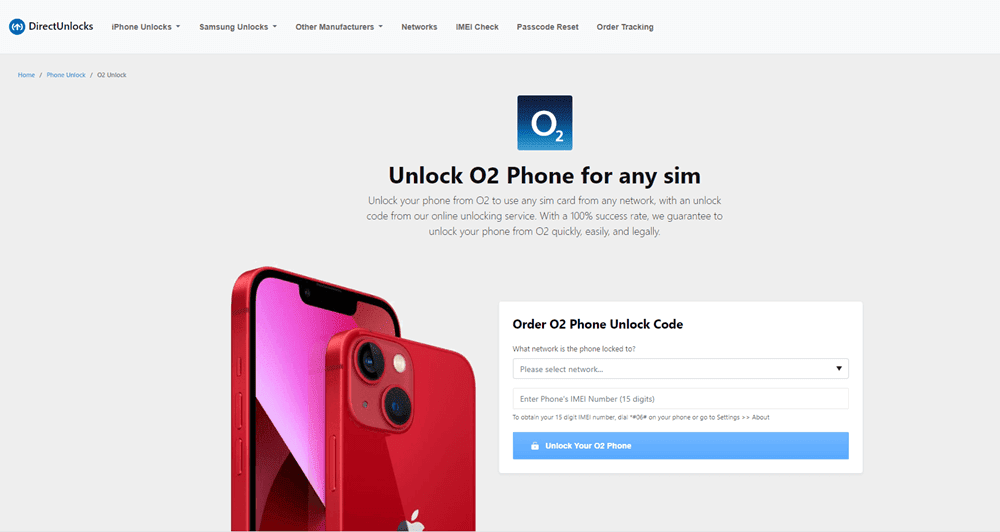 Step 1: Dial *#06# to obtain your phone's IMEI number.
Step 2: Fill out the form, then click the "Unlock Your O2 Phone".
Step 3: Pay the unlocking fee. DirectUnlocks will process your order immediately.
Step 4: Wait for a confirmation message from DirectUnlocks. For Android, you will receive an unlock code and instructions to follow. iOS devices are unlocked remotely.
Conclusion
That's everything we had on O2 phones. I hope you now have enough information on both locked and unlocked phones and are able to pick one that will suit your needs.
Even though UK-based carriers like O2 are now selling their phones unlocked, it is still possible to find a few phones that are network-locked. If you ever bump into one, don't panic. Head to DirectUnlocks, unlock it immediately and join the rest of the UK using unlocked devices!
You May Like: How to Unlock O2 Phone without Account