Last updated on

September 14, 2023

by Darren
AT&T are one of the largest mobile phone carriers in America. Offering a high-quality service, it should be no surprise that they're many customers' first choice when they're on the market for a new phone. What most customers don't realize is that when they get a new phone with AT&T, the device is locked to the network until the end of their contract. The only way to unlock it from the network is with an AT&T network unlock code.
In this post, we'll explain to you what a AT&T network unlock code is and some of the ways you can get one.
Part 1. What is an AT&T Network Unlock Code?
It's very uncommon nowadays that your phone is unlocked when you buy it. Regardless of which carrier you sign up with or the retailer you buy the phone from, the chances are that it'll be locked. This means that if you want to try using a SIM card given to you by a different carrier in the future, you won't be able to do so with that phone.
Using an AT&T network unlock code solves this problem. With this code, you have the ability to remove the carrier lock and freely use SIM cards from any other network if you desire. The code itself is simply a long string of characters that you enter into your phone and after doing so, you'll have unlocked it.
Getting one of these codes is easier said than done, though. You can ask AT&T for an unlock code and wait for them to process your request, but this takes time and you'll find yourself jumping through hoops when it comes to their requirements. Not to mention that if you recently started a new contract, you'll have to wait until it has ended.
Part 2. Can I Get an Unlock Code for a Blacklisted Phone?
In short, the answer is no. There's no method to acquire an unlock code for a phone that has been blacklisted.
To avoid wasting time and money, it's crucial to verify that your phone isn't blacklisted before attempting to obtain an unlock code. The only way to do this is by using an IMEI checker. If the IMEI checker confirms that the phone is not blacklisted, as shown in the image below, keep reading and follow the instructions below to get your AT&T network unlock code.
Part 3. How to Obtain an AT&T Network Unlock Code for Free
To keep you as informed as possible, we're going to show you the free way that you can get an AT&T network unlock code. This isn't the most efficient way, but it's still an option you have.
Firstly, there are some requirements you'll need to keep in mind:
Customers who currently have an active contract must have paid the contract in full
Customers with a prepaid device must have been active for at least 6 months
The device must not be blacklisted due to being reported as lost, stolen, or linked to fraud
The device must currently be connected to the AT&T network
There are a lot more requirements to be met which can be found on the AT&T website, but these are the key points. So long as you meet these, you can follow the steps below to request a free unlock code from AT&T.
Step #1 – Navigate to the AT&T Device Unlock page on their website.
Step #2 – Click on Unlock your device and enter your mobile phone number.
Step #3 – Check the box to confirm you agree to the AT&T unlock eligibility requirements then click Next to continue.
Step #4 – Your request will now be submitted. Within the next 24 hours, you will receive an email that contains a link to proceed with the unlock process.
Step #5 – After you have receive that email, click the link and follow the steps to finalize your unlock request.
Step #6 – Within the next 48 hours you will be alerted via email whether or not your unlock request was accepted and if so, an unlock code and instructions for using it.
With these steps you're able to get your hands on an unlock code for free. That being said, there's a lot of waiting involved that could result in your request being denied even after waiting up to 72 hours. This is the big downside of this method and why seeking an alternative solution is often ideal.
Part 4. Fastest Way to Get AT&T Unlock Code – DirectUnlocks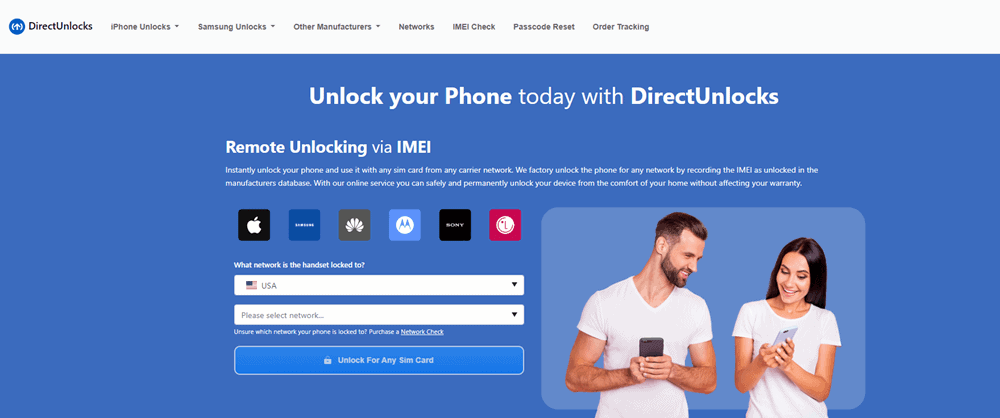 Don't want to wait days, sometimes even weeks, to unlock your phone? You've come to the right place. DirectUnlocks offers a quick and effortless service that unlocks your phone faster than any carrier or other service out there. When you decide to use DirectUnlocks' AT&T network unlocking service, there are few requirements you'll need to meet and all it takes is a few minutes of your time.
Unlock your phone and connect to any network internationally
DirectUnlocks doesn't use any software or jailbreaking tools, keeping your warranty intact
This remote service allows you to continue using your device while the order processes
Handled entirely remotely meaning you don't need to send the device to us to have it unlocked
An affordable and effortless way to unlock any phone
On top of all this, the majority of orders are processed in as little as 15 minutes. In some unique situations it may take up to 24 hours, however this is uncommon and is still considerably faster than if you went to AT&T for assistance. Let's take a look at the details of how this service works.
Step #1 – Start by getting your AT&T mobile phone's IMEI number by dialling *#06# and making a note of the digits that are displayed.
Step #2 – Go to the DirectUnlocks AT&T phone unlock page, select the specific AT&T network that your phone is locked to then enter the phone's IMEI number. Press the Unlock Your AT&T Phone button to proceed.
Step #3 – Next, complete the payment process by choosing a suitable payment method and entering your details.
Step #4 – After you finish placing your order and the unlock has been processed, you'll receive a text and email informing that it is complete.
Once you have that confirmation text all that's left for you to do is enter the unlock code and upon doing so, your phone will be unlocked from AT&T. Not sure how to use an unlock code? No problem – you'll be sent instructions on how to do that too!
Part 5. AT&T Unlock Benefits
Perhaps you're not sure about unlocking your phone and don't know why it's such a useful thing to do. Don't worry, most people aren't even aware that their phone is network locked which is why we're here to explain the benefits of unlocking it.
More options. After unlocking your phone from AT&T, you have more data plans to choose from. If you see a special deal from another carrier there will be nothing holding you back from signing up for it and getting the most out of your money.
More valuable. Maybe you just got a new phone and want to sell your old phone. In that case, selling an unlocked phone not only allows you to sell it for more money but it'll also attract the attention of more people.
Improved signal. We've all been using our phones at some point only to realize there's no signal or reception wherever we are. Sometimes it's a dead zone but usually it's a result of the carrier's coverage not covering that area. Unlocking your phone means you can choose a carrier whose coverage reaches that area.
There is simply nothing but benefits to unlocking your phone. With a locked phone, only the carrier benefits because you aren't able to leave them.
Conclusion
One of the most important factors when it comes to unlocking a phone is time. It doesn't matter where you get the phone unlocked or which carrier you're with, it's going to take some time. It may be a few hours or it could be weeks. The point is, if you see a limited time sale for a data plan that's too good to give up on, you'll have to act fast and if your phone is locked that won't be possible. With DirectUnlocks, your phone can be unlocked within the day and you'll finally be free to choose any carrier you want.
You May Like