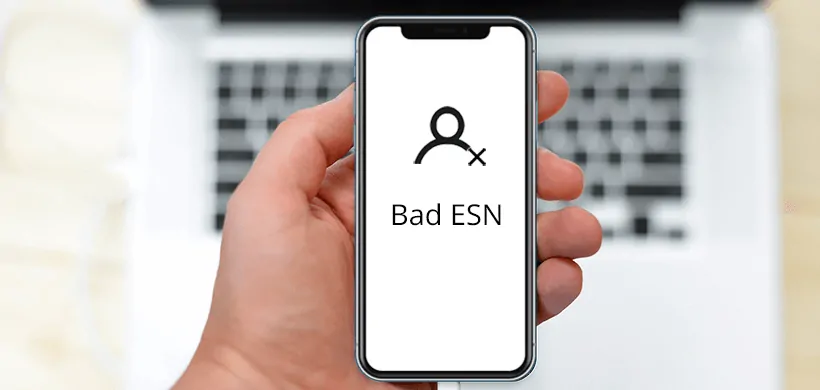 Last updated on

March 8, 2020

by Darren
When it comes to buying a new phone there are plenty of things to watch out for. This list only grows when a second-hand phone is in your focus.
A second-hand phone may have internal damage or be broken in some way that the seller is trying to hide, it could be overpriced, or it may even just be worn out from excessive use.
To add to this list, it's ESN could be bad. Want to learn the bad ESN meaning? How can you fix this error? In this article, we're going to be answering these questions and explaining all the important details of a bad ESN fix.
Part 1. FAQs About Bad ESN
The majority of phone owners aren't aware of ESNs or don't understand how they work. To start with, we'll be answering some common questions that people have about them.
1.1 What is ESN?
This is going to get a little complicated, so bear with us for a minute.
First, understand that there are two types of cellular networks that we use – GSM and CDMA. GMS is used by carriers like T-Mobile or AT&T, while CDMA is used by carriers like Sprint or Verizon.
On the GSM network, devices are identified by their SIM card which is unique to each device. In contrast, on the CDMA network, each device has an Electronic Serial Number (ESN) which is used to identify them.
1.2 What does bad ESN mean?
So if ESN is basically just an identifier, what does it mean to have a bad ESN? If a device has bad ESN then it won't be able to establish a connection to the carrier network.
Usually, when a device is flagged as having a bad ESN, it is because the carrier has done so for a reason. Some common reasons are:
The device has been reported as lost or stolen
The device has involvement in illegal activity
The account linked to the device has outstanding bills
In other words, if the device has been associated with any wrongdoing, there's a chance it'll have a bad ESN. Anyone who has a brand new device and hasn't done anything wrong won't have to worry about getting a bad ESN.
1.3 How to check if an ESN is bad?
Before you dive into learning a bad ESN fix, it's worth checking if your phone actually has a bad ESN. You can do a bad ESN check either online or by getting in touch with the carrier.
Check Online
To check the status of a device's ESN online is fairly simple and there are websites which can help you out.
One particular website is CheckESNFree.com which, as you could guess, provides free ESN checks. All this website needs is the device's IMEI number and the carrier you have it connected to. It only takes a few seconds to determine whether or not there's a bad ESN.
Users are allowed to run as many as 30 ESN checks per day, so if you're trying to fix multiple devices you can check them all with this site.
Contact Carrier
If checking the ESN status online isn't what you're looking for them you could consider calling your carrier.
This is really the best way of getting a 100% accurate answer and it won't take long either. Just look up the customer support phone number for your carrier, give them a call, and request that they check your device's ESN.
1.4 What's the Difference Between Bad ESN and Blacklisted IMEI?
A common misconception is that a bad ESN and blacklisted IMEI are the same things. Although they're very similar, there are key differences too.
Referring back to the GSM and CDMA networks we previously brought up:
Bad ESN is used in reference to devices which are connected to a CDMA network and which has been lost, stolen, and flagged for any reason.
Blacklisted IMEI is used to refer to devices which are connected to a GSM network and have reports of being lost or stolen.
Either way, both of these will limit the abilities your phone has.
Part 2. The Easiest Way for Bad ESN Fix
So, what can you do to fix a bad ESN? There are some unreliable solutions but if you want to get it right on the first try and repair this issue, a service like DirectUnlocks is precisely what you need.

Although this service is typically used for carrier unlocks, it works just as well for fixing bad ESNs, and here's some more detail about it:
Support all CDMA networks (Verizon, Sprint, etc.) bad ESN fix
Bad ESN is remotely cleared from the database (by an experienced professional)
After the bad ESN is cleared, the device can be used on any carrier without any limits
Bad ESN is permanently fixed
A secure and non-invasive fix is implemented so that the device's performance isn't affected, and your warranty isn't voided
A very quick fix of bad ESN (in less than 24 hours!)
If you're looking for an effective way of fixing your bad ESN then this is it. You won't find anything nearly as efficient at resolving this problem as DirectUnlocks. To get started with this process, follow our guide below.
How to Fix Bad ESN iPhone/iPad/Apple Watch/Samsung/LG…?
Step #1 – Open an internet browser and go to DirectUnlocks iPhone Unlocks or Samsung Unlocks or any other phones.
Step #2 – Choose the device model which has a bad ESN, your country and the carrier that the device is currently connected to.
Step #3 – Below these two drop-down menus, enter the device's IMEI number. You can obtain this by dialling *#06# from the device.
Step #4 – Click the "Continue" button and check the order details, and then complete the payment stage.
After finally making the payment for this service, wait up to 24 hours until the device is unlocked from its carrier and the bad ESN is gone:
Then you'll find the bad ESN has been cleared:
Using these steps and the DirectUnlocks service is a definitive way of fixing a bad ESN which realistically, can't be cleared as easily in any other way. For a reasonable fee, DirectUnlocks process and handle the repair for you.
Conclusion
After reading this guide you'll now have a full understanding of what it means to have a bad ESN, how to check if this is a problem your device has, and most importantly, how to fix it. Through no fault of your own, this ESN error could be persistently annoying and prevent you from using all of your phone's features. DirectUnlocks will aide your journey to find a bad ESN fix and in no time at all, all the limitations of this problem will be gone.