Last updated on

May 28, 2023

by Darren
We all know how easy it is to overlook prompts to update certain mobile functionalities, right? It's totally understandable, considering how time-consuming some of them can be. But here's the thing: you might have missed important updates, like your carrier settings.
Updating your iPhone's carrier settings is a crucial step that brings along special configurations to enhance your cellular experience. It's all about maximizing your connectivity and even discovering new features like Wi-Fi calling and 5G along the way.
In this article, we'll dig more into what iPhone carrier settings updates are, the importance of updating your carrier settings, and how to do it.
Let's get started!
What Are "Carrier Settings Update" Popups on iPhone?
Like iOS updates, apps, and other functionalities on your iPhone, carrier companies introduce new features and technology to enhance your connectivity and calling experiences. These new additions are called "carrier settings updates."
The updates usually come with the latest carrier network features that give you access to enhanced connectivity. When updates are available, you usually get a popup that says "Carrier Settings Update – New settings are available. Would you like to update them now?"
For instance, since the introduction of 5G, network operators or carrier companies (such as Verizon, T-Mobile, AT&T) are moving to incorporate it into their services. As such, 2023 carrier updates have been focused on adding 5G services. Not only that, they are also improving features like Wi-Fi calling and VoLTE and fixing system bugs.
Carrier Settings Vs. iOS Update: What's the Difference?
While iOS and carrier settings updates are aspects of your iPhone's configuration, they don't have the same effects.
iOS is the operating system developed by Apple to power your iPhone and iPad. The software allows your device to run smoothly and gives you access to awesome apps and features. Occasionally Apple updates the iOS to add new features, improve security and fix bugs. These are called iOS updates, and they affect the functionalities of your entire phone.
Unlike iOS updates, carrier settings only deals with your network carriers, like Verizon, AT&T, Sprint, and T-Mobile. So when they release updates, it will only affect the communication and connectivity aspects of your iPhone, like your calls, browsing, and text messaging
Why You Should Update Carrier Settings on iPhone?
After updating your iPhone's carrier settings, you can have access to the following perks;
Enjoy faster data speeds
Most network providers strive to improve their customer's data connection and internet speed with each update. Take, for instance, the recent entry of the 5G into the market. Carrier providers are now including 5G in their networks to provide better internet to you.
Access improved call quality
You can enjoy clearer and more reliable voice calls if you update your carrier settings provided your network provider includes it in their recent update.
More reliable connections
Updated carrier settings may come with a more reliable connection. This means better connectivity and fewer interrupted connections for you!
Access cool, new features
Not only improve the existing features- it also introduces new features provided by your network provider, like 5G support, enhanced security, and more.
Your smartphone's network connectivity, features, and functionality may suffer if your carrier settings aren't updated. You may experience problems suck as SIM failure, slower connection speeds, or even difficulty making and receiving calls.
Keeping your carrier settings updated ensures your iPhone's connectivity functions properly and avoids all of the above.
How to Update Carrier Setting On Your iPhone?
You can either update iPhone carrier settings automatically or manually. It would be easier to do it automatically as it is easier and faster than the manual process.
When an update is available, you will get notified by a pop-up window showing details of the new additions. Accepting the update automatically begins the installation process, which may take some minutes to complete, depending on your internet speed and the update file size.
For clarity, when the "Carrier Settings Update" notification shows on your iPhone, it avails two options- "Not Now" or "Update." Simply tap "Update," and then your network carrier will download and add the new features to your service.
You can also click "Not Now" if you're not ready to update the carrier settings. However, that means you will have to do it manually later.
You should also know that you will not always receive a prompt to allow carrier settings updates on your iPhone. This is because some updates are mandatory; they are crucial to the running of your network carrier. So, they will not ask your permission to implement such changes. You will only get a notification telling you it's been done. And instead of an "Update button, you'll be presented with an "OK" button.
In any of the cases above, you will not need to restart your iPhone to apply the update; everything usually takes about one minute.
How to Manually Update on iPhone
If you happened to dismiss the prompt to automatically update your carrier settings, no worries! Here's a step-by-step guide on how to do it manually;
Step 1. Connect your iPhone to Wi-Fi or a cellular network
Step 2. Tap Settings, go to General, and click on About
Step 3. If there's an update available, you'll get an option to Update.
Step 4. From there, follow the prompts to update your carrier settings successfully.
It's important to note that when updating your carrier settings, you don't need to worry about losing any data. All information stored on your device remains untouched during this process.
However, if you have a weak or spotty connection during the update, it can cause some issues with completing it successfully. Therefore, make sure you're connected to a reliable Wi-Fi network before initiating the upgrade.
If there's no update prompt, you might want to check the current version of your carrier on your iPhone;
Step 1. Go to Settings, tap General, and tap About. You will see the version right next to Carrier.
Step 2. If you are not sure it's the latest version, contact your carrier to confirm, or tap the version number to see additional information.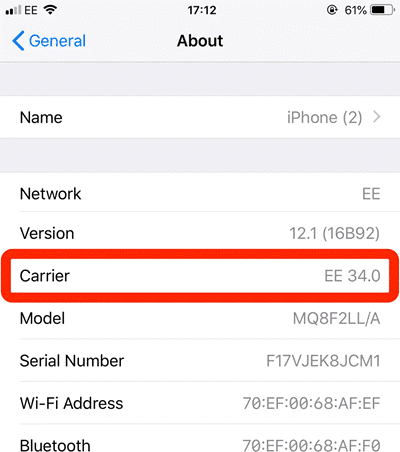 It is important to note that if you are just inserting or setting up a new sim on your iPhone, you may need to download and configure the carrier settings manually.
How to Manually Update Carrier Settings with iTunes
You can also update Carrier Settings on your iPhone using iTunes. Here's how you can do it;
Step 1. First, ensure you have the latest iTunes version installed on your computer.
Step 2. Once that's sorted, connect your iPhone to your PC with a USB cable
Step 3. Wait a little while, say 20 seconds- if there's an update, a notification will appear showing that an update to your iPhone's carrier settings is available.
Step 4. Choose Update Settings; your carrier settings will be installed and applied simultaneously.
Step 5. Reboot your iPhone after disconnecting it from iTunes.
You may not get a prompt after connecting your iPhone to your computer too. But that's usually because your carrier settings are already updated to the latest version.
How to Check for New Carrier Settings Update on iPhone
iPhone notifications are the easiest way to know if a carrier setting has been updated. Usually, If an update is available, you'll get a prompt telling you about it. In addition, you will be asked whether you wish to update or postpone.
If, however, you haven't received any such alerts in a while and would like to check if any carrier settings have been updated, follow these steps;
Step 1. Go to Settings on your iPhone
Step 2. Tap General, then go to About
Step 3. If an update is available, you will get a prompt asking if you'd like to update
Step 4. Wait for about 30 seconds. If you don't get a pop-up, your carrier settings are probably current.
Can't Update Carrier Settings on iPhone?
In rare cases, you might encounter a snag when updating your cellular or carrier settings. If your phone is having trouble recognizing the latest updates from your network provider, we've got some troubleshooting tips that could help you out. Give these a shot:
1. First things first, ensure that you've got the latest iOS version installed on your device. If not, go ahead and give that update button a tap. Staying current is always a good idea!
2. Check your Airplane mode—it should be turned off—and then toggle on and off your Flight mode. Sometimes, this can do wonders in solving connectivity puzzles.
3. Power down your phone, gently remove the SIM card, give it a moment, and then slide it back in. Once that's done, power up your phone again. It might seem simple, but it often does the trick.
4. Don't forget to check if there's a carrier settings update waiting for you. Take a quick trip to your phone's settings menu and see if there's an update hanging out there.
5. Temporarily turn off your cellular network, wait a few seconds, and flip it back on. This little maneuver can sometimes refresh the connection and bid those glitches farewell.
If the issue persists after following these steps, don't worry. It's time to reach out for some expert help. Contact your network provider or Apple's support team, and they'll help you get back on track.
Is It Safe to Update Carrier Settings on iPhone?
Absolutely! It is completely safe to update Carrier settings on your iPhone.
If anything, the updates ensure the smooth running of your connectivity and communication. They are usually released to tackle previous problems and enhance security and features optimized for a better user experience. The updates will not affect your iPhone's speed, its behaviors, or functions.
It doesn't matter which network carrier you're using; just ensure to keep the carrier settings up to date to enjoy optimal performance.
Conclusion
You definitely don't want to miss out on all the incredible benefits that come with updating your network provider's settings. By taking this simple step, you'll unlock a whole new world of awesome features and services your carrier offers.
Think- faster data speeds, wider coverage, and even beefed-up network security. It's like upgrading your mobile experience to a whole new level!
The best part? Updating your carrier settings is a piece of cake. And if you run into any hiccups along the way, don't sweat it! There are plenty of troubleshooting tips and tricks to lend you a hand.
So why wait? Update those settings to enjoy a seamless, better mobile adventure.
References