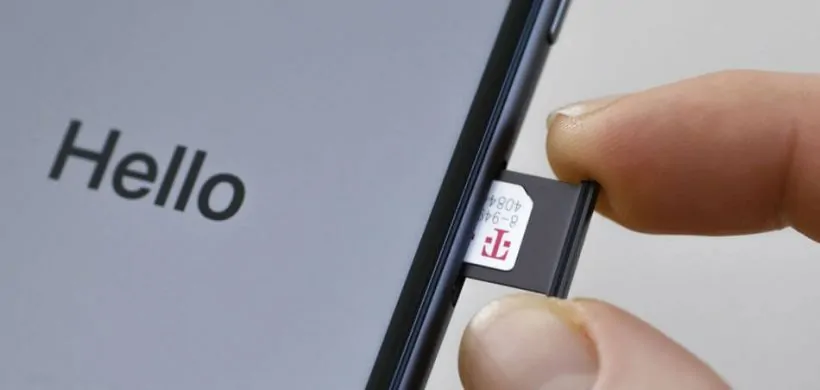 Last updated on

February 24, 2021

by Darren
"Recently I planned to buy a second-hand iPhone, there are so many people suggest me getting an iPhone that is unlocked. But the question is, how do I know if my iPhone is unlocked?"
Buying a second-hand iPhone enables you to use it at a lower price. It's very important to know if it is unlocked before purchasing.
If you plan on purchasing an old iPhone or already have an iPhone but don't know the status of it then find out how to check iPhone unlock status by reading this guide.
Before learning how to tell if your iPhone is unlocked, you need to learn how the carrier lock works.
Part 1. What is a Carrier Locked iPhone?
When you sign up for a phone contract, depending on which carrier you choose they could impose a carrier lock.
There's more than one type of lock but the most common is a network carrier lock which prevents you from inserting a SIM card which isn't from them.
For the length of your contract, this won't typically be problematic or inconvenient since you require the original SIM card for your contract's benefits.
However, if you cancel the contract or it ends, you won't be able to put a new SIM card into the iPhone unless it is from the same carrier. Some locks are more restrictive, and the iPhone might only accept the original SIM.
When you insert a SIM card into a carrier locked iPhone, it will show "SIM Not Supported" or "SIM Not Valid" on the screen.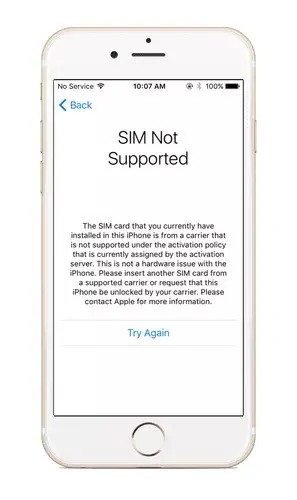 Luckily, after trial and error, here are 5 ways to learn how to check if iPhone is unlocked that we found.
Check with SIM card: 80% accuracy, but this way won't tell you which carrier your iPhone is locked to
Check with online service: fast & 100% accurate, let you know the particular carrier that your iPhone is locked to. But it's not free (will take $3)
Check in Settings app: fast & easy, but it doesn't work for specific iPhone or iOS versions
Contact support: 100% accurate, but it's a lengthy process
Check Carrier Lock option: 100% accurate, but only work on iOS 14
Part 2. How to Check if iPhone is Unlocked with SIM card?
Let's talking about the easiest way to check it – using an SIM card.
Simply inserting a different SIM card will give you an idea of whether or not you've got an iPhone lock, and this is how.
Steps to Check iPhone Unlock Status with Different SIM Card
Step 1. Check that your iPhone has a connection to the carrier. Then power off your iPhone.
Step 2. Using a SIM removal tool, take out the current SIM card. And insert the different SIM card and turn on the iPhone.
Step 3. Check the carrier connection again and try making a phone call.
Tip
If you're able to make a phone call then that's a good indication that there isn't an iPhone lock.
This can be a quick way of gauging if a lock is in place, although the results are not always reliable since the lock type could also apply to the SIM you insert.
Part 3. How to Check if iPhone is Unlocked without SIM card?
Don't have a SIM card? Fear not, here 3 ways to check iPhone unlock status without SIM card:
3.1 Check If iPhone Is Unlocked with IMEI
If you don't mind paying a small fee, discover how to tell if your iPhone is unlocked without SIM card by using an online service.
These services only require a few generic details about your iPhone and although they charge a fee, it saves you going through the hassle of finding out if there's a lock by yourself.
One of the most popular online checkers is WipeLock iPhone IMEI Checker, and these steps will show you how to use it.
Step 1. Open an internet browser and go to WipeLock iPhone Carrier Checker page.
Step 2. Click on "Submit IMEI" and type your iPhone's IMEI number into the box below.
Step 3. Pay for this with Paypal.
After making payment, the expert will alert you of your iPhone's lock status via an email. Here is an example result: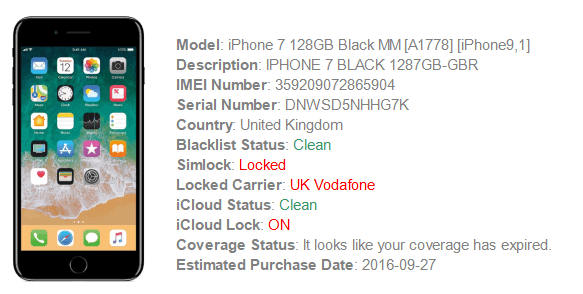 From the report, you can also learn which carrier your iPhone is locked to, the blacklist status, replacement status, etc.
For just a few dollars, and with minimal effort, an online service is the best way to check iPhone unlock status.
3.2 Check iPhone Unlock Status via Settings
A quick look through your iPhone's settings will also prove useful to tell if your iPhone is unlocked. Here is how you can check it:
Step 1. Unlock your iPhone and launch the "Settings" app.
Step 2. Tap on "Cellular".
Step 3. Look for the "Cellular Data Option" on this menu.
Tip
If the option is listed, then your iPhone is unlocked and you can change the carrier network it connects to freely.
If this setting isn't available, then it is locked.
Bear in mind that some iPhones, and iOS versions, will not display this feature in which case this is not an effective way to check your iPhone lock.
3.3 Check If iPhone is Unlocked by Contacting Support
If you want to find out quickly or you don't get anywhere following the solutions above, you can simply call your provider and inquire.
Typically this is a detail you can find on their website or in the contract you signed.
Step 1. Call your carrier's support team.
Step 2. Request that they check if your iPhone is locked.
Step 3. Provide account information for them.
Since this is information regarding your contract (a legally binding document), the support specialist will probably ask you some security questions.
Overall this is a lengthy process to find out a relatively simple detail about your iPhone, but it'll get you the answer.
3.4 Check on iOS 14
If your device is running iOS 14, then you can use the Settings app to tell if your iPhone is unlocked without a SIM card. Here is how:
Step 1. Open the Settings app on your iPhone.
Step 2. Navigate to Settings > General > About.
Step 3. Scroll down to find the "Carrier Lock" option, if it says "No SIM restrictions", then your iPhone is unlocked.
Part 4. What to Do If My iPhone Is Locked?
Once you've gone through the solutions above, you might find out that your iPhone is indeed locked which would limit how you sell it. To circumvent this you can once again use DirectUnlocks and remove the iPhone lock.

4.1 Why Do I Recommend DirectUnlocks?
Let's make one thing very clear: DirectUnlocks is a safe website to use not only if you need to know how to tell if your iPhone is unlocked, but also for unlocking it if needed.
There are other reasons why I recommend DirectUnlocks though:
Affordable Solution. Sure, you have to pay a fee to unlock your iPhone. This charge is not expensive and won't put a hole in your wallet (the cost depends on your iPhone model and network).
Online Network Lock Removal. Given that the entire unlock process is taken care of remotely, it's all online and you can place an order without leaving your home.
Hassle-Free. Aside from inputting the iPhone IMEI and submitting your payment information, this is a hassle-free process that doesn't take any effort on your part.
Completely Legal! Worried about this being illegal? Don't be! Everything about DirectUnlocks is legal and there's no risk of getting in trouble.
iCloud Activation Lock Removal. One of its popular services is to remove iCloud Activation Lock from iPhone or iPad without password.
4.2 Steps to Unlock iPhone with DirectUnlocks
So, now you know a bit about this online solution, follow these steps to unlock the iPhone through DirectUnlocks.
Note: Most iPhone unlocking services can only work for devices with Clean IMEI. A blacklisted iPhone cannot be unlocked. So, it's necessary to check the Blacklisted Status of your iPhone with a reliable iPhone Blacklist Checker
Step 1. Launch an internet browser and head to DirectUnlocks iPhone Unlock.
Step 2. Scroll down the page and select the appropriate iPhone model, your country as well as your carrier network.
Step 3. Enter your iPhone's IMEI number or serial number. You can call *#06# if you don't already know what the device's IMEI number is.
Step 4. Click "Continue" and follow the on-screen steps to submit the payment.
Afterwards, the professionals at DirectUnlocks will begin processing your order and within days you'll have an email alerting you that the unlock was successful!
Now, you can insert any sim card into your unlocked iPhone!
Part 5. FAQs About Locked & Unlock iPhone
Here are some FAQs will help you understand your iPhone better.
What happens if you put a SIM in a locked iPhone?
The SIM card won't work on the iPhone if you insert another SIM card and there will be a message says "SIM Not Supported" or "SIM Not Valid".
A locked iPhone can only work with a specific carrier network. It comes with a software code that prevents other SIM cards from working with that iPhone.
What's the difference between a locked and unlocked iPhone?
A locked iPhone is only compatible with one carrier while an unlocked iPhone can be used on any carrier network.
Usually, your iPhone is unlocked if you pay full price to get it. If you purchased your iPhone from a carrier and there is an ongoing network plan, then it is locked.
How do I know if my IMEI is unlocked?
The only way to learn if your iPhone is unlocked via IMEI is to use an IMEI checker. It can also help you learn if the IMEI number is clean.
As is known to all, if the IMEI number is not clean (reported as stolen or lost), this means your iPhone can't work for any network.
What carrier is my iPhone locked to without SIM?
As mentioned above, the most effective way to check iPhone carrier is to use WipeLock IMEI checker. After submitting the IMEI number, they will generate a report which including all the info you need.
Conclusion
Figuring out how to check if iPhone is unlocked isn't the most difficult thing to do, but that doesn't make it easy either.
On the other hand, actually unlocking your iPhone is difficult and unless you get the assistance of professionals like those at DirectUnlocks iPhone Unlock Service, you'll struggle.
Hopefully, you've now found out if your iPhone has a network carrier lock and if it does, you can move onto removing it.
Further reading: How to Check if Phone is Unlocked Without SIM