Last updated on

August 30, 2023

by Darren
Knowing the status of your phone is very crucial irrespective of the type and the duration when you bought it.
Most service providers such as Verizon normally unlock their locked phones automatically after staying on their network for 60 days.
Even so…. It is not a good idea to assume that your phone is unlocked after 60 days. Always confirm if it is truly unlocked, never take their word for it.
Imagine going on vacation to your favorite destination and then failing to communicate with your family back home because your phone is not eligible with the network there.
That sounds bad, right?
Today, my intention is to enlighten you on how you can confirm the unlock status of your phone without the help of a SIM card.
After confirming if it is locked, I will show you the best way to unlock it without leaving your house or office in less than 6 hours.
This way fellas….
Part 1. How to Confirm if Your Phone is Unlocked Without a SIM Card
There are many ways that you can use to check if your phone is unlocked without the help of your SIM card.
That said….
Some of the methods that you can use to check the status of any phone are:
From settings
Contact carrier
IMEI checker
Come let me show you how to go about all of them.
Method 1. Confirming through your phone settings
It is very possible to know if your phone is unlocked even if there is no SIM card inserted in it by going through the settings.
Here are the steps for checking the status of your Android smartphone through settings:
Open the application tray on your phone then select settings
Tap on the connections
Choose mobile networks
Select the network operator and tap search
After searching, if many carrier names show up on the screen then it means your phone is unlocked.
However….
If only one service provider shows up then it means your phone is locked to the network it has shown.
Now….
Let's check out the steps for iPhones
Open the application tray and select settings.
Find the general settings option.
Then tap on About phone.
If No SIM restrictions appears beside the carrier lock then it means your phone is unlocked. But if it appears, then it means the opposite.
Method 2. Contact carrier
Contacting your service provider is another way of confirming the status of your smartphone. You can reach them through a direct call or through their web page.
After reaching them, politely ask your service provider representative if your phone is locked or unlocked.
The representative will then ask for your IMEI number and run it through their site. In less than 2 minutes you will be informed of the status of your phone.
Also…. Worry not if you don't know your IMEI number, you can simply dial *#06# to find it.
Method 3. IMEI checker
There are online sites such as WipeLock IMEI Checker that can inform you about the condition of your phone, that is if it is locked or unlocked.
All you have to do is enter your IMEI number on the site the run it online. After buffering for a few moments, the status of your phone will be shown plus the network to which it is locked.
The standout feature of WipeLock IMEI Checker is that they manually check the IMEI to ensure all information is up-to-date, unlike other IMEI Checkers that pull data from an outdated database.
Part 2. The Difference Between Locked and Unlocked Phone
Usually…. The difference between a locked and unlocked phone is determined by the ability to connect freely to different networks that are within its coverage.
An unlocked phone is one that is NOT tied to any service provider to use its network alone. As such, it can connect to different networks in various parts of the world freely.
Whereas….
A locked phone is tied to use ONLY the network of the original service provider. That way…. You cannot use any other network on it unless you unlock it.
Part 3. How to Unlock a Locked Phone ~ DirectUnlocks
Everyone wish to unlock a phone with a safe method that won't void the warranty or bring viruses to it.
DirectUnlocks is the beast that will unlock your phone without causing harm such as being attacked by viruses.
3.1 What is DirectUnlocks? You may ask.

It is a third-party unlocking site that has been manded by the Communications Commission authority to unlock any type of phone.
DirectUnlocks will not subject you to tedious outdoor errands like other methods. It eases your work by allowing you to remotely unlock your phone in the comfort of your house.
That's not all….
The unlocking procedure is very simple once you reach the site and provide exact and correct information about your phone. All you'll need is basic computer knowledge, and you will successfully unlock your phone.
For the whole process to be complete, it will take not more than 6 hours. Plus, DirectUnlocks has a special feature that allows you to track the progress of unlocking your phone.
But….
There is an irony in the way they charge for their services.
Imagine with such a fast service that other third-party unlocking sites can't level up to, DirectUnlocks is still the most affordable site. It should be grouped with the other free methods.
To top it off….
You never have to worry about your phone warranty after unlocking your phone with DirectUnlocks. Every detail on the phone's warranty will still remain honorable until the end of the stipulated date.
3.2 How to Unlock a Phone using DirectUnlocks
Kindly allow me to show you the easy fast steps of unlocking your phone once you have reached DirectUnlocks.
Step 0. Visit DirectUnlocks website.
Step 1. Finding IMEI number: IMEI number is a mandatory requirement for your phone to be unlocked by DirectUnlocks. The simplest way to find it is by dialing *#06#.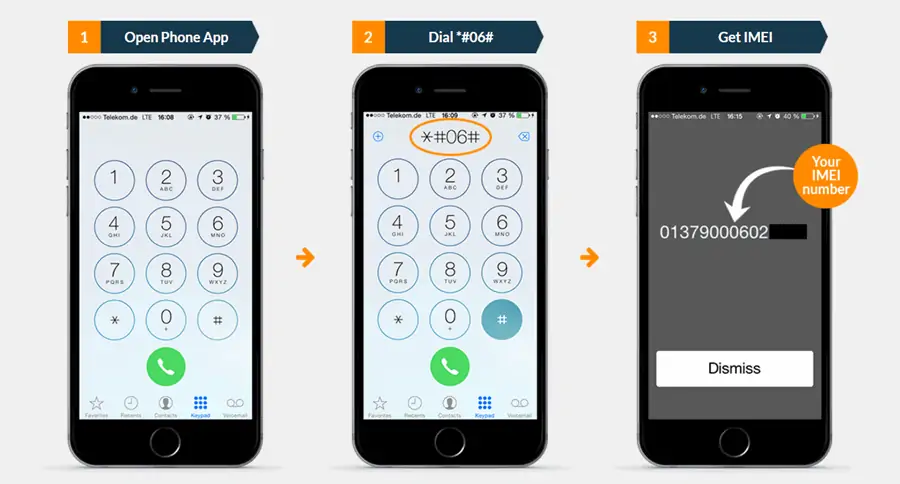 Step 2. Fill unlock form: Enter your IMEI number and submit.
Step 3. Making payment: Your full payment is what makes the whole process begin at once.
Unlocking process: Before the end of 6 hours your phone will be unlocked remotely and a notification sent to your phone through email.
Unlocking Phone Without SIM Card – Take Away.
Our sim card plays an important role in our phones by connecting us to our service provider. Beyond this, it is no longer important, we don't need it to unlock our phones.
Unlocking phones, especially phones should be done using a method that will not interfere with your phone's warranty or safety.
There is an influx of self-proclaimed unlocking sites on the internet that have not been tested and confirmed to be truly working. My advice is that you go with the site you now know all about.
DirectUnlocks is ranked as the best unlocking site in 2023. The online testimonials from their satisfied customers can attest to their ranking.
It operates legally, your warranty will remain honorable, it is fast, and lastly, it is affordable. These are features that you will never find on another unlocking site except DirectUnlocks.
Think twice, be wise, and choose the better option for your expensive phone.
See you next time… friend.
You May Like