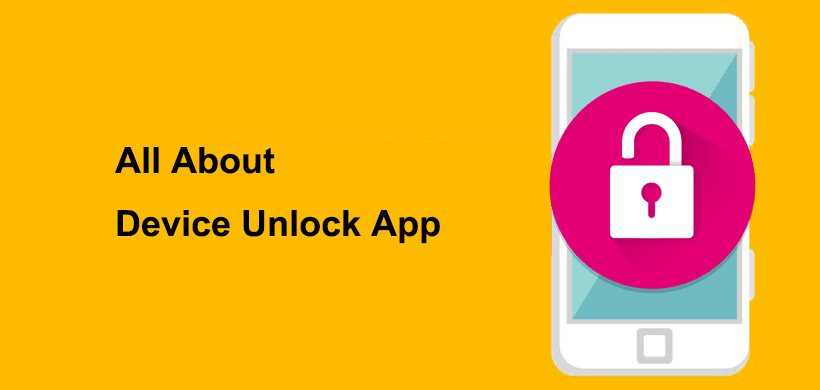 Last updated on

October 5, 2022

by Darren
Unlocking the phone to support other networks is mostly the next task on people's minds after buying a carrier-locked phone. One barrier to unlocking any network-locked phone is the unlocking process.
Providers' terms can also be an issue, but when you finally meet them, calling customer services just to get your phone unlocked can be a little tedious.
The good news is most providers, e.g., T-Mobile, have simplified the process. Today's article will give you everything you need to know about T-Mobile's device unlock app.
Part 1. T-Mobile Device Unlock App
1.1 What Is T-Mobile Device Unlock App?
T-Mobile's device unlock app is a mobile application that allows you to request and unlock your phone directly from the phone. No more visiting the provider's website, sending emails or calling customer service, entering the unlock code, etc.
This Android app will automatically check if the phone is eligible for unlocking, send out an unlock request, and, if approved, unlock the device right there and then. All you have to do is to restart the phone to confirm the changes.
1.2 What You Need to Know Before Using Device Unlock App
The device unlock app is a cool feature, but there are a couple of things you probably need to know about the app.
It's an Android application; the app is only available for Android phones running on Android 7 and above. This app's iOS version is still unavailable, so don't fall for fake ones.
It comes pre-installed; the app comes with the phone and can't be installed from Google Play Store. If you can't find the app on your phone, then maybe it's not supported. Again, don't fall for the fake APKs on the internet.
1.3 Requirements for Using T-Mobile's Device Unlock App
If you have the app on your phone, then you'll have to tick the following for you to use the app successfully.
A T-Mobile account.
Your phone is updated to the latest software
Stable Wi-Fi/T-Mobile network
You meet all eligibility requirements. T-Mobile's eligibility requirements are as follows.
i) General Device Eligibility Requirements
The device was bought from T-Mobile
The device is not blacklisted (reported as stolen, lost or fraudulent)
The T-Mobile account associated with the device is in good standing (all bills paid, etc.)
The device meets all prepaid or postpaid requirements.
ii) Eligibility Requirements for Postpaid Phones
The device has been active on the T-Mobile network on the requesting line for more than 40 days.
The device must be paid in full if financed or leased through T-Mobile
If associated with a canceled T-Mobile account, the account balance must read zero.
Upon T-Mobile's request, you must provide proof of ownership (purchase documents, etc.).
iii) Eligibility Requirements for Prepaid Phones
It's been at least a year since the device was activated on the T-Mobile network.
If activation was done less than a year ago, the associated prepaid account must have at least $100 in refills, and it's been at least 14 days since the device was bought.
You have not requested more than two phones unlocks in that year.
iv) Exceptions for Military Personnel (immediate unlock)
Your T-Mobile account is in good standing
You have proof of deployment (deployment papers, etc.)
1.4 How to Use T-Mobile Device Unlock App
If you have everything needed to run the app and your device meets all the eligibility requirements, you can unlock your device using the device unlock app by following the steps below.
Step 1: Launch the device unlock app on your phone
Step 2: Tap continue to inquire about the phone's unlock eligibility.
Step 3: On the next screen, tap Permanent Unlock.
Step 4: Wait for the process to finish, then restart your phone. You can confirm if the device is unlocked by making calls or sending text messages using your new sim card.
You May Like: How to Unlock T-Mobile Phone without Account?
Part 2. MetroPCS Device Unlock App
T-Mobile owns MetroPCS, so it's no surprise they also have a device unlock app similar to T-Mobile's.
Like T-Mobile's, the app will check if you meet MetroPCS unlock requirements, forward an unlock request, and unlock the device if approved. It also comes pre-installed by MetroPCS and can't be installed from Google Play Store.
Even though the apps and unlock procedure are similar, there are a few differences you should take note of. For example, the app will only unlock a MetroPCS phone if:
The device was purchased from Metro
There have been no reports of the device being lost. stolen, or fraudulent
It's been at least 180 days since the device was activated
Part 3. Why the Device Unlock App Might Not Work for You
We already mentioned that the device unlock app comes pre-installed, so if you can't find it on your phone, it's most likely not supported.
However, what if you have the app, but it's not unlocking your device?
If you meet the eligibility requirements of each provider, then the issue is probably your device's blacklist status. There are several ways to confirm this, but if you need the best results, check out WipeLock IMEI Checker.
Instead of automatically generated results from an outdated IMEI database, WipeLock experts will manually check the latest IMEI database to give the most recent report on your phone.
If the blacklist status is clean (not stolen, lost, or involved in a fraud case), then contact your provider's customer service for further assistance. Otherwise, check out our DirectUnlocks article and find out how you can unlock your device.
Further Reading: How to Unlock MetroPCS (Metro® by T-Mobile) Phone for Free
Editor's Comment
The device unlock app is probably the easiest method to unlock your device. I think more mobile providers should follow the trend and reduce the unlock process to tapping one button.
I hope you now have an idea of what the device unlock app is, what you need before using it, and how to use it to unlock your device.
You May Like: How to Unlock MetroPCS Phone Not Eligible for Unlock Free