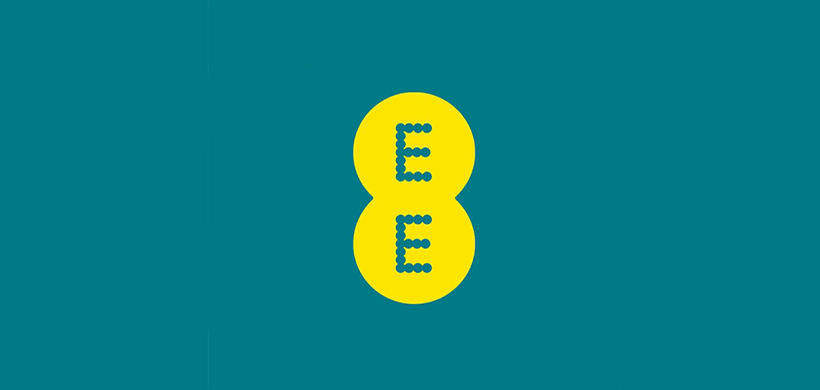 Last updated on

August 30, 2023

by Darren
Smartphones have become essential gadgets in our lives, improving communication and more. Network carriers like EE have made sure they are accessible to most people through their flexible payment plans.
However, the first step to leveraging their potential is to unlock them. This article will discuss EE phone unlocking, particularly how to obtain an unlock code. We will also address some frequently asked questions to ensure you are up to date on the topic.
Part 1. Is Your EE Phone Unlocked?
Is your EE smartphone unlocked? That depends on when you purchased it. According to EE, most devices sold after July 2021 are unlocked, meaning they can operate on other mobile networks.
If you purchased your phone after July 2021, it might be unlocked. Prior to this, chances are high that it is locked to the EE network.
However, it would not hurt to verify for yourself, would it? Below are some of the ways to verify your phone's lock status.
#1. Using a SIM Card
The simplest way to confirm a phone's lock status is to use a different SIM card, in this case, a non-EE SIM card. Unlocked phones accept all SIM cards, so your unlocked EE phone should not be any different. This method works for both Android and iOS devices.
Step 1: Power off the phone
Step 2: Eject the SIM tray using an ejector pin
Step 3: Replace your EE SIM card with another carrier's
Step 4: Reinsert the SIM tray, then power on the phone.
If you can make calls and send text messages, it is unlocked. It is locked if you encounter alerts such as "SIM Not Supported", "Invalid SIM", etc.
#2. The EE Way
Of course, EE knows your phone's lock status. If you own an Apple device, you can verify the lock status by checking your EE account or sending "UNLOCK" to 150. Just make sure your EE SIM card is on the phone when you send the message.
Part 2. Before Getting an EE Network Unlock Code
Many people overlook the importance of checking the blacklist status of a phone before requesting an EE unlock code. Here's why it's crucial: There is no way to generate an EE unlock code for a blacklisted phone.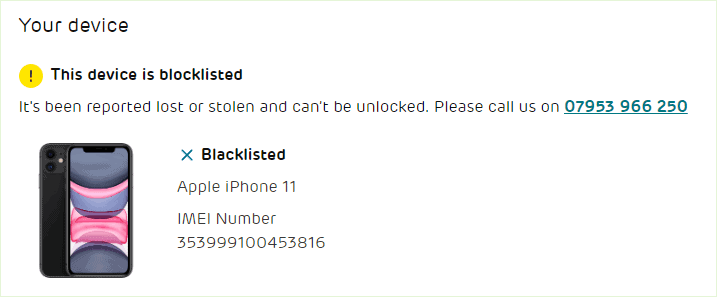 So, what exactly is a blacklisted phone? A blacklisted iPhone is one that has been reported as lost or stolen by its previous or current owner. Additionally, carriers might blacklist a phone if its associated account has an unpaid balance.
Before diving into the next part, first check the blacklist status of your phone using your IMEI number. You can find this by dialing *#06# on your phone.
The only way to check the blacklisted status is via an IMEI checker. I recommend using the Wipelock IMEI checker. Unlike many online IMEI checkers that generate reports from outdated databases automatically, Wipelock ensures that every IMEI check is performed manually by experts. This guarantees the most up-to-date information.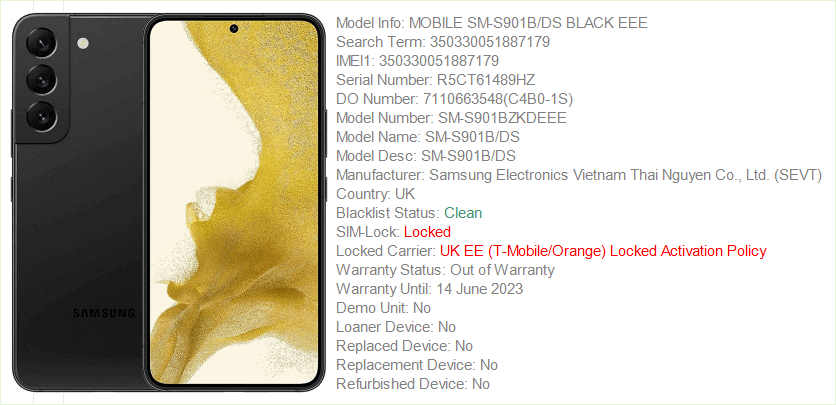 Part 3. How to Get an EE Unlock Code
If you have read this far, your EE phone must be locked. After thorough research on how to get an unlock code, we have narrowed it down to these three methods guaranteed to get you a network unlock code for your EE phone.
#1. Using DirectUnlocks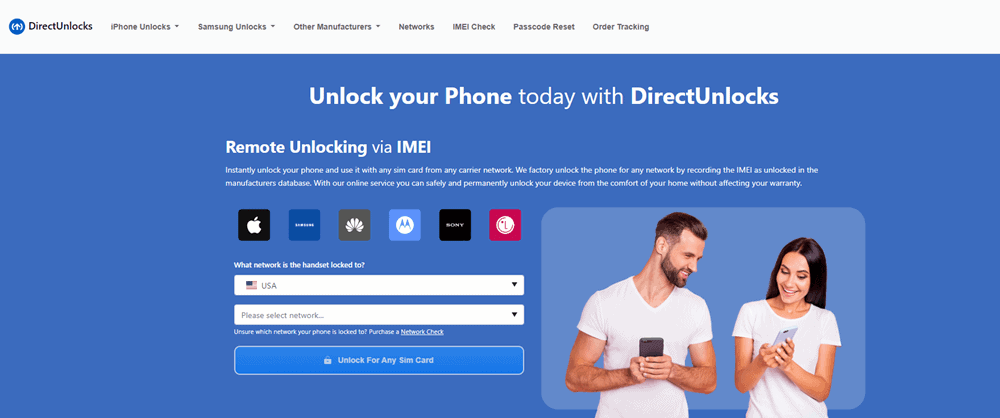 First on the list is DirectUnlocks – an online service capable of unlocking all carrier-locked phones. With this amazing service, you can obtain a  network unlock code for your EE phone in 30 minutes (or within 24 hours if it requires contacting the manufacturer).
DirectUnlocks is fast, secure and affordable. Furthermore, it does not have eligibility requirements as with network carriers. DirectUnlocks is compatible with both Android and iOS devices, does not void warranties, offers real-time order tracking and, most importantly, permanently unlocks phones.
Knowledgeable customer service is also available 24/7 to answer all your questions and guide you through the process.
How to Obtain an Unlock Code for EE Phone
Obtaining an unlock code using DirectUnlocks is very easy. Just fill out the unlock form below and wait for the code.
Step 0: Visit the DirectUnlocks EE unlock page.
Step 1: Get your phone's IMEI number – you can obtain the IMEI number by dialing *#06#
Step 2: Provide your details – enter your phone's IMEI number and select its make from the dropdown. Click the "Unlock Your EE UK Phone" button when done.
Step 3: Make payment – pay the unlocking fee when prompted. DirectUnlocks will verify your details, make necessary corrections and process the order.
Step 4: Receive the unlock code – DirectUnlocks will email you an unlock code and instructions to unlock your EE phone. Apple devices are unlocked remotely.
#2. Using SIMUnlockPro
Next on the list is SIMUnlockPro, another fantastic online phone unlocking service that can free your phone of network restrictions in about 4 hours for Samsung and other Android manufacturers and 6 hours for Apple devices.
SIMUnlockPro offers remote unlocking at a pocket-friendly price, making it one of the favorite phone unlocking services. Besides affordable unlocking fees, it offers real-time order tracking and 24/7 customer support.
#3. Through EE
The third best method is through EE. EE offers free online unlocking to all locked devices that have not been reported as lost, stolen or involved in fraudulent activities. Even though it is the official unlocking method (carrier unlocking is usually considered official), it ranked third on this list due to its seven-business days' waiting period.
How to Unlock a Phone Through EE
Unlocking a phone with EE is pretty simple. Just follow the steps below; no logging-in is required!
Step 1: Access the unlock form – launch your browser, then head to EE's online unlocking form.
Step 2: Fill in the form – follow the instructions to complete your unlock request.
Step 3: Unlock your EE phone – the unlock code and instructions to unlock your EE phone will be displayed on the screen, or you can have them emailed to you for future reference. For iPhone and iPad users, your devices will be unlocked remotely.
If you happen to lose the code, you are allowed to repeat the process.
Disadvantages of Unlocking Your Phone with EE
The long waiting period is the main drawback of unlocking your phone with EE. According to EE, receiving an unlock code might take up to seven (7) business days. This makes it a favorable choice for individuals looking to unlock their EE phones urgently.
Part 4. Frequently Asked Questions
Q1. Is it legal to unlock a phone?
Yes, it is 100% legal to unlock your carrier-locked phone. In fact, it aligns with the law that bans UK-based network carriers from selling locked devices. You can use DirectUnlocks to unlock your phone without the risk of invalidating your warranty or damaging it.
Q2. How many digits is an EE unlock code?
An EE code is typically 8-16 digits long. However, the exact length can vary depending on the phone's make and model. Contact EE customer service, or consider using DirectUnlocks for accurate and reliable EE unlock codes for your phone.
Final Words
An unlock code is your best chance at unlocking your EE phone securely and permanently. The three methods we have discussed are guaranteed to provide you with an unlock code to free your phone from network restriction, allowing you to switch network carriers.
If you need your EE phone unlocked urgently, consider using DirectUnlocks. Your phone will be safely and permanently freed from all network restrictions in 15 minutes, enabling a seamless carrier transition.
You May Like