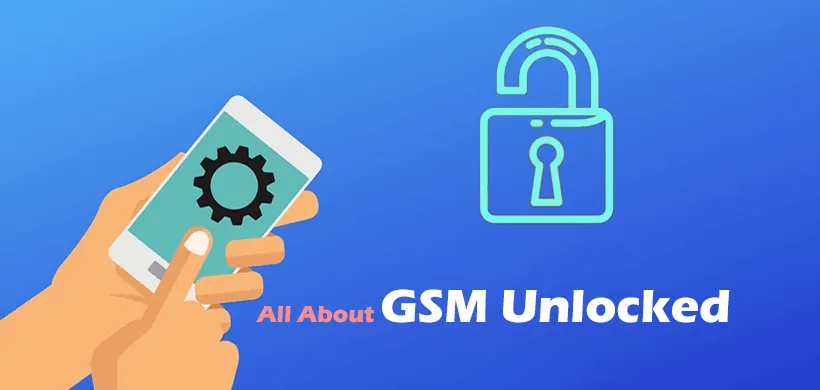 Last updated on

October 27, 2020

by Darren
Is your phone GSM locked? If so, unlocking your phone can be stressful and undoubtedly frustrating.
The problem that most people have is that they have lots of misunderstandings regarding the unlock process and about GSM unlocked phones in general. Some research and time can be helpful, but getting accurate information isn't always easy.
With this guide, we'll be teaching you everything you need to know about GSM unlocked phones as well as what you need to do to unlock your phone in the most efficient manner.
Part 1. FAQs About GSM Unlocked Phones
1.1 What Does GSM Unlocked Mean?
So, what does it actually mean when a phone is GSM unlocked? GSM (Global System for Mobiles) is a type of network used by phone carriers – the alternative type of network is CDMA, which we'll briefly discuss later.
If your phone is GSM locked, it means that it has been locked to a carrier which uses a GSM network. Similarly, if your phone is GSM unlocked, it means that it is no longer restricted to the GSM network.
1.2 What is a GSM Unlocked Phone?
A GSM Unlocked phone means a phone can now use any SIM cards of GSM network (such as AT&T and T-Mobile). It's a term common in the phone market.
Usually, an unlocked GSM phone is more expensive than a locked one. Most of people prefer buying a locked phone and then unlock it with a small fee to save money.
1.3 How to Know if My Phone is GSM Unlocked?
Determining if your phone Is GSM unlocked is very easy, and there are 3 ways for you to find out.
A. Check Settings (for iPhone and Android)
This method isn't reliable so if you do check the Settings app, try another method too to double-check if it has been unlocked.
For iPhone users, go to the Settings app and navigate to Cellular > Cellular Data. If there's an option to select or change the Cellular Data Network, this means that your phone is likely GSM unlocked.
For Android users, go to the Settings app and navigate to Connections > Mobile Networks > Network Operators. The exact path might differ depending on your Android device model, but it will be similar.
In this menu, tap on the Search Now button and a scan for available carriers will be run. If you can connect to different networks, this means your phone is GSM unlocked.
Cons of this method: While this method is the easiest, it's not foolproof.
B. Switch SIM Cards
A more reliable way of checking a phone's unlock status is to enter a SIM card from a different carrier. By doing this, you can check if your phone can successfully connect to another network.
If it can, and you're able to send texts and make phone calls, this indicates that the phone has been GSM unlocked.
C. Using IMEI Checker
The absolute best way of checking a phone's GSM status is to use an IMEI checker. In this case, we'd highly recommend using WipeLock IMEI Checker, the top checker in the industry.
Why use WipeLock? A lot of reasons. Not only can you see if your phone has an active carrier lock (regardless of if it's on a GSM or CDMA network), but you will also find out if your phone has been blacklisted.
The reason this is so important is that if a phone is on a blacklist, you can't remove the carrier lock. No matter what method you use, unlocking the phone is impossible. Hence, you should find this out with WipeLock IMEI Checker before attempting to unlock the phone.
1.4 GSM Unlocked vs CDMA Unlocked, What's the Difference?
You might be wondering what the difference between GSM unlocked and CDMA unlocked is. Although they're very similar, there are some notable differences to keep in mind.
A GSM phone stores all of your network data on the SIM card so to unlock the phone, you actually have to unlock the SIM card. Doing this is as simple as getting an unlock code, typing it into the phone, and unlocking it.
A CDMA phone stores all of your network data on the phone's hardware, not the SIM card. So, unlocking a CDMA phone usually requires computer software.
Please note that most modern phones are now compatible with both CDMA and GSM technology, although not all are. So, if your unlocked phone is compatible with GSM network only, you will not be able to connect to a CDMA network.
In contrast, your CDMA unlocked phone won't be able to use a network that provides a GSM only signal.
1.5 GSM Unlocked vs Fully Unlocked (Factory Unlocked)
This is another question we see a lot, and the difference between these is very clear.
A GSM unlocked phone has been unlocked from a carrier at some point, meaning that it was previously locked.
On the other hand, a fully unlocked (factory unlocked) phone has never been locked to a carrier and was distributed without a carrier lock.
Part 2. What to Do if You Have a GSM Locked Phone
Now that you can fully grasp what a GSM locked phone is and what it means to unlock a phone, you might be wondering what you can do to unlock your network locked phone.
But before unlocking, what you should note is that there is no way to unlock a blacklisted phone, it's necessary to check the blacklist status first with an accurate IMEI checker.
Using the solutions that we're about to explain, you can do exactly that.
2.1 Contact Carrier for GSM Unlocking
Many people will focus on the simplest solution which is to unlock their phones through the carrier. It is the easiest way to unlock your phone, but it has a lot of limitations. We'll list some of those limits shortly but first, here's how to unlock a phone through your carrier.
Step 1. Confirm that your phone is locked using one of the strategies we showed before.
Step 2. Call your carrier's support number. When you connect to a support agent, explain that you want to unlock your phone.

Note: at this point, the carrier will likely request information to prove that you are the account holder. This may include the account holder name or the phone's IMEI.
Step 3. After confirming that you are the phone owner, the support agent will submit your unlock request.
Step 4. Within the next 30 days, you will receive the network unlock code alongside instructions about how to use the unlock code. Follow these instructions to unlock your phone.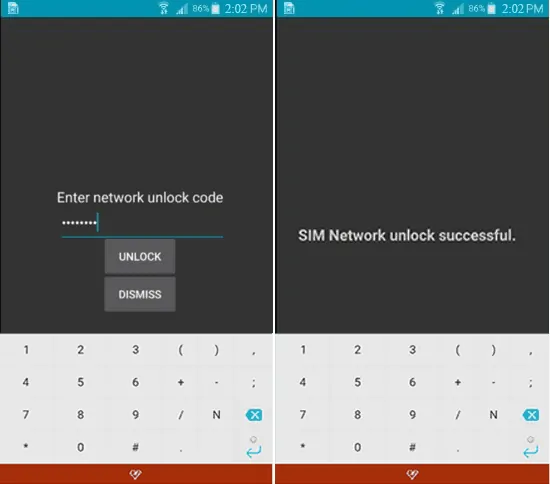 Every carrier has a slightly different process, but this is the gist of how it goes. In some cases, you may have to pay for the unlock – this is just one limit of contacting the carrier.
Cons
You must meet all of the unlocking criteria that your carrier has specified
It can take up to 30 days for your phone to be unlocked
Some carriers will charge you for requesting an unlock code
If you are not eligible for an unlock, the carrier will not assist you any further
2.2 Unlock GSM Locked Phone with Software
Another way to unlock GSM phones is to use specialised software. How these types of software work is pretty straightforward. You connect your phone to the computer, install the software, and run the tool.
Cons
We would advise against using any software solutions though. Some of them may require you to jailbreak/root your phone and not everyone is comfortable doing this.
Furthermore, software tools have a history of not working. Many of them contain viruses, don't work properly, and are just not worth your time. Overall, it isn't worth the risk.
2.3 Unlock the Hardware
Unlocking the phone's hardware is another solution but like software, we wouldn't recommend this. To do this, you can take 2 routes. Either pay a tech store to unlock your phone by changing the hardware or learn to do it yourself.
Cons
This is very risky because even the slightest mistake can brick your phone. Not only that but messing around with your phone's hardware will void your warranty.
2.4 Using IMEI Method to Get a GSM Unlocked Phone
Finally, you can use the IMEI method. This is definitely the most effective way to unlock your GSM phone from any network.
The IMEI method is a service that many websites provide and it works by changing your phone's IMEI database entry.
Remove carrier locks from any iPhone or Android phone
Orders are processed to unlock phones in 6- 24 hours (much faster than carriers!)
Unlocks are handled completely remotely by professionals
Suitable for removing locks from almost any carrier in any country
Priced cheaply so that as many people as possible can use the service
Among the websites that offer this service is DirectUnlocks, one of the best services to use.

For these reasons we'd highly recommend DirectUnlocks as the service you use. It has a lot to offer, supports any phone, and has a very fast delivery time. To use this service, follow the steps below.
Step 1. Go to DirectUnlocks Network page, click Unlock Now next to your carrier.
Step 2. Next, enter your phone's IMEI number. Retrieve this number by dialling *#06# or find it in the Settings app.
Step 3. Once you click on Unlock for Any SIM Card and are on the following page, confirm your order details.
You'll receive an email within 24 hours alerting you that the phone has been unlocked.
It couldn't be any easier for phone owners to obtain a GSM unlocked phone, especially when using DirectUnlocks. It is cheaper to unlock your phone than if you paid your carrier, it's faster, and there are no limitations (aside from if your phone is blacklisted).
Conclusion
That wraps up our guide on GSM unlocked phones. Even though our focus was on GSM phones, much of what we covered can be applied to CDMA phones too.
Your carrier will be able to assist you with unlocking your phone but remember that you'll be waiting a long time for the unlock to be processed.
Using a service, like DirectUnlocks, is a significantly better option. It can unlock any phone on any network, and the customer service is unbeatable!
Related Posts