Last updated on

September 6, 2021

by Darren
From wanting lower rates when traveling abroad to switching cell phone carriers within your home country, there are many reasons why people want to unlock their Telstra phone.
Although Telstra would rather you remain 100% loyal to them, horror stories about people spending tens of thousands of dollars because of data plans gone wrong prove why consumers should be able to unlock their phones.
The silver lining is that there are several companies that can unlock Telstra phones for a reasonable fee. Furthermore, Telstra also offers unlocking services. In some cases, they even provide them for free.
Part 1. How to Unlock Telstra Phone for Free (Up to 15 Business Days)
With the exception of older devices, most locked Telstra phones are on a prepaid plan. That's a sales tactic that Telstra uses because they sell these prepaid plans at a discounted rate.
As a result, they essentially force you into using their network unless you go through the process of unlocking your smartphone.
The good news is that even though Telstra enforces these phone locks, they can also help you get out of them.
How to Unlock Telstra Prepaid Phone (Android)
Below are the steps you'll need to follow to perform a Telstra phone unlock:
Step 1. Obtain your 15-digit IMEI number by typing in *#06# on your phone.
Step 2. Give Telstra a call. If you're calling from a Telstra phone, you can reach them at 125 887 (From a non-Telstra phone – 13 22 00).
Step 3. Offer them the IMEI number of your phone.
Step 4. Pay the Telstra fee, which will vary according to how long you've been a customer.
Step 5. Telstra will send you an unlock code for your device. You need to insert a new SIM card and then use the unlock code to activate your phone.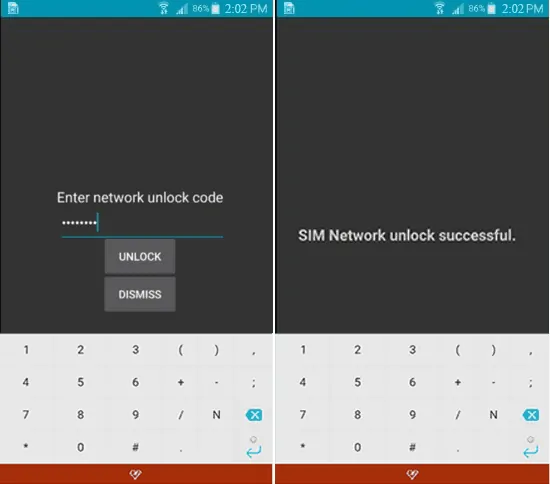 Samsung Telstra Phone Unlocked Successfully
How to Unlock Telstra iPhone
The steps for Telstra iPhone unlock are similar to Android phones.
Step 1. You need to call Telstra support at 125 887 from a Telstra iPhone or 13 22 00 from a non-Telstra phone.
Step 2. Offer your IMEI number
Step3. Wait for them to get your iPhone unlocked
There are a couple of other items you should know.
Note
First, if you own an iPhone, this process will take a little longer since Apple will need to verify it.
Secondly, there is no unlock code needed to get your iPhone unlocked. Once your iPhone is unlocked, just insert a new SIM card from another carrier to activate your iPhone.
Last but not least, the unlocking process for any phones will take up to 15 business days
How Much to Unlock a Telstra Phone?
The price you'll need to pay Telstra to unlock your phone correlates with the length of your relationship with them.
If you've been a Telstra customer for less than six months, they'll charge you an $80 fee.
The phone unlocking cost for six months to two years of customer loyalty is $25.
If you've been a Telstra customer for over two years, you won't have to pay anything for them to unlock your phone.
Part 2. Use a Telstra IMEI Unlock Service (Within 24 Hours)
Several companies specialize in offering services that can unlock Telstra phones for a modest fee. It's essential to do your due diligence before choosing such a company to ensure that it's not a scam.
The only trusted phone unlock service company we recommend is DirectUnlocks.
DirectUnlocks is an excellent choice if you want a fast unlocking service specializing in most new and older phones. They offer top-notch security, outstanding customer service, and you can pay through any digital payment means.
It specializes in unlocking any kind of phone, including the latest iPhone 13. DirectUnlocks has an excellent track record for successfully unlocking phones, and you don't have to show them any documentation.

Regardless of the unlocking service you choose, you can expect the process to look similar to the steps below.
Select Telstra as your network carrier
Type in your IMEI number
Make your payment and receive a confirmation email
Wait to receive notification from the company that the phone unlock process is complete
Forgoing Telstra to unlock your phone with an unlock service is completely legal. That said, if you have an outstanding contract with Telstra, you still must pay your bill. Otherwise, they will charge you late fees.
You can ignore these fees when using an IMEI unlocking service.
These unlocking services perform the job entirely online, so you never have to bring your phone to a physical store. Furthermore, you can expect the process to finish within 24 hours. It's often even less time (within 24 hours) if you own a phone other than an iPhone.
Part 3. FAQs About Unlocking a Telstra Phone
Do you still have lingering questions about what it's like to unlock a phone from Telstra and the advantages of doing so? The answers below will help you out.
Can I unlock a blacklisted phone from Telstra?
You can't unlock a blacklisted Telstra phone. So, it's very important to check the blacklist status of your phone before paying for Telstra or a 3rd-party unlocking service to unlock it.
There is only one way to check if it's blacklisted – using a reliable IMEI checker. This kind of service will create an IMEI report according to your IMEI number.
What is Telstra mobile phone network unlock code?
Both Telstra and third-party unlocking services can produce an unlock code for your phone which can be used to get your phone unlocked from Telstra. It's produced according to the IMEI number of your phone and is unique for each phone.
To use the unlock code, just simply insert another SIM card into your Telstra phone. It will require the unlock code to activate your device, enter it and your phone will be unlocked & activated.
How can I check if my Telstra phone is unlocked?
Use a SIM Card
To find out if you have a locked phone with Telstra, just insert another SIM card (from a different carrier) into your phone, if it can work normally, then it's locked.
Without a SIM Card
If you're on the Telstra Upfront plan and have a newer phone, you most likely have an unlocked phone.
If you bought your phone directly from Telstra and have a prepaid plan with them, your phone will be locked.
You'll be able to switch out your phone's SIM card as soon as your contract ends. Alternatively, you can choose to unlock your phone with IMEI and continue paying your Telstra bill.
Why should I unlock my Telstra phone?
There are 3 main reasons why people choose to unlock Telstra iPhones and other phone brands.
The first reason is that you'll be able to change phone carriers. That way, you can take advantage of potential discounts. The caveat to this advantage is that you'll still need to pay for any plan you currently have until your contract ends to avoid cancelation fees.
Secondly, if you have an unlocked Telstra phone abroad, you can swap out your home SIM card for the country's local SIM card. As a result, you'll be able to take advantage of lower local call and data fees and save money on international roaming costs.
Another reason why some people choose to unlock their phone is that they'll receive a better price for it if they decide to sell it someday.
Conclusion
As a Telstra customer, you need to understand your options when it comes to unlocking your phone. Even though you may have to pay a fee upfront, unlocking your phone opens the opportunity for many long-term savings benefits.
Whether you choose a third-party service that can unlock Telstra phones, or you do so directly with Telstra, we're confident that you'll be glad you decided to do it.