Last updated on

October 14, 2021

by Darren
The largest telecom telephone network and equipment maker in the world, Huawei, has designed many smart devices that greatly changed our life.
But what to do if one of your Huawei devices is locked?
That's why Huawei unlock code calculator exits. It is simple and easy to use to unlock your modem, router, or mobile phone.
In this article, I'm going to show you everything you need to know about it.
Part 1. Why People Unlock Huawei Phones
Most phones are purchased by providers and agree to commit to a contract.
There are various reasons people may want to unlock network locked phone, such as travel, costs and unnecessary payments, switching your provider, or selling your phone.
The benefit is that most of the time, it's free.
1.1 Travel
International travel can be costly with your local plan. Unlocking your phone can give you the option of using another provider's SIM card that is local to where you travel.
1.2 Costs
Unlocked phones cut down on roaming fees. Insert a new SIM card, so your phone doesn't get locked by your provider. It is free to download an unlocking code.
1.3 Switching Providers
Most providers lock phones to either make you pay switching fees or persuade you to extend your current contract. This saves you from early termination fees if you terminate your contract.
1.4 Selling your Phone
If you are purchasing a new smartphone, check to ensure it is not reported lost or stolen first. Unlocked phones are sold for much more money.
Part 2. Huawei Unlock Code Calculator Review
First, you need to know what is it.
2.1 What is Huawei Unlock Code Calculator?
Huawei unlock code calculator is an online tool that was created to help people get their Huawei devices unlocked for free.
Users just simply enter the IMEI number of their device, the calculator will generate an SIM network unlock code to unlock the device.
Note that, it will help you unlock one device for free, for more devices, you'll have to purchase more credits.
2.2 Features
A variety of features helps you as you follow the steps to unlock your device.
All Code Available
Free Credits to all Users
Algo & Flash Code
Email Support
Additional Credits
Easy Payment
100% Security
2.3 How to Use Huawei Unlock Code Calculator
Looking for an easy way to unlock your Huawei device? Try the unlock code calculator by following these simple steps.
Step 1. Visit https://huaweicodecalculator.com/
Step 2. Login with your google account. And click on Code Generator.
Step 3. Enter the model and IMEI number of your device. To find the IMEI number, dial *#06# on your phone or go to Settings, About, IMEI, Status.
Step 4. Once you provide the IMEI number, they will calculate an unlock code for you.
Step 5. Insert a new SIM and use the code to unlock your device.
2.4 Does It Really Work?
We've tested this unlock calculator on 23 of our Huawei devices, sadly, none of the unlock codes they generated worked.
Although it's free, we don't recommend you try this tool to avoid time wasting.
Here is a good news, we find some other options that can actually worked for our Huawei devices. Keep reading to find them.
Part 3. Alternatives to Huawei Unlock Code Calculator
There are other tools that you can use for unlocking your phone and other devices. Feel free to use one of them since we've tested all of them and they performed very well!
3.1 Unlocking Your Huawei Phone Using DirectUnlocks
This unlocks code calculator is compatible with over 1000 network providers and is available in over 60 countries.
Using this unlock service provides you with a permanent solution to unlocking your Huawei phone without compromising your warranty. This option requires payment.
Step 1. Visit the DirectUnlocks Huawei Unlock page.
Step 2. Offer all the information they required: the carrier and IMEI number.
Step 3. Select the preferred method of payment. And make the payment. The team of experts will start to generate an unlock code for your Huawei phone.
Step 4. They will send the unlocking code through email within 24 hours.
Once you get the unlock code, just simply insert a new SIM into your phone and use the code to get your Huawei phone unlocked!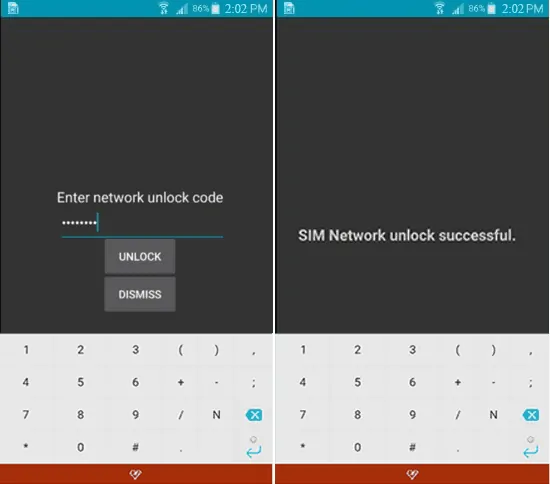 3.2 Using AppleiPhoneUnlock Huawei Phone Unlock Service
In addition to the Huawei unlock code calculator, the AppleiPhoneUnlock is a highly sophisticated option to unlock your daily devices.
Before you begin, have your IMEI number ready by dialing *#06# from the device you are unlocking.
Step 1. Just go to AppleiPhoneUnlock official website.
Step 2. Like DirectUnlocks, you need to offer the model and IMEI number of your device.
Step 3. Then may the payment.
Step 4. You will receive codes in your email within 1 business day.
Step 5. Finally, use the new codes to unlock your device.
3.3 Using DC-Unlocker Software
In addition to the Huawei code calculator, the DC-unlocker can also unlock your Huawei phone for free. Here are the steps:
Step 1. Download the DC-Unlocker application. And install it on your device.
Step 2. Provide the phone's manufacturer and details.
Step 3. Connect your device and select the magnifying glass to detect it.
Step 4. Once detected, log in with your credentials. A prompt will announce when you can begin to unlock your device.
Step 5. Click on the "unlock" button to activate.
Step 6. After a short period, the device will announce when your phone is unlocked.
Step 7. Unplug, and restart before using another SIM.
3.4 Unlocking Your Modem
The Huawei unlock code for modems is free and offers support for the newest (v201) algorithm, the old (VL) algorithm, and the new (v2) algorithm.
You may also be interested in a code for a flashing modem, called the "Flash code". Simply enter the IMEI manually. The correctness check referred to as the (Luhn algorithm) is not performed for this application.
The Difference Between Unlocking and Jailbreaking
Don't get confused. Unlocking a device and jailbreaking a device are very different.
Jailbreaking allows users to gain access to files they wouldn't normally have access to. Unlocking removes carrier restrictions. These two are very different, and jailbreaking can be considered a violation.
If you are the owner of the device, you can unlock your device for various reasons.
About Huawei
Located in Guangdong, China, Huawei is a leading multinational technology corporation selling telecommunications equipment and consumer electronics.
Since its founding in 1987, this telecommunications company has become the largest in the world.
Surpassing Samsung and Apple, it has become the top smartphone brand in the world.
Conclusion
The Huawei Unlock Code Calculator is a free, user-friendly tool that quickly calculates unlock codes for your Huawei devices. But it can't work as advertised according to our test.
If you are looking for an easy way to unlock your Huawei devices, try using the DirectUnlocks or AppleiPhoneUnlock service. They will provide everything you need in one place!