Last updated on

July 29, 2022

by Darren
Finding out that your iPhone is locked can be quite frustrating. Fortunately, there are several online unlocking services that can help you unlock your device.
It can be difficult, however, to choose the most effective tool. Luckily, we're here to help!
So, if you're wondering which service to use, continue reading as we review six of the best factory unlocking services available.
Part 1. iPhone Factory Unlocking Services Reviews
1. DirectUnlocks Review
DirectUnlocks is a specialized service that assists users worldwide in unlocking their devices. Using the iPhone's IMEI and serial number, the online service can remotely unlock any iOS device.
From our tests, DirectUnlocks appears to be one of the most secure and quickest services to factory unlock any iPhone from carrier lock. This service can also bypass iCloud activation locks without any password required.
To use this service, you must pay the required fee, share the device's IMEI and wait for DirectUnlocks to unlock your iOS device.
Pros
DirectUnnlocks provides users with various unlocking services such as factory unlock, iCloud activation, etc.
There is no need for downloading or installation.
The unlock is usually complete within 24 hours.
Cons
Inconsistent unlocking success rate.
Pricing
This iPhone unlocking service starts from $28 but could be more expensive depending on the phone's model.
2. AppleiPhoneUnlock Review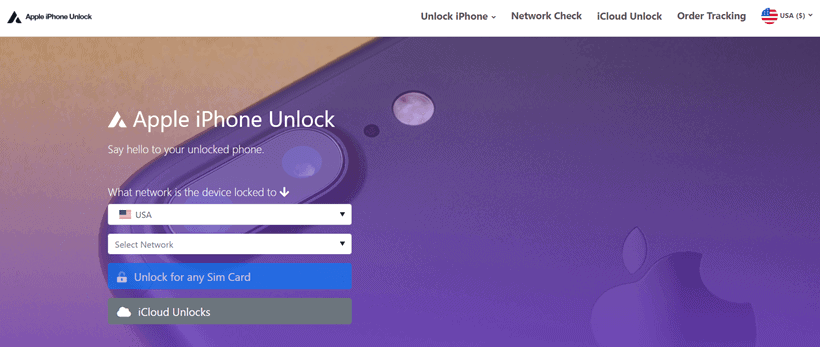 AppleiPhoneUnlock is another iPhone factory unlocking service that allows you to unlock an iPhone from the carrier lock. Impressively, the service works with all iPhones, iPads, iPod Touches, and Apple Watches.
Like other services, AppleiPhoneUnlock unlocks the device using the IMEI number. It is also significantly faster than other competing unlocking services. With this service, you can unlock your iPhone in 24 hours.
AppleiPhoneUnlock can also remove the iCloud account from the device by whitelisting the device's IMEI number in Apple's activation databases.
In addition, once the device is unlocked, it will remain permanently unlocked, so you don't have to worry about it being locked again.
Pros
The user interface of AppleiPhoneUnlock is easy to navigate and makes unlocking your device straightforward.
This unlocking tool works quickly to bypass any lock.
Cons
This platform's starting price is higher than other competitors.
Pricing
The cost of this service varies. The average cost for this iPhone factory unlocking service is $39.
3. DoctorSIM Review
DoctorSIM offers users all the assistance they need to unlock any iPhone device. This platform removes carrier locks on various smartphone brands and models, including Android phones and iPhones.
To unlock your iPhone, you only need to complete three steps: choose the iPhone model, fill out a short form, and pay the required fee.
Once completed, you will receive an email with instructions on how to get started.
Pros
DoctorSIM unlocks most phones and does not require jailbreaking or rooting.
This tool is less expensive than having your carrier unlock your iPhone.
This service is accessible by users worldwide.
Cons
According to some customer reports, the unlock service is ineffective.
It can take up to 7 days to unlock your iPhone, which is slower than others
Pricing
The exact cost of unlocking with DoctorSIM depends on the phone's model and network provider.
To find out how much you'll have to pay, go to the DoctorSIM price page, enter your phone's brand and model, network provider, and country, and then check the pricing.
According to their website, the price starts at €4.95 only.
4. UnlockBoot Review
With UnlockBoot, you can bypass the factory lock on a wide range of smartphones, especially Apple devices, using your IMEI.
Once unlocked, users can switch to any other carrier network without hassles.
Pros
This unlocking tool has an impressive success rate.
UnlockBoot provides 24/7 customer support.
This platform unlocks all Apple devices.
Cons
The refund policy can be better.
Pricing
This iPhone unlocking service costs anywhere from $29 to $169 for all models.
5. IMEIdoctor Review
IMEIdoctor is distinguished by its ability to unlock devices reliably. It also handles a wide variety of devices.
Customer service is also excellent, and the turnaround time of three days is reasonable. This unlocking service completely bypassed the carrier lock of most Apple devices in our tests.
However, the price is slightly higher than most, and the charging structure, which includes both a deposit and a final payment, could be inconvenient for users.
Summarily, this tool has more redeeming features than cons. So, it is an excellent option if you're looking for an unlocking service.
Pros
IMEIdoctor offers a money-back guarantee if the service doesn't unlock your device.
This service works on all Apple devices, including iPhone, iPad, iPod, and Apple watches.
Navigation is effortless thanks to the easy-to-use user interface.
Cons
Payment is unnecessarily complex. This service has two payment stages, giving the impression that it is cheaper than it actually is.
Pricing
IMEIdoctor charges $28 to unlock iPhones on all carriers.
6. CellUnlocker Review
CellUnlocker, as the name implies, is an online tool that factory unlocks any phone on a carrier lock.
It is one of the most recommended unlock service providers, capable of unlocking most major phone brands, including iPhone, Samsung, LG, and others.
Users can unlock their locked devices using CellUnlocker by purchasing unlock codes.
Pros
Streamlined ordering and checkout processes.
This effective online unlocking tool can successfully unlock most smartphones.
The website's user interface is simple to use.
Cons
The refund policy is strict, and you may be asked to send a video of the unsuccessful unlock as proof.
Pricing
CellUnlocker costs around $20 but can cost more than $100 depending on factors such as network carrier phone model, location, etc.
Part 2. Before Using an iPhone Factory Unlocking Service
Before visiting any website to factory unlock your iPhone, you must first check the device's blacklist status. We go into detail below.
Why You Must Check iPhone's Blacklist Status
One thing you should know is that it is extremely difficult to unlock a blacklisted device. There is no online unlock service that can factory unlock a blacklisted iPhone. Hence, you should avoid services that claim to do this.
To check your iPhone's blacklist status, we recommend using its IMEI number via an online IMEI checker – WipeLock IMEI Checker. Differing from other competitors, WipeLock check the IMEI manually to ensure the results 100% accurate.
If the status reads "Reported stolen or lost," the phone is blacklisted. Note that if this is the case, you will need to contact the device's previous owner to remove it from the blacklist.
However, If the status shows "Clean," you can unlock the iPhone with a trusted unlock service.
Part 3. Factory Unlock Vs. Locked iPhone: What's the Difference
The difference between a factory unlocked and locked iPhone is simple.
A locked phone is bound to a specific carrier, such as Verizon or T-Mobile. These phones contain a software code that restricts users from accessing other networks.
A factory unlocked iPhone, on the other hand, was bought directly from the manufacturer. A factory unlocked phone has no carrier lock, or the device was already previously unlocked.
When a device is factory unlocked, you are free to use the sim provider of your choice.
Conclusion
There you have it: a detailed review of 6 iPhone factory unlocking services. These services unlock most iPhone models.
After our extensive checks, we found DirectUnlocks to be the most reliable service due to their high unlock success rate.
However, if this does not work for you, feel free to try any of the other services we have listed above.