Last updated on

March 31, 2022

by Darren
We all dread paying for costly mobile phone unlocking services.
But here's the good news: you can make your device functional on any network using a GPP chip! Or, you can always purchase a GPP unlocked iPhone – they cost 40% less than factory unlocked iPhones, after all!
What's that? You don't know what GPP chips are?
Fret not, because this article discusses all about GPP chips and GPP unlocked iPhones, including their pros and cons.
So, let's get started, shall we?
What Is a GPP Chip?
GPP chip (also called GPP LTE Chip) is a cloaking device that sits on your iPhone's SIM tray. This Chinese-origin chip is typically placed on top of the gold-plated portion of the original SIM.
It impersonates your SIM card's ICCID that identifies a specific carrier to allow you to bypass the original network's access limitations. You can use a GPP chip to access any carrier regardless of whether your iPhone is country-locked, factory-locked, or carrier-locked.
A GPP chip is handy for people who travel frequently or live in regions where some carriers have limited signal coverage.
Placing a GPP chip in your iPhone doesn't cause any interference in other functions. For instance, you can still update iOS to the newest version while having a GPP chip in your phone's SIM tray.
Likewise, the latest GPP chip versions support LTE, even though they only facilitated 3G until a few years back.
What is GPP iPhone Meaning?
GPP iPhones are genuine iPhones previously locked to a wireless carrier, either local or international, but were made available to other carrier networks by utilizing a SIM-masking chip known as "GPP."
GPP unlocked iPhones are also called "semi-factory unlocked" devices that don't compromise the phone's performance. GPP unlocked iPhones are less expensive than factory-unlocked iPhones. However, they are not fake copies of the originals.
The reason for their low selling price is that the bulk of these devices are reconditioned. This means they had a factory problem that the company has repaired with Class "A" structural components. Another possibility is that these devices are region or network-locked, probably the stolen leftovers from Korea, and Japan.
GPP iPhones are usually unlocked via GPP/R-sim/X-sim/Turbo SIM and are a part of a postpaid plan. Because these phones already have GPP chips inside, you won't have to worry about whatever SIM card you use.
Pros and Cons of GPP Unlocked iPhone
If you're thinking of purchasing a new GPP-unlocked iPhone, it's a good idea first to understand the benefits and drawbacks.
We have listed the key points to help you decide whether or not to go ahead with the purchase:
Pros of GPP iPhones
1- Major Savings
GPP iPhones are less expensive than the original devices, so you don't have to purchase an overpriced mobile unlocking service. Even if you don't buy a GPP iPhone, you can invest in a GPP chip to make your device fully functional on other networks.
2- Allows You To Switch Between Different Network Carriers
You can convert your network-restricted iPhone into an open line by modifying the GPP chip's ICCID.
3- No Lengthy Unlocking Procedures
Semi-factory unlocking your iPhone is a straightforward procedure. It saves you the time of contacting your network carrier and waiting for them to unlock your device.
4- Uninterrupted Access to All iPhone Features
Inserting a GPP iPhone unlock chip in your phone or purchasing a new GPP iPhone does not compromise the device's performance. Its storage capacity, camera features, and hardware specifications remain unaffected.
Cons of GPP iPhones
1- Incompatibility with the Latest iOS Versions
Not all GPP chips are compatible with the latest iOS updates, so your GPP unlocked iPhone might stop working. As a result, every time you receive an iOS update notification, you must update the GPP chip itself.
2- SIM Card Issues
GPP Unlocked iPhones usually fail to identify your local SIM card after upgrading to the latest iOS versions. So, you might run into SIM-related issues like SIM Not Valid or SIM Not Supported prompt messages, fluctuating signals, and no access to data connections.
3- Constant Updates
Constantly updating your iOS version has several issues. For instance, you will have to wait until the GPP chip vendor develops a compliant version. Secondly, purchasing a compatible GPP chip to operate on your current iPhone means extra costs.
4- Older Versions Do Not Support LTE
Even though the more recent GPP versions support LTE, the older ones are only compatible with 3G. So, you might have to purchase an up-to-date version if you don't already have one.
How to Unlock iPhone with GPP Chip (GPP Chip Activation)
Here is a straightforward 4-step procedure to activate a new carrier on your iPhone with a GPP chip:
Step 1: Remove the SIM Tray from Your iPhone
The first step is to remove the SIM card from your iPhone. To do so, you will have to switch off your device. Next, eject the SIM tray using the clip and remove the SIM.
Step 2: Insert your GPP Card into the SIM tray
After removing the SIM card from the tray, appropriately insert your GPP chip into the SIM tray.
Step 3: Insert Your New SIM Card
Next, put your new SIM card on top of the GPP chip. After ensuring that the SIM is secure, reinsert the SIM tray into your iPhone.
Step 4: Activate the New Network Carrier
Switch your iPhone back on, unlock it and confirm if the new carrier has been activated. If not, take the SIM tray out and properly insert the SIM card.
About GPP Chip Price
The GPP Chip prices vary: from $7.56 to $26.12.
GPP LTE Chip Not Working?
Some people have encountered issues when using GPP Chip. "SIM Not Supported" or "SIM Not Valid" errors may occur on their iPhone.
Considering the disadvantages of GPP chips, many users are looking for better alternatives to unlock their iPhones. Luckily, several techniques exist to unlock your iPhone without a GPP chip.
If the GPP chip not working for you, you can take a look at these approaches:
1- Using UB SIM
The UB SIM is one of the most efficient GPP alternatives for the iPhone. It's straightforward to set up and assist you in accessing other networks in under 5 minutes.
A UB SIM works like the GPP chip. Here are the steps to follow:
Steps to Unlock iPhone Using UB SIM
Step 1: Remove Your SIM Card
Remove and empty the SIM tray from your iPhone. Then, place your UB SIM chip underneath the new SIM card. Reinsert the SIM tray into your iPhone.
Step 2: Enter the Code
Restart your phone – a UB SIM menu will appear on your screen. Select "ICCID Mode" and enter the code.
Step 3: Activate the UB SIM Chip
Click on "OK" and wait for a few moments to complete the activation process. Make sure your device is connected to Wi-Fi.
Once you follow the steps mentioned above, your device should be unlocked, and your new SIM card should work smoothly.
Pros
Supports the latest iOS version
Compatible with the latest iPhone
Unlock your iPhone within 5 minutes
Cons
This solution is semi-permanent as GPP Chip
2- Using DirectUnlocks
DirectUnlocks provides legal, safe, and secured iPhone unlocks. You can remotely unlock your device without canceling your warranty in three simple steps:
Steps to Unlock iPhone Using DirectUnlocks
Step 1: Share Your Device Details
To unlock your iPhone using DirectUnlocks, you must share your device's IMEI number and pay the advance.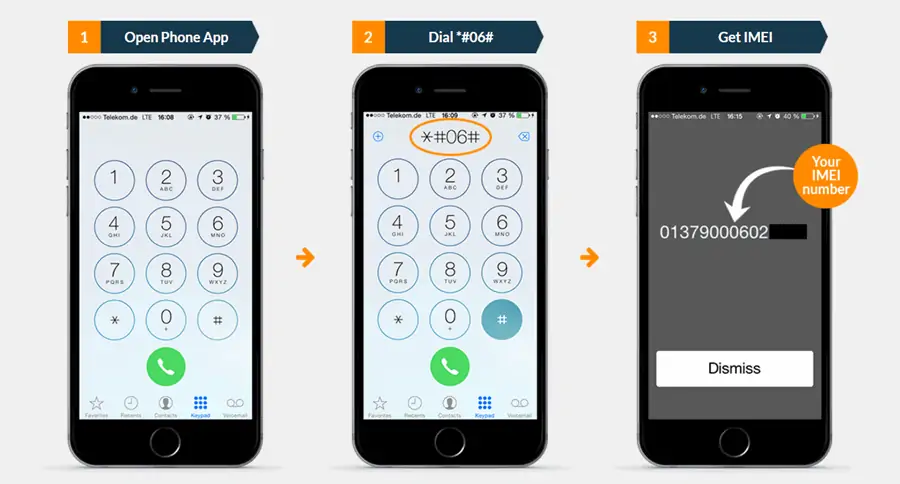 Step 2: Wait for Activation
The platform remotely unlocks your device – the process usually takes one working day for iPhones. You can, however, check the progress of your order on the tracking page.
Step 3: Confirm Activations
Once DirectUnlocks convert your device into an open line network over the air, you will receive an SMS and email notification.
Pros
Permanently unlock your iPhone, you can update or factory reset your iPhone without any problem
Unlock your iPhone remotly, you need do nothing
Avoid expensive roaming charges
Unlock your iPhone easily even if you still own money on it
Cons
The process takes 24 hours
3- Using Software
The last method to unlock your iPhone without using a GPP chip is using the software. These tools can also resolve "invalid SIM" issues in around five minutes, apart from unlocking your carrier lock. Almost all software follows a similar unlocking procedure listed below as follows:
Steps to Unlock iPhone Using Software
Step 1: Download the Software
Download the software on your macOS device.
Step 2: Connect to Your iPhone.
Connect your phone to your macOS device using a USB cable. You will be prompted to enter your iPhone's screen password to confirm networking.
Step 3: Jailbreak Your iPhone
You will then have to jailbreak your device to remove some software restrictions.
Step 4: Finalize Activation
Wait a few minutes for the unlocking procedure to complete. The iPhone will then reboot, and you will now have an unlocked iPhone. Insert a new SIM card into your iPhone.
Pros
No technical knowledge required
Fast procedures
Cons
It will jailbreak your iPhone
Only supports iPhone 5S – iPhone X
Only supports iOS 12.0 – iOS 14.8
Your device will be locked again once you reboot or reset your iOS to iOS 15."
It is worth mentioning that we don't recommend using software to unlock your iPhone because of obvious reasons!
Should You Update GPP Unlocked iPhone?
Updating your GPP unlocked iPhone has its pros and cons. Your GPP chip will stop working if the update includes a fix. Apple is also updating and restricting ICCID, requiring you to reactivate your device.
However, the recent GPP versions allow you to manually alter the ICCID so that it will continue to work with future iOS releases.
Some users have also confirmed that removing or reinserting a SIM card and resetting your iPhone to factory settings after the current update would only cause minor issues, and you may continue to use the GPP chip.
You should keep these in mind before updating your GPP unlocked iPhone.
GPP Unlock Vs. Factory Unlock
Factory unlocked iPhones are a genuine open-line copy of the iPhone. You can enter any SIM card without utilizing GPP chip.
GPP unlocked iPhones, on the other hand, have a GPP chip already inserted into the SIM tray and an original SIM card placed above it to impersonate the SIM's ICCID. This sort of unlocking is temporary, and you may need to update all of the types of Apple publishes a new version.
When we compare the benefits of factory unlocked phones to GPP unlocked phones, it is evident that factory unlocked phones are far easier to use and handle. Unlike GPP unlocked iPhones, factory-unlocked devices can survive the most recent IOS issues without compromising performance.
The Endnote
This brings our discussion to an end. Whether GPP chips are suitable for you depends on your preference. If you are comfortable with the drawbacks, you can settle for GPP iPhones.
In the contradicting scenario, you can unlock your iPhone using the alternative methods listed in this article.