Last updated on

May 17, 2020

by Darren
I bought a second-hand iPhone and when I put my SIM card in, the iPhone said "SIM Not Supported". What can I do to fix this?
This issue is common among users who purchased a second-hand iPhone from the Internet.
When you see one of the following messages it means your device is locked to a specific carrier.
"SIM Not Supported. The SIM card that you currently have installed in this iPhone is from a service provider that is not supported under the activation policy that is currently assigned by the activation server. This is not a hardware issue with the iPhone. Please insert another SIM card from a supproted service provider or request that this iPhone be unlocked by your service provider. Please contact Apple for more information."
"SIM Not Valid. The SIM card that you currently…"
"SIM Not Supported. The SIM card inserted in this iPhone does not appear to be supported…"
Even if you insert the correct network's SIM card, that doesn't guarantee this error disappears. Rather than struggling to deal with it, we'll be showing you the best ways to resolve this issue and unlock your iPhone for any carrier.
Part 1. Things You Need to Know About iPhone SIM Not Supported/Valid
Let's start by covering a few important notes that surround SIM card not supported/valid on iPhone.
To use a locked iPhone on a different carrier that you currently have a contract with, you must unlock the iPhone.
A locked iPhone is only limited to connect to a single network carrier; therefore you must unlock it to switch to other carriers
The official iPhone unlock method involves contacting the carrier for a network unlock (if you haven't completed the payment plan, they won't help you)
You get the idea – if a carrier locks your iPhone, you need to unlock it before you can connect to another carrier.
Before we talking about how to unlock, you need to learn how does the carrier lock work.
How Do Carrier Locks Work?
So, unless you have a lot of interest in technology, you're probably wondering how exactly a carrier lock works.
When you first purchase an iPhone or take out a new contract with a carrier, it's typical for them to install a custom piece of software on it. Although this software doesn't impact the iPhone's functionality or features, it limits your SIM card in various ways. The main types of carrier locks are:
Carrier Lock. Blocks SIM cards from making and receiving calls or texts when you leave the country you reside in. Although carriers don't use this type of block as much anymore, they do increase your call/text/data rates substantially whenever you travel.
Network Lock. Blocks the use of SIM cards that aren't from the original carrier. If you insert a SIM card from another carrier then it won't be usable unless you pay to unlock the iPhone.
Subscriber Lock. Blocks all SIM cards except the original. This means that even buying another SIM card from the original carrier will not be usable after you insert it into your iPhone. Evidently, this is the biggest restriction you can have.
Country Lock: Block your iPhone from using a SIM card from another country.
How to Check Which Carrier Lock iPhone is Locked to?
This is not so easy for you to check this personally. You may have realized that an iPhone IMEI checker is effective to help you.
As is known to all, there're so many online IMEI checkers. But nearly all of the Online IMEI Checkers generate a report from an outdated database.
These companies are irresponsible since the IMEI report they generated is not accurate which misleads people badly and wastes them a lot of time.
That's why we recommend WipeLock iPhone Carrier Checker. Differing from most of online IMEI checkers, WipeLock check the IMEI manually to ensure a 100% accurate report. Except that, WipeLock can also check the Blacklist status & iCloud status for you.
This is very important for you to know the Blacklist status of your iPhone. A blacklisted iPhone is hard for you to unlock.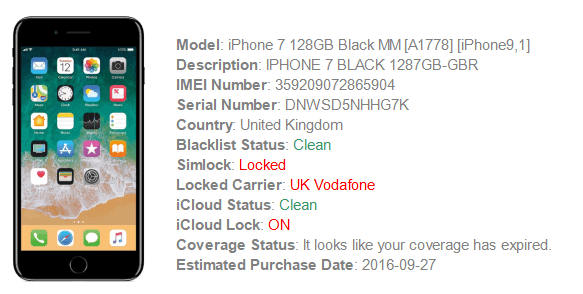 If you have any of the carrier locks on your iPhone and you wish to remove them, the next step is to unlock iPhone.
Part 2. Top 2 Ways to Resolve iPhone "SIM Not Supported"
Wonder if the following methods worked on the latest iOS 15? Of course! They can unlock all models of iPhone on iOS 7/8/9/10/11/12/13/14.
Method #1 – Fix iPhone "SIM Not Supported/Valid" by Contacting Carrier
This is one of the most popular methods since it is free if you've already finished the payment plan in the contract. If there are still several months before the contract finish, you'll have to wait until it ends or try the IMEI unlocking service.
As discussed, before using this method you need to check which carrier is your iPhone locked to with a reliable iPhone Carrier Checker.
After knowing which carrier is your iPhone locked to, you can now contact the carrier. Nowadays you'll find that most carriers allow their customers to unlock an iPhone. There are 3 steps for doing this.
Step 1. Check if the Carrier Supports Unlocking
Start by finding out whether or not this is something your carrier supports. Most do, and this allows you to fix SIM not supported.
A quick visit to Apple's support site lists all the carriers that are available in your region. When you see "Unlocking" item under your carrier, this means they are capable of unlocking your iPhone. Contacting them directly will give you the exact answer.
Step 2. Contact the Carrier for Unlocking
Now that you know if it's actually possible to unlock your iPhone, give your carrier a call and make an official unlock request. There are a few things to remember at this point:
If you have a monthly contract (e.g. paying $40 per month for 2 years), your carrier may deny the request
If you are behind on your phone payments, they are more likely to deny the request
Most carriers will charge you to unlock the iPhone, so be aware that your next payment could be more than you expect
How you contact your carrier for this request varies. Usually though, calling them and answering a few security questions or logging into the carrier's online dashboard with your account information will suffice. For example, here is how you can unlock straight Straight Talk iPhone:
After submitting the request, wait for them to process the unlock (usually 3 to 5 working days).
Step 3. Start the Unlocking Process
While you wait for your carrier to process the carrier lock removal and fix iPhone SIM not supported, take a backup of your iPhone. This will prevent unnecessary data loss that may occur after the lock removal is complete.
After your carrier notifies you that they have removed the lock, you have a few final things to do:
When you have a new SIM card:
Remove the old SIM card from your iPhone and insert the new one
Set up your iPhone again
You should now be able to set up your iPhone without seeing "SIM Not Supported" message! If you lose text messages or contact information then simply restore your backup.
Method #2 – Using an IMEI Unlocking Service to Unlock Your iPhone
Rather than go through the hassle above, you can instead choose to use an IMEI unlocking service like DirectUnlocks. Here, we take DirectUnlocks as an example.

This service enables you to effectively unlock iPhone and fix your SIM card errors, but without you having to lift a finger.
Permanently unlocks: your iPhone won't be locked again
Professionally unlocks iPhone remotely, they will whitelist your iPhone from Apple's database
Suitable for unlocking any model of iPhone (and any iOS version, including the latest iOS 15)
Doesn't require any additional software installation on your iPhone
More affordable than paying your carrier for a network unlock
You don't have to jailbreak your iPhone (which will cause heavy damage to the firmware of your iPhone) to unlock it
Steps to Solve SIM Not Supported/Valid on iPhone 11 Pro Max
It's beyond any doubt that if you want to resolve SIM Not Supported on iPhone, DirectUnlocks is the service for the job. More to the point, you can get started on fixing your iPhone with this site by following the steps below.
Step #1 – Go to the DirectUnlocks iPhone Unlock service page.
Step #2 – Choose your iPhone model.
Step #3 – Select your country and your iPhone's network carrier and input the device's IMEI number below. Then click "Continue".
Step #4 – Follow the payment instructions to finish placing your order.
After you place an order you just have to wait a few hours (usually less than 24 hours) and they'll notify you once the iPhone unlock is complete!
Here is one of the complete orders (you can track the order at DirectUnlocks):
Bonus: How to Tell if the Unlock Worked
If you aren't completely sure that the method you chose was effective, you can use this quick guide to check if the iPhone unlock worked.
Step #1 – Turn off your iPhone. And remove the SIM card with the paperclip-like tool.
Step #2 – Insert a SIM card from a different carrier.
Step #3 – Turn on your iPhone and see if the carrier is recognized. Or make a phone call.
If you find that the unlock didn't work, try a different method instead.
Conclusion
Unlocking your iPhone using either of the solutions above is the best way to fix "SIM Not Supported"/"SIM Not Valid". It can be frustrating to deal with carriers, not to mention expensive. As such, we recommend using DirectUnlocks for this particular iPhone issue.