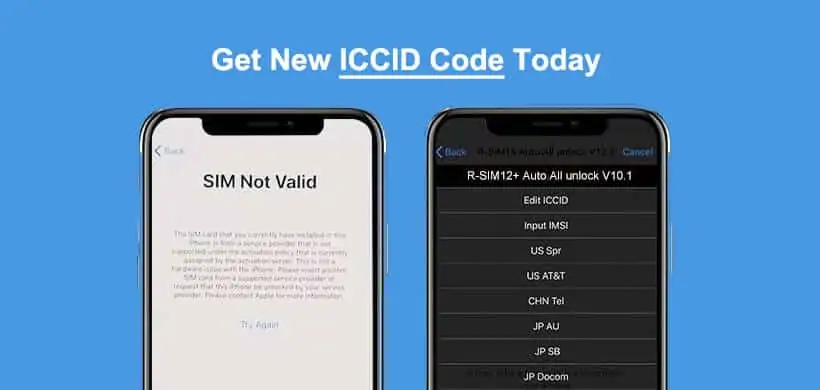 Last updated on

January 10, 2022

by Darren
If you need to unlock an iPhone to switch carriers or make other adaptations, you'll perhaps need a new ICCID code. In this case, you'll need to know how to retrieve your phone's current number, where to find a new ICCID code, and how to use it.
We'll help you through the process of finding these numbers to make it easy to unlock your iPhone.
Part 1. FAQs About ICCID Code 2023
The process of unlocking an iPhone carrier and installing a new ICCID code is easy when you understand the basics. Here are the answers to some of the most frequently asked questions about ICCID numbers.
1.1 What is the ICCID number on an iPhone?
Your phone's 19 or 20 digit SIM number, the number printed on the small plastic Subscriber Identity Module (SIM) card inside your phone, is the same thing as its ICCID number.
ICCID stands for Integrated Circuit Card Identifier. It's a unique number that serves as the serial number for the phone. You can use the terms SIM number and ICCID number interchangeably because they refer to the same number.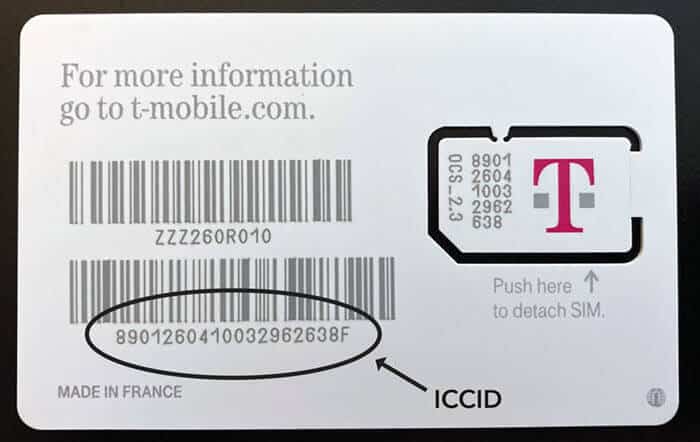 ICCID codes always begin with "89," but the following numbers are different according to the country and the carrier.
1.2 Why Do I Need the ICCID number?
When you purchase a phone and set it up with your phone carrier, you usually insert the new SIM card as part of that process. You may have to relay or manually enter the serial number printed on it. Sometimes you have to do both.
You may need the ICCID code to upgrade a phone or calling plan, change the phone number, or verify ownership. You also need to know the number to unlock a phone.
1.3 How Do I Find an iPhone's ICCID number?
You can find the ICCID number by looking it up on your phone.
Go into your iPhone's settings by tapping on the "Settings" icon on the home screen or in the library
Choose "General"
Choose "About"
Scroll down. The number is listed next to the label ICCID.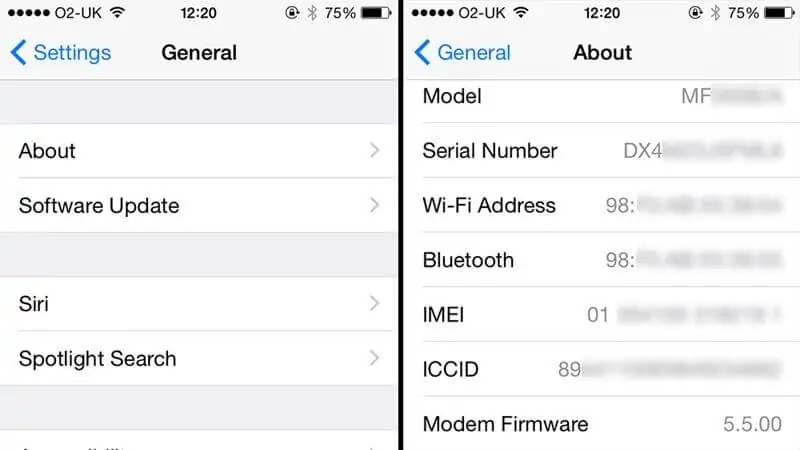 If you need the ICCID number of a phone that won't turn on or operate correctly to let you retrieve it through the phone's settings, you can still retrieve the number.
Use the SIM removal tool to remove the SIM card. The number beneath the bar code strip is the ICCID number.
1.4 How to Change ICCID number on iPhone without R-SIM?
If you don't have a R-SIM, you can still change ICCID number to unlock your iPhone with UBSIM or GPP chip. We'll talk about this in the following section.
Part 2. Ways to Get a New ICCID Code Today
If you need a latest ICCID code, you can find one on several websites that publish current numbers. A web search for "new ICCID code for iPhone" will give you options.
We think these are the best sites to use because they don't contain unnecessary information and usually update their numbers daily.
2.1 Iccid.online
Iccid.online displays a new ICCID code for the latest iOS almost every day. The site doesn't contain any other information likIe user comments, so the only way to test the code is to try it.
2.2 Cmd99
Cmd99.com usually provides a few current codes that work with the latest iOS. The date at the top lets you know if the information is current. Comments at the bottom might also be helpful.
2.3 Firmwarex
Firmwarex.net lists several new codes each day. The site features the option to leave the developer a tip for the service, but it's free to use one of the codes.
Part 3. How to Enter a New ICCID Code on a Locked iPhone
You can purchase a UBSIM, GPP LTE chip or an R-SIM from many sites online. Look for a seller that has good reviews to avoid scams. Once you insert the chip, you need to leave it in the phone to continue to use the new ICCID code.
Be aware that using third-party chips may void your phone's warranty. If Apple updates the iOS or makes other changes to its service, you may need a new chip to repeat the process to keep your phone from reverting to its original ICCID number.
3.1 Enter a Latest ICCID Code with UBSIM
UBSIM is the most popular hardware unlock solution for iPhone users. It's specially designed for those who want to unlock their iPhone for any carrier. Just it along with your SIM card into your iPhone, you can switch to any carrier your like.
3.2 Enter a New ICCID Code With a GPP LTE Chip
Follow these steps to unlock your iPhone with a GPP chip.
Click the Settings icon on your home screen or app library.
Select SIM, then tap ICCID.
Enter your new ICCID code.
Tap Sharp Mode (it might be listed as Perfect Mode) and tap OK.
Turn your phone off and use the removal tool to eject the SIM card tray.
Remove the SIM card from the tray.
Put the GPP LTE chip in its place.
Place your SIM card on top of the GPP LTE chip.
Insert the SIM tray back into your phone.
Give the phone time to read the GPP chip and the new ICCID code.
3.3 Enter a New ICCID Code With R-SIM
An R-SIM is a similar device that uses a slightly different process.
Turn your phone off and use the removal tool to eject the SIM card tray.
Remove the SIM card from the tray.
Place the R-SIM in its place.
Put the SIM card on top of the R-SIM chip.
Insert the SIM tray back into the phone.
When you turn the phone on, select Edit ICCID from the menu that pops up.

If the menu doesn't appear automatically, open the call app and dial *5005*7672*00# to bring it up.

Enter the new ICCID code.
Restart the iPhone.
Part 4. Unlock an iPhone Without an ICCID Code – Use DirectUnlocks

You might be uncertain about using a third-party chip inside your phone. Common fears include voiding the warranty or damaging such an expensive device. Fortunately, you can unlock your iPhone without either of those problems by using an unlocking service like DirectUnlocks.
You'll need to dial *#06# to retrieve your phone's IMEI number. Once you give the site that number and pay for the service, it takes about 24 hours to unlock your iPhone. The change will be permanent and won't affect your phone's warranty.
Conclusion
If you use a service like DirectUnlocks, you won't have to find your SIM card removal tool or find a new ICCID code on your own. You can unlock your phone permanently without voiding its warranty.
If you want to unlock your iPhone, you can find a new ICCID code, purchase a chip and do it yourself, but the easiest way is to let a service like DirectUnlocks unlock the phone for you in only a day.