Last updated on

August 2, 2022

by Darren
Unlocking your Movistar phone will allow you to use it with any network of your choice. This is very useful when looking for better rates or if you happen to go abroad.
But how do you Unlock your Movistar Phone?
A Movistar device unlock code can be used to get your phone to work with any network. Getting this code might seem difficult at first, but you can get it either directly from Movistar or a third-party online service.
Keep reading to learn about Movistar unlock procedures and how they can work for you.
Part 1. Before Movistar Phone Unlock
Being tied down to just one carrier can be limiting, especially if you frequent areas with poor signal or need to unlock Movistar Mexico. Yet another reason to move away from one specific carrier is to take advantage of a better phone plan.
A lot of iPhone and Android owners choose to enter into a contract with a carrier for various reasons, such as getting a phone for free. When you are under such a contract, unlocking your phone to use with another carrier is not an option.
However, once the contract has ended, you are allowed to use a Movistar network unlock code and go to a different carrier.
Before unlocking your Movistar phone, you must find the IMEI number of your phone and check its blacklist status. These are essential steps that should be taken before you try to unlock your phone.
Find IMEI Number
To get started with Movistar unlock, you must find your iPhone's IMEI number. The easiest way to achieve this is to look it up in Settings.
Tap on Settings and go to General > About. Scroll down until you see the IMEI number. Write it down so you don't have to look it up again while unlocking your Movistar phone.
You can also get your Movistar iPhone IMEI number by dialing *#06#. Once you have done this, a screen will pop up with your IMEI number.
Yet another way to obtain your IMEI number is to take the SIM card out. Your IMEI number is a specific identification number for the device and not the SIM card so you will not find it on the card.
However, iPhone 6s and more recent models have the IMEI number printed on the SIM Card Tray.
Check your Phone's Blacklist Status
Aside from getting the IMEI number, you also have to make sure that your Movistar phone is not blacklisted. This is important because you cannot unlock the phone if it has been blacklisted.
There are plenty of IMEI checking services that can check whether your phone has been blacklisted or not. Keep in mind that most of free IMEI checkers won't give you an accurate result.
Here we highly recommend WipeLock IMEI checker. Just offer your IMEI, you'll get a report like this:
As the above IMEI report shows, the blacklist status is "clean," this means your phone can be unlocked with either of the following methods.
Part 2. What is Movistar Network Unlock Code?
When your phone prompts you to enter a network unlock code, this means that it is locked to a specific carrier. You must enter the right network unlock code to be able to use another SIM card with your phone.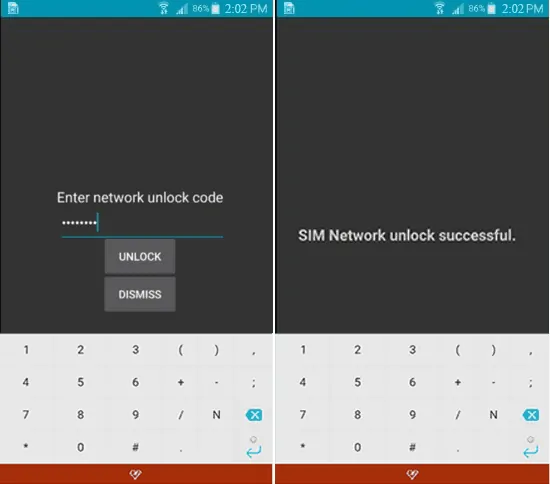 This often happens when consumers purchase second-hand phones and they are still locked to the original carrier. It can also simply be because the contract the phone was under has ended.
You should contact the current carrier to obtain the right network unlock code. And a third-party online service can also help with this.
Part 3. Best Way to Unlock Movistar Phone
The best way to unlock your phone is with DirectUnlocks. This is a service that guarantees your Movistar Phone will be unlocked in 24 hours.
That is an excellent time frame if you need to use your phone with a different carrier as soon as possible.
Some of the benefits of DirectUnlock include:
Avoid Roaming Charges
You will probably agree that Movistar's Data plans are quite expensive when compared to other carriers. This is especially true if you are traveling and have to pay roaming charges.
Unlocking your phone with DirectUnlock can help you avoid these charges. This way, you will be able to buy a local SIM card wherever you are and start using it right away.
Get More Money for your Phone
Eventually, you might want to sell your phone to get money for a new one. An unlocked phone can go for considerably more than a phone that is locked to just one carrier.
The buyer will appreciate not having to unlock his new phone.
Switch Service Providers Easily
An unlocked phone can be used with any provider easily. All you have to do is take out the old SIM card and insert the new one.
Once that is done, you can use your phone normally with the new provider.
Keep your Warranty
Unlocking your phone with DirectUnlocks does not void its warranty. If something goes wrong with the phone, you will still be able to get it repaired through the warranty.
Approved Unlocking
Unlocking your phone with DirectUnlocks is approved not just by Apple, but by network carriers as well.
Quick and Inexpensive
Using DirectUnlock gets your phone unlocked in 24 hours and is inexpensive.
Money-Back Guarantee
In case you are unsatisfied with the service, DirectUnlock provides you with a money-back guarantee.
You Don't Have to Leave Home
Since DirectUnlock is an online service, you do not have to leave your house to get your phone unlocked. Just sit back and wait for the service to be completed.
Keep Using your Phone
Even though your phone is being unlocked, you can still keep using it.
No Headaches
You don't have to go through any hassles or headaches to get your phone unlocked. Once the process is complete, you just pop in another SIM card.
100% legal
Unlocking your Movistar phone with DirectUnlock is completely legal so you don't have to worry about anything.
Now that you know about DirectUnlock, all you have to do is contact them to get the process going. Make sure to have your IMEI number ready when you do this.
Part 4. Common Way – Free Bbut up to 15 Business Days
As you might expect, you can unlock your Movistar phone directly from the company without having to pay anything.
However, there are requirements that must be met:
The mobile device has to be registered with Movistar.
Your phone must not have been reported stolen, lost, or blocked.
Your Movistar account must be up to date.
If you got your Movistar phone through a contract, it must have concluded.
If your device is associated with a canceled account, the balance you owe must be at zero.
Contacting your current carrier to unlock your Movistar phone can be a hassle. These requests are seldom processed as fast as they should be.
In fact, it can take a long time and you might find yourself having to contact the carrier again and again.
If you comply with all these requirements and are willing to wait 15 days, contact Movistar with your IMEI number to have your phone unlocked.
Conclusion
You can unlock your Movistar phone to be able to use it with another carrier and to save money as well.
Follow the steps we outlined in this article to have your phone unlocked either directly by Movistar or a third-party service like DirectUnlocks.