Last updated on

April 22, 2020

by Darren
Hi Darren,
When I insert my SIM card into my Samsung phone (S6) I found out that there is a message saying that "Invalid SIM card. Network locked SIM card inserted."

Some of my phone's abilities don't work. How can I fix this problem?

Thanks!

Joe
Are you struggling to fix this issue but don't know how like Joe?
The "Invalid SIM card. Network locked SIM card inserted" is a similar problem that only occurs for Samsung phones.
I know how annoyed you may feel when this message showed up.
But don't worry. I've made a deep research and helped Joe out successfully. In this article, I'm going to explain why this happens and how you can fix it.
Part 1. Why "Network locked SIM card inserted" Happens?
Why are you getting this error? Naturally, when users experience an error they haven't seen before, they wonder why it occurs.
To help you grasp a better understanding, here are the messages you might be seeing after dismissing this error and why they appear.
1.1 Messages after Dismissing "Network locked SIM card inserted"
Enter network lock Control Key
SIM network PIN blocked. Enter SIM network PUK
Network PIN Required
SIM PUK Code
Network Control Key
1.2 Reasons for "Network locked SIM card inserted" Error
Carrier Lock. Most common is that your phone has been locked to the original carrier, meaning only a SIM from that carrier can be used. If you insert a different carrier's SIM then texting and phone calls won't work.
Region Lock. A region lock is sometimes enabled depending on the country you are in and the carrier you chose. Trying to use the Samsung phone outside of this region isn't possible.
Android System Error. In rare occasions, there may be problems with the Android software that is installed on your Samsung phone which result in SIM problems.
Remember that the reason you get this type of error could be completely different from these, but ultimately the solutions we use are the exact same.
Part 2. Before Fixing "Network locked SIM card inserted" Error
So before you can move onto the actual unlocking stage, it's good practice to first check if your Samsung phone has actually got a lock enabled.
There are two ways to do this: either call your carrier's support team and inquire or use the steps below.
Step 1. Remove your SIM card and insert a SIM card from another carrier.
Step 2. If it works as normal and you can make calls, access the Internet and send texts, then your phone is unlocked.
If you find out that you do have a network locked SIM card inserted, we can now consider what solutions are available to you.
Part 3. How to Fix "Network locked SIM card inserted" Error?
To address three of the reasons we addressed above for this "Invalid SIM card. Network locked SIM card inserted" error, we recommend trying one of the solutions below.
3.1 If it's Locked to Network Lock or Region Lock
Network locks or region locks are good and bad. On one hand, they allow carriers to keep customers on their network so that they don't get out of contracts easily.
On the other hand, it means that even after contracts end or second-hand phones are bought, phone owners don't have the luxury of selecting the carrier of their choice.
3.1.1 Unlock "Network locked SIM card inserted" with Carrier (Up to 7 Days)
First of all, you may want to contact your carrier directly. Some people don't like to do this because it usually means a fee will need to be paid, and it can also take a long time to get processed.
Although every carrier has a varying process, this guide gives a rough outline of how it usually goes.
Step 1. Contact the carrier and if asked, provide your account details.
Step 2. Request that the support agent issue you with an unlock code. Some carriers may do this instantly, but this is rare and it is usually much longer.
Step 3. After you receive the unlock code, follow the carrier's instructions to enter the code and disable the carrier lock.
Two big downsides to using this process, even though it can resolve the "Network locked SIM card inserted" error, are that it can be expensive and often takes up to 7 working days.
For any user who wants to regain full access to their Samsung phone immediately, this is not optimal.
3.1.2 Unlock without Agency (Within 6 Hours)
A superior solution for "Invalid SIM card. Network locked SIM card inserted" is a third-party unlocking solution like DirectUnlocks.

With a lot to offer and a lot more effective of an unlocking solution, you can expect quick and affordable results from this service.
Supports unlocking lots of carriers all over the world
Supports all models of Samsung phones
Easy-to-use service that requires minimal effort from the phone owner
To disable carrier locks, only the IMEI and phone model are needed
Additional services are offered, including phone checks and instant phone top-ups
If failed to unlock, you'll get your full money back
Sounds great, doesn't it? This is a much faster way to unlock your phone from the carrier and the steps below explain exactly how you can use DirectUnlocks.
Step 1. Go to the DirectUnlocks Samsung Unlock page.
Step 2. Enter your device's IMEI and a few other details (country, network).
Step 3. After you enter all the requested info, go ahead and pay the fee.
Step 4. Instructions will be sent to your email and you can then wait for the delivery (within 6 hours).
Then enter the unlock code to unlock your device.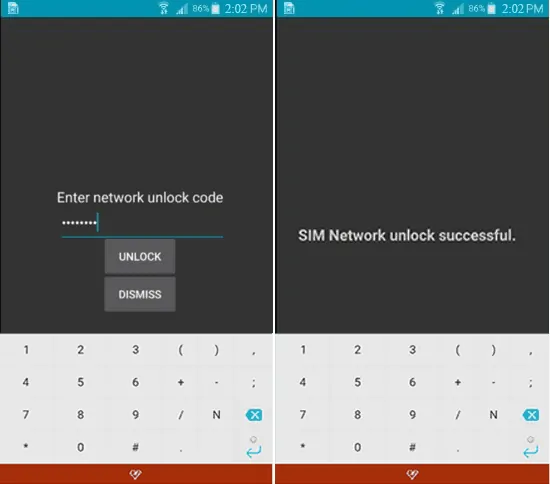 You'll never see the "Invalid SIM card. Network locked SIM card inserted" error again!
For the quick delivery alone, this is better than requesting an unlock from the carrier.
3.2 If it's a Firmware Issue
When the reason for "Invalid SIM card. Network locked SIM card inserted" is because of Android system errors, the problem can be solved using an Android repair software called Tenorshare ReiBoot for Android.
Before we explain how it works, the key features it offers are:
Fix virtually any Android issue from black screening to random crashes
Easy to use for Android repairs, doesn't require any experience fixing smartphones
Uses a one-click approach that makes all features simple to utilize
Verified by us to fix firmware issue on Android
A free trial is available (with limited features)
If you decide that this repair software is exactly what you need, install it then go ahead and follow our guide below.
Step 1. Launch Tenorshare ReiBoot and connect your Samsung phone to the computer.
Step 2. Click the "Repair Android System" feature from the main menu and then press the "Repair Now" button.
Step 3. Input your device's information on the following screen and click "Next".
Step 4. The firmware required to repair your device will now download and afterwards, click "Repair Now".
Step 5. Follow the instructions shown on-screen to put the Samsung device into Download Mode.
Step 6. Finally, the firmware will be installed on your device to repair the system.
It's a pretty easy tool to use and Tenorshare ReiBoot can be handy in these situations, but it comes with risks. For example, this may lead to data loss so it's vital that you take a backup before you use this method, here is how to back up your Samsung phone too.
Conclusion
So these are the solutions which will walk you through resolving "Network locked SIM card inserted" issue, and you'll have the ability to put any carrier's SIM card into the device after one of these work successfully.
Your best bet is to use DirectUnlocks if a carrier lock is the suspected issue, whereas firmware issues can be quickly fixed by repairing the Android system using Tenorshare ReiBoot. Regardless, I hope this guide has helped!