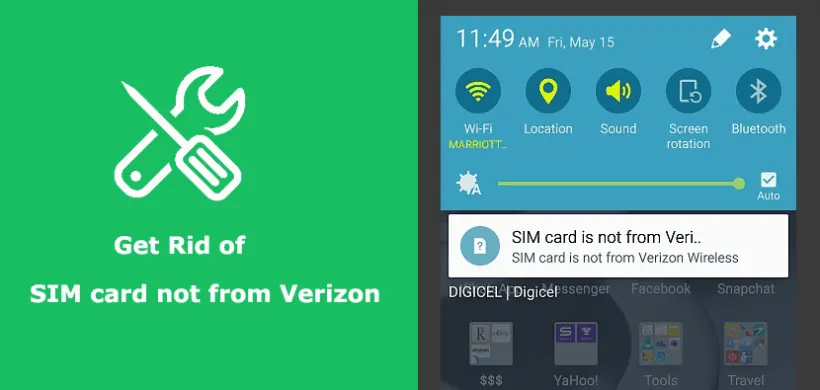 Last updated on

February 20, 2023

by Darren
"My Samsung Galaxy S7 keeps alerting me that 'SIM card is not from Verizon wireless', and data not working. This notification constantly appears, what can I do to get rid of it?"
Getting bombarded by notifications like this and not knowing the sensible solution is a terrible feeling. Some people are shown the message periodically whereas others have it constantly appearing. Either way, you'll want to get to the bottom of what the message means and how to fix it, and that is exactly what this article will teach you.
10-Second Summary
You'll see the "SIM card is not from Verizon wireless" notification when your phone is locked to Verizon, incorrect APN settings, or incorrect network settings. I've listed all the solutions to these situations.
Part 1. What Does SIM Card is not from Verizon Wireless Mean?
First thing's first: what is the reason behind this notification? There are three reasons why you may be shown this:
The phone is locked to the Verizon Wireless carrier and you have inserted a SIM card from a different carrier
The phone has been unlocked from Verizon Wireless, but the correct APN hasn't been set so the device can't connect to the network properly
Network settings has been changed.
One of these three reasons will apply to your situation. Reasons aside, your next challenge is finding a way to get rid of the notification.
Part 2. How to Fix "SIM Card is Not from Verizon Wireless"?
After you've categorized your situation into one of the reasons above, you can decide the best way forward. We've done the hard work for you. simply use the guide in Situation 1 or Situation 2 and solve the error in no time.
Situation 1. Device is Locked to Verizon
To check if your phone is locked or not, use a trustworthy IMEI checker.
If you've got a device that's locked to Verizon's network, the obvious way to resolve this is to unlock the device. Like most carriers, Verizon has an unlocking policy which explains which customers are eligible for device unlocks, but this doesn't include everyone and can be pricy.
Alternatively, an IMEI unlock service like DirectUnlocks allows users to quickly unlock a Verizon phone and in turn, the "SIM card is not from Verizon Wireless" notification will disappear.
Most notable about this service is that it:
Remotely gets rid of carrier locks by professionals
Uses a safe and legal process to unlock devices
Can unlock hundreds of different carriers from various countries
Allows you to insert SIM cards from other carriers without issue
Unlocks Verizon phones from the carrier network in as little as 24 hours
Provides a moneyback guarantee in the rare occurrence of failed unlock
You get the gist of it. DirectUnlocks is a fantastic service and seamlessly unlocks mobile phones from carriers. Interested in finding out more? Here's how to unlock your device from Verizon.
Step 1. Make your way to DirectUnlocks Verizon Network Unlock page.
Step 2. Type your device's IMEI number to proceed with payment.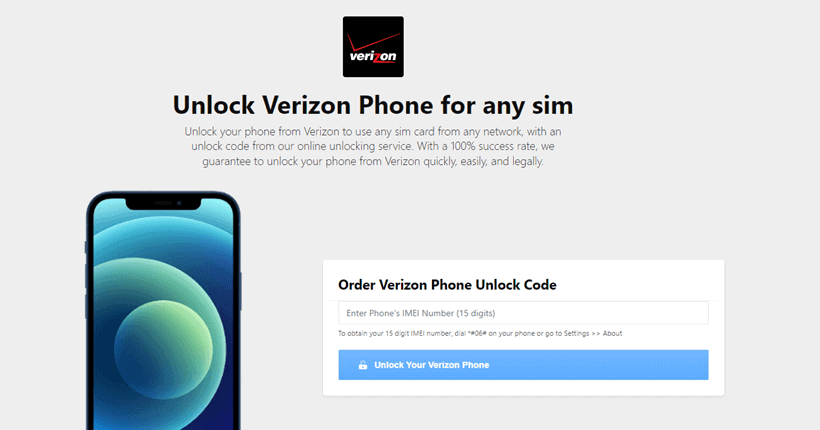 Tip: retrieve a device's IMEI number by calling *#06# from the device, and this will display it.
Step 3. Once you successfully pay for the service you can track the order progress and within 24 hours the device will unlock.
Notice how simple this process is. All that's required is for you to provide DirectUnlocks with key information about your phone. After the carrier unlock is processed, you should stop seeing SIM card is not from Verizon Wireless.
You May Like: How to Unlock a Verizon Phone to Use on Another Network?
Situation 2. Device is Unlocked
Moving onto the other situation you might be in. Where your Verizon SIM card not working in unlocked phone. There are 2 solutions you can attempt.
Method 1. Set the APN
Mobile phones use APNs (Access Point Names) to create a connection between the device, your carrier, and the internet. Every carrier has a different APN and some of them have multiple APNs depending on if the device is Pay As You Go or Pay Monthly.
If your device is unlocked and want to switch to a non-Verizon SIM card, you need to set the correct APN info matched with that SIM card.
For example, if you want to change to T-Mobile, you need to set the right APN info matched with T-Mobile which can be found at on their official website.
Set the APN for T-Mobile SIM Card
It's important to follow these steps VERY carefully. If you change the APN settings wrongly or don't type the exact setting, your network connection will not function. Formatting is very important here: uppercase and lowercase matters! So, this is what you need to do:
Step 1. Launch the "Settings" app and then go into "Mobile Network Settings".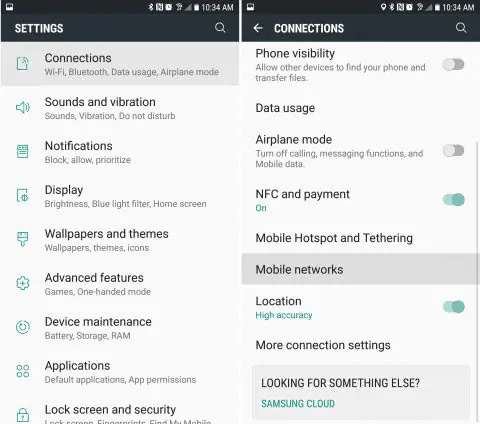 Step 2. Select "Access Point Names" or "APN", and tap the "+" icon at the top of the menu.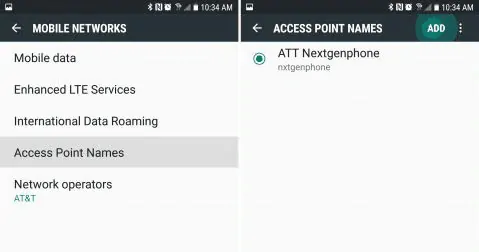 Step 3. Enter the following into the fields provided and leave any other fields blank:
Name: T-Mobile
APN: Fast.t-mobile.com (for LTE devices) or epc.tmobile.com (for non-LTE devices)
MMSC: http://mms.msg.eng.t-mobile.com/mms/wapenc
MMS protocol: WAP 2.0
MCC: 310
MNC: 260
APN Type: default,supl,mms
APN Protocol: IPv4
APN Roaming Protocol: IPv4
Bearer: Unspecified
For more detailed APN infos, just refer to here.
Step 4. Double-check that you entered the correct information, tap "Save" at the top of the screen, and check if the error persists.
If you want to switch to AT&T, just get the APN info from here. For other Networks, just google "the network name" + "APN".
Note
A small roadblock occurs if Verizon have locked your APN settings too, something they do with most of their devices. In this case, you need to root the Android device and install an app called "Build Prop Editor". With that app, you can access system files without restrictions, and simply adjust the APN settings according to the steps above.
Method 2. Force Stop Activation Agent (Temporary Solution)
On the contrary, a less risky solution that doesn't require rooting is to force stop the Activation Agent process. This is a relatively harmless method and it only works temporarily, but it will give you a break from "SIM card is not from Verizon Wireless".
Step 1. Open "Settings" and navigate to the "Applications > Applications Manager" menu.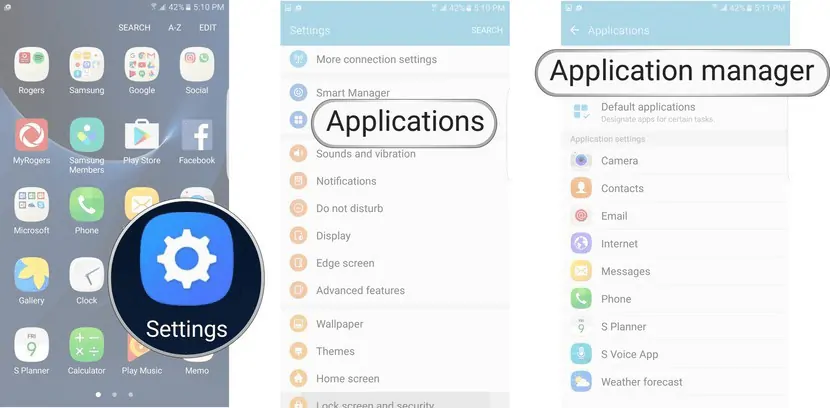 Step 2. In the "Running" section, disable any apps from Verizon and the Activation Agent process.
Step 3. Exit the Settings app.
It'll take a short while before you're can verify the effectiveness of this method. Android devices are programmed to reboot processes like this (which are considered important) so if the notifications start reappearing, repeat these steps. It isn't the perfect solution but at the very least it will reduce how many notifications pop up on your screen.
Method 3. Reset Network Settings
According to my experience, there may be some bugs in the system or network settings changed by one of your apps that caused the "SIM card not from verizon wireless" issue. To resolve this, you can reset the network settings, and this won't cause your data loss.
Here is how:
First, find and tap Settings
Then, navigate to System > Advanced > Reset options > Reset network settings.
Finally, tap Reset Settings.
Editor's Comment
Even though having a locked Verizon device seems like a disadvantage at first, in this scenario it's actually much easier to handle.
Unlocked devices that encounter SIM card is not from Verizon Wireless have tricky solutions whereas locked devices can be fixed in a simpler way.
If your smartphone is locked and this notification bothers you, head to DirectUnlocks and allow the experts to remedy the problem for you!