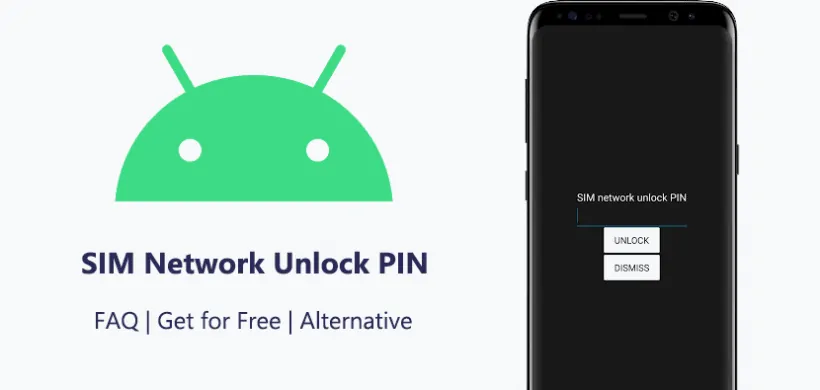 Last updated on

February 23, 2023

by Darren
Does your phone locked to a carrier lock? The problem with carrier lock is that you aren't able to choose any other carrier's network to connect to.
This is intentional and is to prevent customers from signing up for a contract deal and then going to a different carrier, but there are ways to get around the lock.
In this guide, we'll explain everything you need to know about SIM network unlock PINs and how to unlock your own phone from a carrier.
Part 1. What is SIM Network Unlock PIN/Code?
SIM Network lock doesn't actually affect the SIM card but instead it locks your phone. Basically, when you buy a new phone from a carrier, they add a lock to it. Adding this type of lock means that the phone can't be connected to another carrier's network, only the original carrier.
Here are the different wordings in the POP-up messages your phone uses when inserting an incompatible SIM card:
Network Unlock Code
SIM Network Unlock PIN
Network Control Key
SIM PUK code
Master Unlock Code
SIM network PIN blocked
Network Pin
In order to remove this lock and thus allow your phone to be connected to any other carrier, you have to obtain a SIM Network Unlock PIN.
SIM Network Unlock Pin (NUP) is a code (usually 8 or 16 digits) that is used to unlock an Android phone from its original carrier so that you'll be able to use it on other carriers.
SIM Network Unlock Pin is unique for each phone since it's calculated based on IMEI number.
There are several ways you can do this which we'll be explaining later on in this guide so that you can remove a carrier lock on your own device.
Part 2. How to Get an SIM Network Unlock PIN/Code for Free?
So what can you do to get an unlock PIN? The straightforward option is to just get In touch with your current carrier and ask them for help. Most of the time they'll help you without issues, but be warned they may charge you a fee for this service.
Requirements for an Unlock Code
The requirements you must meet to unlock are:
The device you are unlocking must not be blacklisted (you can check this with our 100% accurate IMEI checker!)
You must have had the device connected to your carrier for a minimum period which differs depending on your carrier
You must have paid your phone contract in full and have no outstanding payments
Example: Get AT&T SIM Network Unlock Code
Once you're sure you meet each of these requirements, you can go ahead and follow the short step-by-step guide below.
Step 1. Contact your carrier's support team and request an unlock code. For AT&T, here we call 800.331.0500
Step 2. You may be asked to prove that you are the owner of the device you are unlocking, so provide any information they request.
Step 3. After you prove ownership, your request for an SIM network unlock PIN will be submitted. Receiving the PIN may take as long as a week.
Step 4. When you have received the PIN, turn off the phone and remove your old SIM card.
Step 5. Insert the SIM card from your new carrier and turn the phone back on.
Step 6. Once the phone loads and the SIM card is detected, you'll be prompted to enter the unlock code to proceed.
The steps may be different from various carriers. We listed some of the most popular carriers for you to get SIM network unlock pin:
That's all there is to it. As we mentioned, obtaining a SIM network unlock code from your carrier can take some time (up to 7 working days) but once you receive it, you're good to go. However, if you want to get an unlocked phone quicker, there is another way.
Part 3. What if Your Can't Get the SIM Network Unlock PIN or it Doesn't Work?
If for any reason you can't get an unlock code, the code doesn't work, or you just want to process the unlock faster, you can instead try an unlocking service. This is by far the most effective approach you can take which almost guarantees that the unlock will be successful.
Best Unlocking Service – DirectUnlocks (within 6 hrs)

Our preferred carrier unlocking service is DirectUnlocks, a reputable and well-known website which has never failed us. All you need to do is hand over some information about your phone and this professional team will handle everything else for you.
Unlock both iPhones and Android phones (Samsung, Huawei, LG, HTC, Vodafone, Google, etc.) from their carriers
Phones connected to almost any carrier can be unlocked
After unlocking your phone with DirectUnlocks, your device won't be locked again
Your SIM network unlock code will be sent within 6 hours
How We Tested This Service
To give our readers some better insight into our testing process and better understand why we recommended DirectUnlocks, this is how we tested it:
We requested unlocks from a range of iPhones and Android smartphones
The devices we unlocked were connected to different carriers
We considered the price of the service and how quickly the unlocks took
We analysed the reviews that were left about DirectUnlocks on certain review sites
We reached out to customer support for advice on the unlocking process
Overall, they checked all of the boxes we were looking for. All of the devices were successfully unlocked and were able to connect to the carriers we chose, the service was delivered quickly and affordably, and customer support was extremely helpful.
There are so many perks to using DirectUnlocks but above all, it delivers a quick and easy service that nowhere else provides.
To proceed with the unlock using DirectUnlocks' service, jump into these steps.
Step 1. Use an internet browser to go to the DirectUnlocks website.
Step 2. Find the IMEI number of your phone by dialing *#06#
Step 3. Confirm your carrier and enter the IMEI number of your device (Click "Unlock for any Sim Card" to continue).
Step 4. Next, enter the requested personal details and after that, you will have to enter your payment information.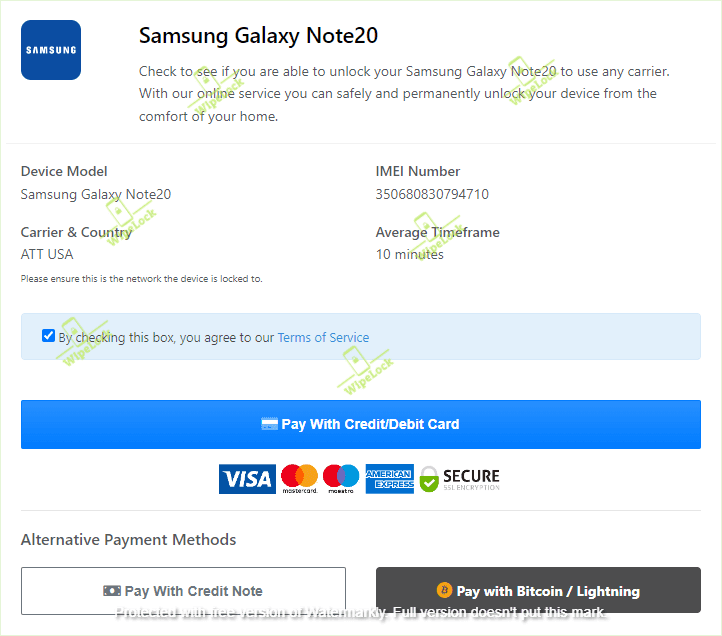 Step 5. When your payment has been submitted the order will begin being processed and you will be notified once the unlock code is sent.

Now, open your device and enter the unlock code to get your device unlocked!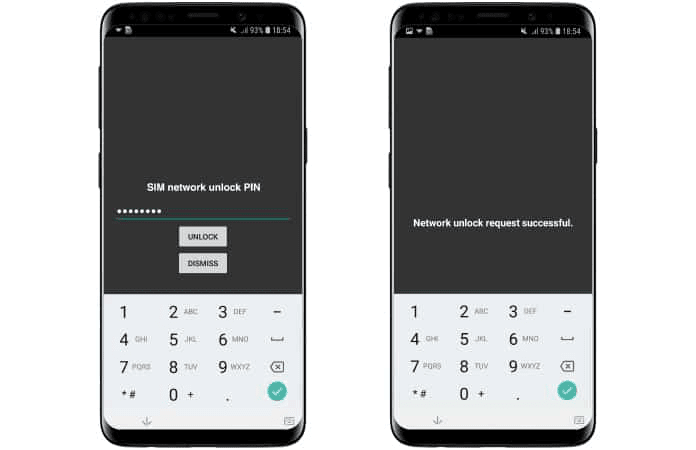 As you can tell, this is as easy as it gets. You fill in a form with your device's details, submit your payment and within a few hours, you'll be able to connect the phone to the carrier of your choice without the limits you are currently experiencing!
Part 4. What to Do When SIM Network PIN Blocked or Device is Blocked?
So, what to do if the network unlock code can't work? You may see the following two messages after entering the code:
SIM Network PIN blocked. Enter SIM network PUK
Device is blocked. Please enter the Master unlock code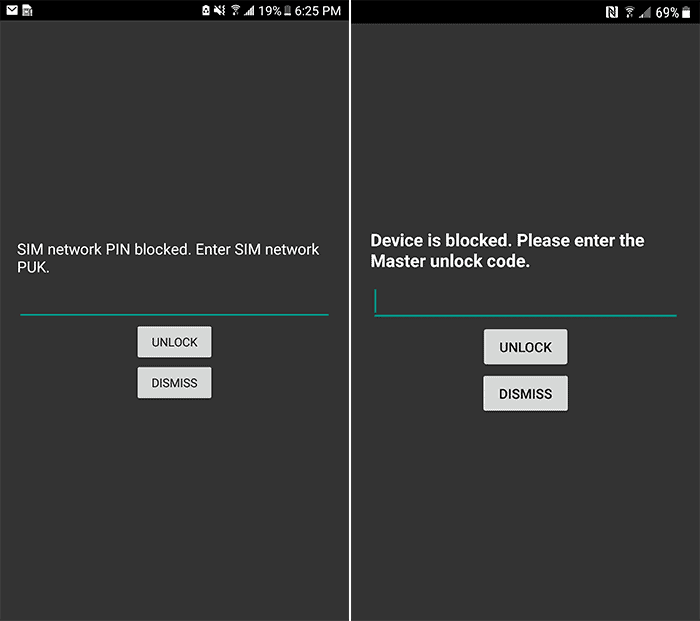 How to Fix "SIM Network PIN blocked. Enter SIM network PUK"?
When you see this error message, it means your device was due to too many incorrect attempts (entered an incorrect unlock code too many times). What you should enter is the SIM network unlock PIN provided by the previous carrier after following the steps of Part 2.
Step 1. In this case, you'll have to enter the Master Control Key (known as Unfreeze code) to unfreeze your device first. The Master Control Key can also be provided by the previous carrier. So don't hesitate to contact them again.
Step 2. After receiving the Master Control Key from the carrier, enter it. You'll see an error message of "Network Unlock Unsuccessful". Don't worry, this means your device is "unfreezed".
Step 3. Then you just need to enter the original SIM network unlock PIN, the activation will be successful!
How to Fix"Device is blocked. Please enter the Master unlock code"?
This error message is common when you trying to unlock a Samsung phone (can also occurs on other brands of devices). It's easy to fix, here are the verified solution:
Step 1. First, you'll need to call your phone brand to ask for a Master unlock code. For example, if it's a Samsung Galaxy S10, then you need to contact Samsung support.
Step 2. Tell them the situation, then they will send you a Master unlock code for free.
Step 3. After getting the code, enter it. After the code is accepted, enter the original SIM network unlock PIN.
That's it! If any other issues when using an unlock code, feel free to leave a comment below. We'll offer verified solutions to you for free!
Part 5. FAQs About SIM Network Unlock PIN You Should Never Miss
We listed some of the most frequent asked questions for your reference. If there is any problem, just feel free to let us know.
Q1. Does "SIM Network PIN" Means "SIM Card PIN"?
The short answer is no, this isn't a SIM card PIN. A SIM card PIN is different and is used whenever a SIM lock is active.
With a SIM lock active, if the SIM card is inserted into a different mobile phone, none of its practical functions will be usable – making phone calls and sending texts cannot be done.
A SIM card PIN is the code which is entered that removes the SIM lock and makes the SIM card usable once again.
Q2. Why Does My Phone Ask for a SIM Network Unlock PIN/Code?
If you're now seeing your phone ask you for the unlock PIN ("Invalid sim card, Network locked sim card inserted"), there's a good reason for it.
Usually, this is a simple firmware issue that happens once you install an update or do a factory reset.
Fixing it can be as simple as restarting your phone but if the problem persists you will have to obtain and enter an unlock PIN to get rid of the message and be able to use all the functions again.
Q3. Where Can I Download SIM Network Unlock PIN Software?
Sorry to tell you that there is no such unlock code generator. But we will talk about how you can get a free unlock pin below.
Q4. Why Should I Unlock My Phone?
One question that we constantly see readers asking is why they should unlock their phone at all, and there are several reasons that we suggest you unlock your phone:
You can connect the phone to any other carrier, not just the original
You will be able to choose from a wider variety of contracts, not just from one carrier
If you bought a second-hand phone, unlocking will let you put your own SIM card in
Q5. What Unlocking Does and Doesn't Do?
There can be some confusion about what it means to SIM network unlock and the truth is, all it does is allow you to connect to any compatible carrier.
What makes a network compatible? Depending on the original carrier, your phone will either be on a GSM or CDMA network.
After you unlock the phone, you can only connect to networks from the same category – it's impossible to connect a GSM device to a carrier with a CDMA network.
Q6. What is Network Unlock Code for Samsung?
Network Unlock Code (NUC) for Samsung can be used to unlock your Samsung so that you can switch to another carrier network. It's a code of 8-digit number if your Samsung phone is produced prior to 2019.
For Samsung phones produced after 2019, the NUC for Samsung is 16 digits.
Q7. What is the AT&T SIM Unlock Code?
AT&T SIM Unlock Code is a code can be used to unlock your AT&T SIM card. It can't unlock your iPhone carrier.
The default ATT SIM unlock code is "1111". If the default code doesn't work, you need to acquire a new one by contacting your carrier.
Q8. How Many Digits is AT&T Network Unlock Code?
AT&T network unlock code is 8-digit. Enter the code to unlock your ATT iPhone for another carrier.
Q9. What's the Difference Between 8-digit and 16-digit Network Unlock Code?
A 16-digit network unlock code is typically used for newer devices unlocking while an 8-digit unlock code is for older devices. However, it's worth noting that the specific use and requirements of unlock codes may vary depending on the carrier and device.
Conclusion
SIM network unlock PINs are very useful to have and now that we've covered them in this in-depth guide, there shouldn't be any confusion over what they are and how they work.
Hopefully, you can now obtain a PIN to unlock your phone but if not, the best thing you can do is place an order with DirectUnlocks and let the pros take care of it for you. These trained experts know exactly what to do and we assure you that they offer services at a high standard!