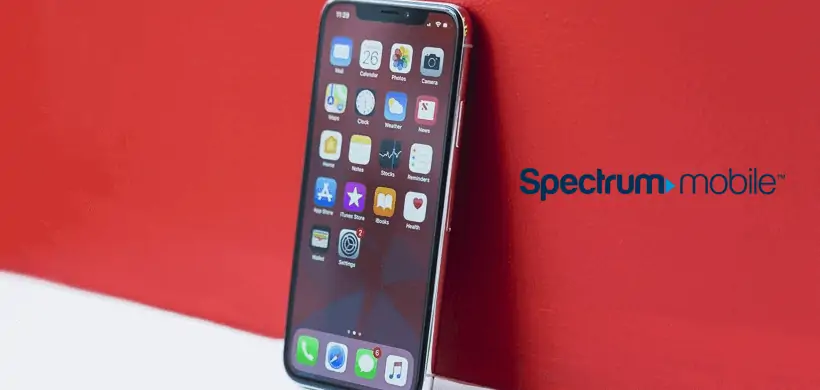 Last updated on

April 6, 2022

by Darren
Many people might assume that you need to have a mobile carrier first before acquiring a smartphone. However, this isn't true.
Mobile carriers typically sell phones that come with price cuts or special offers, but the phone is often locked to the network. This means that you won't be able to change your SIM card and use a different network carrier instead. Even so, that doesn't mean that it's not entirely possible. In fact, more and more people are now opting for unlocked smartphones.
This article will give you a step-by-step procedure about how to unlock spectrum phone and some essential information you may need along the way.
Part 1. Are Spectrum Phones Unlocked?
Spectrum Mobile is a mobile network operator that operates on either one or more existing major network carriers. It's also exclusive for subscribers of Spectrum Internet and comes with a set of requirements before you're even allowed to qualify for one.
Unfortunately, Spectrum phones are locked mobile phones. You would first need to purchase the phone in full in Spectrum Mobile. Aside from that, it should also be activated in its respective Spectrum Mobile line.
You will only be able to unlock it if the phone is already paid in full.
Part 2. What is Spectrum Network Unlock Code?
You can go the easy route and unlock your Spectrum phone using a Spectrum network unlock code free. The code usually varies by device, so you will want to contact Spectrum Mobile should you wish to unlock your phone on your own terms.
Below, we listed the steps on how you can unlock your phone from Spectrum, including the unlock codes you can use to do it at the same time. What's great is that these steps are very simple to follow; they come with no additional cost and are entirely free!
Part 3. How to Unlock Spectrum Phone Free?
Here are ways you can unlock Spectrum Mobile across different devices. Before you begin, it's recommended that you first contact Spectrum customer service at (833) 224-6603 for concerns and further inquiries.
1. Spectrum Unlock Policy
To unlock Spectrum Mobile from your device, you need to meet all the following requirements.
You must have purchased the device directly from Spectrum Mobile. It should also be activated on the same line on Spectrum.
You must have already paid for the device's costs in full.
Your account in Spectrum mobile should be active for two months or 60 days while in good condition. There should be no leftover payments as well.
Devices reported to be stolen, lost, or associated with fraudulent activities won't be unlocked.
2. Spectrum IMEI Unlock Check
As mentioned above, to unlock your Spectrum, you need to make sure your device is not blacklisted. It's very hard for most people to perform an IMEI blacklist removal.
Before unlocking your Spectrum device, you must check the blacklist status of your phone with its IMEI number. The only way to check is via Spectrum IMEI unlock checker. One of the most trustworthy ones is WipeLock IMEI Checker. You simply offer the IMEI number, the team of experts will check your IMEI number and generate a professional IMEI report manually.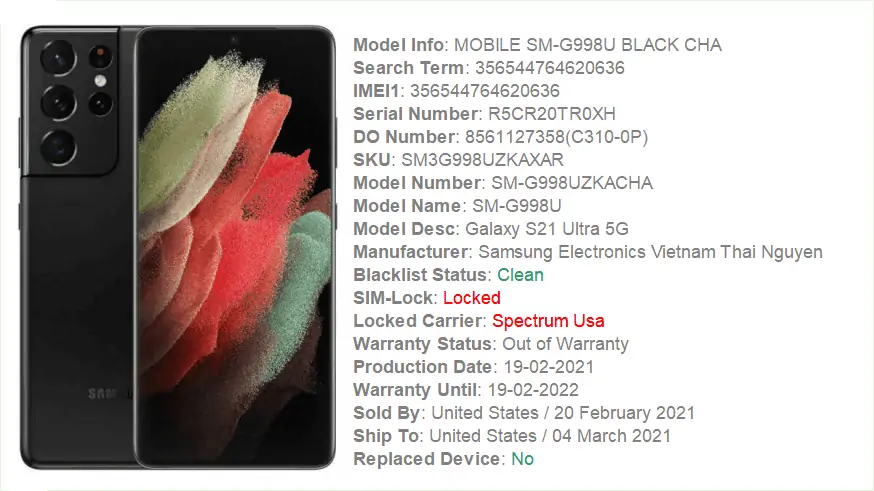 To get the IMEI number of your phone, just dial *#06# on your phone.
If the blacklist status is "Clean", read further to unlock your phone.
3. Get Spectrum Network Unlock Code Free
If meet all the requirements above, don't hesitate to unlock your phone with the IMEI number. Then contact Spectrum and offer the IMEI number.
The management will send you an unlock confirmation through email within 2 business days.
All you need to do by then is to locate your phone brand and finally complete the last part of the unlock process.
4. For Google Devices
If you have already sent an unlock request to unlock a Google device, you'll receive a message shortly on your device with a confirmation that it has already been unlocked.
5. For Samsung Devices
You can unlock your Samsung phone by these simple steps:
Insert a non-Spectrum SIM card into your phone.
Once it has been prompted, input the unlock code sent to you by Spectrum through your email.
Note that your phone should instantly be unlocked upon entering the code. Otherwise, you can use the unfreeze code sent to you by email as an alternative.
6. For LG Devices
You can unlock your LG phone through these simple steps.
Enter and dial *#7465625# on the keypad of your device.
Once finished, choose Network Carrier Unlock. Select OK.
Input the unlock code sent to you by the management through email. After doing this, you will now be able to unlock your device.
7. For Apple
The process of unlocking your Google device is the same as what you should do with your Apple phone. If you have sent in a request for unlocking, simply wait for the confirmation on your phone that states whether it has been successfully unlocked.
You can also go to Apple Support if you require further assistance on this matter.
Note: We've tested a lot of Spectrum iPhone unlock services, but sadly, none of them work for us. You'd better do deep research before using any unlocking service.
8. For Motorola
You can unlock Spectrum Mobile from Motorola by doing these:
Put a non-spectrum SIM card into your phone. After this, turn on your device.
Once done, input the network unlock PIN delivered to you through email. Select Unlock.
Part 4. Why Are Unlocked Phones Better?
While it's completely okay to stick with a locked phone, the capabilities it can offer you might feel somewhat restricted. Buying a phone from a specific carrier directly can be quite expensive to break free from.
On the other hand, unlocked smartphones don't limit you from the extensive range of devices sold under a single carrier. You also have more freedom to choose between any available smartphone in the market and the best deals that fit your needs most.
Not only that but being able to switch SIM cards in phones is also helpful whenever you're traveling. Locked phones may incur expensive international fees when you're in another country. Unlocked phones give you the benefit of enjoying accessible mobile service without the need for WiFi networks now and then.
Conclusion
Everyone has their hands on different kinds of smartphones nowadays. The advent of the digital age has made owning smartphones an increasing necessity, mainly because of the wide range of capabilities you could do with them.
Whether it's an Android, Spectrum, iPhone, or Galaxy Z, among any other devices, the possibilities you can do with it are extensive. Smartphones basically make socializing and entertainment more accessible since you can text, call, video chat, or use GPS.
However, locked phones may get in the way of accessing such features, especially if you want to switch carrier networks. If you're using a Spectrum phone, the steps mentioned above can help in efficiently unlocking your device.
To do so, your Spectrum mobile must already be purchased in full with no outstanding fees whatsoever. It should also be in good standing and active for over two months. After this, unlocking your phone will now be easy as long as you follow the procedure for each device.