Last updated on

November 8, 2022

by Darren
With its plethora of data plans, selection pool of good phones, and fairly-priced plans, Straight Talk is a mobile virtual network operator to consider.
One of Straight Talk's selling points is that it works on all four major networks: Verizon, Sprint, AT&T, and T-Mobile. To be clear, this does not imply that you will have simultaneous access to all four networks. You can only use one at a time.
While Straight Talk has a lot of selling points, there are downsides to purchasing a device from there. One major downside is unlocking your phone. If you are here, chances are you've already bought a locked phone from Straight Talk and you are now looking to tackle that issue.
Part 1. Why Unlock Your Straight Talk Phone?
If you purchased your phone from Straight Talk, it is almost certainly locked. What this means is that you won't be able to use a SIM card from another carrier on the device.
I mean, you don't have to, if you are satisfied with your Straight Talk service and do not require the services of another carrier.
However, in most cases, you have to unlock it. Maybe Straight Talk's network coverage is poor in your area, or you're traveling to a country where Straight Talk is not available and you need to unlock it to use services from other carriers in that country.
But to be able to unlock it, you need to be eligible i.e there are requirements you must meet.
Part 2. Straight Talk Phone Unlock Requirements
If you are yet to fulfill the following required minimum period of active Straight Talk Service, Straight Talk can unlock your device for a fee of up to $300, depending on how long you've been using the service before the unlocking request.
Straight Talk reserves the right to refuse any unlocking request that violates its Unlocking Policy or is part of an attempt to defraud Straight Talk or its customers. Straight Talk's Unlocking Policy is subject to change without notice at any time.
Customers can check their eligibility or submit an unlocking request online or by calling 1-888-442-5102.
For Apple Devices
For Apple Devices, the phone will be unlocked automatically once it is eligible for unlocking. The eligibility criteria are as follows:
If the Apple device was activated with Straight Talk before the 23rd of November, 2021, the device will be unlocked automatically after 12 months of using Straight Talk service.
Apple devices activated with the new Straight Talk service after the 23rd of November, 2021 will be automatically unlocked 60 days after activation.
The device must not be reported as stolen or lost
It's worth noting that this activation only happens if there is an absence of evidence of fraud.
Forther reading: How to Unlock Straight Talk iPhone for Free?
For Non-Apple Devices
For Non-Apple Devices, you'll require a code to unlock the device. This code will be provided on 2 conditions, quite similar to the criteria for unlocking Apple devices.
If the Straight Talk device was activated with Straight Talk before the 23rd of November, 2021, the device must have been active on Straight Talk Service for at least twelve (12) months, with Service Plans redeemed within that time frame.
For devices activated with new service on the Verizon network on or after November 23, 2021, you have to wait for at least sixty (60) days.
The device must not be blacklisted (reported as stolen or lost)
The device must also have no indication of fraud and be in good working condition.
Unlocking Policy for Deployed Military Personnel
For customers in the military that have received relocation orders outside of Straight Talk Coverage, your phone will be unlocked at request, even if it's not yet eligible for unlocking after activation.
Part 3. How to Unlock Straight Talk Phone for Free
The mechanism of unlocking your Straight Talk device is simply to disable the software that would otherwise prevent you from activating the device on the network of another carrier.
This can either be done by contacting customer service to give you your code (given that you've met the requirements we've covered above), or by using a paid service to unlock it. We will go into detail about both procedures.
Contacting Straight Talk
If you want Straight Talk to unlock your device, you'd have to meet all the requirements above. If you're eligible for free unlocking, Straight Talk can still unlock it but it will cost up to $300.
1. Contact Straight Talk. You can contact customer service at 1-877-430-2355 between 8:00 a.m. and 11:45 p.m., 7 days a week.
2. Once you get through, inform the representative that you require a phone unlock code. The representative will confirm that your phone and account meet all of the requirements for unlocking. Straight Talk's unlock policy can be found here.
3. Write the code you were given down or you could memorize it (if you're Einstein). This is the code you'll need to unlock your device so you must keep it safe till you are ready to use it. Unlock codes are usually 10 to 15 digits long.
4. Get your new SIM card.
5. Turn off the phone. Shut it down as you would normally.
6. Take out your Straight Talk SIM card and insert your new carrier's SIM card into the slot.
7. Turn on your phone. Instead of your usual home screen, you'll see a message informing you that your phone must be unlocked before it can use the installed SIM card.
8. Enter the code you received from the Straight Talk representative and press the UNLOCK button.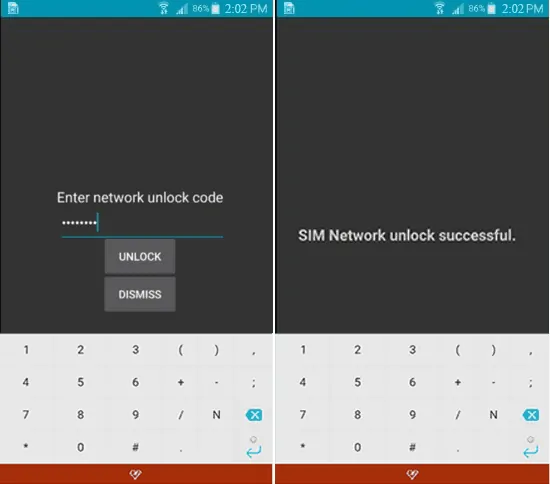 A confirmation message will appear, confirming that the code was accepted. You can now use your new SIM on your Android phone.
Once your phone is unlocked, you can make calls, send texts, and perform all tasks with the new SIM card. You can also use third-party providers who use your phone's IMEI number to determine whether it is unlocked.
If you have met the requirements for unlocking your device and still can't unlock your device, you can get credit or a partial refund when you purchase a new Straight Talk Phone.
Part 4. Paid Way to Unlock Straight Talk Phone
Doesn't meet the above free unlocking requirements? Don't worry, you can still use an unlocking service.
You can unlock your Straight Talk Phone without going through the whole code process. There are a couple of paid services that can help you disable the code for a fee. One of them is DirectUnlocks.
With an unlock code from their online unlocking service, you can use any sim card from any network on your Straight Talk phone. And all this is done quickly, conveniently, and legally without voiding your warranty.
With DirectUnlocks, you can unlock your device in three simple steps.
1. Visit DirectUnlocks Straight Talk Unlock page. Provide information about your device. Enter the IMEI number of your phone which you can get by dialing *#06#. They'll figure out the model for you.
2. Once payment is received, the unlocking will be done remotely. They will review your order to ensure you selected the correct network and correct it automatically if you made a mistake.
There is also a tracking page that allows you to monitor the status of your order. Typically, Samsung and other manufacturer codes take 6 hours, while iPhone unlocks take 24 hours.
3. Your device is unlocked safely, legally, and permanently, and you will receive confirmation via email and SMS. Apple devices are unlocked remotely, whereas other devices require a code.
To make things even more convenient, they have a long list of the most popular devices on Straight Talk. You can simply select your model and get started right away.
FAQs About Straight Talk Phone Unlock
Which Carriers Can You Use Once Unlocked?
You can use your Straight Talk phone on GSM networks like Verizon, T-Mobile, or AT&T after unlocking it. You cannot, however, use a CDMA phone because they do not support GSM bands.
How Long Does it Take to Unlock Straight Talk Phone?
The time it takes is determined by the service you use to unlock your phone and the model of your phone.
The Straight Talk unlocking code process can take up to two business days.
Third-party unlocking services typically unlock your phone in under 24 hours.
How Much Does it Cost to Unlock a Straight Talk Phone?
You don't have to pay to unlock your Straight Talk phone but you might have to if you want to unlock it and you haven't met the unlocking requirements.
Straight Talk can unlock phones that do not meet the unlocking conditions for a fee of up to $300. The fee is determined by how long you've been using the Straight Talk service.
You can also unlock your phone using third-party unlocking services like DirectUnlocks which will cost only $28.
What is the Straight Talk Phone Unlocking Code?
The code to unlock your device is tailored to you and will be provided by Straight Talk or whatever third-party unlocking service you use.
However, the Straight Talk phone unlock code is 0000 by default. In other cases, it is 1234. But in the very likely scenario that these codes don't work for you, it is recommended that you use the methods described above to obtain your unique code.
Further reading: All About Straight Talk SIM Card 8-Digit Unlock Code
Editor's Comment
For some carriers, you can find unlock codes for their devices online, but Straight Talk phones are nearly impossible to break.
On the bright side, they require only a few (though strict) criteria to unlock their devices. And if that does not work for you, there are paid third-party websites like DirectUnlocks that can help.