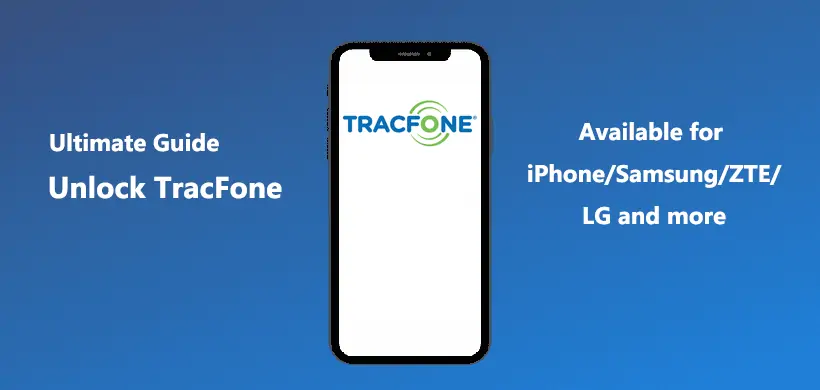 Last updated on

May 29, 2022

by Darren
Are you struggling to find the right way to unlock TracFone?
How can you unlock a TracFone when there're so many useless and out-of-date methods on the Internet?
I know how hard it is but don't worry, we've made a research on this. Read on and find out everything you need to know.
Part 1. FAQs About TracFone Unlock
For users who haven't had much experience with carrier unlocking, there are some FAQs that we receive that may be helpful to your understanding.
1.1 Are TracFones Unlocked?
By default, TracFone phones are not unlocked. Moreover, some of the older phones that were purchased from TracFone are not unlockable at all – these older devices may be eligible for a replacement phone.
As of 2016, all new TracFone have been unlockable. This means that you can either seek a carrier unlock service or use TracFone's unlocking policy to your benefit.
1.2 What's the Difference between a Locked and Unlocked TracFone?
The locked phone has a software code inside it which will prevent users from switching to another carrier.
While an unlocked TracFone doesn't have this code, you can switch to another network carrier as you want.
1.3 Can a TracFone be Unlocked?
Carrier locks are a restrictive hassle – there's no other way of putting it. It's understandable that some carriers have to implement locks to prevent customers from paying only a fraction of their contracted device's plan.
But many carriers don't remove the lock after a period of time. In these cases, even after your contract has ended, you will be stuck with the same carrier.
However, if you bought a device from TracFone then you're in luck. It's possible to unlock TracFone devices and choose a network that better suits your needs.
1.4 How to Know if My TracFone is Unlocked?
So, how can you tell if a TracFone unlock has already been done for your device? You can use an online checker which scans the device's IMEI and checks if it has been unlocked in the past.
An easier way to check is by replacing the SIM card. Simply take out the original SIM card from TracFone, insert a SIM card from another carrier, and see if it connects to the new carrier. If it connects without issue then the device has been unlocked, but if it doesn't connect then a carrier lock is still active.
You can also check it without a SIM card when you cannot find one.
1.5 Is There Any TracFone Unlock Code Generator?
Of course! Here introduced one free way to get an unlock code. Read on to find how.
1.6 What Should I Prepare before Unlocking My Phone?
There are 2 things you should prepare for unlocking:
Find your IMEI
Check the blacklist status of your device
Why it's necessary to check the blacklist status? Because there is no way to unlock a blacklisted Tracfone phone. You need to check it before unlocking with an accurate IMEI checker such as WipeLock IMEI Checker.
What makes WipeLock different from other checkers is that they will check your submitted IMEI manually and a 100% accurate IMEI report is guaranteed.
Part 2. How to Unlock TracFone LG/Samsung/ZTE/iPhone with Unlock Code for Free?
As we've already mentioned, you can unlock your device through TracFone by requesting a TracFone unlock code for free. Doing this will involve contacting TracFone and requesting the necessary code, which you'll then enter into your device to deactivate the carrier lock.
But taking this approach, as with unlocking directly from any carrier, comes with a fair amount of limitations.
2.1 Limits (TracFone Unlock Policy)
The phone must be active on TracFone's network for at least 12 months
The phone must not be indicated as stolen or lost
You must be within 60-days of being an active TracFone customer
The device should have been activated on the TracFone carrier after the February 11th, 2015
Your phone must be in great condition and not have any damage or faults
Military staff are eligible for carrier unlocks without any regard to the 12-month limit
You must be the previous owner of the TracFone phone
Still don't know whether you're eligible or not? Don't worry, you can check it by make a call to 1-800-867-7183 or via online checker.
2.2 Steps to Unlock ZTE/LG/Samsung/ iPhone/Alcatel TracFone
If these limits don't dissuade you from unlocking directly via TracFone, follow the steps below and use this first method.
Step 1. Contact the TracFone customer support team by calling 1-800-867-7183.
Step 2. After you are transferred to a representative, you will first have to confirm that you are the phone owner and account holder.
Step 3. Once you confirm ownership, you can request an unlock code and they will issue it to you.
Step 4. Turn off your TracFone phone and insert the SIM card from a new carrier.
Step 5. Power on your device, enter the unlock code and press "OK". You'll see a message saying that the code has been verified.
Now your TracFone is unlocked, you can use it with your new carrier.
Whether or not this is the method you want to use will depend on if you think the limitations above are worth it. For most people, these limits will make them turn away and look at alternative methods to unlock TracFone instead.
Part 3. Ultimate Guide to Unlock a TracFone iPhone/Samsung…
Obviously, there are some concerning limitations to TracFone unlock via the carrier, so we've got some alternatives. You can use these reputable unlocking services to disable a phone's carrier lock instead of going to TracFone for help.
3.1 DirectUnlocks

First up we have DirectUnlocks, one of the top carrier unlocking services out there.
We've consistently seen this site produce impressive results that prove it's the best out there. Here are the features that make this worthwhile to unlock TracFone:
Unlocks TracFone phone without the above limits
Permanently unlocks mobile phones (even after they've been factory reset)
Can be used to unlock mobile phones from any network
Has an average TracFone unlock time of 1-6 hours
An incredibly simple process that requires no effort on your part
Offers carrier unlocks at a much cheaper price than carriers offer
Sounds great, doesn't it? This is the best service out there, no doubt about it, and it makes unlocking a TracFone mobile effortless. In just a few steps, this is how you can unlock your TracFone iPhone.
Step 1. Visit DirectUnlocks TracFone Unlock page.
Step 2. Select your mobile phone's model and the correct network, and then type the device's IMEI number into the box.
You can retrieve the IMEI by calling *#06# on your phone.
Step 3. After clicking "Unlock for any Sim Card", you'll be taken through the payment process.
Once you make the payment you'll be given an order confirmation number that you can use to track the progress of your carrier unlock.
With just 5 minutes of your time, you can place an order and in just 6 hours, you'll be presented with an unlocked mobile phone.
3.2 AppleiPhoneUnlock
Another alternative service to using a TracFone unlock code is AppleiPhoneUnlock, which is very similar to DirectUnlocks. But it can only work for iPhone and Samsung.
It works in the same way: you choose your carrier, submit some details about your mobile phone, and they process the unlock for you.
Compatible with lots of different carriers as well as TracFone
Permanently unlocks a mobile phone from the carrier
Mobile phones can be connected to any other carrier after unlocking
One important thing you should note is that iPhoneiPhoneUnlock and DirectUnlocks are not suited for blacklisted devices.
That means any device that is listed as stolen or lost cannnot be unlocked.
For that reason, you need to check the blacklist status of your device.
Conclusion
With all of this information, you'll be able to unlock TracFone with the method of your choice.
In my opinion, it's a good idea to disregard the unlock code option and instead go with a service like DirectUnlocks or AppleiPhoneUnlock. This is an ideal service for any mobile phone regardless of the carrier it is active on, and it provides an effortless experience.
Whichever service you decide to use we guarantee you won't be disappointed!
You May Like: How to Ask TracFone Customer Service to Unlock a Phone?