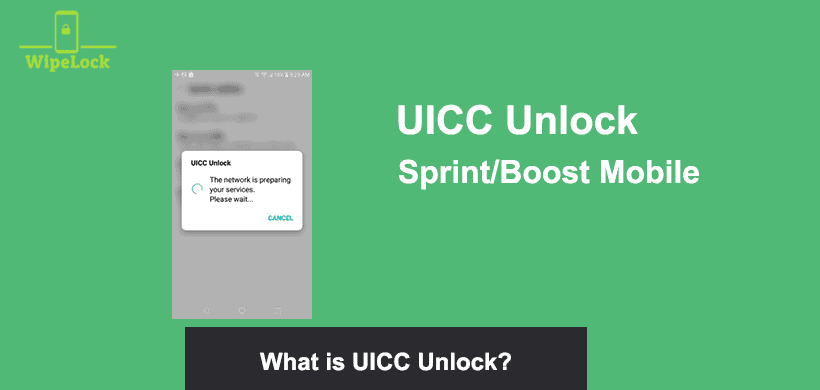 Last updated on

February 17, 2021

by Darren

I asked Sprint to unlock my Galaxy S6, despite they confirmed it is unlocked, when I tap on UICC unlock in settings it gets "You can currently only use your service provider UICC with this device. To use a different UICC contact your service provider."
What should I do now?

As you get accustomed to your new phone you'll eventually reach one conclusion: you don't want to be bound to the same carrier forever.
Sure, it's fine to be with one carrier in the short term. But usually, carriers will increase the price of your data plan or change the perks that you receive, while if you change to another carrier you'll probably get a better deal.
Depending on your provider this may mean you need to UICC unlock and in this article, we'll be explaining how.
Part 1. Things About UICC Unlock You Need to Know
Most people are familiar with SIM cards but not with UICC, so we're going to start by covering the basics of UICC.
1. What is UICC?
UICC (Universal Integrated Circuit Card) is a new generation of the SIM card and it supports devices on both GSM and UMTS networks.
When your smartphone is connected to a GSM network, the UICC is programmed as a SIM app (which most people are familiar with.)
If your smartphone is instead connected to a UMTS network, it runs a USIM app.
2. Difference Between UICC and SIM
We could get into the technical details about UICC but the question most people will want to know is what the difference is between UICC and SIM.
They are very similar and in a sense, UICC is a more developed version of SIM which is now used in modern laptops and other devices. The key reason that UICC is becoming more used is that it supports the fastest speeds when 4G (and even 3G) is being used.
UICC also stores some data including contacts and data plan information, making it easy to transfer from your old phone to a new phone (assuming you use the same UICC SIM card).
SIM, on the other hand, doesn't offer as much functionality and therefore it is becoming obsolete with UICC becoming the mainstream technology.
3. What is UICC Unlock?
By default, most smartphones are UICC locked so that you can't easily insert SIM cards from different carriers. This is how carriers retain customers on their network.
UICC unlocks remove this barrier so that you have more freedom over the carrier you're connected to.
Note that you won't be able to connect to any carrier you want as there are various network types that need to be considered. However, just having the ability to choose between a handful of other carriers is enough to make UICC unlock worthwhile.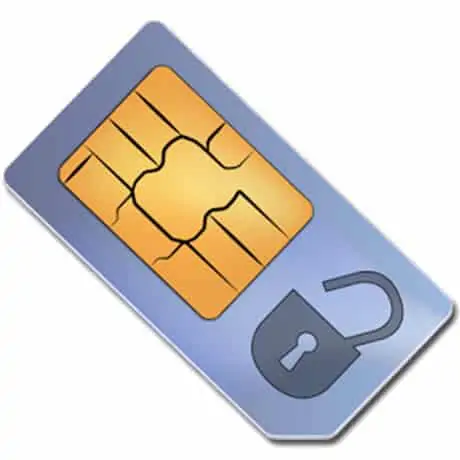 There are two types of UICC unlock: SIM unlock and MSL unlock.
SIM unlocking is the most common approach nowadays as any smartphone manufactured from the start of 2015 can be SIM unlocked, and this simply involves removing the programming limitations from your device so that other carrier's SIM cards can be inserted.
MSL unlocking is an older approach which disables the firmware the carrier installed on all their smartphones and which can only be removed with an MSL code. This requires more participation from you since the carrier can only provide the MSL code, whereas you must enter it into your device.
Part 2. How to Perform UICC Unlock
Now that we've got that out of the way and you understand what UICC means, we can move on and focus on how to proceed with the UICC unlock process.
We've selected two methods that we believe to be the most effective. Both of them can UICC unlock for Sprint and Boost Mobile.
Method 1. Contact Sprint to Ask for a UICC Unlock Code
Assuming your cell phone is bound to the Sprint carrier, your best bet would be to contact them directly and request a UICC unlock code.
This will take a few days to be processed but is always the simplest option to take:
Step 1. Contact the Sprint customer support either by email or calling them.
Step 2. Explain that you want to UICC unlock your phone from their network. You will have to provide details to prove you are the owner of the account before you can continue.
Step 3. After verifying ownership, your unlock request will begin processing and will be complete within 48 hours (it may take longer depending on the circumstances).
Step 4. Then using the network unlock code to get your device unlocked.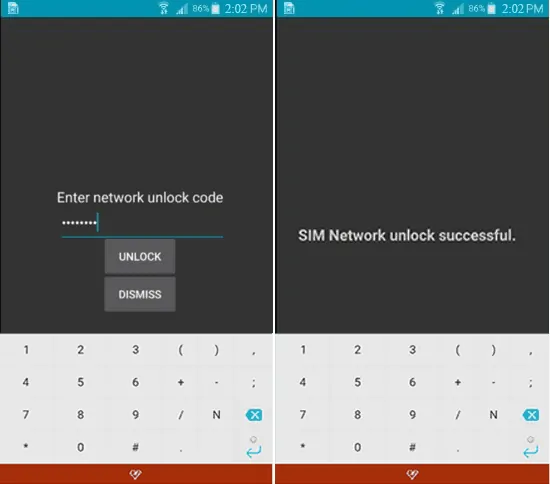 If you have an Android device then there is an important note to consider. Do not remove the SIM card from your smartphone while the unlock is processing. If you do remove it, the unlock will be unsuccessful and you'll have to go through the process again.
Also for Android devices, after the unlock is complete you must go to Settings > System > System Updates and tap Update Profile to finalise the lock removal.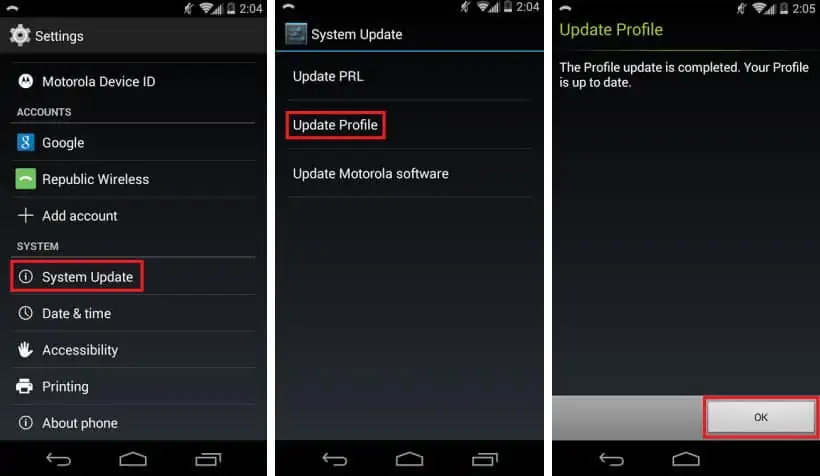 This is the only way you can unlock phone free with IMEI. While we specify Sprint network, this method can generally be applied to any carrier without anything problematic occurring.
Method 2. UICC Unlock without Sprint
Many people don't want to wait around for a carrier to UICC unlock their mobile phone, and this is fine. You can instead use an unlocking service like DirectUnlocks, which can unlock Sprint and Boost Mobile smartphones in less than 24 hours.
DirectUnlocks works for devices on hundreds of carriers all over the world, not just Sprint phone, and it is possibly the fastest solution out there.
How does it work? You simply submit a form of basic details about your device (IMEI number), make an affordable payment, and wait a few hours until the trained experts send the Sprint UICC unlock code to you.
Don't want to wait for days? This is the solution for you to UICC unlock without Sprint.
Part 3. UICC Unlock Authentication Errors & Solutions
When things don't go as planned you might be notified with a UICC unlock authentication error message. Below are common error messages related to UICC and the fixes we'd recommend for each of them.
1. Power Off Your Device and Insert the Service Provider UICC That Came with the Device
This first authentication error is the most tedious to fix, but it is indeed fixable.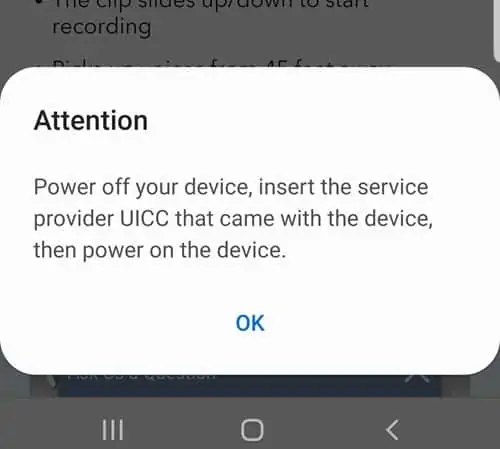 As it indicates, you must insert the original service provider UICC, but you can use this workaround instead.
Step 1 – Open Settings and go to Apps, then press the dots icon and tap Show System Apps.
Step 2 – Tap on OMADM and navigate to Notifications > Notification Style and select Silent and Minimized.
Step 3 – Back in the OMADM menu, ensure that Change System Settings has been set to Not allowed.
Step 4 – If you are a Sprint customer, navigate to Sprint OMADM Phone Interface and also set this so that system changes are Not allowed.
It's important that you make all of the changes we detailed, don't skip any out. Skipping any will get you nowhere and the error message will persist.
2. You Can Currently Only Use Your Service Provider UICC with This Device
When you see this authentication error message, it means that your mobile device is still locked.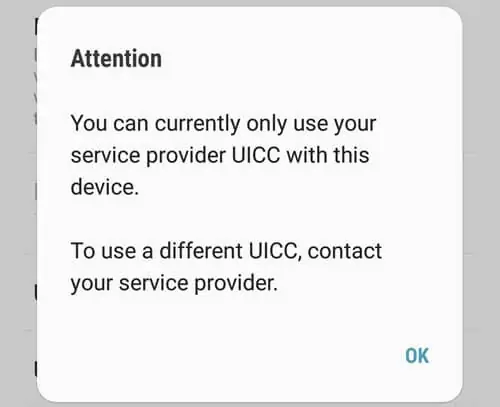 The only way of getting rid of this message is to use one of the methods we showed you above to remove the lock.
3. Your Device Has Been Unlocked to Support Any UICC
This might be alarming to see at first even though it seems like a positive message, and it is a positive message!
In other words, this error just means that your phone has already been unlocked and there's no need for you to go through the hassle of getting a UICC unlock.
For anyone who bought their smartphone after February 2015, they will be shown this UICC Unlock authentication error message as soon as their phone becomes eligible for unlocking since it is now done automatically.
Conclusion
There you have it – all you need to know about UICC, how it differs from SIM, and what you need to do to unlock UICC.
It's obviously not a complicated lock to tackle and we do so the same way we unlock regular SIM cards.
For most people, they'll be happy to contact their carrier's support team and go through the official UICC unlock process, but if you want to speed things up then go ahead and check out DirectUnlocks. Within 24 hours, they'll have your phone unlocked.