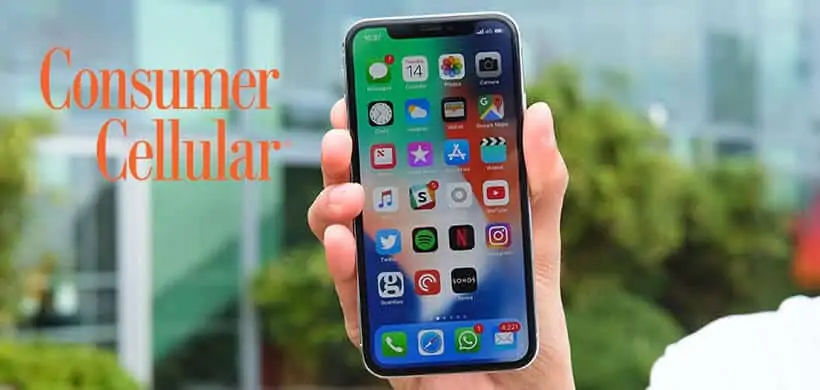 Last updated on

December 1, 2021

by Darren
If you purchased a cell phone with Consumer Cellular or you're planning to soon, you're probably wondering if your phone is unlocked and, if not, how to unlock it.
To determine if your phone is unlocked, you'll have to check with the carrier to see if you meet their criteria. In other cases, you will have to ask the carrier to unlock the phone for you.
Part 1. Are Consumer Cellular Phones Unlocked?
For a phone to be unlocked, it will need to be an unlock-compatible phone licensed to your carrier. Once this is determined, you must meet your carrier's unlock guidelines.
Consumer Cellular phones are designed to work specifically with their network. This means Consumer Cellular phones are locked by default. Their phones are often sold below cost to be more affordable for their customers.
To compensate for the loss from their low-cost phone sales, Consumer Cellular only offers unlocking services after the first six months. Also, the phone must be fully paid off and have no overdue charges on the account.
If all of these conditions are met, Consumer Cellular can unlock your phone with IMEI.
Part 2. Free Way to Unlock a Consumer Cellular Phone
To unlock your phone free, the only way is to contact your Consumer Cellular, first, make sure you meet all of their standards for unlocking a phone.
2.1 Consumer Cellular Unlock Policy
Your phone must be purchased from Consumer Cellular
You phone must remain on Consumer Cellular service for a designated period of time
You phone must have been paid in full
Your Consumer Cellular account must be not past due
Your phone must not be blacklisted (reported as stolen or lost)
Once you've established this, you can call customer service at 888-345-5509, and they will be able to help you through the process.
Before calling, you will need to have your account information ready to give to the customer service agent. You'll also need to provide them with your phone's IMEI number.
You can find this number by going to Settings > General > About for iPhone or Settings > About Phone > Status for Android.
2.2 Consumer Cellular Unlock Code
At this point, the Consumer Cellular will give you an unlock code (also called as SIM network unlock PIN) for free that you can use to unlock the phone. Usually, the whole process will take up to 15 working days.
After receiving the Consumer Cellular unlock code, insert a SIM card (from another carrier network) into your phone, then enter the unlock code, your phone will be unlocked.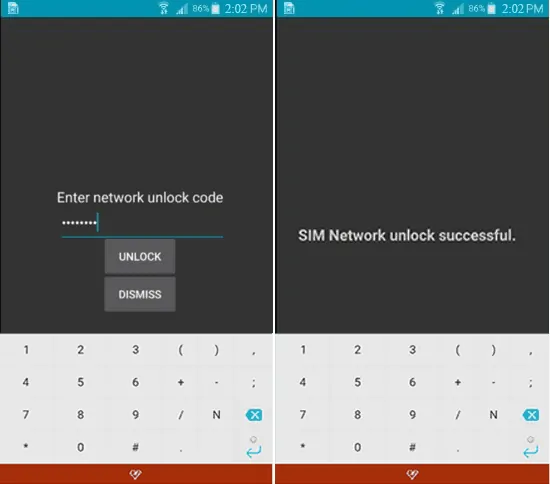 Part 3. Paid Ways to Unlock a Consumer Cellular Phone
To unlock your phone from Consumer Cellular through a third party, you will need to pay for this service. Some of these companies exist in a legal grey area, so you will want to check that your chosen service is authorized to operate in your region.
To retrieve this unlock code, these companies will need you to provide them with the IMEI number. You can find this number by taking the following steps:
iPhone – Settings > General > About then finding the "IMEI", "MEID", or "ESN" number.
Android – Settings > About Phone > Status then finding the "IMEI", "MEID", or "ESN" number.
3.1 DirectUnlocks

DirectUnlocks boast a 100% success rate with unlocking phones from Consumer Cellular. They can unlock the phone quickly, easily, and legally.
What sets them apart from other unlocking companies is that they directly connect to the manufacturers' databases. They can detect the make and model of your phone with just the IMEI number, making it a much easier process in the long run.
This connection is what makes the unlocking process fast and legal with DirectUnlocks. You can unlock your phone in three easy steps:
Provide Your Device Details – Choose Consumer Cellular as your carrier and input your IMEI. If you have trouble finding your IMEI, you can also retrieve it by dialing *#06#.
Process Your Unlock – Once your payment is received, DirectUnlocks checks for any mistakes. You can then look for updates on the tracking page. The process should take between 6 and 24 hours.
The Phone is Ready – Your device is now legally and permanently unlocked. This will be confirmed via email and SMS. If you have any questions, you can contact their 24/7 customer service.
3.2 AppleiPhoneUnlock
AppleiPhoneUnlock whitelists your IMEI number from databases, making the unlock legal, permanent, and within your warranty.
They also offer a free IMEI check so you can see the unlock status of your phone quickly and efficiently before you pay for any services. If you do plan to use their services, keep in mind that the unlocking process will take up to 24 hours.
AppleiPhoneUnlock's unlocking process works in three steps:
Unlock with AppleiPhoneUnlock – First, you need to select your phone model and carrier. Then you'll enter your IMEI number.
Simple Order Process – After entering your details, just click 'Checkout' and enter your payment information. No personal information is collected except your email, which they use to let you know when your phone unlock is complete.
Secure Payment – All purchases take place over a 256-bit secure connection. The payments also have double protection from Verified. Once this is processed, you will receive an email confirming your unlock.
3.3 UB Sim
UB Sim is a hardware solution to unlocking your Consumer Cellular phone. It is easy to configure and can be done in less than five minutes. They also have a money-back guarantee, so you can be confident in your purchase.
Before you begin, you will need to ensure that you've updated your software to the latest version. Once you've confirmed this, the UB Sim can unlock your phone in four steps:
First, take out the SIM tray from your phone. Once it's out, insert the SIM card that you want to use along with the UB chip.
For the next step, insert the SIM tray into the phone and wait 10-30 seconds. Then the UB SIM menu will appear. You will then have to choose 'ICCID Mode' and enter the latest ICCID Code: 89014103278673435379.
Select 'Accept' and wait for the following instructions. Lastly, complete the activation steps. Please be sure that you are connected to a Wifi connection during this process.
Your phone will now be unlocked and ready to use. Make a test call and check the cellular network for any issues.
This process is semi-permanent. It is recommended to turn off auto-updates on your software. You will need to check that the new version of the software is compatible with your card before updating.
UB Sim has shipping locations around the world. It should take about 7-14 days to receive your hardware to unlock your phone.
Conclusion
There are several options to unlock Consumer Cellular phones. If you meet their unlock requirements, then this process is free and easy through the carrier.
If you do not meet the free unlock requirements, there are quite a few paid options to get your phone unlocked quickly and safely. Now you're ready to get your Consumer Cellular phone unlocked with ease.