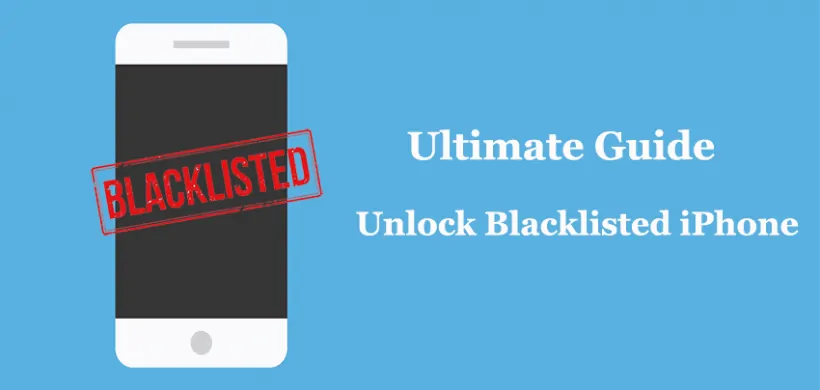 Last updated on

August 5, 2022

by Darren
Bought a second-hand iPhone but could not use it as normal when you put your new sim card into it? If it tells you that your sim card is not supported or invalid, then there is a chance that your iPhone is blacklisted.
The best way to solve this issue is to contact the previous owner. But the truth is that most of the sellers just ignore your emails or calls. That's why we make this post.
This guide will show you exactly how to unlock a blacklisted iPhone. Including:
So, if you want to get your iPhone work again, this guide is for you.
Let's get started.
Part 1. What Is a Blacklisted iPhone?
A blacklisted iPhone is one that has been blocked, i.e. reported as stolen or lost, or which have unpaid bills, for obvious reasons. When it is blacklisted, it prevents you from using any wireless carriers until it is removed from the list.
The blacklist is a shared carrier database which was made to solve the iPhone theft problem and help users identify if a second-hand iPhone has previously been reported as lost or stolen.
It is based on the IMEI number, which is uniquely connected to that device. This makes it easier for carriers to track lost or stolen iPhones and lock them out from networks. What's more, it also helps customers to check if a used iPhone is worth purchasing.
Part 2. How to Check If Your iPhone Is Blacklisted?
As discussed above, it's easy for you to check the status of your iPhone with the proper tools. Here we recommend WipeLock iPhone Blacklist Checker.
Differing from other iPhone Blacklist checkers, WipeLock checks your IMEI manually to ensure a 100% accurate result for you.
It's quite straightforward to check if your iPhone is blacklisted with this tool.
You just need to visit the website and enter your IMEI, then you'll get your answer as following:

Kim's iPhone 6 (Before unlocking)
Don't know how to find the IMEI number? Just check the official guide from here: https://support.apple.com/en-us/HT204073
Part 3. How to Unlock or Activate a Blacklisted iPhone?
Find that the IMEI of your iPhone has been blacklisted, don't worry, you can still unlock it for any carriers.
There're four ways to activate your blacklisted iPhone. We'll introduce them one by one. If you have any questions, just feel free to leave a comment or contact us.
Method 1. The Only Free IMEI Blacklist Removal – Contacting Carrier
This way is the first choice for most of us to unlock a blacklisted iPhone since it's totally free. You will need to contact the original carrier to find out the reason why they blacklisted it.
If it is blacklisted due to outstanding bills, you just need to pay for it. And the carrier will remove the IMEI of your iPhone from the blacklist.
What to do if your iPhone is reported as stolen or lost? You'll find the carrier will refuse to do IMEI blacklist removal for you.
But don't worry, read on to learn the solution to this situation.
Method 2. Unlock Blacklisted iPhone When Marked as Lost or Stolen
iPhone IMEI blacklist removal is also possible with third-party services, they enable you to use any other carriers after removal.

Here are what an IMEI blacklist removal service can do for you:
Unlock blacklisted iPhone remotely, you just need to offer the IMEI
Permanently & legally unlock, your device won't be locked again
Support all models of iPhone
Note that these services are not free, including Directunlocks, ExpressUnlocks. But don't worry, all of them have money back guarantee, they will refund the money if unlock failed.
Steps to Unlock Blacklisted iPhone AT&T
Here, we'll take DirectUnlocks as an example. We used this service to unlock a blacklisted iPhone 6 successfully from AT&T.
Here're the steps for iPhone 6 blacklist removal:
Step 1. Go to IMEI blacklist removal service page.
Step 2. Select the network and country your iPhone locked to.
Step 3. Enter your IMEI number and select the model of your iPhone. Then click on "Continue".
After the payment, the provider will start to work on your order. The average delivery time is 1-24 hours. What you need to do is wait for it. That's all!
Attached is the proof of successful IMEI blacklist removal for one of my readers – Kim.

Tim's iPhone 6 (After unlocking)
Do you know that we have a "Lucky Dog" plan? – We'll help three readers each month to unlock their devices by affording the required payment, including blacklisted iPhone, iCloud/FRP locked devices.
If you want to be a lucky dog as Kim, just leave a comment, we'll contact you via email if you're chosen at the end of each month. Good luck:)
Method 3. Replacing the IMEI Chip of the Blacklisted iPhone
Replacing the IMEI chip to another can also activate a blacklisted iPhone. But this way is no longer work for the latest iPhones. This is an obsolete and complicated way that only works for earlier models of iPhone (iPhone 3GS and iPhone 4).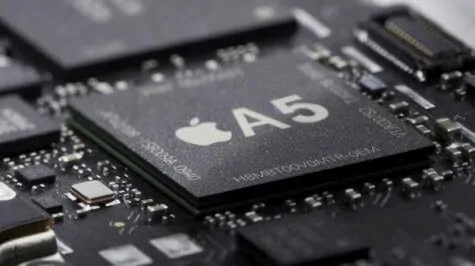 This is not a universal way as Method 2. What's more, finding a "clean" IMEI chip will also be difficult for most of us.
Method 4. Contact the Seller
Last but not least, contacting the previous owner should always be the most efficient way. However, it may be difficult to contact them because these types of sellers probably won't entertain your calls at all.
If you purchased the blacklisted iPhone from eBay, just following the refund procedures set by eBay to get your money back.
Bonus: What to Do If My iPhone Locked to iCloud?
You must be disappointed when you find your device is locked by iCloud activation lock after the IMEI blacklist removal. This is a very common issue among most users.
But don't worry! We're sure that you can unlock your iPhone successfully with the following method.
Remember the AppleiPhoneUnlock we mentioned above? Yes, this is the key to solve the problem. This provider can not only unlock a blacklisted iPhone but also remove the iCloud activation lock!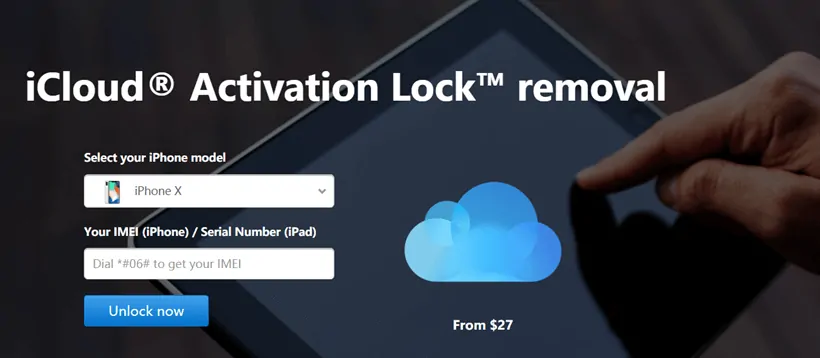 Just as the IMEI blacklist removal service, the steps to unlock iCloud is quite easy.
Step 1. Visit the iCloud removal service page.
Step 2. Select the model of your iPhone and enter the IMEI number.
Step 3. Click the "Unlock now" button to make a payment.
That's it! The delivery time (24-72 hours) is a little longer when compared to IMEI blacklist removal.
Now you get to know about the blacklisted iPhone. If you have any queries related to this post, feel free to leave a comment below.