Last updated on

March 22, 2022

by Darren
Locked phones seem to be a common problem nowadays. Buying phones directly from your mobile provider has a possibility that your phone is locked and can only use the SIM they provide.
If your phone is locked, you can't switch to another carrier network. Fortunately, some mobile network providers offer unlocked phones. However, there are still other networks that do not provide unlocked devices.
If you are using a BT mobile, you can scan through this article to figure out how to unlock BT phone.
Part 1. Are BT Mobile phones unlocked?
BT phones is a mobile virtual network operator (MVNO) that uses the Everything Everywhere (EE) network in the United Kingdom. From December 2021, all devices are sold UNLOCKED.
Before that time, all devices are locked except:
Google Pixel (all models)
Oppo (all models)
One Plus (all models)
To check if your phone is locked, insert a SIM card from another network provider into your phone.
Let's take a Vodafone SIM card as an example. Insert this SIM card into your BT Mobile phone. If you can't see "Vodafone" or any Vodafone symbol anywhere on your phone screen, your phone is probably locked.
For Android and Windows phones, there are instances that you need to scroll your notification panel down to check whether the Vodafone symbol is there.
Some other messages that state your phone is locked are the following:
Enter Network MEP code
SIM not Valid
Part 2. Things to do Before BT Mobile Phone Unlock
Before attempting to unlock your phone, get these two steps done to avoid errors and further problems with your devices.
Find the IMEI
IMEI number is a vital ingredient to unlock phones. You can find your IMEI number in your phone settings.
Usually, this is located on the General > About Phone, and then the IMEI number will appear as you scroll your screen.
Check Blacklist Status
If your BT phone is blacklisted (reported stolen or lost), you cannot unlock it unless the device is removed from the blacklist.
Several tools offer IMEI number checker features, and the most trustworthy one is WipeLock IMEI checker. This IMEI checker will check your IMEI number manually by their experts.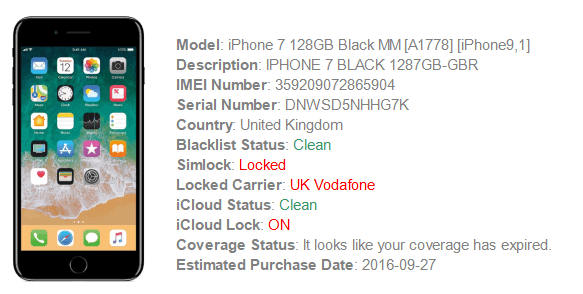 If the blacklist status is "Clean," read on to find how to unlock your BT phone.
Part 3. How to Unlock a BT Mobile Phone?
Method 1. Contacting BT Mobile to Unlock it for Free
The free way for BT phone unlock is to contact them directly. BT Mobile can help you unlock your phone directly or provide you with a BT Mobile unlock code.
You can give BT Mobile a call on 150 from your BT device or try dialing 0800 800 150 on any other phone.
When you contact them, they usually ask for information such as:
Your phone mobile number
Account Number
Your phone, tablet, or device model
IMEI number, which you can get from your phone Settings or dialing *#06# on your device.
Note
You can unlock your BT phone at any time, even in a contract!
All devices can be unlocked free of charge
The unlock process can take up to 15 working days
BT can't unlock your phone if it's blacklisted (reported stolen or lost)
Method 2. Using a BT Phone Unlock Service
Can't wait 15 working days to get your phone unlocked with the above method? Don't worry, you can use an unlock service to unlock your BT phone within 24 hours.
DirectUnlocks is a legal, easy, and quick way to unlock BT phones with a 100% success rate. It provides many advantages, including unlocking your devices within 24 hours in the comfort of your homes through their online unlocking service.
Other benefits of using DirectUnlocks include:
Avoid expensive roaming charges
Phone warranty remains valid
No instructions needed
You can switch to any SIM card after unlocking
To use this service, you just need to visit DirectUnlocks BT Unlock page, then submit the IMEI number of your device, make the payment, and wait.
For Android devices, they will generate a BT network unlock code for you within 6 hours. Then you need to enter the Unlock Code to unlock your phone.
For BT iPhone unlock, you need to do nothing but wait for them to get everything done within 24 hours.
Part 4. How to Unlock Your Phone for BT Mobile
What if you want to unlock your phone and switch to a BT Mobile SIM card? The process differs by the brand of your phone.
Samsung, Motorola, Nexus, and Sony Phones
If your phone is locked, "SIM network unlock PIN" will show a box containing "Unlock" and "Dismiss" buttons on the screen after you insert a BT Mobile SIM card into your phone.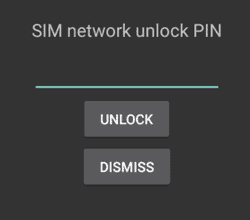 Unlock it by asking your previous service provider for the unlocking code. Input the code, and then your phone is BT mobile ready now.
If you choose to Dismiss, your phone will turn off and not be connected to any BT mobile network.
iPhone
"SIM Not Valid" or "SIM Not Supported" will show if your iPhone is locked.
If iPhone is being used for the first time, you can't get past the error message. While if it has been previously used with another SIM, you can dismiss it, but can only use the phone in airplane mode or without any SIM card at all.
To unlock it, the only thing you can do is contact your Apple service provider. Once done, plug your iPhone into a computer via USB and connect it to iTunes, back up your iPhone and then restore.
HTC Phones
For locked HTC phones, a "Network Locked – Please contact customer care" message will appear on the screen and an option to put in the "SIM network unlock PIN."
By providing code from the previous provider, your BT SIM should work by that time already.
Windows Phone
A "This device is locked to a specific mobile operator" message will show if your phone is locked.
It will also offer "10 attempts remaining" messages below, but there's no limit to how many times you can input your code from the previous provider.
Nokia Feature Phones
The "SIM1 is not valid" message will appear in the locked Nokia phones. Type in the code from your previous service provider in the following format:
#pw+(unlock code)=7#
So as an example: #pw+21809862623681922314=7#
Huawei Mobile Phones
Locked Huawei phones will show an error message like "Please contact your OP to unlock your device."
To unlock, input your code on your screen, and your BT Mobile SIM is now available at your service. Otherwise, it will not be connected to BT mobile network.
BlackBerry 10 (OS10 and above)
"The device is MEP locked, contact your service provider" can be seen in various areas of your screen, such as the lock screen notification panel or in the BlackBerry Hub.
Get the unlock code from the previous service provider and click the notifications to open SIM settings. Unlock the network and input the code.
Unlike Windows phones, BlackBerry phones are strict regarding attempting limits. If you go over ten code attempts, your phone will no longer be unlocked and permanently stick to the original service provider.
Conclusion
This is all about BT phone unlock. Don't be panic when you want to switch your phone to another network carrier but find it's locked.
The unlocking process doesn't need to be a hassle now. Whichever way you choose, an owner must know beforehand the IMEI number of your phone and its blacklist status. Contact your service provider or use online services such as DirectUnlocks to unlock your phone faster and safer.