Last updated on

March 21, 2022

by Darren
Phones are one of the primary sources of communication. That being said, it's undoubtedly a struggle when you're tied to a single carrier that restricts you from communicating with people outside your carrier's reach.
For that reason, this article is here to help by providing a guide on how to unlock C Spire phone.
Learning how to unlock a C Spire phone can be bothersome, which is why many people choose to unlock their phones on their own. The process will require broad knowledge about coding and software, though, so if you decide to do it yourself, expect that it won't be an easy process.
If you don't want to go through your carrier, you can ask for an IT specialist instead, but take note that you will have to pay for their services.
Note: Before unlocking, you need to check if your phone is blacklisted! If it's blacklisted, it's impossible to unlock your phone. The best way is to use an accurate IMEI checker.
Part 1. How to Unlock C Spire Phone Free
Not only is the unlocking process through C Spire easy, but they also do it for free!
1. Must I Pay Off My Phone before Unlocking?
If you want to unlock your phone free with Cspire, the answer is yes! First off, make sure that you have already paid the total value of your phone.
The top reason carriers lock phones is to prevent buyers from switching to other providers before accomplishing their contracts.
Therefore, before moving on to other steps, settle your contract with your C Spire first. It's also highly suggested that you bring up the unlocking process before ending your contract, as it might become pretty hard to settle it once you've already cut ties with C Spire.
Don't want to pay off your phone, you can use the following paid ways to get it unlocked.
Also reade: Can You Unlock Your Phone if You Still Owe Money on It?
2. C Spire Wireless Unlock Policy
However, there are a few requirements that you must comply with before you continue with the unlocking process.
Complete payment and no past-due balance on your C Spire account
No existing contracts or other payment plans on your phone
Not being blacklistd (no report of the phone being lost or stolen)
Once you have met these requirements, you can ask the C Spire Network to unlock your phone.
To move on with the unlocking process, you need the following information:
Name and contact details of the account holder
Proof of completed contract/transaction/payment plan
Social Security number and password of the account holder
Phone number
Your phone's IMEI number
For military personnel, overseas deployment papers
Securing this information will surely come in handy once you start the unlocking process.
The unlocking process is different on iPhone and Android phones.
3. Unlock C Spire iPhone
For iPhone users, you will submit an unlock request to C Spire's website.
The unlock request will require your iPhone's IMEI number. To find out your IMEI number, dial *#06#.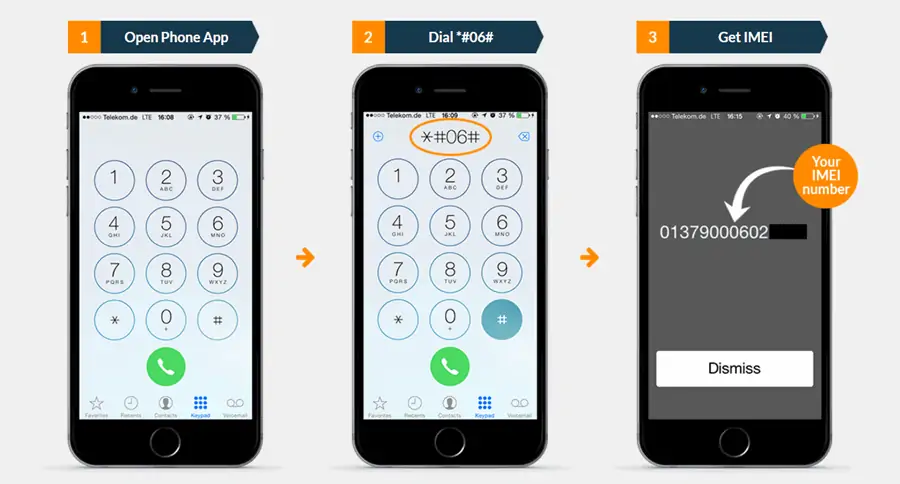 Once you have entered your iPhone's IMEI number, C Spire will send an unlock request to Apple.
The latter might take 24-48 hours upon submission before your unlock request gets granted.
C Spire allows users to monitor the status of the unlocking process through their website.
4. Unlock C Spire Android Phones
On the other hand, Android users will have to communicate directly with the C Spire network to unlock their phones.
You can message them on their website or contact them at +1-855-C SPIRE5 (277-4735).
Once they send your the C Spire unlock code, you need to insert a SIM card (from another carrier) to your phone and enter the unlock code.
Part 2. Unlock C Spire Phone When It's Not Paid Off
Since unlocking a C Spire phone is such a hassle, numerous sites were innovated to provide a hassle-free unlocking process but, of course-with a price.
While cost-efficient and easy, free unlocking comes with a series of consequences. There are high chances of your phone getting locked permanently or losing all your data.
Paid unlocking is at an advantage since they ensure safe and legal phone unlocks. They also guarantee a money return policy once they fail to unlock your phone.
Below are the most used paid ways for C Spire phone unlock.
1. Directunlocks
Directunlocks is one of the most popular providers of unlocks for the C Spire network. Not only do they guarantee your phone security, but they also offer their services at a very affordable price.
The unlocking process is pretty quick, comprising only three easy steps.
Submit the needed details
Visit DirectUnlocks C Spire Unlock page. You need to submit your IMEI number based on the network you want to unlock to start the unlocking process.
Send Payment
Once you have submitted the needed details, you will pay for the corresponding balance for the unlocking process.
Process
Once the website has confirmed the payment, they will start working on your device. They will review your details for corrections and fix them. This website allows users to monitor the real-time status of the unlocking process.
The processing time may vary according to the phone brand. Android phones such as Samsung usually take 6 hours, while iPhones take less than 24 hours.
Done!
Once the unlocking process is done, a confirmation message will be sent to you via email.
Android phones are unlocked with a C Spire unlock code provided by the website, while iPhones are unlocked "over-the-air."
2. With AppleiPhoneUnlock
Aside from Directunlocks, the AppleiPhoneUnlock is also one of the most utilized websites for unlocking C Spire phones. However, their services are only limited to iPhones.
They guarantee a secure and quick unlocking process while assuring users that their AppleCare warranty will not be scathed throughout the procedure.
Follow the list below to unlock your C Spire phone through IMEI doctor.
Provide IMEI number
Visit AppleiPhoneUnlock official website.
The website will provide a form where you will fill out your IMEI number. They will use it to get your phone details from Apple, such as the iPhone model, status, and the like.
Once you have submitted the needed details, click the "Unlock now" option to move on with the unlocking process.
Send Payment
Send the payment to the website's given payment service provider.
Wait
Wait for the website's update regarding the unlocking process. The typical turnaround time ranges from 12 to 24 hours.
Once finished, the website will send a confirmation message to you.
3. With UB SIM
Aside from the IMEI number, you can also utilize your sim to unlock C Spire iPhone. Through the UB SIM, this is made possible.
Like IMEI doctors, UB SIM also offers their services to Apple phones only. Depending on your carrier, they provide various speeds ranging from LTE, 4G, and 5G. They also come with an automatic ICCID Mode feature that allows your phone to easily configure the sim card.
To unlock your phone through the UB SIM, do as follows.
Insert UB sim
Before starting, go to your settings to ensure that your phone's iOS is updated to the latest version. If it's not, update it first. Once you're done updating it, insert the sim in your phone's sim tray.
Wait for 10-30 seconds
Turn on your phone's WiFi and wait around 10-30 seconds. Once the UB SIM menu has shown up, click the ICCID mode, enter the given code (89014103270421578519), and click accept and accomplish the activation steps.
Phone is ready to be unlocked
Try turning on the phone's cellular data to check if it works. You can also make a test call or message. If you can do this, your phone is already unlocked.
Takeaway
Unlocking phones allow us to maximize our phone's efficiency.
We'll be able to switch from different providers and have the freedom to weigh our options on which offers better deals and allows easy data transfer. It's not an easy process, but it's safe to say that the struggle is worthwhile.
When it comes to unlocking C Spire phone, we highly recommend you try the DirectUnlocks service since it will get your device unlocked within 24 hours.