Last updated on

April 8, 2022

by Darren

Hi Darren,
How can I unlock my Cricket Samsung phone?
I've tried lots of methods, but none of them worked for me. It would be much appreciated if you could offer help.
– Jack

Carrier locks have been around for a long time but in recent years, more users have become aware of them and how they affect our phones. The key problem with a carrier lock is that it restricts the phone to a single carrier, meaning you can't use a SIM card from any other network.
This is particularly a problem if you just bought a second-hand phone or if your contract has ended and you want to join another network that offers a better deal.
Don't worry though, if you want to unlock Cricket phone then go ahead and read our guide.
Part 1. How to Unlock Cricket Phone for Free (LG / ZTE / Nokia / Samsung / iPhone…)?
One of the ways you can unlock a Cricket phone is by going through the carrier, and this approach is typically free but be warned that it also comes with several concerning downsides.
1.1 Cricket Unlock Policy
Before you get in touch with Cricket, you have to make sure your phone meets each of these unlock requirements:
The phone is currently locked for the Cricket carrier
The relevant account isn't tied to fraudulent activity
The phone is not listed as either stolen or lost
The device has been connected to the Cricket network for 6 months minimum
If you are considered as deployed military personnel, then you can disregard the 6-month requirement.
1.2 Get Cricket Wireless Network Unlock Code (Free)
As long as you meet those requirements you can go ahead and use either of these methods to get your Cricket network unlock code for free.
1.2.1 Asking for a Cricket Unlock Code Via My Accounts
First, you can use your Cricket account to request a network unlock code for free, and here's how to do so:
Step 1. Go to the Cricket website and sign in.
Step 2. Navigate to the Account Settings page and click on Get Code.
Step 3. Select the phone number you want to unlock and click Request Unlock.
Step 4. When you receive the code, insert the new SIM card and enter the code.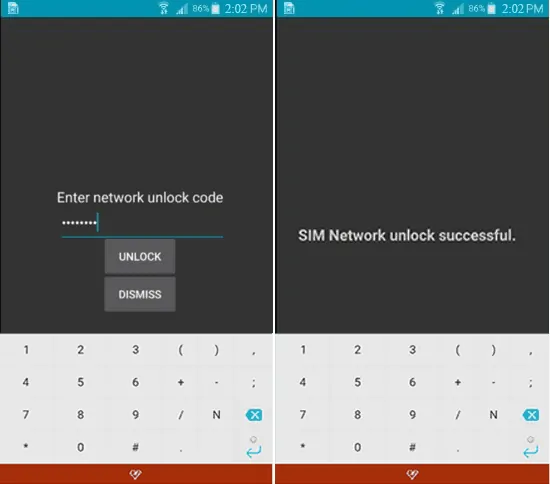 1.2.2 Using myCricket App Unlock
Depending on the device you are trying to unlock, you may have to use the myCricket app to unlock Cricket phone. The great part about this method is that you don't enter an SIM network unlock code/pin, the app handles the unlock for you.
Step 1. Install (it's easy to get it from app store) and set up the myCricket app if you don't already have it.
Step 2. Launch the app and sign out of your account.
Step 3. On the main menu, tap Unlock Device and then Unlock.
Step 4. Your phone will then be unlocked and you can finalise it by restarting the device.
1.2.3 Ask Cricket Customer Service to Unlock Your Phone
You can also ask Cricket Wireless Support to unlock your phone by calling 1-800-CRICKET (1-800-274-2538).
Part 2. How to Unlock Cricket Phone without Account or Password

If you fall into the group of people who don't have a phone that is eligible for unlocking, or you were unsatisfied with the experience you got from requesting an unlock, you can try a Cricket phone unlock service like DirectUnlocks. What can this service do for you?
Unlock Cricket Wireless phone without account or password
Unlock Cricket phone early (before 6 months)
Disable carrier locks from iPhones and Android smartphones
Carrier locks from hundreds of carriers can be successfully removed
Remotely removes your phone's carrier lock (you don't have to send your phone anywhere)
Carrier locks are removed within just 24 hours
Prices are incredibly affordable and you'll get full money back if they failed to unlock
This charge is barely an issue when we consider the inconvenience of what carrier locks do to our smartphones, and $28 is very cheap if you take into account the price of some other services out there. If we've enticed you and you want to use DirectUnlocks to unlock Cricket phone then you're in luck – just jump into the steps below.
Steps to Unlock Cricket Phone without Account or Password
If Cricket says something like, "sorry, this device cannot be unlocked" due to the 6-month limit, you can unlock a Cricket phone before 6 months with DirectUnlocks.
Step 1. Head over to the DirectUnlocks Cricket Unlock page.
Step 2. Next, type the phone's IMEI number which you can retrieve by dialling *#06#, then click on Unlock your Cricket phone. Here we take Jack's Samsung phone (356903082512117) as an example.
Step 3. The next page will request a few personal details and following this, you'll be required to submit your payment information.
Once you complete the payment, your order will begin processing.
For android phones, you'll receive the unlock code within 6 hours
For iPhone, they will unlock it within 24 hours
Finally, they successfully generated a code for Jack's Samsung phone: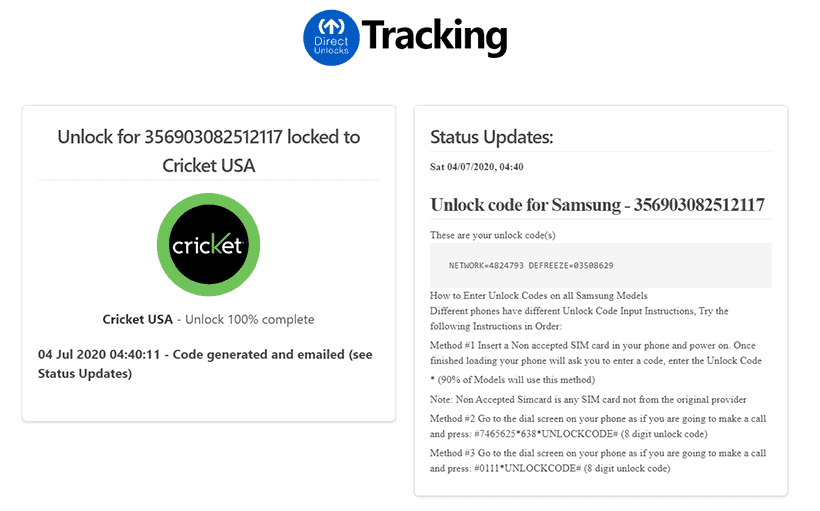 All you really have to do is hand over some basic information about your phone and pay for the service, and a team of experts take care of everything else. If you have other phones that are connected to different networks then you can use DirectUnlocks for those too.
Part 3. FAQs About Cricket Phone Unlock You Should Know
Q1. How to Check If My Cricket Phone Is Locked?
So before you go ahead and try to unlock your phone, you should first take a few minutes to check if your phone is actually locked. If it turns out your phone isn't locked, you can go ahead and use another carrier immediately.
Check Settings
One way of checking is by going into the Settings app and looking at your mobile data settings.
Step 1. Launch the "Settings" app and tap on "Mobile Data" then on "Mobile Data Options".
Step 2. Look for the setting called "Mobile Data Network".
If you see this setting then this typically means a carrier lock is active and you'll need to proceed with unlocking techniques.
Switch SIM Cards
If you want to double-check and make sure a carrier lock is active, try switching your SIM card. This will only take a few minutes:
Step 1. Remove your Cricket SIM card.
Step 2. Insert the SIM card from any other carrier.
If, after doing this, the phone connects to the carrier and you can make phone calls and send texts, there is no active carrier lock. However, if it doesn't connect, then there is a lock.
Q2. Why You Should Unlock Your Cricket Phone?
Something else we see users asking about is why they should bother with unlocking their Cricket phone at all. For any readers who aren't aware, there are actually several benefits to unlocking your phone from the carrier:
Connect to Any Carrier. You can freely connect to any other carrier and won't be restricted to the plans available on just one network.
Selling the Phone is Easier. If a phone has a carrier lock then only people who have SIM cards from that carrier can use it. By disabling the carrier lock, anyone can insert their SIM card regardless of the carrier and use the phone.
Using the Phone Internationally. Carriers tend to have extortionate fees attached to international use. Removing the lock and switching your SIM card with an international SIM card means you can pay significantly less to use your phone when traveling.
These are just the top reasons for unlocking your phone but our point is, there's nothing but benefits and it's definitely worth taking the time to unlock.
Q3. Can I Use It on Any Network After Unlock?
The answer to this question isn't as simple as yes or no. Basically, there are two types of carrier network: GSM and CDMA. Whichever type of carrier the phone is originally connected to, it can only connect to other carriers using that network type.
So, if your phone is locked to a carrier running a GSM network, after unlocking the phone you'll only be able to connect to other carriers with a GSM network (and not any CDMA networks).
Q4. What's the Unlock Code for Cricket Phones?
Cricket unlock code is a PIN that is usually generated by the carrier and can be used to unlock phones from Cricket. Please note that this code is only available for Android phones and unique for each device.
If someone claims that he can offer a common sim network unlock code for Cricket phone (ZTE, LG, etc.), just keep away from him. Except that, there is no Cricket unlock code for iPhone.
Q5. Is There Any Cricket Unlock Code Generator?
Yes. As discussed above, the unlock code can be created by the Carrier for free. If you're not eligible to ask for an unlock code from Cricket, some third-party services can help you. But it's not free.
One thing you should note is that any "Cricket unlock code generator software" are scammers. We've researched a lot of these generators, none of them worked for us.
Q6. How Long Does It Take to Unlock Cricket Phone?
It all depends. If you're eligible to ask for an unlock code from Cricket or use myCricket App, it will take you less than 1 hour. If not, you'll have to use an unlock service which will take up to 24 hours.
Q7. Will Cricket Unlock My Phone?
No! Dislike Verizon, Cricket will never unlock your phone automatically even after your phone has been activated for over 6 months. You'll have to send an unlock request or use a service to unlock your phone by yourself.
Q8. Is Cricket GSM or CDMA?
Cricket was a CDMA carrier until it was merged with AT&T (GSM carrier) in 2015. From then, AT&T shut down Cricket's CDMA network and turn it into a GSM network.
One thing you should note is that phones locked to GSM network can't be switched to CDMA network after unlocking, and vice versa.
So, if your Cricket phone is produced before 2015, you can only use it on CDMA carriers (such as Sprint, Verizon, or US Cellular) after unlocking. For devices produced after 2015, your unlocked Cricket phone is only available for GSM networks, such as AT&T and T-Mobile.
Q9. My Cricket Phone is Blacklisted, What Should I Do?
Please understand that it's impossible to unlock a blacklisted phone.
So, it's necessary to check the Blacklist status of your phone before unlocking your phone. The only method is to use an accurate IMEI checker.
Most IMEI checkers generate the report from an outdated database, it's not accurate and will mislead you. We recommend the all-in-one IMEI checker, the report is 100% accurate since WipeLock will perform Cricket unlock eligibility check manually.
If your phone is blacklisted as the above picture shows, you'll have to contact the previous owner to remove it from the blacklist.
Q10. Are Cricket Phones Unlocked?
No! Cricket phone comes locked. Cricket won't unlock your phone automatically, and you'll have to unlock it yourself after the 6 months of paid service on that device.
Q11. How to Unlock Cricket Phone for Straight Talk?
Straight Talk supports both GSM and CDMA phones so that you can unlock your Cricket phone for Straight Talk without hassles. You can unlock either by Cricket or using an unlock service.
Q12. Can I Jailbreak a Cricket Phone to Unlock it?
You'd better not! Jailbreak will expose your iOS system to viruses or malware; never do that!
Q13. I Fogot My Cricket Account Password, How do I Unlock?
Don't worry, you can find your Cricket account password back.
On the login page, click on "Forgot Password".
Enter your Cricket phone number (10-digit).
Click on "Select Password."
You'll receive a text message with a temporary password. Login with the password and create a new password for your Cricket account.
If you don't have the phone number associated with your Cricket account, you can still unlock your Cricket phone without the password.
Conclusion
That sums up our guide on how to unlock Cricket phones and the different routes you can take to achieve this. Going through Cricket directly might seem like the ideal approach but if we consider the downsides of this, and the fact that this doesn't guarantee the carrier lock will be removed, it's much better to use a service like DirectUnlocks.
We recommend that all users try DirectUnlocks first because not only is it effective but removals are processed much quicker and regardless of the carrier your phone is connected to, you'll be able to use this service.