Last updated on

December 5, 2021

by Darren
If you bought a cell phone or service plan from Family Mobile or plan to do so soon, you're probably wondering if your phone is already unlocked or if you will be able to unlock it in the future.
To find out whether your phone is eligible for unlocking, you'll have to check with Family Mobile to see if you meet their phone unlock criteria. In most cases, you will have to ask the carrier to unlock the phone for you.
In this post, I'll show you how to unlock your Walmart Family Mobile phone.
Part 1. Are Family Mobile Phones Unlocked?
To get your Family Mobile phone unlocked, it will need to be licensed to your carrier as an unlocked compatible phone. If your phone is licensed as compatible, you have to meet your carrier's guidelines for unlocking.
Family Mobile phones do not come unlocked at the time of purchase. If you have not yet requested to unlock your phone, then you can be certain that it's still locked.
Part 2. Unlock Family Mobile Phone for Free
To unlock your phone through your carrier, first, make sure you've filled out their requirements to do so.
Once you've found out whether or not you're allowed to unlock your phone, you can call customer service, and they will be able to help you unlock your device with an unlock code.
2.1 Unlock Requirements
Family Mobile's unlocking requirements are as follows:
Customers must request for the device to be unlocked.
Customers must have their phone activated for at least 12 months and have redeemed air time cards a minimum of 12 months ago. The phone number must not have been ported.
Customers must request that their device be unlocked while their service is active (at most) 60 days after their service expires.
The customer's phone must not have been lost, reported stolen, or associated with any fraudulent activity.
Customers are only eligible for this program once every 12 months.
You can input your phone number or serial number into their unlock eligibility tracker to see if your phone qualifies.
If you meet all of these requirements, Family Mobile will unlock your phone for you.
If your phone cannot be unlocked, you may be eligible for a partial refund or credit towards a new phone.
2.2 Steps to Unlock Family Mobile Phone for T-Mobile
Once you've checked that you meet these unlock conditions and your unlock eligibility status, you can now contact customer service at 1-888-442-5102.
After you've submitted your request, it typically takes up to 15 working days for the request to be processed. Once the unlock is approved, you will receive an email with the Family Mobile unlock code.
To unlock your phone for T-Mobile or any other carriers such as Straight Talk, ATT, etc. just insert a SIM Card from that carrier. In this case, insert a T-Mobile SIM card into your phone. It will then ask for the unlock code to proceed.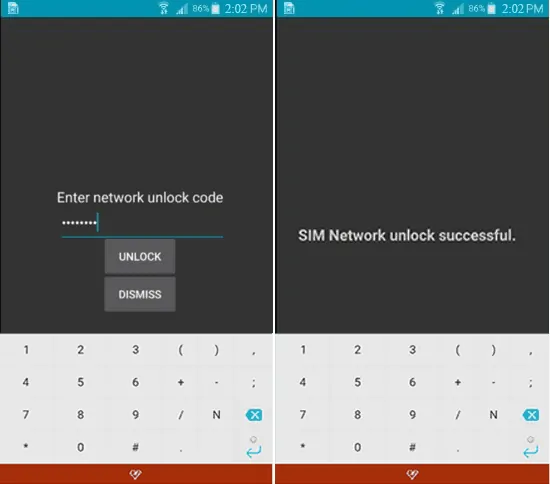 Enter the unlock code received from Family Mobile and click on Unlock, your phone is unlocked for T-Mobile now!
2.3 FAQs About Family Mobile Phone Unlock
Here are a few common questions that persons have regarding unlocking their phones:
Can I pay a fee to Family Mobile to unlock my phone before it is eligible?
No, you must wait for the allotted time frame before they will unlock your phone.
Why is my iPhone locked to Family Mobile if I did not get it from them?
In order to provide service to your phone, the phone must be registered to Family Mobile's network.
Can I receive the unlocking code by SMS?
No. Currently, the only way to receive the Family Mobile unlocking code is by email.
How can I contact customer service if I didn't receive my unlocking code email?
You can call customer service at 1-888-442-5102.
How long does it take to unlock my phone for another carrier?
Requests are processed in the order that they are received, it can take up to 15 business days to be completed.
If I paid full price for my phone, why can't I unlock it?
Your phone cannot be unlocked because it was branded by the manufacturer, which means that your phone can only be used by one brand.
Part 3. Using a Family Mobile Unlock Service
Outside of contacting Family Mobile to unlock your phone, you can pay for services to do it for you.
Paid services might be your best option if you do not meet the carrier's unlock eligibility qualifications. This route may also be for you if you don't want to deal with the hassle of coordinating with Family Mobile's customer service.
The paid phone unlocking business is often a legal gray area. They can help you unlock a network locked phone without any hassle.
To get your unlock code, you will need to provide the company with the IMEI number. You can get this number from your phone by taking the following steps:
iPhone – Settings > General > About then finding the "IMEI", "MEID", or "ESN" number.
Android – Settings > About Phone > Status then finding the "IMEI", "MEID", or "ESN" number.
DirectUnlocks

DirectUnlocks is a quick, easy, and legal method to unlock your phone from Family Mobile. They have a 100% success rate and have serviced millions of customers.
DirectUnlocks is unique compared to other paid unlocking service companies because they're directly connected to manufacturer databases. All they need is the IMEI number to identify your device, simplifying and speeding up your unlocking process.
This use of the manufacturer's database makes unlocking your phone quick and legal when you enlist DirectUnlocks. To unlock your phone, simply follow these three steps:
Give the service reps your device details
Select Family Mobile as your selected carrier and enter your phone's IMEI.
Pay for your unlock
Once DirectUnlocks receives your payment, their service reps check for any errors or mistakes that might affect your unlock. Check the tracking page for any updates on your order. The whole process shouldn't take longer than 24 hours.
Ready to go
Your phone should now be permanently unlocked. Upon completion, DirectUnlocks should contact you to let you know that your device is ready. Contact their customer support number if you experience any problems after the unlock.
Conclusion
Now that you know your locked phone's eligibility status, you can now decide whether to request for your phone to be unlocked by Family Mobile or whether you want to pay for a service like DirectUnlocks.
If you're ready to unlock your phone from Family Mobile, whether it's to move to a new service provider or sell your phone, you now know the easiest and most efficient ways to do so.