Last updated on

April 15, 2023

by Darren
MetroPCS phones, now recognized under the T-Mobile brand (Metro® by T-Mobile), are subject to carrier locks like every other phone.
What this means is that a locked MetroPCS phone can't be connected to the AT&T network, for example. You'll have to unlock MetroPCS Phone before changing to another carrier.
This is great for carriers as it helps them to retain customers on their network, but it's bad for customers who have finished a contract and want to go to another carrier or even second-hand phone owners.
So, if you've got a MetroPCS phone and find yourself in this situation, follow our guide.
Part 1. MetroPCS Unlock FAQs
Whenever we see this topic brought up, a lot of users have questions. We've gathered the most common questions we see asked and have answered them for you.
1.1 Why Unlock MetroPCS Phone?
If you're stumbling across this post and are wondering "Why would anyone want to unlock their MetroPCS phone?", let's clear up why users are interested in doing this:
You can insert SIM cards from any other carrier, not just the locked carrier
You can choose phone plans from any carrier, so you can get the best deals
You can sell the phone and more people will be interested since there isn't a carrier lock
For some devices, you may also remove the region lock alongside the carrier lock
There is really nothing but benefits to MetroPCS unlock and as long as it isn't against your contract's terms, you shouldn't shy away from unlocking.
1.2 Will an Unlocked MetroPCS Phone Work for Any Network?
This is a complex question that you should know before the MetroPCS unlock. To understand it, first we need to make it clear that there are two types of networks – GSM and CDMA.
These networks have a lot of technical differences but the important detail to know is that GSM devices can only connect to GSM networks, and CDMA devices can only connect to other CDMA networks.
Mobile is a GSM network and MetroPCS uses the same network. So, after unlocking the phone, you will only be able to connect to other GSM networks.
In the US, Sprint, Verizon, and US Cellular use CDMA network while AT&T and T-Mobile use GSM network. Most of the rest of the world uses GSM network.
1.3 How Can I Check if My MetroPCS Phone is Locked?
Another question we receive is how users can be certain that their MetroPCS phone is locked. This is an important step because if your phone has already been unlocked, there's no need for you to carry on with the unlock process.
Remove the MetroPCS SIM card and turn off the phone.
Insert another carrier's SIM card and turn on the phone.
If the new network is successfully connected to, there is no active carrier lock.
Another way of checking is to directly call the MetroPCS support line and ask whether the phone number is locked to the carrier or not.
1.4 What is MetroPCS SIM Network Unlock PIN?
If your Android phone is locked to MetroPCS, it can't work when you insert a non-MetroPCS SIM card into it. You'll have to unlock it so that you can switch to another carrier.
MetroPCS SIM network unlock PIN (or unlock code) is a code that is created to unlock a phone from carrier lock. If your phone is eligible for unlock, MetroPCS will provide you with the unlock code for free.
1.5 What is MetroPCS Master Unlock Code?
When you enter the incorrect SIM network unlock PIN over 5 times, your phone will reject any unlock code. In this case, you'll need a master unlock code to make your phone accept the unlock code again.
So, how to get the master unlock code?
It's very straightforward! Just contact MetroPCS customer support, they will help you generate a master unlock code for free.
1.6 Is There Any MetroPCS Unlock Code Generator?
If you mean software to generate unlock code, then banish the thought. All the Metro PCS unlock code generator software is not to be trusted.
To unlock your MetroPCS device, just read the guide below.
Part 2. How to Unlock MetroPCS Phone for Free – LG/ZTE/Samsung/iPhone…
In this next section, we're going to show you how the unlocking process works if you wanted to request the carrier unlock from MetroPCS.
2.1 MetroPCS Unlock Policy
To unlock your phone directly from MetroPCS, they have a few requirements:
The phone must be connected to the network for at least 180 days
The phone must originally be provided by MetroPCS
The phone must not be blacklisted (reported as stolen or lost)
If you are in the military, your unlock period can be shorter than 180 days
If you're unsure if your phone is blacklisted or not, you'll need to check it with an IMEI checker. Just submit the IMEI number of your phone to the IMEI checker, and you'll receive an IMEI report with blacklist status. If the blacklist status is "Clean", then your phone is not blacklisted.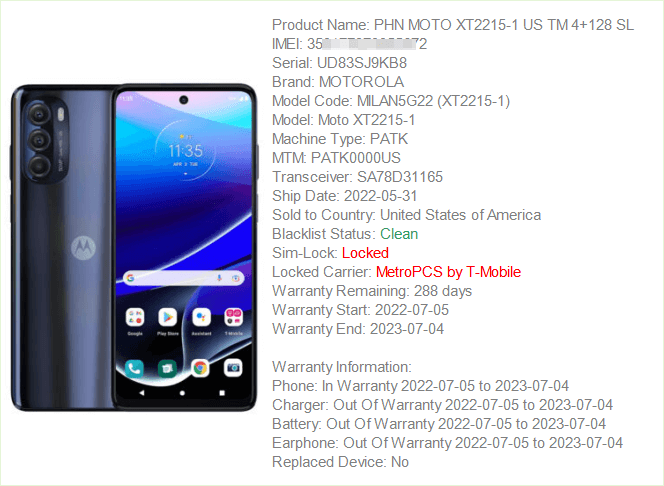 Once you're sure that your phone is eligible to unlock MetroPCS, there are two ways you can process the unlock.
2.2 Unlock with MetroPCS Device Unlock APP (Automated App)
The first option is using the automated application, but this isn't available to all users (mainly Android devices).
| Brands | Models |
| --- | --- |
| Samsung | Core Prime, Grand Prime, J3 Prime, J3 Prime Silver, J7, J7 Prime, J7 Prime 32GB, On5, S7 Black, S8, S9 |
| LG | Aristo, Aristo Cobalt Blue, Aristo 2, G Stylo, G Stylo White, K7, K20 Plus, Leon LTE, Stylo 2 Plus, Stylo 3 Plus, Stylo 3 Plus Titanium |
| ZTE | Avid 4, Avid PLUS, Avid Plus, Blade ZMAX, Obsidian |
| Alcatel | A30 Fierce, Fierce 4, Fierce XL, Tru |
| Coolpad | Catalyst, Defiant |
| HTC | Desire 530, Desire 626s |
| Kyocera | Hydro Wave |
| Motorola | e4 |
This app can be found in the folder called "MetroPCS" and when you run the app, all you have to do is tap "Device Unlock" and the rest of the process will appear.
As iPhones and some Android devices can't use this, other solutions may be ideal.
2.3 Unlock with MetroPCS Unlock Code (from Customer Support)
Calling the support team for a MetroPCS SIM network unlock PIN is also a suitable way of approaching this, and this is as straightforward as it gets.
When you call them up, you'll be required to provide them with some details:
Phone number
Account holder name
Billing PIN number
Afterwards, they will submit your carrier unlock request and provide you with the MetroPCS SIM network unlock PIN for free together with the next steps you must follow.
In some cases, you may be required to make an extra payment for the unlock if it's not eligible for unlock.
Part 3. Unlock MetroPCS Phone before 180 Days without the Unlock Code
Clearly there are limitations if you unlock MetroPCS phone by going through the carrier directly, which is why we recommend DirectUnlocks as an alternative.

This is a professional carrier unlocking service that has a lot to offer and is somewhat more effective than the first approach. Here are the notable features that this service does for you:
Offer MetroPCS iPhone unlock & Samsung unlock from all over the world
Unlock a MetroPCS phone without a SIM card
Legally removes network carriers without voiding warranties
Permanently removes the carrier lock (even after factory resets)
Supports carrier unlocks for blacklisted phones
Devices marked with unpaid bill status can be unlocked
If this service doesn't work, a money-back guarantee is available
Easy to use unlock service with quick delivery (within 24 hrs)
Easy Steps for MetroPCS Device Unlock
These are impressive features which altogether provide a fantastic carrier unlocking service. For using this preferred solution, follow the steps we've prepared in this guide.
Step 1. Start by going to DirectUnlocks MetroPCS Unlock.
Step 2. On the page you're taken to, choose your phone model from the drop-down list.
Step 3. Obtain the device's IMEI number (a 15-digit code) by dialling *#06# on your phone, and type this into the DirectUnlocks box.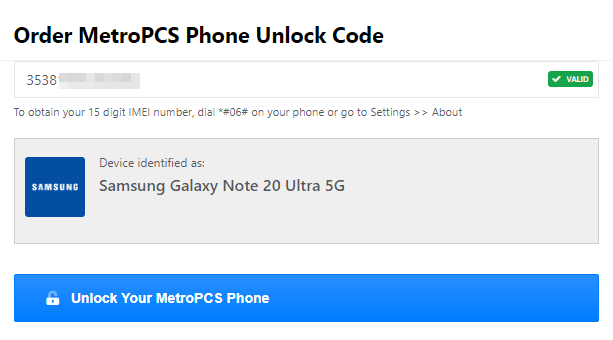 Step 4. Once you click "Continue" you'll be taken to the payment page. Fill this out to pay the appropriate unlocking fees.
Step 5. When you've submitted the payment, you'll receive an order code which can be used to track the order's progress.
After you've used this method, you'll just have to wait several hours and within that time, the unlock will be processed and your phone's full potential will be unleashed. Any carrier you choose, as long as they're a GSM network, will be connectable.
Part 4. Never Use Unlock Software
There are many companies that offer paid software to unlock your device. However, they may jailbreak your device which can cause a lot of trouble for you.
Here are the reasons why you should keep away from unlocking software:
They can only unlock partial models of iPhone (iPhone 5s – iPhone X)
Can only unlock iPhone running on iOS 14.8 and below
They don't support Android phones
They will jailbreak an iPhone before unlocking which can damage your phone and void your warranty
Conclusion
Carrier locks have been around for so long and whilst they do help carriers maintain a customer base, and prevent customers from leaving to use another network soon into a new contract, there's no doubting that they have some limits.
If you want to do a MetroPCS unlock then one option is to contact the carrier and request the unlock, but we'd recommend otherwise. DirectUnlocks MetroPCS Unlock is a much better service which supports both iPhone and Samsung phones, provides fast unlocks, and is one of the best services out there.