Last updated on

October 28, 2021

by Darren
A Net10 phone unlock is an excellent idea if you want to avoid those unnecessary costs that come with switching cell phone providers, such as buying a new phone.
Besides wanting to switch carriers, there are other reasons that you may want to unlock your phone. For instance, an unlocked phone will yield a higher selling price if you plan to sell your phone.
I'm going to show you how to easily unlock your Net10 phone.
How to Unlock a Net10 Phone (iPhone/Samsung/LG, and more)
Whether you want to change your cell phone provider or hope to sell your phone at a higher price, you'll need to unlock your Net10 phone.
To unlock your phone from its original network, you're going to need a Net10 network unlock code.
There are two options to legally and permanently unlock your phone: calling them or using an unlocking service.
Method 1: Call Net10 to Unlock for Free
Net10 will provide you with an unlocking code if you meet the conditions of their unlocking policy. If you satisfy their requirements, you can directly request Net10 for your code.
Net10 Phone Unlock Policy
Your phone must be active with Net10 services for at least 12 months, with your service plan redeemed in at least 12 months.
Net10 will not unlock a phone reported stolen, lost, or marked with fraudulent activity.
Net10 will waive the 12-month activation requirement for military personnel and honor your unlock request, as long as the phone wasn't stolen, lost, or marked with fraudulent activity. Moreover, you must provide deployment papers, and, in some cases, they may ask for your military email address.
Note, you can check your eligibility through their online portal or by calling 1-888-442-5102.
Here I'm going to show you how to unlock a Net10 phone for free:
Step 1. Find Your IMEI Number
Before you call Net10, make sure to have your IMEI (International Mobile Equipment Identity) number readily available. There are various ways to obtain your IMEI number depending on the type of phone you own.
The most common way for both Android phones and iPhones is to dial *#06#.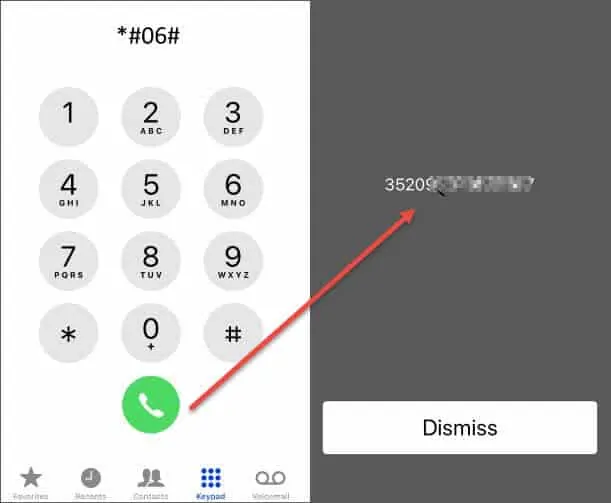 Step 2. Dial 1-888-442-5102 to Unlock
Once you have located your IMEI number, dial 1-888-442-5102 and tell them that you want to unlock your Net10 phone, and they should transfer you to a Net10 representative.
The Net10 representative will ask you for your IMEI number and then tell you if they can complete your request. If it is possible, they will let you know during your call, but if not, they must let you know within two business days.
In some cases, they will charge you a fee to unlock your phone if you do not meet the 12-month requirement.
For example, if your phone is active with Net10 for two months, you will have to pay them for the ten remaining months.
Step 3. Wait for Unlock Complete
If they agree to your unlocking request, they should send you an email with further instructions to unlock your phone.
Depending on your device, there are different methods to unlock.
For instance, iPhones are remotely unlocked, while Android phones require a SIM network unlock pin that you will have to type in.
Method 2: Use a Net10 Phone Unlocking Service
Another way to unlock your phone is by using an online unlocking service. These third-party services promise the same outcome: an unlocked phone.
While some people swear by these third-party sites, you should always use caution when choosing one of these services. In other words, please do your research to make sure they are trustworthy.
A sure-fire way to decide on an unlocking service is by reading the website's reviews and seeing if they offer a refund if they fail to unlock your phone.
Most unlocking services ask for payment in advance and your IMEI number. Then, the unlocking service will ask your cell phone carrier to turn off the restriction using your IMEI number.
Many of these third-party services will tell you how long it will take them to unlock your phone, with some services promising results within a couple of hours and others saying it will take them around 24-hours.
If you choose an unlocking service:
Make sure they can unlock Net10 phone.
Check to see if they can unlock devices from your cellular network.
Compare pricing from the various unlocking services.
Make sure the unlocking service is verified, i.e., don't get scammed.
The most reliable Net10 unlock service that has already been verified by us is DirectUnlocks, it works for most iPhone and Android devices.
FAQs About Net10 Phone Unlock
What is the difference between a locked and unlocked Net10 phone?
A locked phone means that software in the phone, placed by the cell service provider restricts the phone's ability to change networks.
You must unlock a network locked phone so that youcan switch to another network.
If you want to know if your phone is locked or unlocked, call your cell phone carrier. Or, put in a new SIM card from a different carrier to see if your phone accepts it.
What is a carrier restriction?
A service provider will lock a phone to ensure the device is active on their network for the agreed-upon time.
For example, if you purchased your device from a cell phone carrier and signed a one-year contract, you can assume that they locked your phone to their network for at least a year.
Is it legal to unlock a Net10 phone?
Yes, it is legal to unlock your phone; read more about the legality of phone unlocking here.
However, before you unlock your Net10 phone, remember that if you bought your device directly from a carrier, they've optimized it for their network.
In other words, if you decide to change your cell phone provider, you may lose certain features or functionality.
Is it possible to unlock a blacklisted Net10 phone?
No, it is not possible to unlock a blacklisted phone. When a phone is blacklisted, it means that it was reported lost or stolen.
If a phone's IMEI is in the database as a lost or stolen phone, cell phone carriers cannot unlock that phone due to possible criminal activity.
So you must check the blacklist status of your phone before unlocking. Using an accurate IMEI checker is the only way to check.
We highly recommend our IMEI Checker service since we'll check your IMEI and generate an IMEI report manually by our expert. We guarantee a 100% accurate IMEI report.
Final Thoughts
If you're nearing the end of your cell phone contract with your service provider, you should ask them to unlock your phone rather than using a third-party service.
If, however, you want your phone unlocked within 24 hours, and your cell phone provider quoted you with an expensive unlocking fee, then look into using a third-party website.
References