Last updated on

October 12, 2020

by Darren
Getting a new phone is exciting. New iPhones and Android smartphones are being released every year, and they always come with impressive improvements.
However, they're also very expensive and getting a second-hand phone is often much cheaper and the ideal option. The problem is that when you buy a second-hand phone it might be network locked, so you won't be able to insert your SIM card and connect to your carrier.
In this guide, we'll be explaining everything you need to know to unlock a network locked phone for free.
Part 1. FAQs about Network Locked Phone
1. What is a network locked phone?
When a phone is locked, it simply means that the device can only connect to your carrier's network. It can't be connected to any other carriers unless you take steps to unlock it.



There are several ways to unlock a network locked phone which we will introduce later in this guide.
2. Why is my phone network locked?
Most phone owners start by getting a contract phone. This is a neat way of getting a modern model without paying a huge lump sum. When you do this, though, carriers will always enable a network lock. By doing this, customers aren't able to take their new phone and connect to a different carrier, while also getting out of their monthly payments.
In that sense, it is a sense of security for carriers: they don't risk having new customers sign up for a new smartphone only to leave them for another carrier, keeping the phone in the process.
3. Is it legal to unlock a network locked phone?
Although the law varies depending on your country, in the overwhelming majority of cases it is completely legal to unlock your phone.



In fact, it is illegal for carriers to charge a fee for unlock requests. Most carriers do have some unlock requirements though, so you have to make sure you're eligible before you request a carrier unlock.
4. What unlocking does and doesn't do
There is some confusion about what unlocking your phone actually does. All it does is allow you to insert SIM cards from any compatible carrier. What makes a carrier compatible?
2 types of networks exist: GSM and CDMA. If your phone was originally connected to a GSM network, when you unlock it you can only connect it to other GSM networks. The same applies to devices that were connected to CDMA networks.
Unfortunately, at this time, it is not possible to connect devices from carriers using a GSM network to carriers using a CDMA network – and vice versa.
5. Why should you unlock a network locked phone?
So, why should you unlock your phone from the carrier? There are plenty of reasons why doing this is beneficial:
To sell the phone for more. Selling a locked phone is harder and also devalues the device. By unlocking it, more people will be interested in buying and you can price it higher.
To get better data plans. Maybe your carrier is too expensive or doesn't offer the type of plan you're looking for. Unlocking a phone enables you to choose data plans from almost any other network.
To connect a second-hand phone to your network. Sometimes second-hand phones aren't unlocked, so you might have to unlock them yourself after buying them.
To get better international coverage. International coverage isn't usually a top priority for customers, but if you're travelling often you might find that some carriers give you better coverage and better prices for international usage.
These are just some of the reasons to unlock your phone. For the most part, there are nothing but benefits to doing this.
6. How long does it take to unlock a phone?
The time for unlocking a phone depends on how you decide to unlock it.



For instance, if you choose to unlock your phone through your carrier, it can take as long as 30 days for the unlock to be processed.
On the other hand, if you use a carrier unlocking service, the unlock could be complete in just 24 hours.
7. How to check if my phone is network locked?
Checking if your phone is locked is very easy. All you have to do is remove your SIM card and insert a SIM card from a different carrier.
If there is an active carrier lock, your phone will tell you that it can't connect to the network. If you can make calls and send texts with the new SIM card, there is no carrier lock in your way.
8. How to find out what network my phone is locked to?
It's also useful to know which carrier your phone is locked to so that you can research how to unlock from your specific carrier. The best way to find out which carrier your phone is locked to is to use WipeLock IMEI Checker.
With this tool, you can request a full breakdown report about your phone's IMEI number. This report will show you what carrier your phone has been locked to, whether or not it's on a blacklist, and a lot of other information.
You can also find out if a phone is covered by warranty, which country it is registered to, and a rough estimate of when it was purchased.
9. Is it possible to unlock a blacklisted phone?
No, you can't unlock a blacklisted phone. This is a security measure to prevent thieves from manipulating stolen phones and selling them with ease.
You should find out if your phone is on a blacklist before attempting to unlock it. As we mentioned above, you can use the WipeLock IMEI Checker to check this.
10. How should I prepare before unlocking?
Before you jump in and try to unlock your phone, you'll need some pieces of information. Most importantly, you'll need the phone's IMEI number.
You can retrieve this through the Settings app and going to the device information, or you can dial *#06# and the IMEI will be displayed.
Part 2. How to Unlock a Network Locked Phone for Free (Up to 30 Days)
The first method we're going to walk you through is how you can unlock your phone for free with the assistance of the carrier.
1. Limits of Unlocking with Carrier
It's important that we start by mentioning that there are a few limitations of unlocking a phone through the carrier.
The phone contract must be paid in full and have no outstanding payments
You can only request a carrier unlock from the same carrier that the phone is registered to
Your account with the carrier must have no negative associations (e.g. the phone can't be on a blacklist, be reported as stolen, and you must not have any missed payments)
2. What You'll Need to Unlock with Carrier
As we previously noted, if you go through the carrier, you'll need to have some information on hand to request the unlock:
The name which is registered on the account
The phone number of the phone which you're trying to unlock
The IMEI number of your phone
In some cases, the security password which you gave the carrier (typically required when you are discussing personal details with them, such as billing information)
3. Steps for Unlocking a Network Locked Phone
Now that you're aware of the limits and you've got all of the information that you need to proceed, follow the steps below to unlock your phone directly through the carrier.
Step 1. Contact your carrier either via live chat or by calling them. Explain to them that you wish to request a carrier unlock.
Step 2. They will ask you for the details we listed above, be sure that all the information is accurate.
Step 3. Once they confirm the details you give them are correct, they will submit your request for an unlock code.
Step 4. Within 30 days you will be sent the unlock code and instructions on how to enter the code.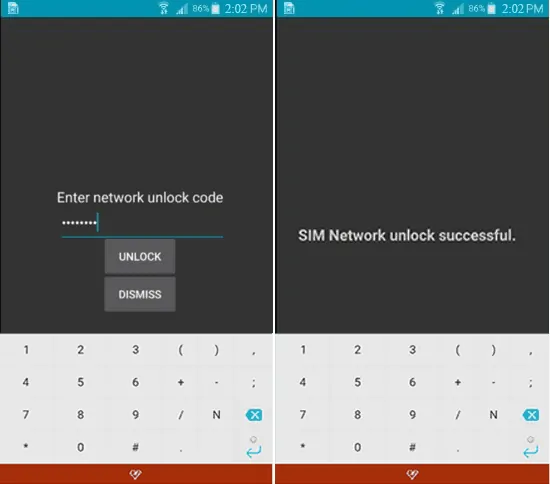 Step 5. After entering the unlock code, simply insert your new SIM card and you should be able to use the new network without issue.
The biggest concern that users have with unlocking their phone this way is that they're left waiting for up to 30 days. Each carrier is different, in that they may take just 2 weeks. However, for the most part, you'll have a long wait.
Part 3. The Fastest Way to Unlock a Network Locked Phone (Within 24-hour)
An alternative way of unlocking your phone is to use an unlocking service. These generally work quicker than carriers which makes them incredibly appealing.
1. Things to Note Before Unlocking
Before we jump into recommending a service, if you're researching carrier unlock services then there are some things you need to take note of first.
Don't use any services which require software to be installed. This calls for suspicion since unlocks are easily processed without software, and software can contain malware.
Check that any checkout/payment pages are encrypted. This is extremely important. If these pages are not secure and don't have an SSL certificate, entering your payment information is very risky.
Make sure you can get a refund. If you use a well-known service then getting a refund in the event of the service being ineffective shouldn't be a problem. If refunds are not available, consider another service.
2. Verified Service – DirectUnlocks

When it comes to picking a reliable service, we'd recommend checking out DirectUnlocks. Using this network unlocking service will give you the best chance of removing your phone's carrier lock, and it's one of the most affordable services at your disposal.
Can unlock both iPhone and Android smartphones
Network locks can be removed in just 6 hours (with Fast Delivery)
Affordable service that isn't overpriced
Entire carrier lock removal process is done remotely by experts
Permanently unlock, your phone won't be locked again
There's no doubt in our minds that this is the perfect solution for removing carrier locks and letting you connect to a bunch of other carriers. Below are the steps to use DirectUnlocks.
Step 1. Begin by opening DirectUnlocks phone unlock page.
Step 2. Choose the brand of your phone and click Unlock Now.
Step 3. On the next page, choose the carrier your phone locked to and type your phone's IMEI number into the box provided.
Step 4. Click Unlock for any SIM card. After submitting your payment, the order will begin processing.
For iPhone, it will be unlocked within 24 hours
For Android phones: the SIM network unlock pin will be sent within 6 hours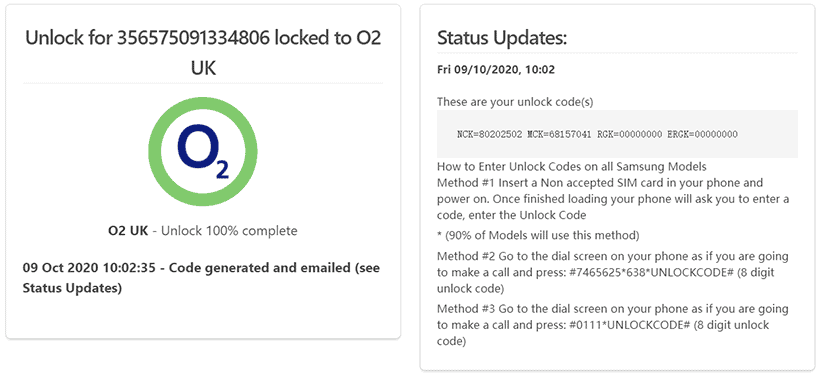 That's really all there is to it. This streamlined process makes it as easy as possible for phone owners to remove network locks and use any other SIM card.
All of this for a reasonable price – there aren't any downsides to using DirectUnlocks.
Part 4. Complicated Way to Unlock a Network Locked Phone
On the other hand, if you don't want to deal with a carrier or pay for a service, some software options are available.
This isn't recommended for most users. It can be very difficult to use these software solutions, many of which have malware embedded in them. Because of that, we also can't recommend a suitable software to use.



If you do decide to use software, be extremely careful. Make sure you only download reputable software with reliable reviews, and don't provide sensitive information.
Conclusion
After reading our guide, you should now be aware of the different ways you can unlock a network locked phone.
This seemingly difficult process isn't actually that hard, as you can see from above. The only approach to be cautious with is software.
Ideally, you should use a service like DirectUnlocks which will unlock your phone in just hours.
However, if you want the free option of using your carrier, you will have to wait a couple of weeks for the unlock to be processed.