Last updated on

November 17, 2020

by Darren
Unlocking your phone has a long list of benefits. For one, it enables you to switch to the carrier of your choice and in doing so you can choose from many other data plans and get the best price possible.
This means you aren't restricted to the phone plans offered by just one carrier. The problem that most users have is knowing how to actually unlock their phone.
Fortunately, if you're one of these people, this guide will explain to you a range of solutions to unlock phone free with IMEI number as well as a paid option.
Part 1. What You'll Need to Unlock Phone Free with IMEI?
Before we look into the free solutions to unlock a network locked phone, there are two things you need to do. These are finding your phone's IMEI number and then checking the status of your phone's IMEI number.
1. Find the IMEI Number
How you obtain your phone's IMEI number will depend on the type of phone you have, and there are 3 solutions you can choose from.
Using USSD Code
This way works for any phone – Android, iPhone, or Windows. All you have to do is dial *#06# and the device's IMEI will be shown on the screen.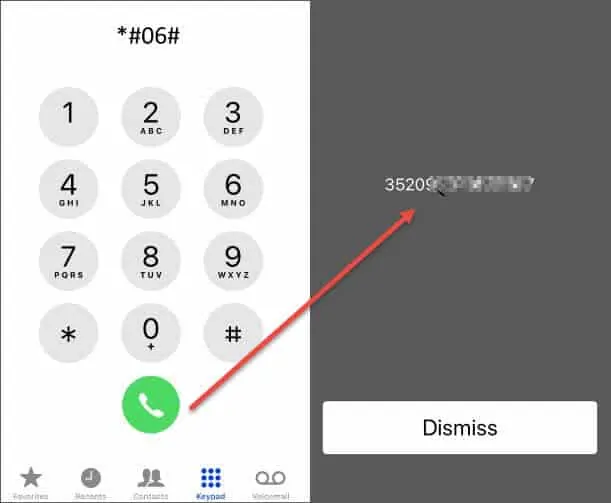 Find on Android
If you're on an Android phone, you can find the IMEI in the Settings. Just tap on About Phone, scroll down towards the bottom of the menu, and you'll see the IMEI listed.
Find on iOS
If you're on an iPhone, the IMEI can also be found in the Settings. Go to General and tap on About, then scroll down and you'll find the IMEI.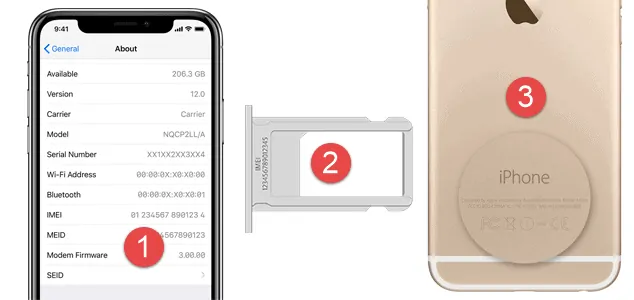 2. Check the Blacklist Status of the Phone with IMEI
After getting your phone's IMEI, the next thing you must do is check the blacklist status of the IMEI. By doing this, you can confirm that your phone is actually carrier locked but more importantly, you can find out if your phone has been blacklisted.
If it turns out your phone is blacklisted, there is no way you can proceed with unlocking it unless it is removed from the blacklist.
To gather this information, your best bet is to use All-in-one IMEI Checker. This tool allows you to discover information such as:
If your phone has been added to a blacklist (because it was reported as stolen or lost)
If your phone is locked to a carrier and which carrier it is locked to
The country that your phone is registered to (useful if you want to avoid international charges)
If your phone is under warranty
The replacement status of your iPhone and the estimated purchase date
All of this information is useful to have. In this case, the most important thing is finding out if your phone is on a blacklist and All-in-one IMEI Checker finds that out for you.
Part 2. How to Unlock Phone Free with IMEI Number?
With those out of the way, we can now attempt to unlock phone with IMEI number free. We've got 2 methods that we'll be recommending to our readers.
Method 1. Contact Carrier to Unlock Your Phone Free with IMEI
The first thing you may want to try is contacting the carrier. Although each carrier has their own criteria for unlocking customers' phones from the network, they usually don't charge.
Since each carrier sets their own rules, you should also take the time to check if you're eligible for an unlock.
1. What You'll Need to Prepare
First thing's first: you need to prepare by putting a list of some basic details together. The main things you'll need to take a note of are:
The name your phone is registered to
Your account number and phone number
The phone's IMEI number
Your account's security answers (if you've set them up for the carrier account)
(Optional) if you are in the military, proof that you are in the military which will speed up the process
2. Steps to Unlock with Carrier
After getting all of this information, you can proceed to unlock your phone free with IMEI number. Follow the steps below and we'll explain what you need to do.
Step 1 – Start by contacting the carrier either by calling their support number or using live chat. Explain to the support team agent that you want to unlock your phone from the carrier.
| Carrier | Price | Contact Info |
| --- | --- | --- |
| AT&T | Free | 800-331-0500 |
| Boost Mobile | Free | 1-866-402-7366 |
| Consumer Cellular | Free | (888) 345-5509 |
| CREDO Mobile | Free | 800-411-0848 |
| Cricket | Free | 1-800-274-2538 |
| MetroPCS | Free | 888-863-8768 |
| Mint SIM | N/A | 213-372-7777 |
| Net10 Wireless | Free | 1-877-836-2368 |
| Page Plus | Free | 800-550-2436 |
| Simple Mobile | Free | 1-877-878-7908 |
| Sprint | Free | 888-211-4727 |
| Straight Talk | Free | 1-877-430-2355 |
| T-Mobile | Free | 1-800-866-2453 |
| Tello | N/A | 1-866-377-0294 |
| TextNow | N/A | 226-476-1578 |
| Ting | N/A | 1-855-846-4389 |
| Total Wireless | Free | 1-866-663-3633 |
| Tracfone | Free | 1-800-867-7183 |
| U.S. Cellular | Free | 1-888-944-9400 |
| Ultra Mobile | N/A | 1-888-777-0446 |
| Verizon | N/A | 800-922-0204 |
| Virgin Mobile | N/A | 1-888-322-1122 |
| Xfinity Mobile | Free | 1-888-936-4968 |
Step 2 – The support agent will request the details we listed above to confirm that you are the real owner of the phone you are unlocking.
Step 3 – After receiving the details you provided and confirming that you own the phone, they will begin processing your unlock request.
Step 4 – Within the next 30 days, you will receive an unlock code from the carrier. They will provide instructions on how to enter this code and unlock your phone.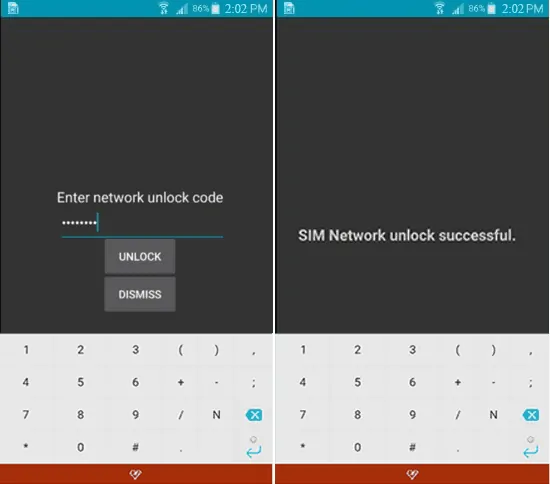 Step 5 – When you've unlocked the phone you can replace the SIM card with one from a different carrier.
It will only take a couple of minutes to explain your situation to the carrier. The longest part is waiting for them to unlock your phone and send you the unlock code.
3. Limits of This Way
Even though this may seem like the simplest method, asking your carrier for an unlock request has a lot of limits:
You must be the original owner of the phone otherwise the carrier will not accept your request
It will take up to 30 days for the unlock to be completed by the carrier
Each carrier has varying criteria, but you need to meet every criterion to unlock the phone
Only the original carrier can unlock your phone
Method 2. Our Lucky Dog Plan
Instead of taking up valuable time trying to unlock phone with IMEI number free, why not try your luck with our Lucky Dog Plan? This plan gives you the chance to unlock your phone without paying for a service to get the lock removed.
How does it work? Simple. All you need to do is share one of the posts from WipeLock on social media or leave a comment below. Every month we randomly choose 3 people who do this and they receive a free unlock!
Part 3. Advanced Way – Unlock Phone with IMEI Service
As opposed to learning how to unlock phone free with IMEI number, there are paid options too. In particular, we'd recommend a service like DirectUnlocks.
If you discovered that you don't meet all of your carrier's unlock criteria, this is by far the best choice.
Can unlock any iPhone and Android phone (even if you aren't the original owner)
Only requires your phone's IMEI number to unlock the phone
Unlocks are processed within 24 hours of placing an order
All unlocks performed by DirectUnlocks are completely legal
Permanent unlock, your handset won't be locked again
Other services are available but DirectUnlocks is an outstanding choice. To use the carrier unlocking service they provide, follow these steps:
Steps to Unlock Phone with IMEI Number
Step 1 – Head to DirectUnlocks phone unlock page and click Unlock Now.
Step 2. choose your specific network from the drop-down menu then enter the phone's IMEI number. You can find the IMEI using one of the methods we explained before or by dialling *#06#.
Step 3 – Click on Unlock for any Sim Card button. On the next page, agree to the Terms of Service and choose a payment method.
After you make the payment, your order will begin to be processed. You will receive an email within 24 hours stating that your phone has been successfully unlocked.
The obvious downside to this method is that you'll have to pay for the service. However, this is heavily outweighed by the benefits that come with using DirectUnlocks. You don't have to wait 30 days for the unlock, just 24 hours!
Conclusion
When you want to unlock phone free with IMEI number there is no shortage of solutions. You can take the direct carrier route, you can partake in our Lucky Dog Plan, or you could pay for the premium DirectUnlocks service.
Either way, you'll be a step closer to unlocking your phone and opening up hundreds of data plans to choose from. Remember, if you want the chance at our Lucky Dog Plan, either share this post on social media or drop a comment below!